As tensions between Russia and Ukraine harden, and threats of a freeze on people's accounts are heard, some citizens are looking for a safe haven to hold their assets. Since most traditional crypto currencies, such as Bitcoin or ether, are highly volatile, Ukrainians are choosing to put their money into stablecoins, specifically tether.
The price of USDT on the popular Ukrainian crypto-currency exchange Kuna has jumped in the last 24 hours to as high as 37 Ukrainian hryvnia (the country's national currency), an increase of almost 25% on this Thursday.
This price is equivalent to $1.23 per USDT, which is supposed to be worth $1.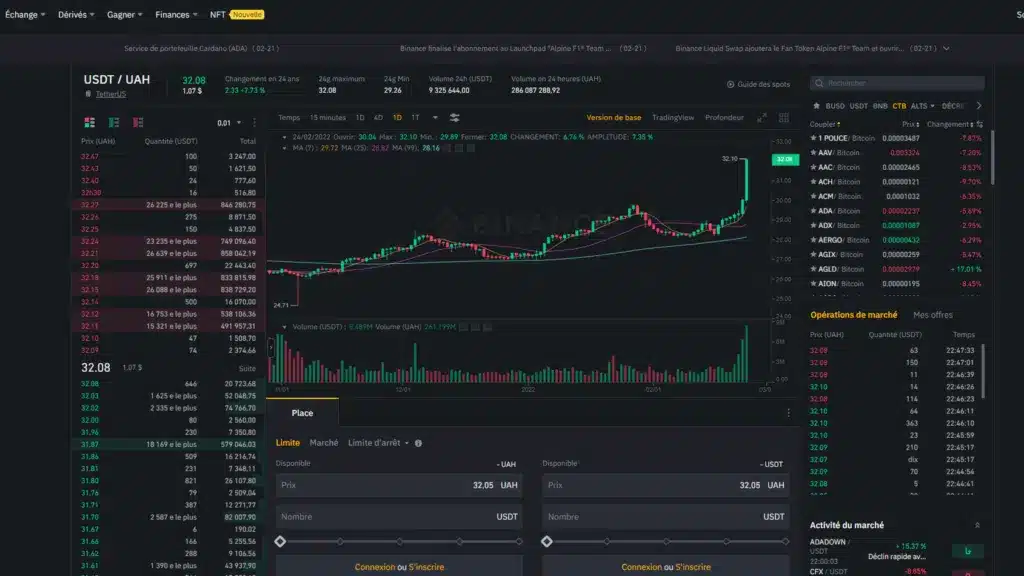 In fact, the total trading volume of all cryptocurrencies on the platform amounted to about $4.4 million in the last 24 hours.
During the same period, mid-market rates from foreign exchange data provider XE indicated that the UAH currency only rose to a high of 29.89 per U.S. dollar.
source: XE
In other words, the USDT conversion rate was much higher than the usual UAH/US dollar transactions.
Yet the USDT is a stablecoin whose value firmly tracks the US dollar. 1 USDT is still worth about 1 US dollar. In fact, the price of USDT has remained relatively stable throughout the day on crypto exchanges in the rest of the world such as FTX and Binance in Europe.
As I write these words, the UAH/USDT pair is valued at 31.89 on the Kuna platform, compared to the UAH/USD exchange rate of 29.76 found on most other sources. This indicates a premium of almost 7% for the USDT.
If you also try to visit the Ukrainian platform of Binance, you will find that the Ukrainian currency is exchanged for USDT at a rate of 32.05 per USDT. Users then have to pay a premium of almost 7%, too, to exchange their currency for the stablecoin of Tether.
source: Binance Ukraine USDT / UAH
This is because the supply of USDT, despite being the largest stablecoin in terms of capitalization with about $80 billion, is very limited in Ukraine. The demand for USDT is much higher than normal, while the supply of USDT in exchange for Ukrainian hryvnia is quite low.
The founder of the Kuna exchange was already alarmed about this problem yesterday in the crypto press.
"The majority of people have nothing else to choose from but crypto. We're talking about millions of dollars of cash that want to go into crypto… but we can't find people who are willing to do the opposite, sell."

Michael Chobanian, founder of Kuna
Of the 40,000 active accounts according to the Kuna platform, 90% would belong to Ukrainian residents.