Ethereum (ETH) key figures in USD
Ethereum (ETH) cryptocurrency price
Last Price: see above
CoinMarketCap Rank: 2*
Market Capitalization: $397,647,117,105*
Diluted Capitalization : $397,488,128,105*
Circulating supply: 119,175,185.06 ETH
Maximum number of outstanding tokens: Infinite*
All-time High price in USD (ATH): $4,865.57*
*Data updated on 2022/01/16
Ethereum (ETH) Dollar Price Chart
Useful resources about Ethereum (ETH)
How to buy Ethereum (ETH)?
Binance is THE leading platform for buying and selling cryptocurrencies. Year after year, it has become the number 1 in terms of volume and influence. In addition to Ethereum (ETH), you can trade over 300 different cryptocurrencies on this platform. It also offers leveraged trading for the more adventurous user and a staking service to create passive income without any effort.
FTX is the latest addition to the exchange ecosystem, but it has nothing to envy the competition. In addition to Ethereum (ETH), you can trade over 200 different cryptocurrencies in this exchange. It has set itself apart from other platforms by offering crypto derivatives such as futures and leverage trading.
Kucoin is a paradise for low-cap cryptocurrencies. In addition to Ethereum (ETH), you can trade over 300 different cryptocurrencies. This one has made the choice to focus on cryptocurrencies that may be lesser-known, but not uninteresting.
Ethereum price and some historical dates. ETH chart analysis and predictions.
December 2013 and early 2014: Whitepaper and pre-sales
The Ethereum project was born in December 2013 with the release of its whitepaper by its young creator Vitalik Buterin. A few months later, at the beginning of 2014, the first Ethereum coins were pre-sold at $0.3 (≃ €0.25) per unit to fund the development of the project.
July 2015: Birth of the Ethereum network
After more than a year of development, the genesis block of the Ethereum blockchain is created on 20 July 2015 and marks the official birth of the network. At its launch, the price of the token reaches a price of $2.58 before falling inexorably until December 2015.
June 2016: The peak and then the DAO hack
In parallel with the rise in the Bitcoin price, the Ethereum price reached €18.26 on 16 June 2016, the day before a tragedy for the network: the DAO hack. On 17 June, the smart contract of the DAO, an autonomous decentralized organization created to finance projects on Ethereum, was hacked, resulting in the loss of USD 150 million. This event will divide the price of ETH by two overnight and will give birth to Ethereum Classic.
May 2017: Ethereum passes the $100 mark
Carried away by the incipient euphoria of a bull run in the making, the ETH price broke the $100 barrier for the first time on 20 May 2017. It reached a new all time high of $356 on 12 June 2017.
13 January 2018: Ethereum explodes its ATH to $1,418
Driven by the euphoria of the ongoing bull run as well as the buzz around the many ICOs the network is hosting, Ethereum hits a new all time high by trading for $1,418 per unit at the peak of the bull run (Jan. 2018).
December 2018: The stampede
After reaching its ATH in January 2018, the bear market takes over and the ETH price falls week after week before seeing its value divided by 17 reaching a low of $83 on December 16, 2018. ICOs are no longer popular, and Ethereum loses its momentum.
April 2021: DeFi saves Ethereum
Throughout 2020 and the beginning of 2021, Ethereum is witnessing a thriving new ecosystem: the DeFi ecosystem. Its price has been rising steadily and finally peaked at $2,641.09 on April 22, 2021.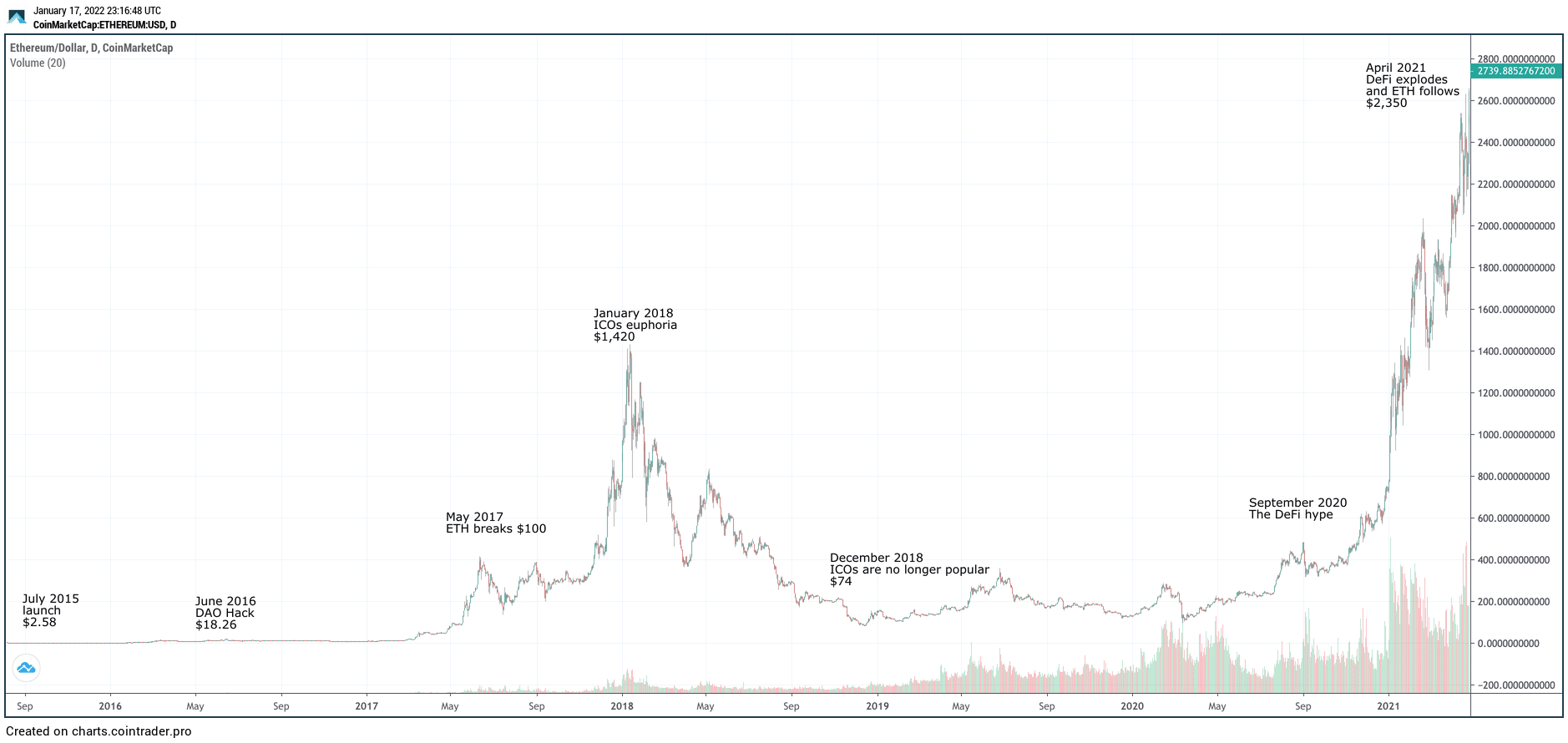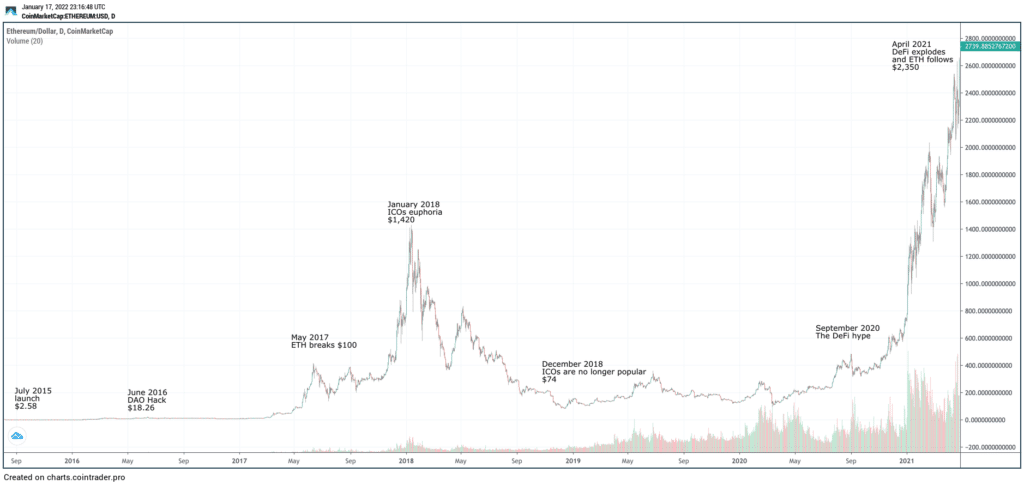 Ethereum definition: what is it?
From its inception, Ethereum has had one ambition: to become a global computer. Thus, where Bitcoin (BTC) wanted to decentralize the currency and money transfers, Ethereum by definition wants to decentralize the applications.
To do this, each application is deployed in the form of a smart contract. These contracts make it possible to define various logics that will be automatically executed by the network when they are called.
How does Ethereum work?
Like its sidekick Bitcoin, Ethereum is a peer-to-peer monetary protocol. Specialized software, known as clients, allows direct communication between users. Thus, it is possible for computer A to issue a transaction containing the value (ETH) which will be sent to a recipient.
Once published on the network, your transaction will be propagated through a network of nodes. Once the entire network is aware of your transaction, it will be included in a block by a miner. As soon as it is added, your transaction will be considered valid, and the value will have been moved from your address to that of your recipient.
Beyond simple transfers, Ethereum has been able to distinguish itself by deploying on a large scale a concept imagined by Nick Szabo in 1990. As we have seen previously, smart contracts allow predetermined actions to be carried out automatically when the conditions are met.
Over time, smart contracts have become more complex and have allowed Ethereum to host other coins and protocols on its network. Thus, in addition to ETH, the network hosts many other cryptocurrency coins, the most significant of which are Tether USD (USDT), Uniswap's (UNI), and USD Coin (USDC).
These are run on a global, decentralized virtual machine called the Ethereum Virtual Environment (EVM). This is supported by all the nodes in the network.
Also, these smart contracts have enabled the development of an ecosystem of complex financial applications called DeFi for Decentralized Finance. These different protocols aim to decentralize traditional financial products, such as borrowing or saving.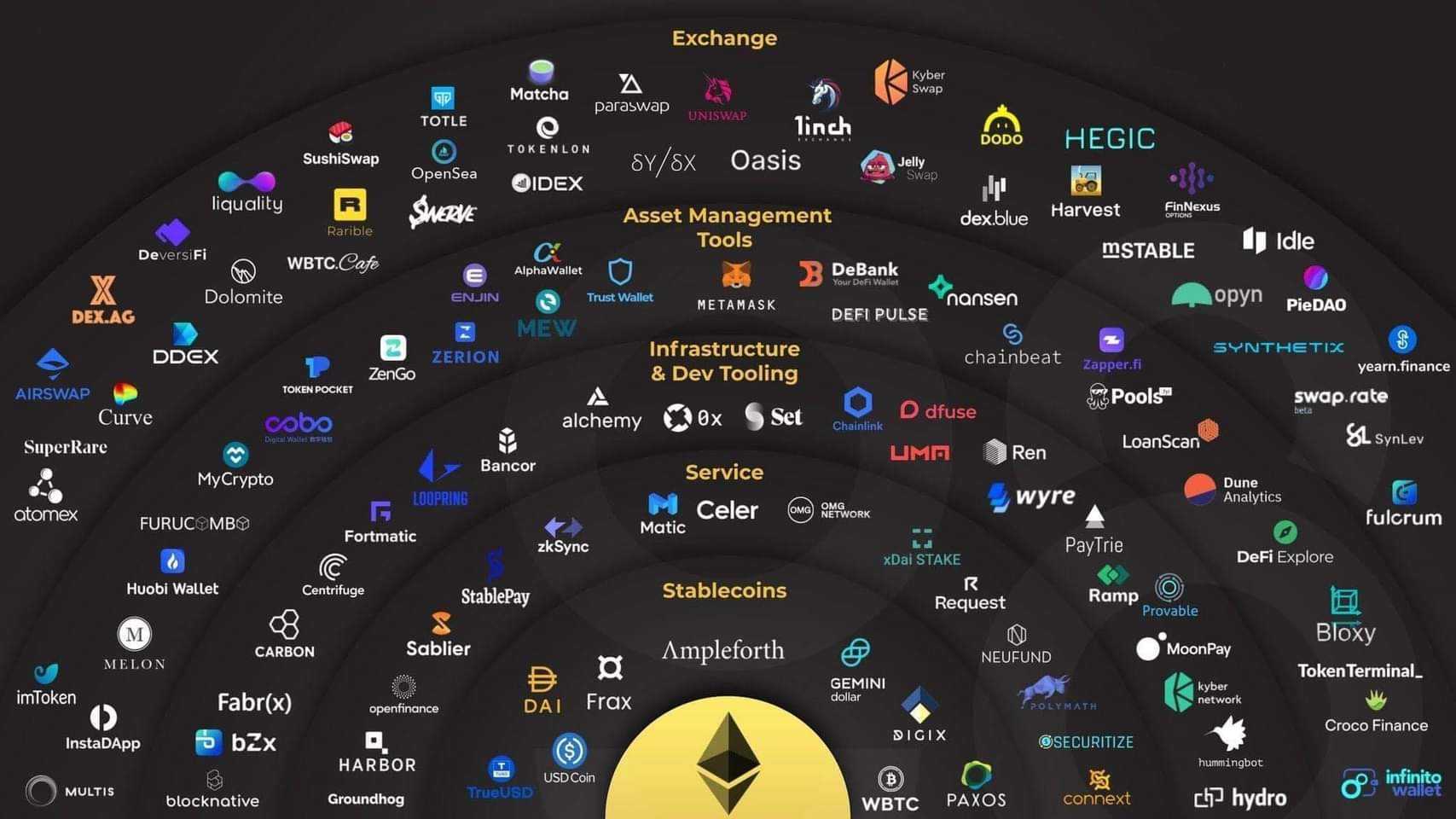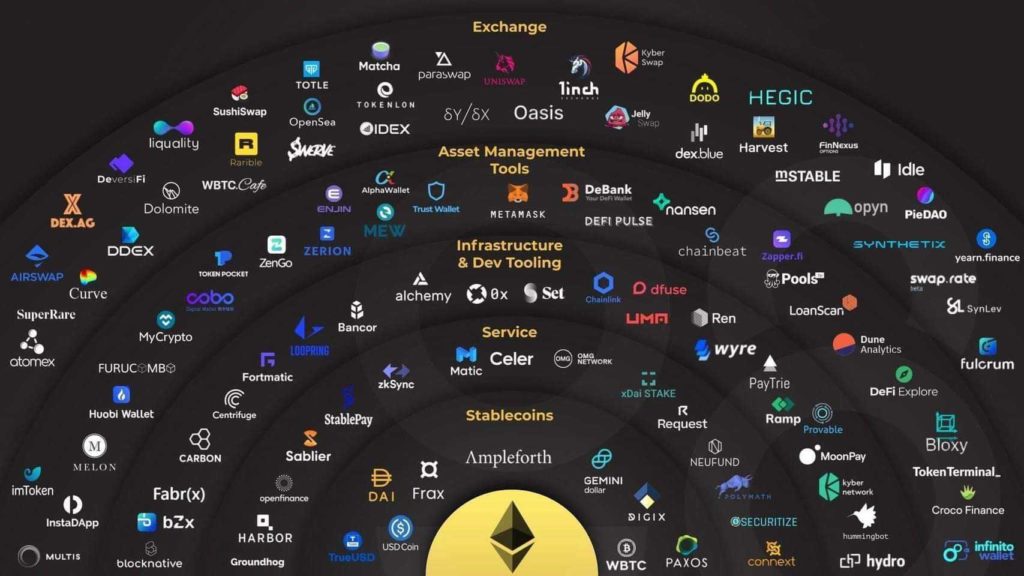 Explanation of the Ethereum Blockchain
The Ethereum blockchain uses all the cryptographic concepts of private keys and public keys common to all crypto-currencies.
With each validated block, new ETH are issued and given to the validator who created the block. However, unlike Bitcoin, this value is not fixed or decreasing over time. Bitcoin's maximum supply will be limited to 21 million BTC in total, while the Ethereum platform has an unlimited supply but a maximum annual supply of 18 million ETH. Currently, there are about 2,927 ETH created for each block, which is about one every 20 seconds.
Until now, the consensus around the general state of the chain and the accounts is ensured by a mechanism called Proof of Work, as is the case with Bitcoin. In Proof of Work, actors called miners are responsible for validating transactions by deploying a large amount of computing power, generated by graphics cards (GPUs).
However, due to its limited performance and energy consumption, Ethereum will transition from Proof of Work to a new mechanism called Proof of Stake this year (2022). In this consensus mode, miners are replaced by validator nodes, which instead of deploying computing power, will block 32 ETH called collaterals. If the latter were to act maliciously for the chain, the protocol will sanction them via a mechanism called slashing, which aims to impute part of the collateral.
When using Ethereum, you will come across another unit of value than ETH, namely gas. Gas refers to the cost of completing a transaction or performing a function of a contract on Ethereum. This is set in gwei, which is a fraction of an ETH.
What is Ethereum used for? What is it useful for?
A means of payment
Like Bitcoin and most cryptocurrencies, Ethereum's primary nature is as a peer-to-peer payment method. The protocol allows value to be transferred via transactions from a sender to a receiver.
A global computer
Thanks to its smart contract system, the Ethereum network makes it possible to decentralize all the applications known to date on the Internet. Thus, the network makes it possible to deploy an application while avoiding certain risks that were previously inherent in the centralization of the Internet, in particular so-called DDoS attacks, which aim to take a service offline by targeting the server that hosts it.
The basis of the decentralized finance infrastructure
As we have seen, smart contracts allow Ethereum to host and decentralize a whole host of complex financial applications. Thus, this makes it a perfect candidate to be the core infrastructure of a new, fully decentralized financial ecosystem, offering the same services as the banking world, while cutting out the middleman.
With Ethereum, it is already possible to save, lend and trade assets without the need for a trusted intermediary. Given the evolution of the ecosystem over the past five years, the future and the possibilities are quite exciting.
What are the portfolios (wallet) to store its Ethereum tokens [ETH]?
Online portfolios
MyCrypto
Formerly called MyEtherWallet, MyCrypto is an online Ethereum wallet. Thus, no need to download anything to access your wallet. It allows you to store and manage your ETH and other assets hosted on Ethereum blockchain. Recently, MyCrypto also allows you to trade your assets directly with each other from its interface.
Downloadable portfolios
Metamask
Metamask is by far the reference wallet on Ethereum. Available both via a browser extension and on mobile, it allows you to store your ETH as well as all the crypto-currencies evolving on Ethereum. It also proves to be a great ally to interact with the multitude of decentralized applications and especially the DeFi ecosystem.
Argent wallet
Argent is a new generation mobile wallet. It allows you to store and manage your ETH as well as all cryptocurrencies evolving on the Ethereum blockchain. Extremely innovative, Argent abrogates the traditional rules by removing the notion of private key thanks to its Guardian system. Finally, it is connected to a dozen DeFi applications, allowing direct interaction with them.
Hardware wallets
Ledger Nano
Ledger, in addition to being a French company, has become a reference in terms of hardware wallets. Taking the form of a USB key, the Ledger Nano is an ultra-secure wallet that can store hundreds of crypto-currencies, including ETH and all crypto-currencies evolving on Ethereum.
It comes in two versions: Ledger Nano S and Ledger Nano X. The first one, less expensive, has a reduced space, while the second one, obviously a little more expensive, offers more storage space as well as the possibility to connect to it via Bluetooth.
Frequently asked questions for the cryptocurrency Ethereum (ETH)
What is Ethereum (ETH)?
Ethereum is a blockchain whose native crypto-currency is Ether (ETH). It aims to decentralize applications, and more recently all traditional financial services thanks to its smart contracts.
What is the best way to buy Ethereum?
If you have an account on an exchange platform, there is no need to change it. If not, Binance can be an excellent solution, as it allows you to buy crypto-currencies directly via credit card.
How to store your Ethereum (ETH) safely?
If you want to store your first fractions of ETH, Metamask or Argent seem to be the best solutions, as they are free. However, above a certain amount, it may be interesting to invest in a hardware wallet like those offered by Ledger.
What are the advantages of Ethereum?
Ethereum has long been the second-largest cryptocurrency in terms of capitalization. Also, its network hosts a multitude of other projects, all of which need ETH to operate.
How to anticipate Ethereum's price movements?
It is difficult to give a single piece of advice to answer this question. To anticipate price variations, it is important to learn technical analysis which, if mastered, can prove to be a great ally in financial markets.
How to mine ETH
To mine ETH, you will need to have a graphic card. The Whattomine site will allow you to estimate the profitability of mining according to the card in your possession. However, when you switch to Proof of Stake, it will no longer be possible to mine ETH.
Is it possible to farm or stack Ethereum (ETH)?
It is possible to earn a return on one's Ether (ETH) in various ways via the set of DeFi protocols that its blockchain hosts as well as more centralized solutions (Celsius, BlockFi, etc.). In parallel, with the recent launch of Ethereum 2.0, it is possible to stake your ETH on Ethereum 2.0 and participate in the transaction validation process and in fact be rewarded for this service.
Rating: 4.9/5 with over 502 votes
Discover the prices of other crypto currencies in 2022