Solana definition: What is it and how does it work?
Solana is a cryptocurrency / blockchain in search of performance to offer companies and individuals a technical solution capable of running complex real business.
For this, the SOL network relies on different in-house technologies such as the Proof of History (PoH); Tower BFT; Gulf Stream and many others. It is the accumulation of all these technologies that create this cryptocurrency strength to offer a network capable of theoretically processing more than 50 000 transactions per second with a low latency of 400 ms between blocks. The only drawback: the transactions finality takes a little longer (about 8 to 12 seconds), the network is currently in BETA and we hope to see an improvement in the future.
Proof of History (PoH) is a clock before the consensus allowing the different nodes in the network to keep producing blocks without asking for validation of the entire network before moving on to the next block (unlike older blockchains such as Ethereum and Bitcoin where all the nodes of the network must check each bloc and validate it before moving on to the next one). We talk about the parallelization of calculations.
Tower BFT: in order to properly operate its proof of history blockchain, the team was forced to rework certain technologies found on other blockchains as the "Byzantine Fault Tolerance". The Tower BFT is a custom BFT integration for Solana network.
Gulf Stream: The network is theoretically able to support more than 50 000 transactions per second, so blockchain never has pending transactions for more than a few seconds.
The consensus used on this cryptocurrency is the Proof of Stake, contrary to what one might think it is not the Proof of History (PoH). The PoH serves as a technology to improve the transactional capabilities of the network but is not used for the consensus. The last word says always go to the PoS.
Very low transactions fees: a transaction on the SOL blockchain costs around USD $0.00025 (or 0,000005 SOL) which means that with a single usd of SOL we can realize more than several thousands of transactions. Its low fees make it a network suitable for high-frequency payment, micropayment or simply a solid and centralized database for applications that need to write a lot into the blockchain.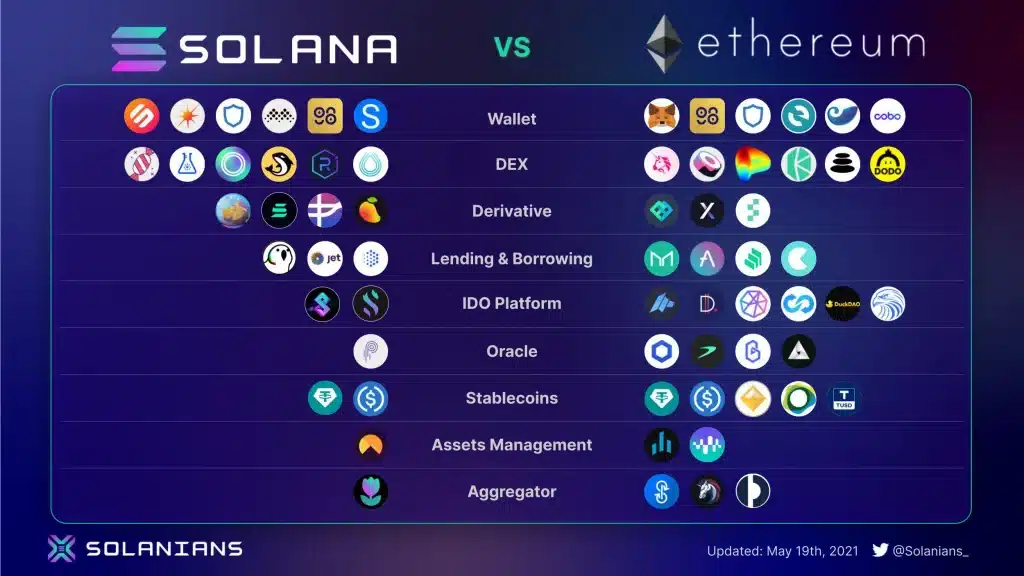 What is the Solana (SOL) token used for? What is its use?
A means of payment with a very low fee
A transaction on this network costs about USD $0.00025 (or 0,000005 SOL). In other words, with a few cents, it is possible to execute thousands of transactions. We can therefore perfectly imagine that a bank or a neobank uses the SOL blockchain to make international transactions.
Prerequisite for using the Solana ecosystem
You will have to supply your wallet with SOL to be able to receive cryptocurrencies issued on the blockchain such as Serum, Raydium, Media and many others on an SOL compatible wallet like Phantom.
This mechanism, therefore, makes $SOL a prerequisite for any use of the network.
Global Supercomputer, decentralized finance, everything Ethereum does faster and cheaper?
This network, like Ethereum, wants to allow businesses to take advantage of blockchain to certify data, to note information that cannot be modified or corrupted, realize anonymous decentralized exchanges and also social networks protected against censorship.
This coin's advantage is its capacity to process large amounts of information without Sharding, without handicraft with level 2 layers, which makes it a major competitor.
This is why Sam Bankman-Fried (FTX CEO) chose this blockchain solution to create a decentralized Exchange: SerumDEX. After using the network et testing its strength, he decided to finance the project with great resources. We can also explain the many Solana project listings on FTX.com with this unconditional support so far from SBF.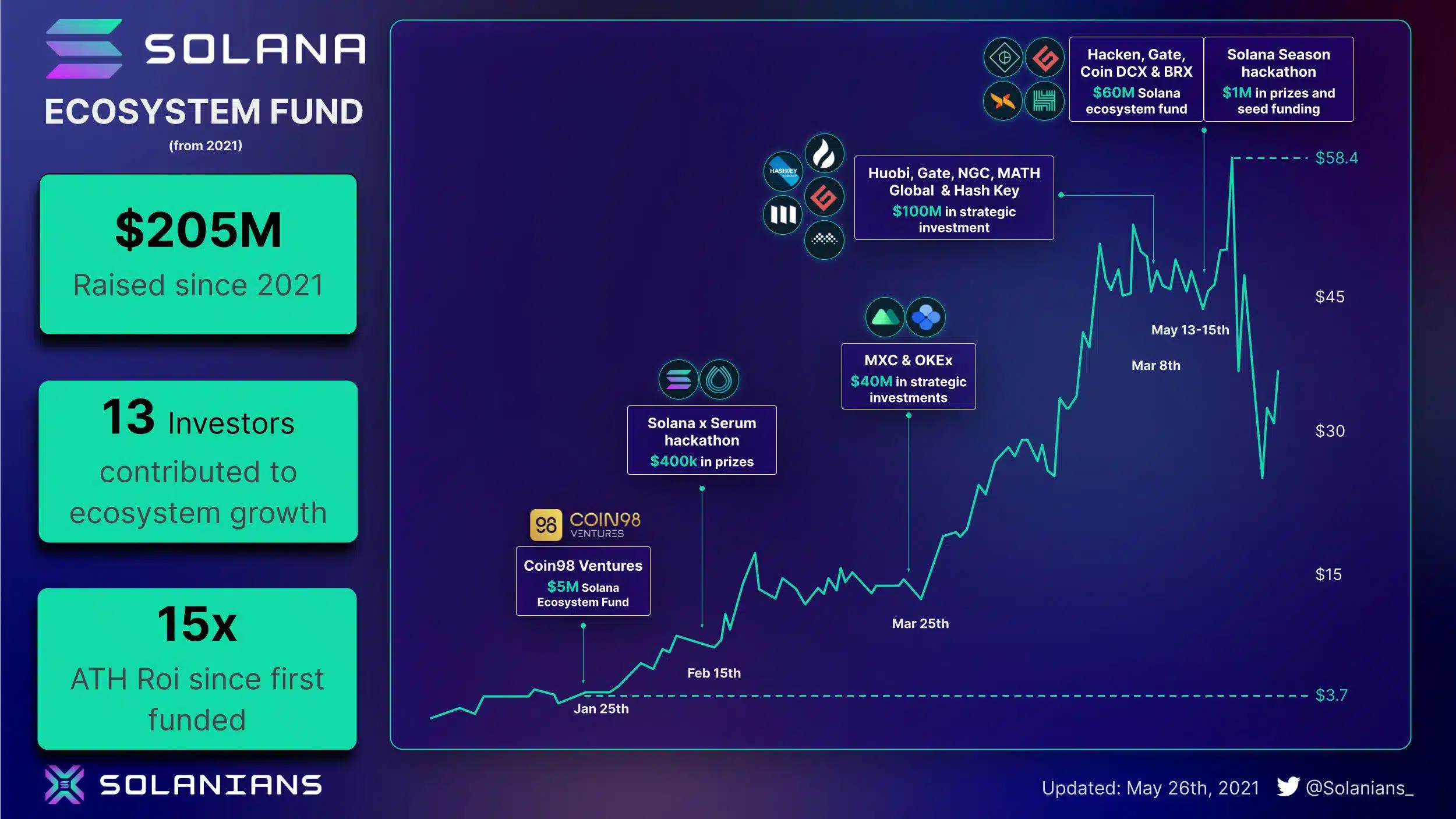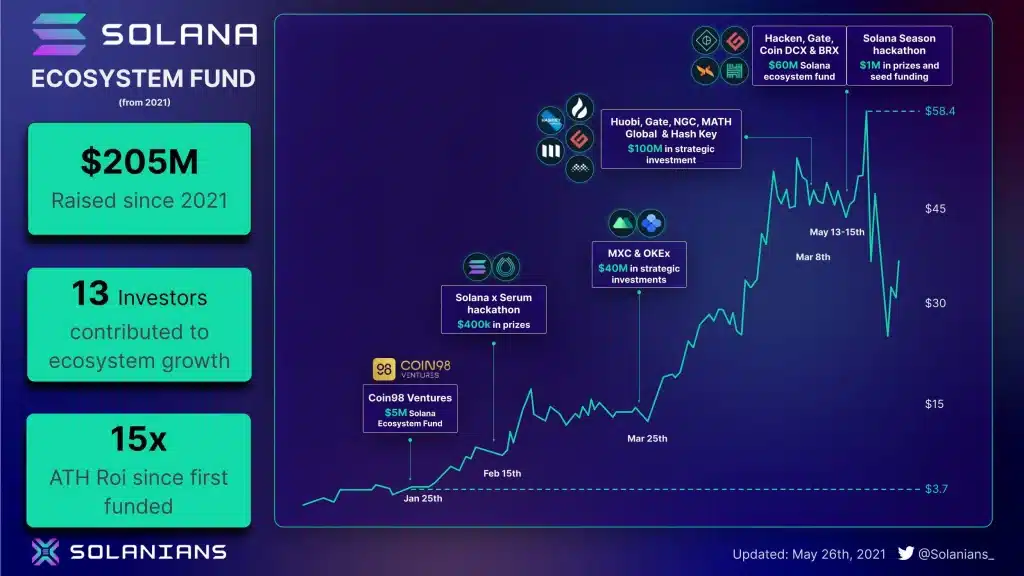 Solana price and a few historical dates. Graphical analysis of SOL and predictions.
1st Quarter of 2018 – Project discovery by the general public
The explosion of the altcoins of 2017 led to the creation of many new "Ethereum Killer", blockchains that want to be more performing than Ethereum in terms of latency (Blocktime and finality of transactions), transactional capacity (scaling) and transaction fees.
The team focused its communication on performance without Sharding or level 2 layer (example: MATIC, OMG Network), without centralizing its blockchain on a very limited number of nodes such as may be the case with EOS at launch with its 21 block producers.
We can see on their Github that the 1st version was published on February 16th 2018.
March 16th to 24th 2020 – Initial Coin Offering (ICO)
The team raised funds by emitting an ERC20 token.
Classical fundraising procedure, this cryptocurrency had of course intended to launch its own blockchain shortly after.
No less than 500 000 000 SOL tokens were on sale for USD $0.22, the ICO let raise $5 375 000. U.S customers were not authorized to participate in the ICO.
April 9th 2020 – Listing on Binance
Shortly after the ICO SOL was listed on Binance with a commercial operation to earn coins. On the day of the listing, the token was exchanged on the platform between USD $0.70 at the lowest and USD $1.3 at the highest. As a reminder, the price of the ICO was USD $0.22, so very juicy benefits for ICO participants 3 weeks earlier!
August 11th 2020: Serum (SRM) listing on different exchanges
The Serum (SRM) token, a platform and trading protocol on the Sol blockchain was listed shortly after for USD $0.11 on the platforms: FTX, Binance, BitMax, HBTC, Uniswap, Mesa.Eth, Balancer, TomoDEX, 1Inch. The price rose directly to USD $1.50 on the day of listing.
The Serum project aims to be the central point for cryptocurrencies exchanges on the blockchain (it is also necessary to hold sol to use it). The Serum token serves as a governance token and is useful for paying fewer fees on decentralized SerumDEX exchange.
February 20th 2021: Raydium listing (RAY)
Raydium (RAY) is an equivalent of Uniswap / Sushiswap (AMM) on the blockchain. It has got the particularity of having very low transactions fees for swapping since it is based on this blockchain. Raydium also serves as an investment platform with its Raydium Acceleraytor program that allows you to invest in new projects without going through a CEX(centralized exchange platform). Raydium shares its liquidities with Serum, which is also the strength of the sol network. Projects generally interact with each other, making the ecosystem way stronger.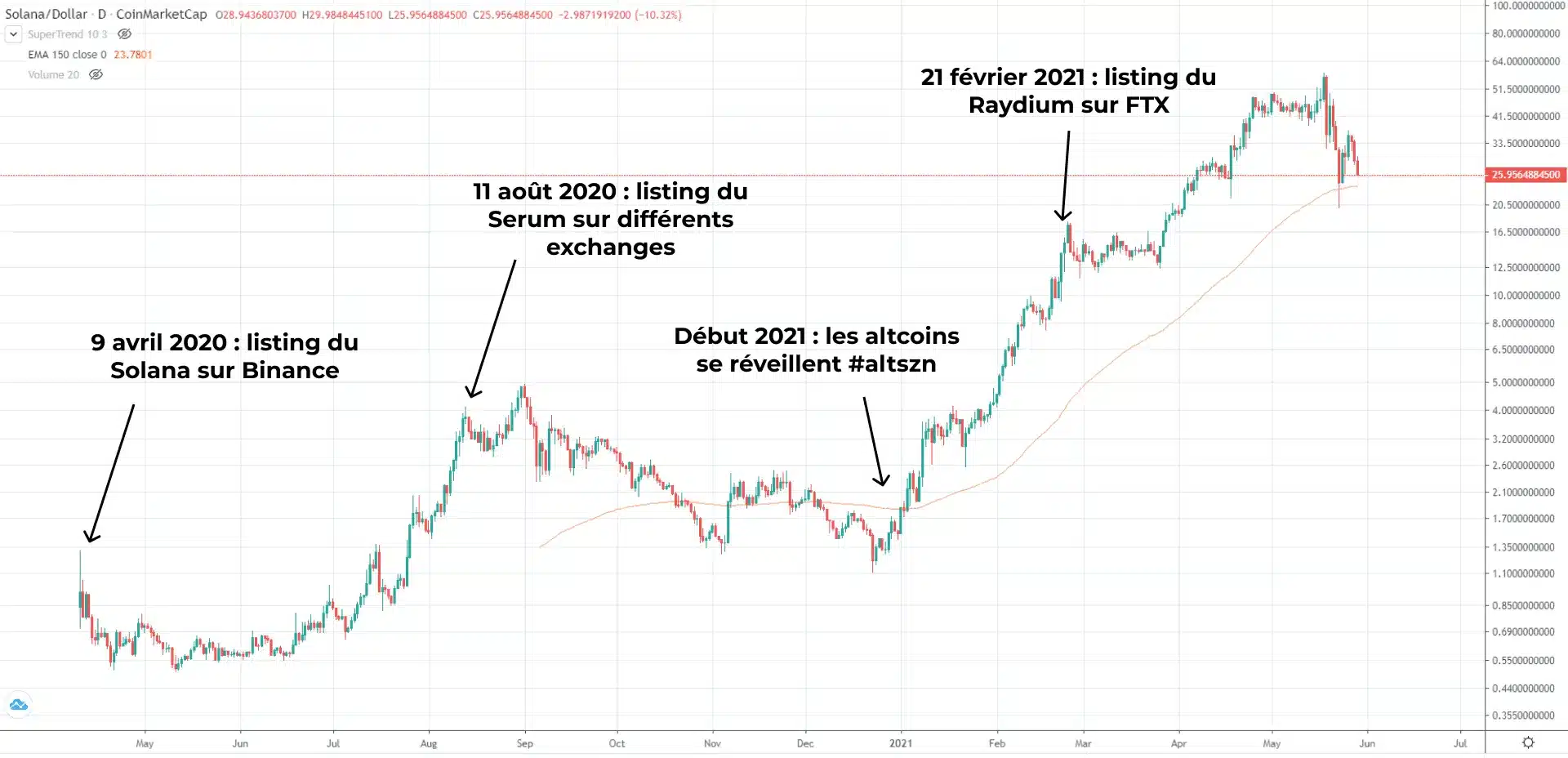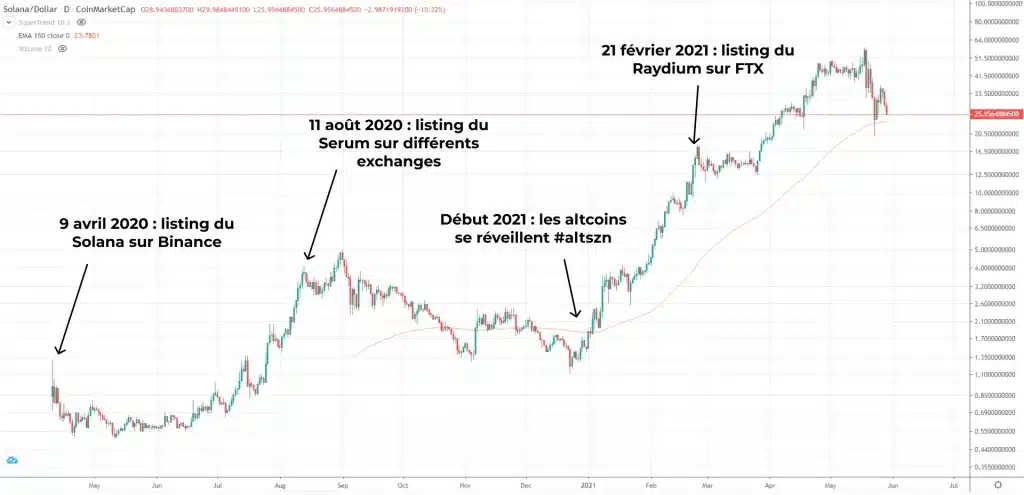 Some useful applications on Solana
Audius: Spotify and Soundcloud competitor to listen to music.
Serum: Trading protocol and decentralized exchange (DEX).
Raydium: Uniswap equivalent to exchange cryptocurrencies. Raydium also serves as a platform to invest in new projects.
Oxygen: Equivalent of AAVE and more.
JET: Equivalent of AAVE for sol network.
Mango Market: Trading with X5 on-chain leverage.
Media: CDN, VPN, DNS and decentralized domain names.
Pyth: Oracle.
Mercurial Finance: Tool to create stablecoins and supply DeFi on SOL network.
Solstarter: IDO Platform.
Solanium: Decentralized fundraising platform on the network.
Hxro: Betting system with odds.
Kin: Currency for the Kin's applications Parc.
Synthetify: Tool to create derivatives products, i.e tokens that will reproduce another real-world or crypto-asset price.
USDT – Tether and USDC, on the sol network (SPL).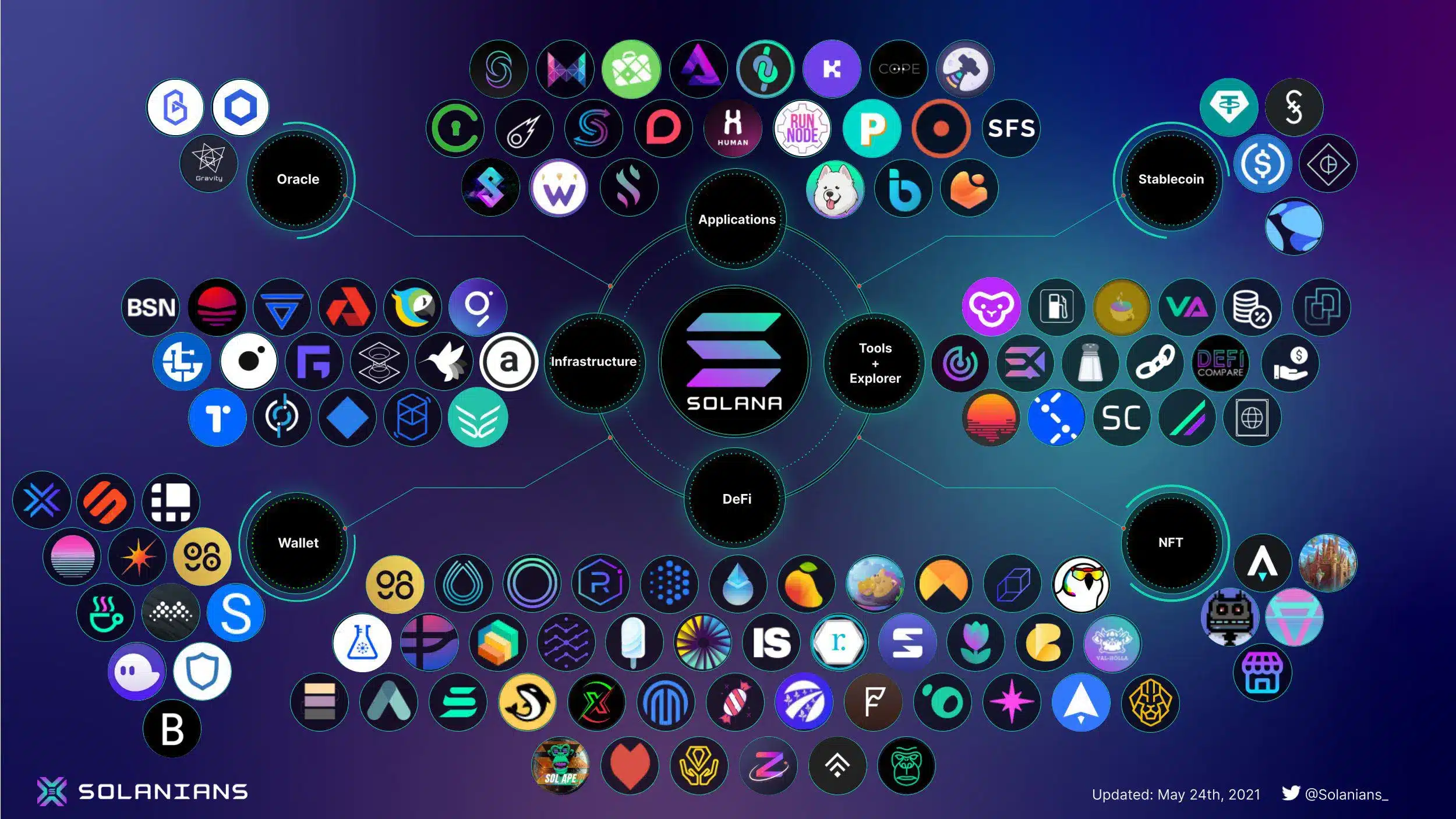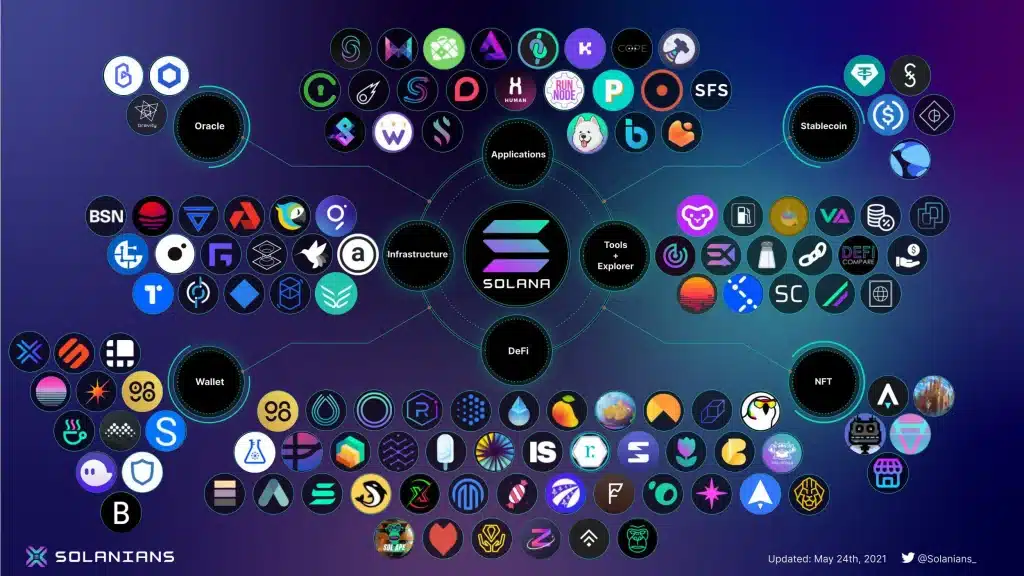 Solana (SOL) key figures
Cryptocurrency (SOL) Price evolution
Last Price: see above.
CoinMarketCap Rank: 19*
Total capitalization: €5 895 920 278*
Diluted capitalization: €10 566 892 364*
Number of tokens in circulation: 272 637 428 SOL*
Maximum number of tokens in circulation: unlimited*
Highest historical price (ATH): €47,51*
*Updated on 05/29/2021
Solana (SOL) to dollars price chart.
Useful resources about Solana (SOL)
Website link: https://solana.com
Blockchain explorer link: https://solanabeach.io
Social media link: https://twitter.com/solana
White paper link: https://solana.com/solana-whitepaper.pdf
Source code link: https://github.com/solana-labs
How to buy Solana (SOL)?
Binance – 20% discount
Binance is THE platform for buying and selling cryptocurrencies by reference. Year after year, Binance has managed to become the number 1 in terms of transactions volume and influence. In addition to SOL, you can trade more than 300 different cryptocurrencies and coins. Binance also offers the option to leveraged trade and future for the most reckless users and a staking service to create passive incomes without the slightest effort.
FTX – 5% discount
The latest in the exchange platform ecosystem, FTX has nothing to envy when compared side-by-side with the competition. In addition to sol, you would be able to buy more than 200 different crypto and coins. It has distinguished itself from other exchanges platforms by offering crypto derivatives such as future contracts and leveraged trade.
What are the wallets to store your Solana (SOL) tokens?
Browser's extension
Phantom
The Phantom Wallet is finally available for all, it's currently the most visually attractive of the SOL network. We have written a tutorial dedicated to Phantom to help you use it.
Sollet
You can very well store your SOL on sollet, an online very to use wallet. Simply go to Sollet.io or/and download its extension available on Google Chrome to use it.
Hardware wallets
"Ledger" wallets:
Ledger is a world-famous company for its wallets (hardware wallet), offering the possibility for its users to store their crypto safely.
The company proposes several types of wallets such as "ledger Nano S" or also "Ledger Nano X".
To enjoy a discount on Ledger Wallet click here
News from Solana (SOL) – Our articles about this crypto
No articles at the moment.
Frequently asked questions about Solana (SOL) crypto
What is Solana?
This is a powerful network capable of processing more than 50 000 transactions per second without using sharding or level 2 layer (sidechain) to relieve its network, making it one of the most promising blockchains in the crypto ecosystem to build applications.
What is the best way to buy SOL?
To acquire your first SOL, we advise you to go through FTX platform. It is notably renowned for offering low transaction fees for its users in addition to very high safety. SOL tokens are available under the SOL / USDT pair.
To enjoy a 5 % discount on your fees click here
How to store its SOL safely?
You can very well choose to store your tokens on the FTX platform, the risks of "hacks" are extremely low due to the security program put in place (do not forget to secure your account).
You can also store your SOL on a downloadable wallet such as Phantom.
What are the advantages of this blockchain?
An extremely active and pleasant developers community if you have good knowledge in Rust or C++. Contrary to many "Ethereum killers" which end up in the shadow at the end of a bullrun, the teams are doing their best to push people to create new applications on SOL network through frequent Hackathons with money at the key. This project is also financed by the FTX exchange which gives enormous credibility to the project.
How to anticipate movements on sol price evolution?
It is complex to predict in advance the movements of a cryptocurrency, it had such an eventful 2021 year with a massive announcement of new projects on its blockchain which drove up its price evolution from USD $1 to more than $50 as an all-time high in a quarter, so it can be interesting to look after news related to this token.
How to mine it?
It is not possible to "mine" SOL because this cryptocurrency is not using a proof of work (PoW) system but on proof of stake (PoS), it takes expensive equipment and good technical knowledge to be able to become a validating node of the network and gain rewards, you can find these conditions here.
Is it possible to farm or stake SOL?
Yes, you can generate rewards by staking your SOL tokens on different exchanges such as FTX, Binance or directly via SolFlare wallet, more info on this doc.
Rating: 4.9/5 with more than 508 votes.
Discover the prices of other cryptocurrencies in 2021