Swissborg, what is it?
Launched 5 years ago, in 2017, Swissborg is a decentralized application that allows you to purchase and trade crypto assets while enjoying the most attractive prices in the crypto market, especially thanks to the Smart Engine. The app is also known for its ease of use that allows investors to manage their crypto investments more simply and independently. The exchange also has its token being CHSB.
The application offers numerous innovating features such as:
The Smart Yield, allows users to earn more than reasonable returns by locking crypto assets for one year.
The Smart Engine, allows people to access the lowest prices on the market. By focusing on 4 distinct platforms (Binance, HitBTC, LMAX, and Kraken), the Engine finds the best route to achieve your transaction at the best price.
Obtaining a "bonus ticket" of a value going from €1 to €100 with the condition to go through an affiliate link.
Since its launch a few years ago, the application has enormously made itself known, in this article, we will review and introduce you to the key facts to know about Swissborg.

How to register on Swissborg?
To register on Swissborg, you first have to download its application, which is available on both the Play Store and the Apple Store.
Once the application is installed, you have to create an account. For this, you will need to enter your mobile number, and later you are going to receive a code. Then indicate the code in the form.
Registering on the application only takes 2 minutes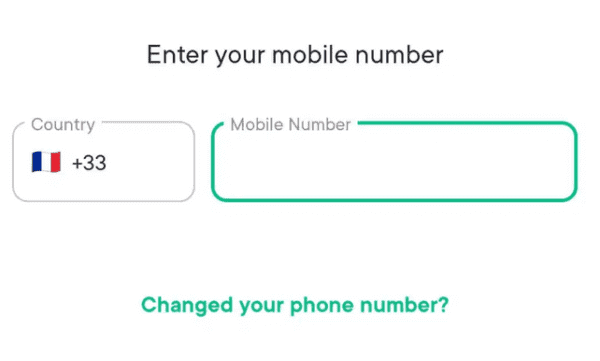 Once this step is done, you have to secure your account by setting a 4 numbers pin code.
CAUTION: avoid putting your birth date, 0000, and even 1234 as pass code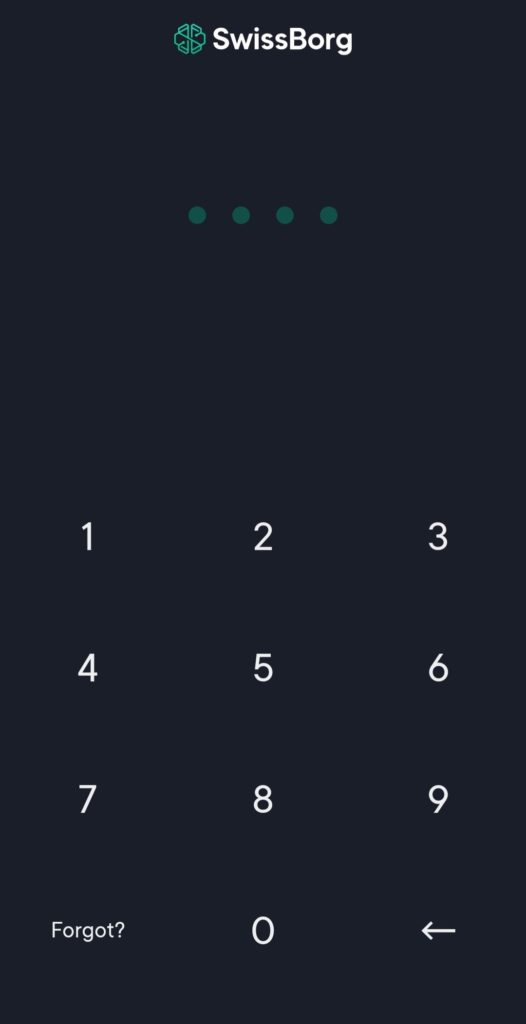 To modify your pin code (once the registration is done), you have to touch your profile icon located at the top left of your screen then go to the "security" tab.
To end, click on the "change passcode" tab.
You then have to fill a form, by inputting your first name / last name, date of birth, and nationality.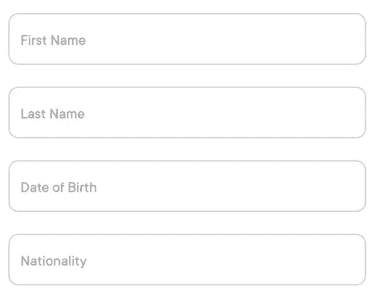 You need to obtain your first KYC clearance level (knowing customer identity process) to finalize your registration and have access to the application features.
The required information for your first KYC clearance level are:
A passport / valid ID
a good quality selfie
Some information about your investment experience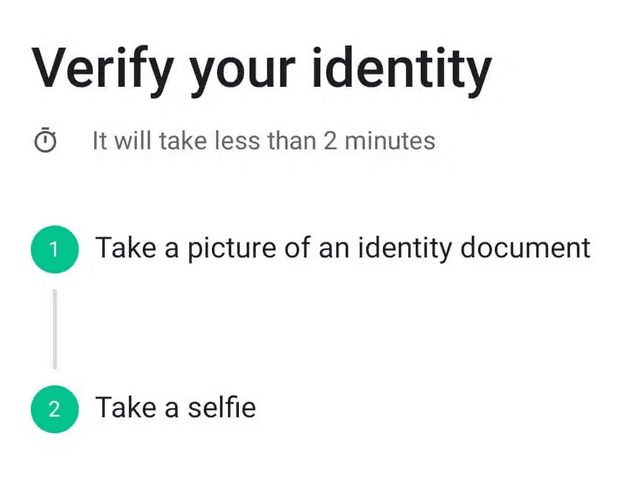 Once your identity is verified, you almost immediately receive a notification by email. You are now registered and can start using the application and discover all of its features.
To register on Swissborg, please click here:

Advanced clearance of your Swissborg account (KYC / AML)
On Swissborg, there are 3 clearance levels with transaction limits for each level. Although level 1 (achieved during registration) is more than enough for most users, here is how you can access the upper levels.
Note that for the 1st level, deposits and withdrawals are limited to 5 000 euros (about 5 600 USD).
Click on your profile located in the top left corner of your screen, then click on "account level".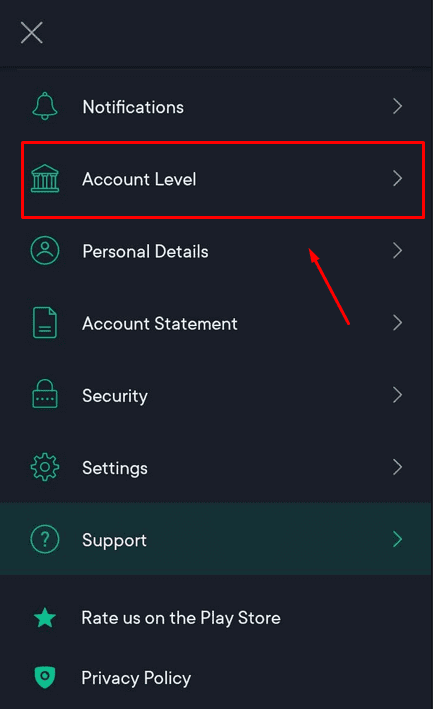 Level 2 (deposits and withdrawals are limited to 50 000 euros, about 56 800 USD): To access this second level, this time, verification of your address is asked, please provide one of the following documents:
A bank statement
A bill of public services from your current residence (gas, electricity, water, internet, phone)
A credit card statement
A rental agreement with the rent receipt
Be sure to provide a document that is no more than 90 days old.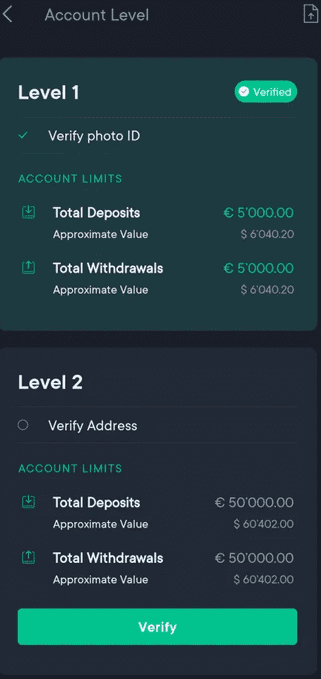 Level 3 (unlimited deposits and withdrawals volume): To obtain this third level, an AML verification (anti-money laundering) is asked.
Proof of funds allows you to trace the source of funds, for example in the case of employment, investments, or ownership of a business. You must therefore provide one or more documents that confirm this.
The third level is only necessary for very large transactions and if you are deeply implicated in trading cryptocurrencies.

Make your first deposit on Swissborg
On Swissborg, you can deposit EUR only by bank wire transfer. A minimal amount of 50 euros is required to deposit the money.
Step 1: Click on the "deposit" tab located on the homepage. Then select a fiat currency on the list.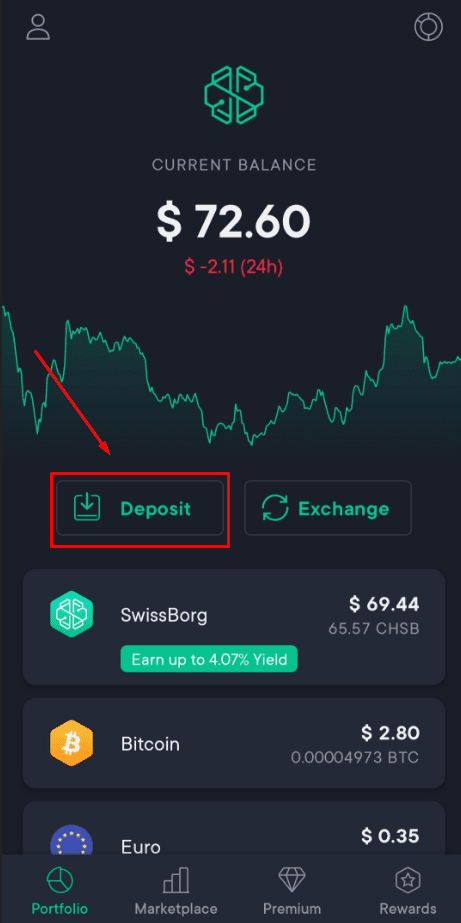 Step 2: Then fill in the Swissborg SWIFT information (IBAN, BIC, etc…) on your bank account to confirm the transaction.
If your account is linked to the Euro, you have two options, "local deposit" and "SWIFT deposit". Choose the method that suits you best.
Note that wire transfers can take up to three days before you receive the money in your Swissborg account.
CAUTION: if you select the SWIFT deposit, do not forget to enter the reference number indicated on Swissborg on your bank account.
In the opposite case, contact support as fast as possible by giving them maximum information.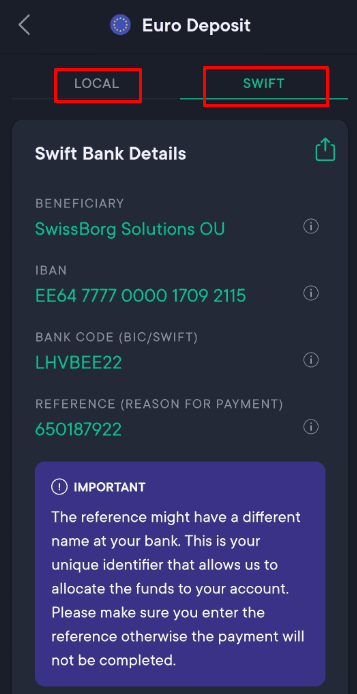 On Swissborg, you can also transfer cryptocurrencies on your account coming from another exchange (after making a 50 euros minimum deposit on your account).
Click on the "deposit" tab located in the middle of your screen, then select the cryptocurrency you want to deposit, then indicate the address on your screen.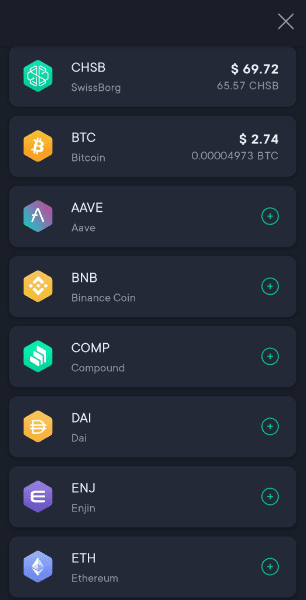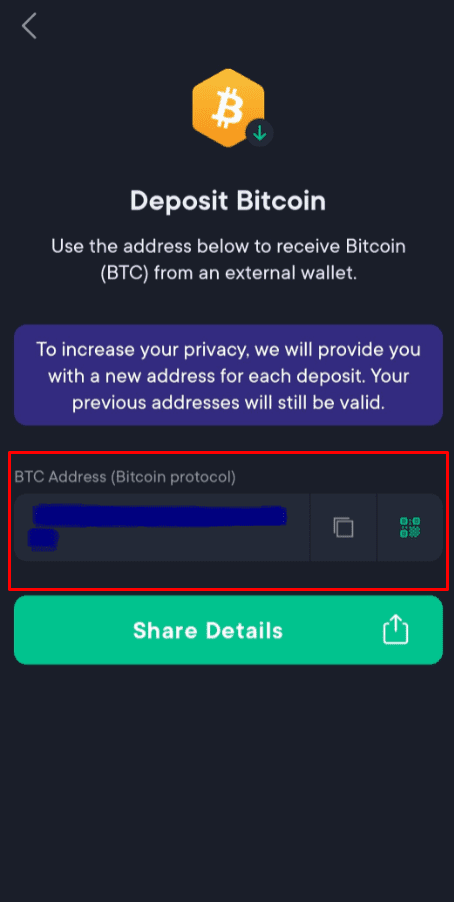 Invest in the market
Once credited, you will be able to invest in the crypto market. But don't worry, the application is very easy to use even for beginners.
To start, please go to the "marketplace" tab then click on one cryptocurrency amongst the 14 that are currently listed on the application.

The listed crypto currencies are the following coins / tokens: BTC, ETH, CHSB, USDC, PAXG, ENJ, KNC, COMP, AAVE, REN, DAI, UNI, UTK et BNB.
Then click on the "buy" button, select the buying currency and the amount that you want to purchase, then confirm your transaction on the page that will appear right after.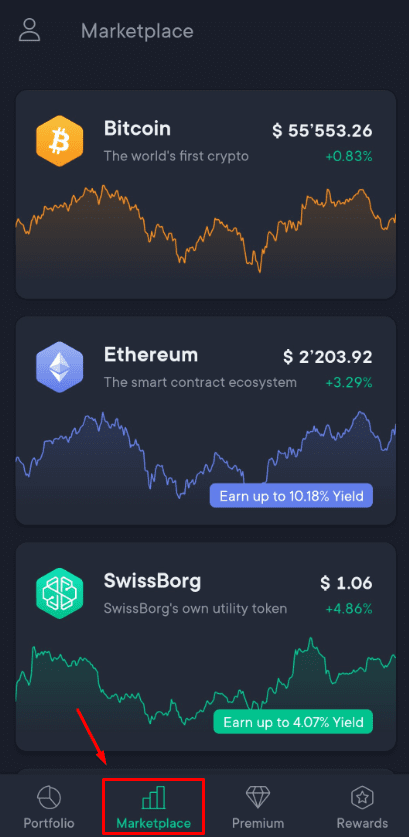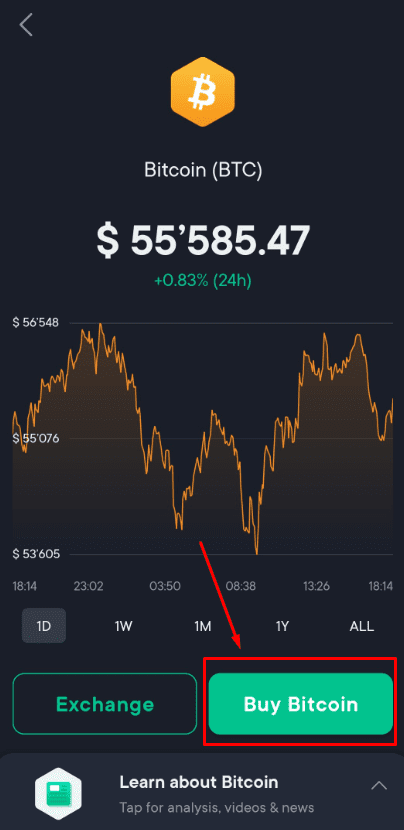 The Smart Yield
With Swissborg Smart Yield, you have the opportunity to generate interest on your unused crypto balance very simply.
Currently, only ETH and USDC tokens are eligible for these types of yields. With return rates going up to 18% for the USDC coin (per year) and more than 10% for the Ethereum token for premium accounts, this feature has already surpassed all of its expectations.
Note that the available return rates for standard accounts are much less attractive, about 9% for USDC and 5% for ETH. However, it still is a great opportunity.
To benefit from these high returns on your cryptocurrencies, please follow these 2 steps:
Step 1: you only have to select an eligible asset (USDC or ETH) that you want to allocate on your Yield account (e.g.: ETH).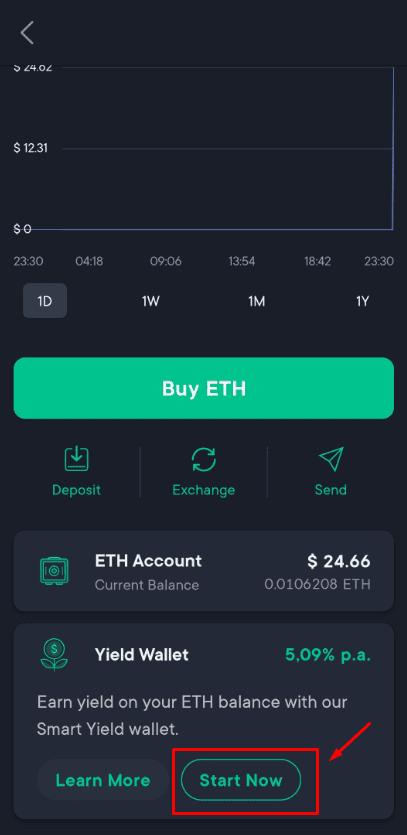 Step 2: then click on "Start Now", fill in the amount that you want to allocate, accept the terms and conditions, then click on "Subscribe".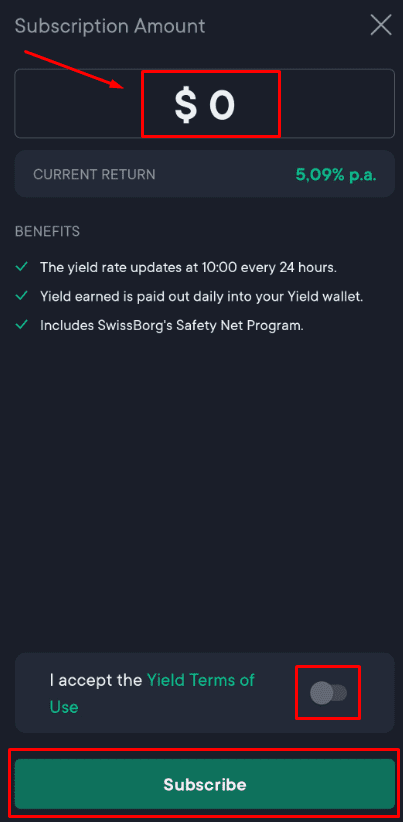 You can now fully benefit from this feature, your wallet can now start generating daily returns.
You also have the opportunity to achieve and earn daily return rates with your CHSB tokens (up to 10% for premium accounts), however, this mechanism is not based on the Smart Yield but the "community index".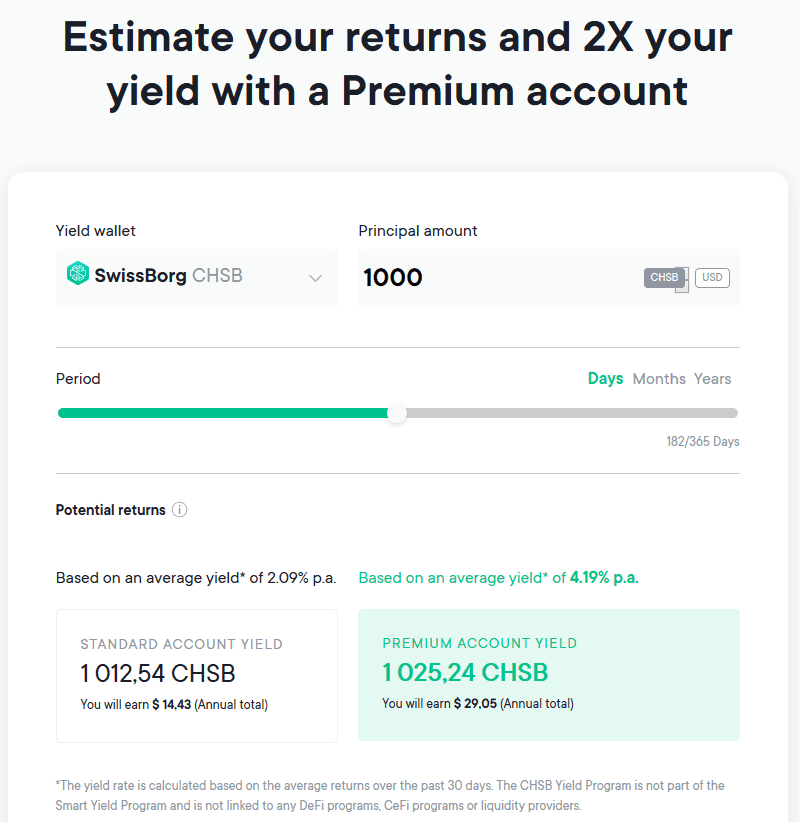 Do not forget that 25% of all gains obtained this way are paid back into a guarantee fund, therefore this greatly reduces the risk.
CAUTION: Each investment involves a more or less high level of risk!
To register on Swissborg, please click here:
Become a premium member on Swissborg
There are numerous advantages exclusive to members with a "premium" account on Swissborg, including trading fees and Smart Yield. Users with this type of account benefit from a doubled return on their cryptos compared to standard accounts.
Not to mention the exchange fee which varies between 0% and 0.25% for premium members, as opposed to 1% for standard members.

To get the "premium" grade on Swissborg, you need to buy 50 000 CHSB coins which have to be locked for 365 days.
Note that in the following months, Swissborg should add a "community premium" grade that can be unlocked by purchasing 2 000 CHSB coins that also have to be locked for one year.
However, Swissborg has not yet communicated a precise date.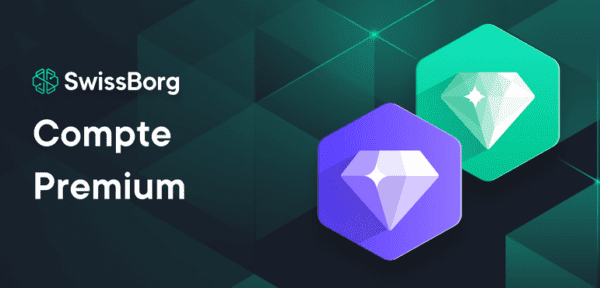 The Smart Engine
As indicated at the beginning of the article, the Engine allows Swissborg to offer very attractive prices, amongst the best on the market.
The revolutionary technology of the Engine offers a unique investment solution. By connecting to 4 exchanges, Binance, HitBTC, LMAX, and Kraken, you always get the lowest price on the market.
This market-changing technology simplifies and optimizes the trading of crypto assets across multiple exchanges in a fraction of a second, and does so from a single institutional-grade exchange. As a result, the lowest market prices are automatically achieved.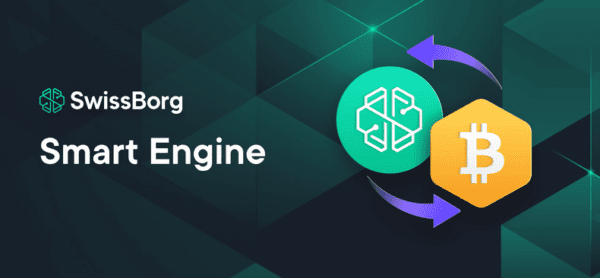 To register on Swissborg, please click here:
The lottery tickets
In addition to these numerous innovative features, Swissborg allows you to receive a bonus ticket worth 1 euro up to 100 euros. To receive this ticket, you must register on the app through an affiliate link of someone of your choice.
You will receive your ticket once you have deposited a minimum amount of 50 euros on the application. Not to mention that the person you are affiliated with will also receive a lottery ticket of the same value as yours.

Let's say you receive a ticket worth 5 euros, your referrer also gets 5 euros.
To receive your ticket, all you have to do is click on the "rewards" tab located at the bottom right of your screen, then click on "reward tickets" and see the reward that has been awarded to you.
Do not forget to go through this link to receive your ticket.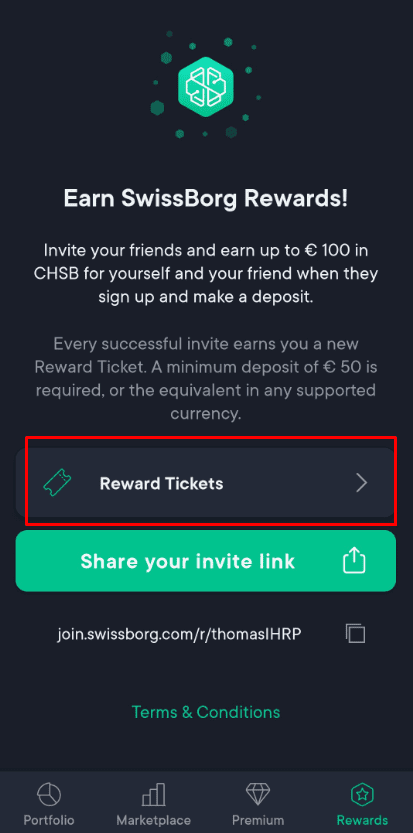 The community app
Swissborg also has a secondary application, the "community app". The application is available on the Play Store and App Store. It already has more than 100 000 downloads.


This application allows people to bet on the increase or decrease of Bitcoin in a 20 seconds time period with points awarded by the application. You begin with a total of 400 points.
To bet, you have to click on "Going Down" or "Going Up" (bet on the decrease or increase), then select the number of points that you want to bet. Then confirm your transaction.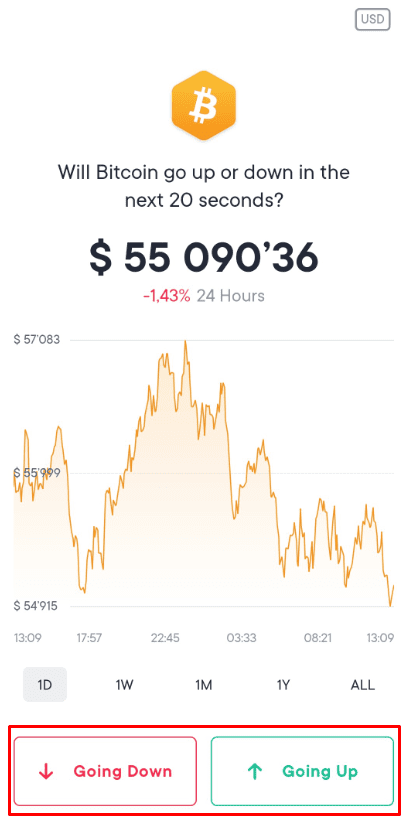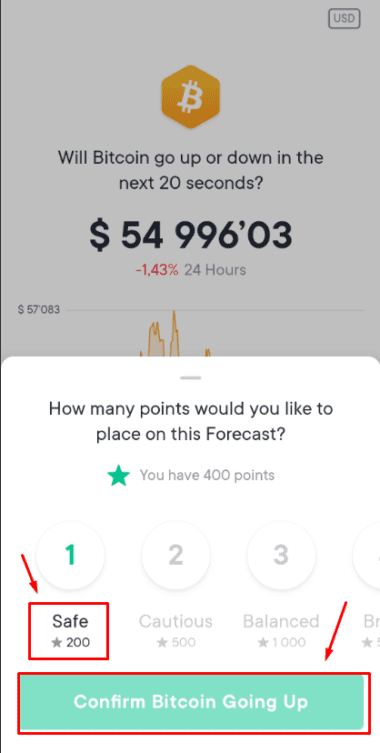 Once your first prediction is done, you have to finalize your registration by giving your phone number, your email address, and some personal data.
You then have access to all the available features on the app. A "rank" system and virtual rewards have also been set up.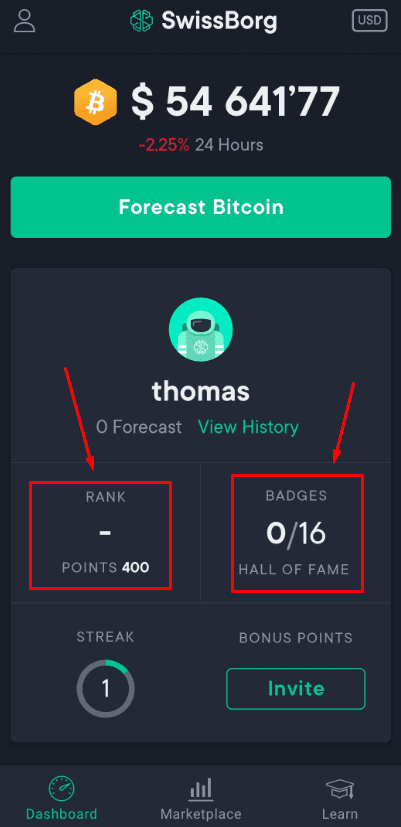 Don't think of it as trading but rather as an entertaining prediction game.
To register on Swissborg, please click here:
Our opinion on the Swissborg app
The app's positives:
Particularly low commissions
Easiness to use
Last generation analysis tools
Implementation of the Smart Engine
The app's negatives:
Insufficient supply (14 cryptos available)
Application only in English
No trading function (buy orders, leverage, etc. ….)
Possibility to trade only by phone

Conclusion
According to our overall review and despite a rather complicated premium to obtain, a lack of cryptos and features such as buy orders or leverage effects that can be very restrictive for many users, Swissborg is without any doubt an excellent application. However, amongst the many exchanges that exist, the DEX is one of the best, although it was created less than 5 years ago (2017).
Furthermore, in an era where wealth management and optimization are crucial at every single level, fees and returns optimizations can help you accumulate more easily wealth.
It allows beginners to invest their money without any difficulties and safely.
Innovative features such as the implementation of the Smart Yield which allows users to earn more than reasonable return rates, and the relatively low commissions (especially for premium accounts) give this application a very positive score.
👉 Do not forget to go through our link to benefit from a bonus ticket:
Score: 4.5/5 with more than 298 votes