What is Binance?
Launched in 2017, Binance is an online trading platform that enables you to buy and to trade cryptocurrencies. Due to the daily traded volumes, Binance is considered the largest of its category. Leveraging its own token, the Binance Coin (BNB), Binance is also one of the cheapest brokers on the market, as opposed to Alvexo or eToro. Binance offers over 300 cryptocurrencies for purchase.
Binance is a broker that only offers cryptocurrencies. It does not offer forex or standard shares from the stock exchanges.
Learn more about our opinion on this trading platform.

How to register on Binance?
To register at Binance, click here. Fill in the required information to create your user account (register through email or mobile phone).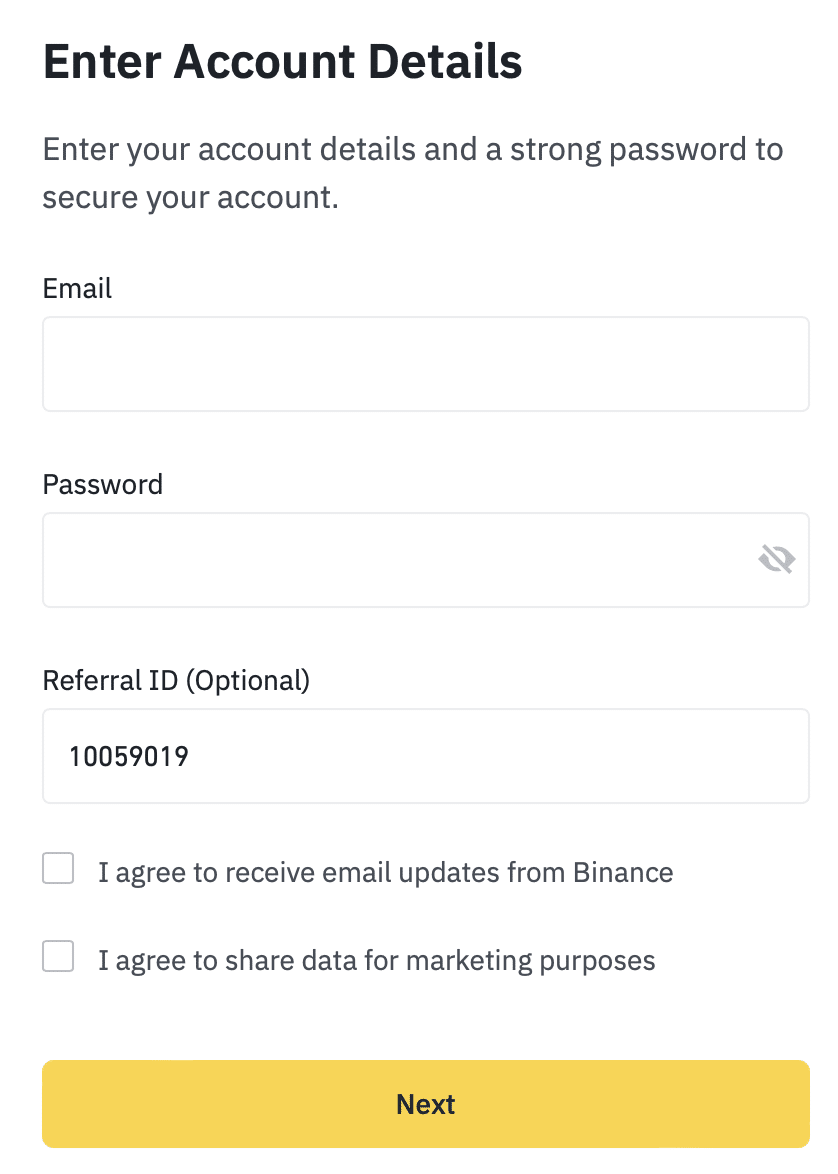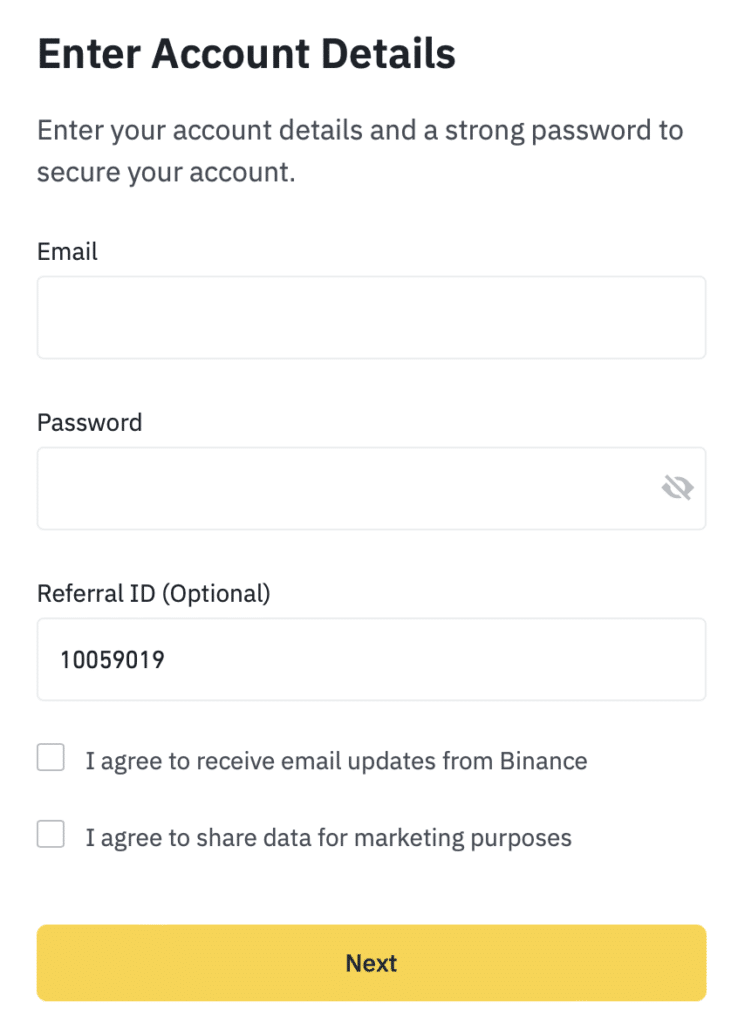 At this stage, you will receive a code at the email address (or mobile phone number) provided when registering. Enter this code in the form to complete your registration. However, there are a few important additional steps to follow.
Verify your account with an ID (KYC)
As with any other trading platform, account verification with an ID is required before starting to trade. To do so, click on "identification".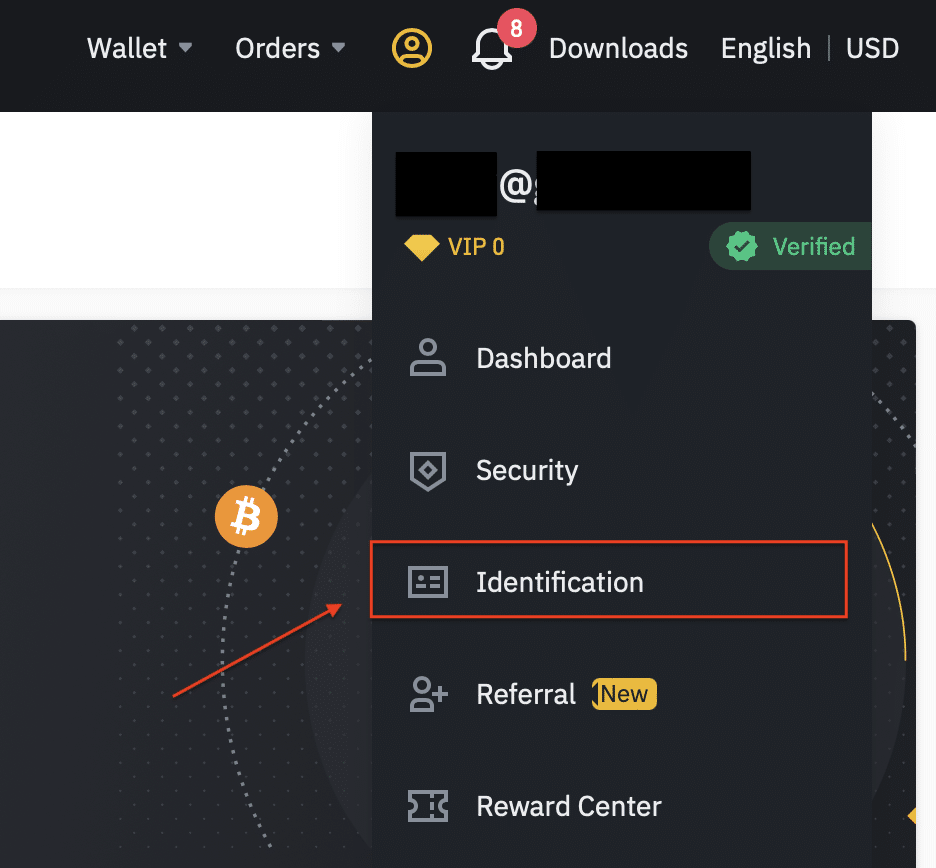 You will be taken to a page that looks as follows: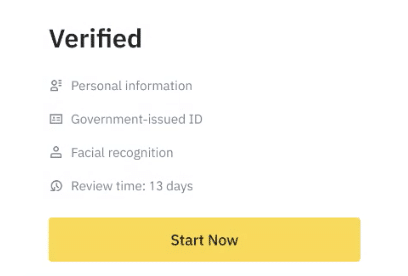 After this, click on "start now".
Select your country of residence. Ensure that you have made the correct selection here. This step is critical in order to verify your account.

You will then arrive at a page requiring additional information. Once again, ensure that you correctly provide the information. The provided last name, first name, place of residence, and additional identifying information must match your ID.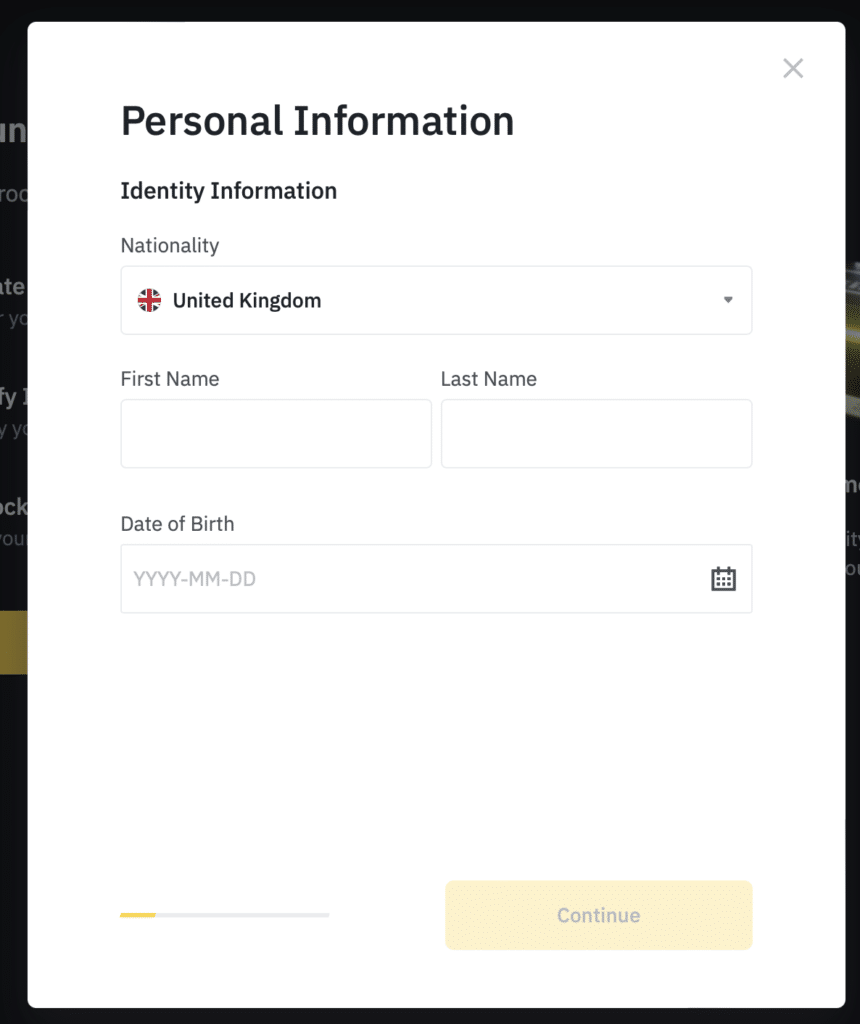 However, there is more to the registration process once you have filled in this form.
After having provided the information from your ID or passport, you will need to send a copy of your passport or ID to Binance so that it can be checked against the personal information you provided in the previous step. Lastly, to finalize the process, you will be required to take a live photo of yourself.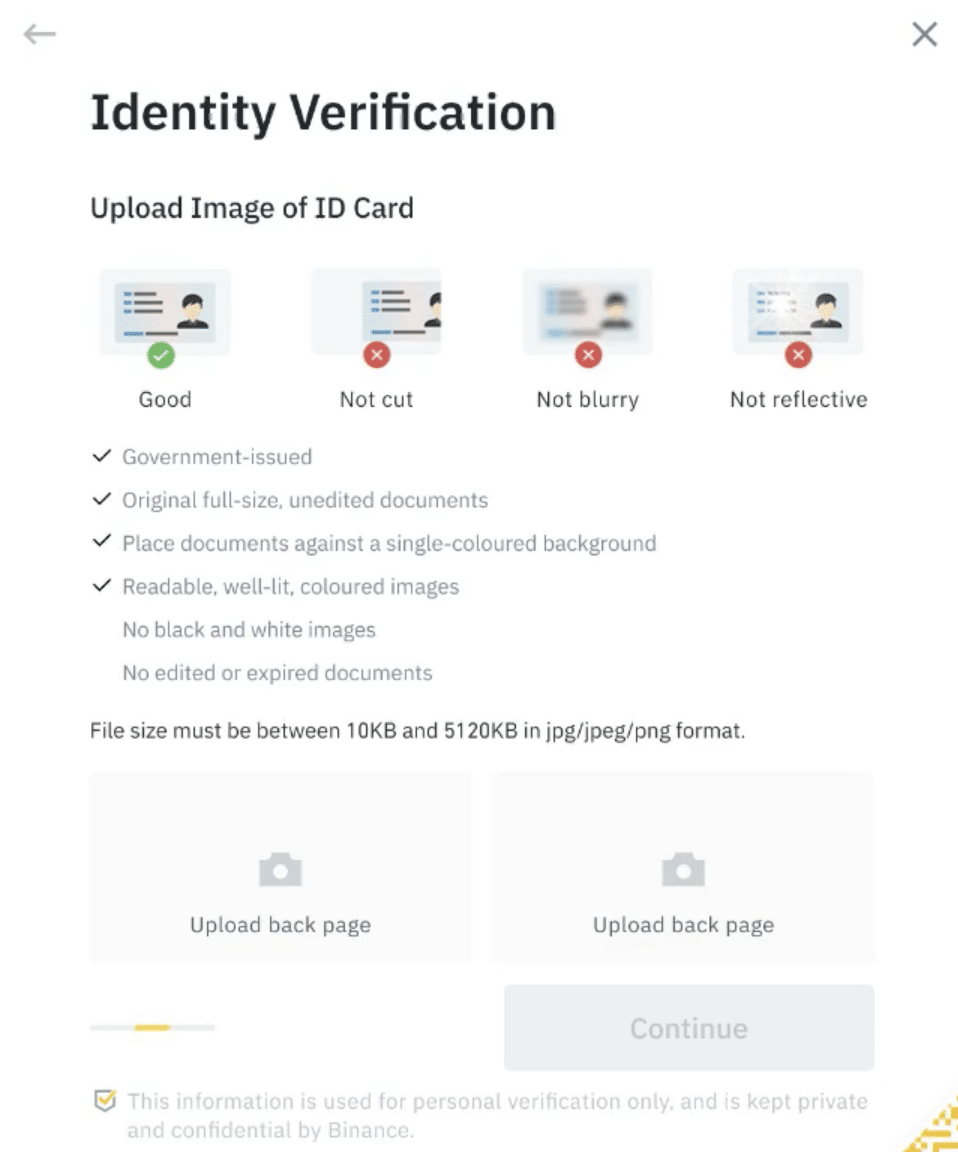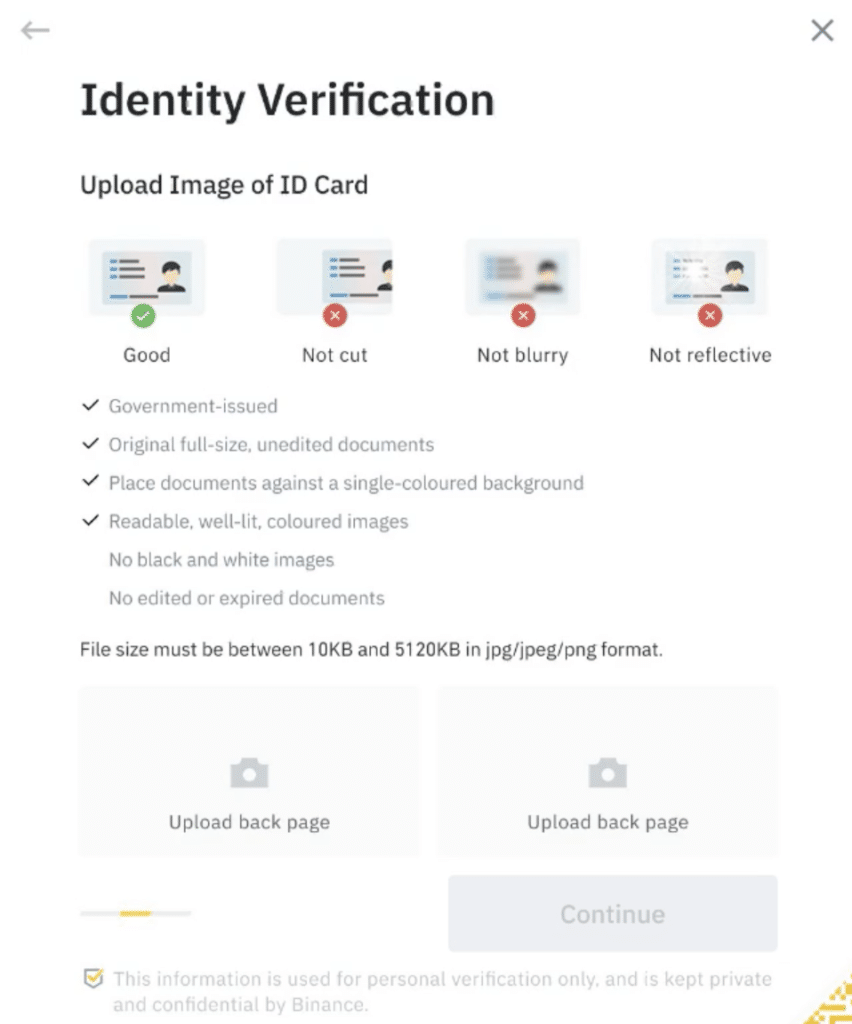 Upon completion of these steps, the support team from Binance will analyze the application as quickly as possible. It is recommended to go through all steps within 15 minutes and to not refresh the page during the identification process.
To register on Binance, click here.
Secure your Binance account (2FA)
Before trading your first token, it is important to secure your account. Although many options are available to do so, many users neglect securing their online accounts. Most traders also agree that you should systematically secure your accounts.
2FA is a two-factor authentication service that allows you to further secure your account. We believe this should be activated on any platform where your money is handled. To activate this feature, click on "security".
Three different options to enable 2FA will be displayed to you. We decided not to go through the first option and to only present the options utilizing Google or SMS on your mobile.

If you decide to use Google, you will need to go through the following steps:
Step 1: download the Google Authenticator app.
Step 2: scan the QR code provided by Binance with the app. If you are unable to scan the code, input the provided code directly in the app.
Step 3: write down and store this backup key in a safe location. In the event of a loss or theft of your mobile phone, this code will help you authenticate yourself with Binance.
Step 4: Input both the code sent to your email address and the one provided on Google Authenticator into Binance.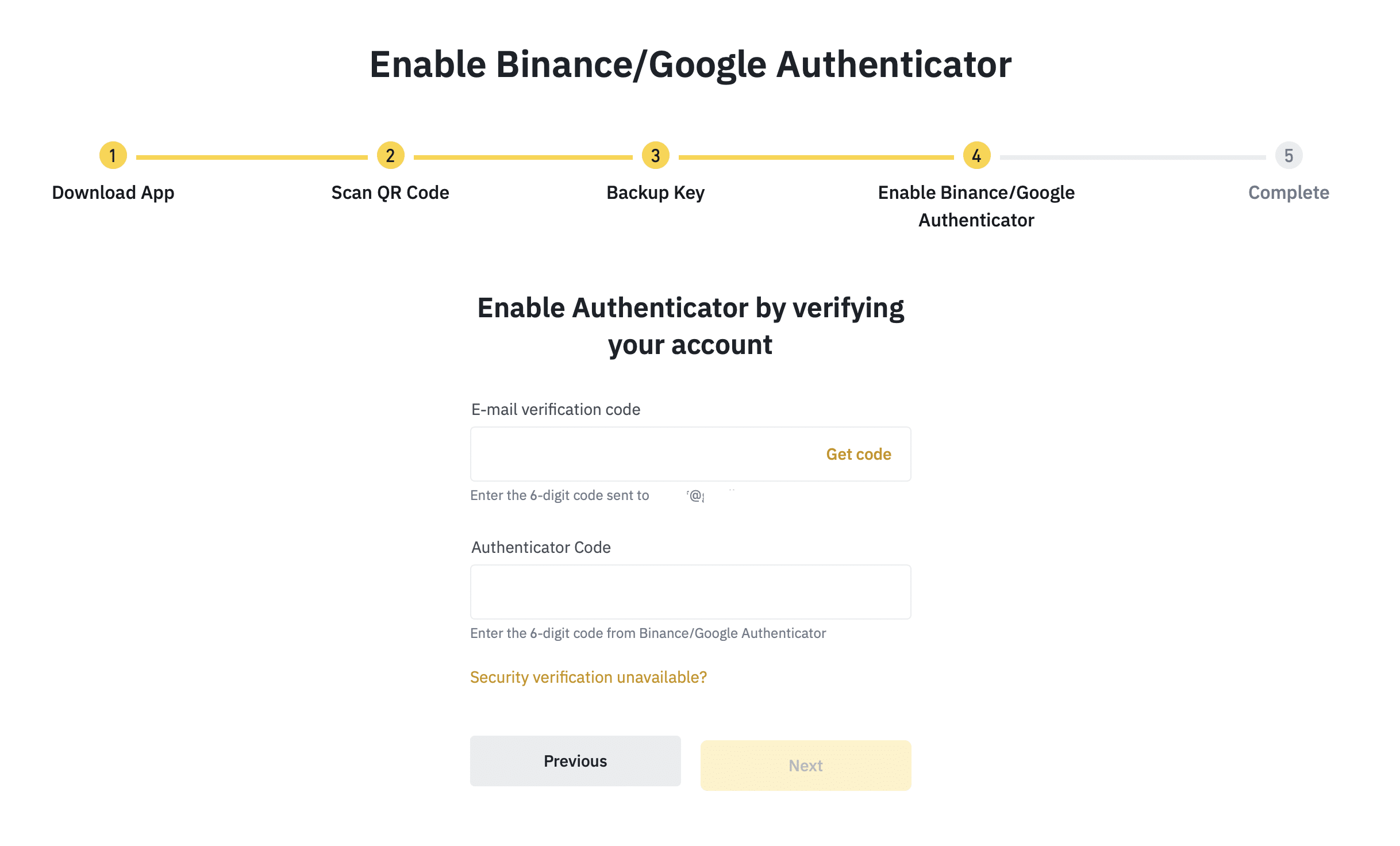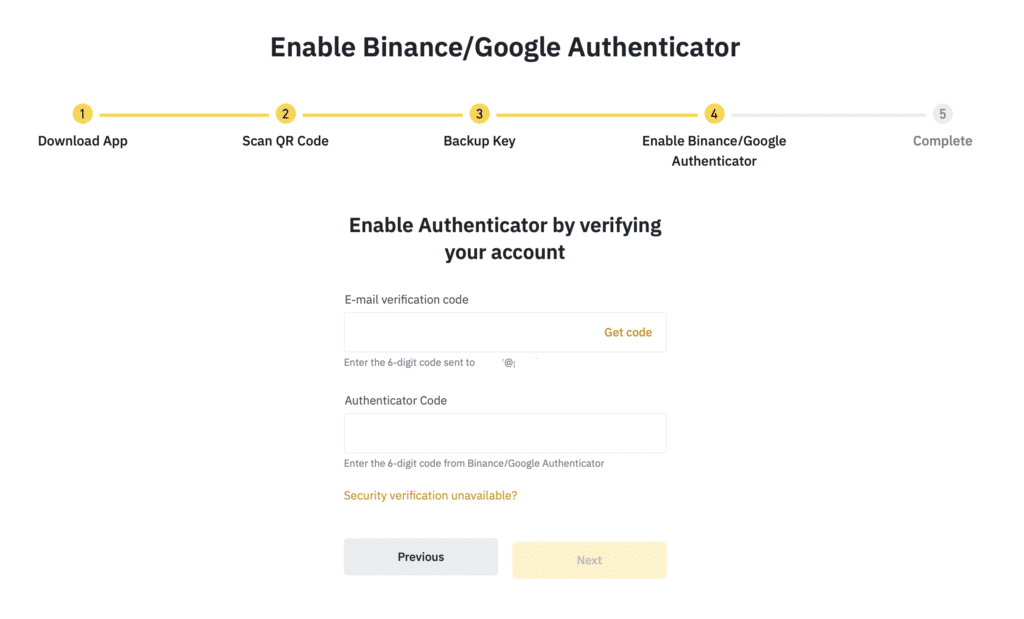 After performing these steps, your account will have 2FA enabled.
You can also secure your account with your mobile phone number.
First, you need to provide your phone number. Binance will send you a text with a code that you will have to promptly input on the website. The SMS authentication can be used to supplement Google Authenticator.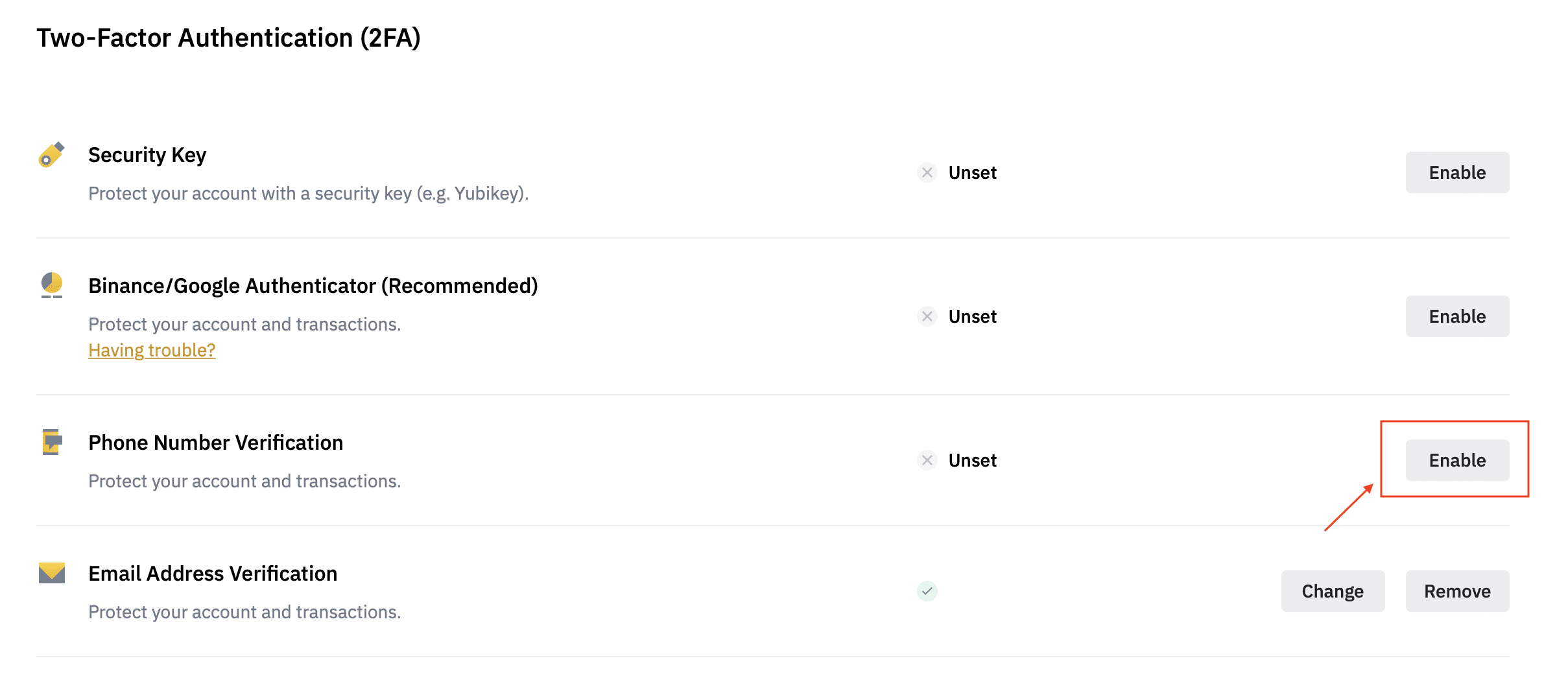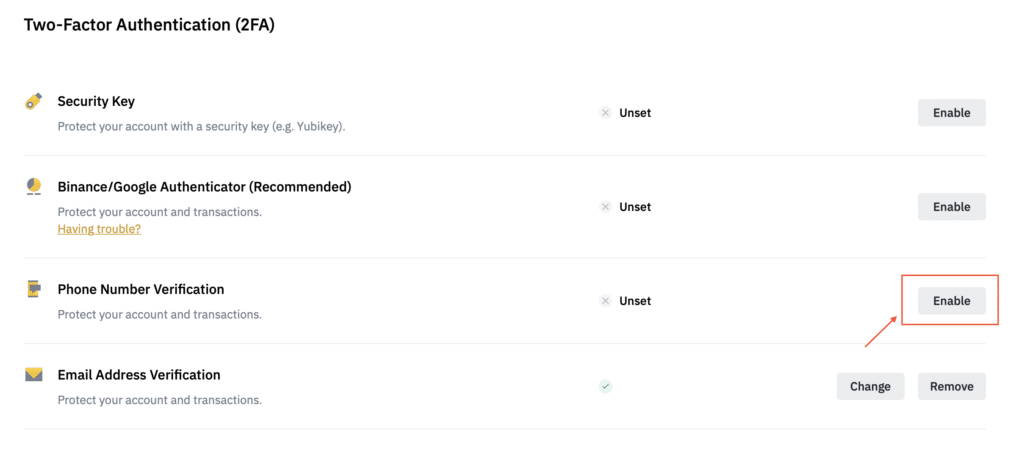 To register for Binance, click here.
How to buy cryptos on Binance?
Binance offers users to trade cryptocurrencies. To do so, there are a few steps to follow:
Step 1: click on "buy crypto".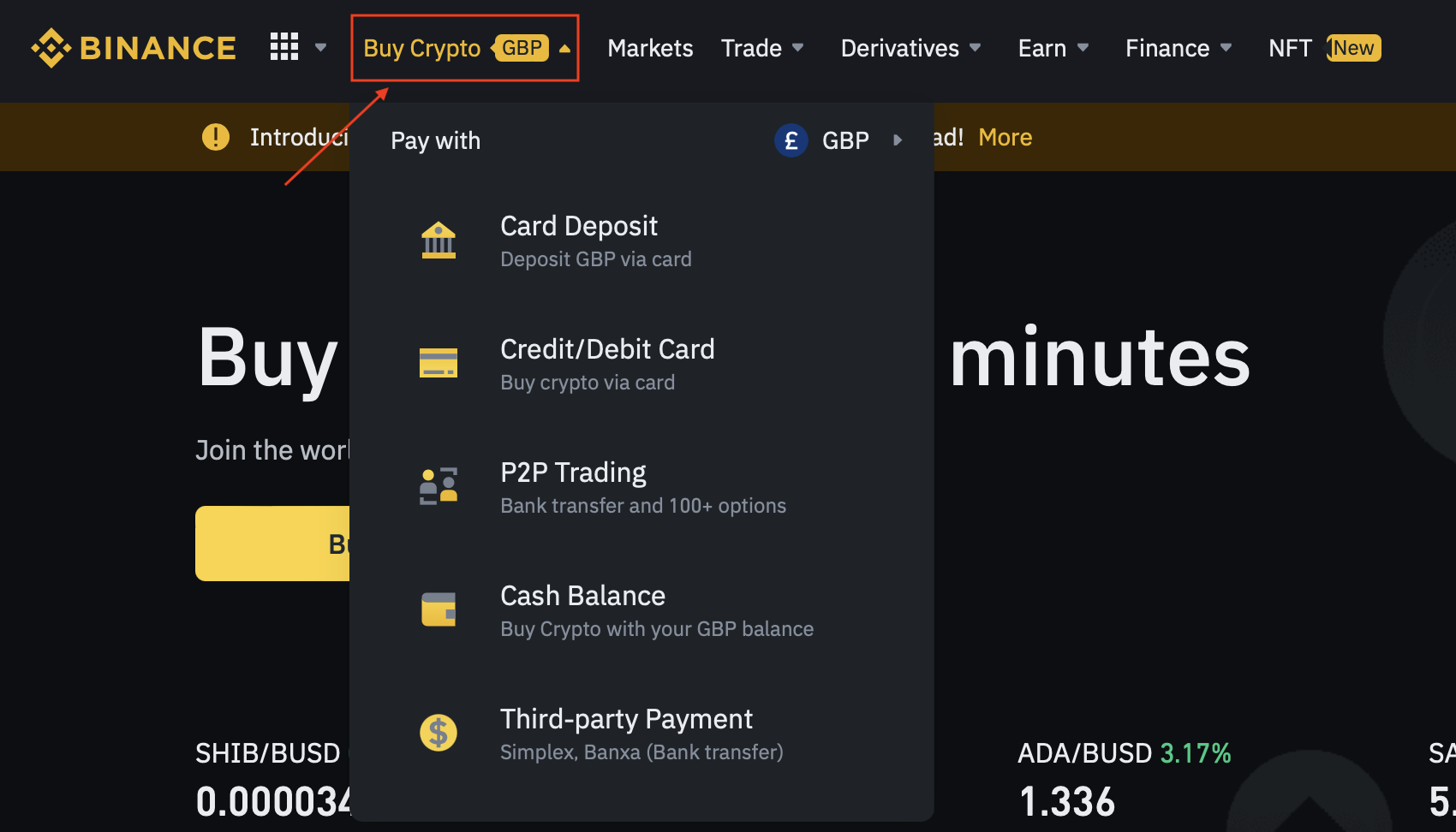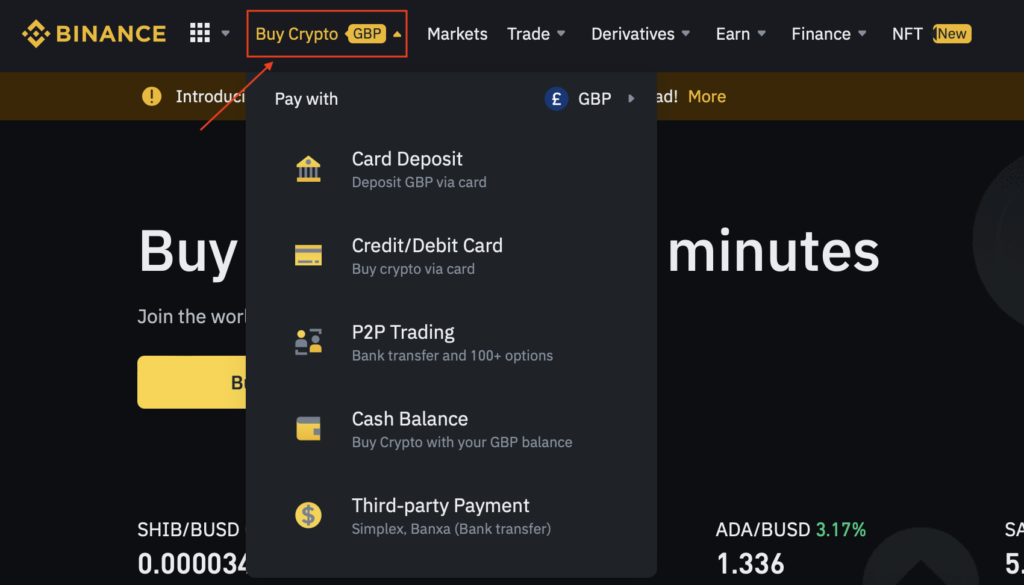 Buy cryptocurrencies with a credit card on Binance
Once on the page, choose your preferred payment method. For example, for buying cryptocurrencies with a credit card:
Step 1: choose "card deposit".
Step 2: select "bank Card (VISA/MC)".
Step 3: input the desired amount that you would like to purchase.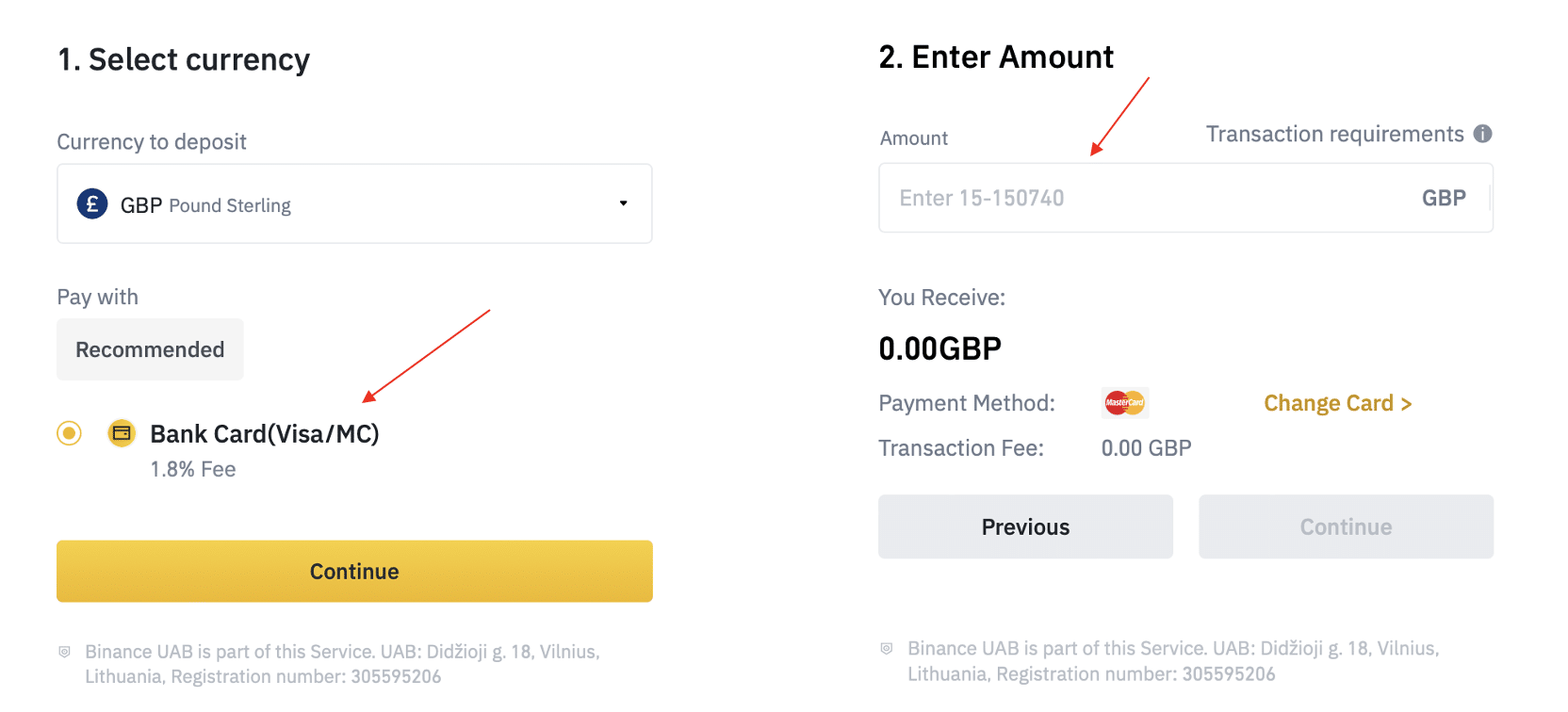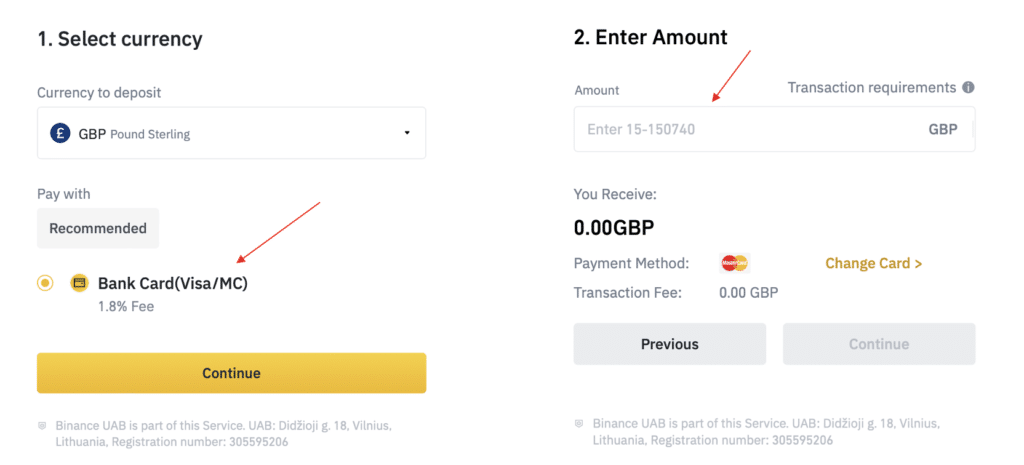 After completing those two steps, you will simply need to provide your card details, and your funds will be made available on Binance.
A 2% transaction fee is levied on purchases made with credit card. Bank transfer deposits, however, are free of charge (SEPA suspended).

To register for Binance, click here.
Buy cryptocurrencies through bank transfer on Binance
Note: SEPA bank transfers are currently not offered by Binance anymore. Customers can still perform SWIFT bank transfers in USD.

Binance also offers the option for customers to buy crypto via a bank transfer. To do so, select "bank deposit".
Step 1: enter the desired amount for your deposit.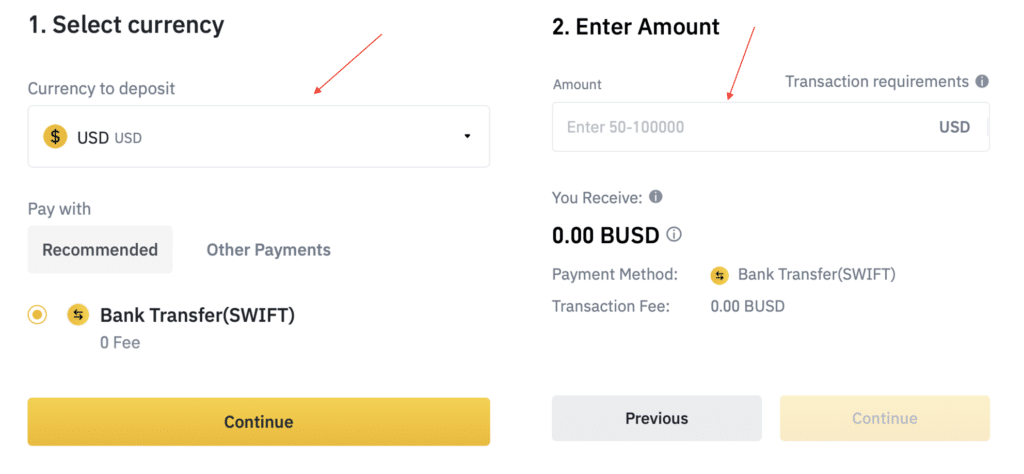 Important: the name associated with the bank account should match that of the Binance account. Otherwise, Binance will reject the bank transfer.
Step 2: perform the bank transfer, as per the information highlighted in the red square, through a local branch of your bank or through your bank's online platform.
As opposed to credit card deposits, bank transfer deposits are free of charge.
To register on Binance, click here.
Binance also offers customers to use leverage when trading crypto. You can find an article dedicated to the topic here.
How to withdraw from Binance?
Withdraw cryptocurrencies from Binance
Binance provides the possibility to transfer coins to other online platforms such as FTX, KuCoin, or Bittrex. You can also send cryptocurrencies to a wallet, be it hardware, software or paper – a useful feature when you want to pay a friend.
Step 1: sign in to Binance and click on "wallet" and "overview".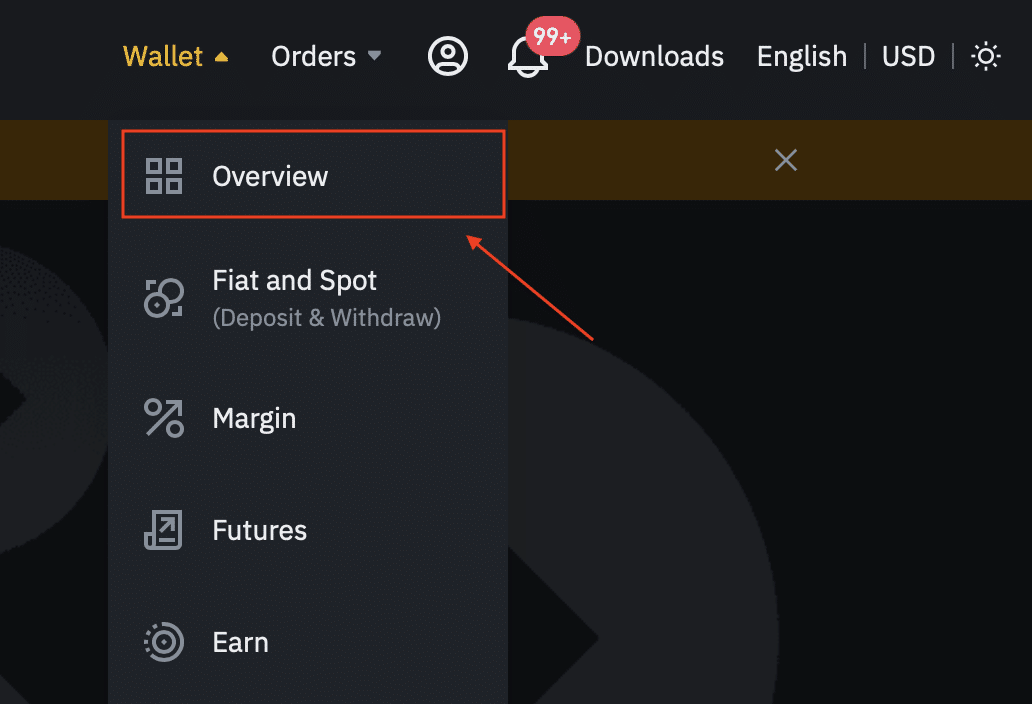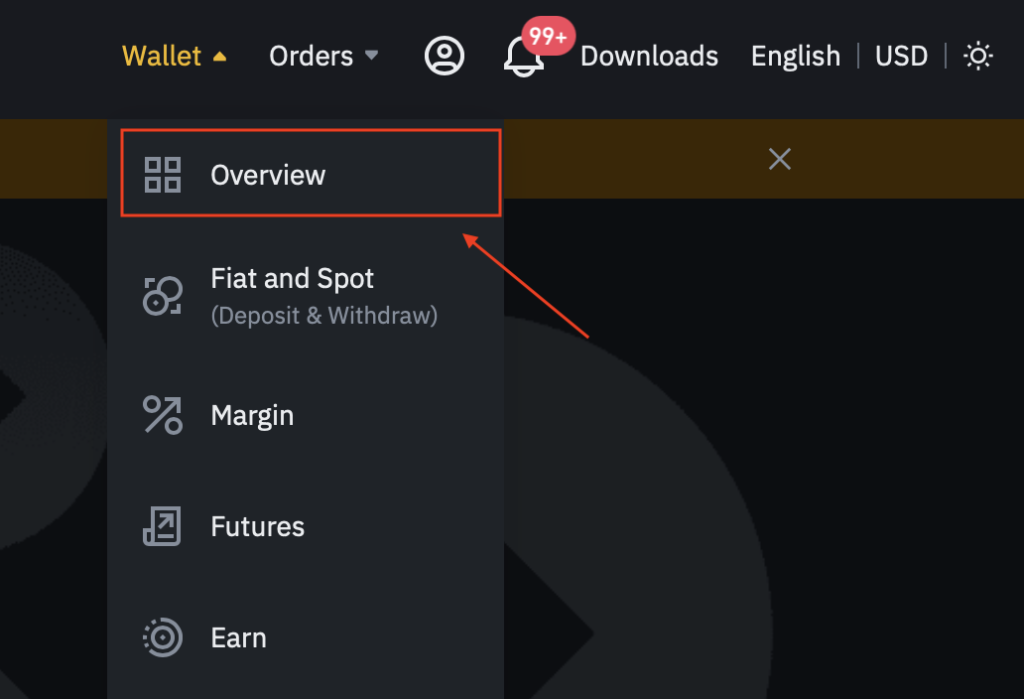 Step 2: click on "withdraw".


Step 3: click on "crypto".


Step 4: select the coin that you want to transfer out of Binance.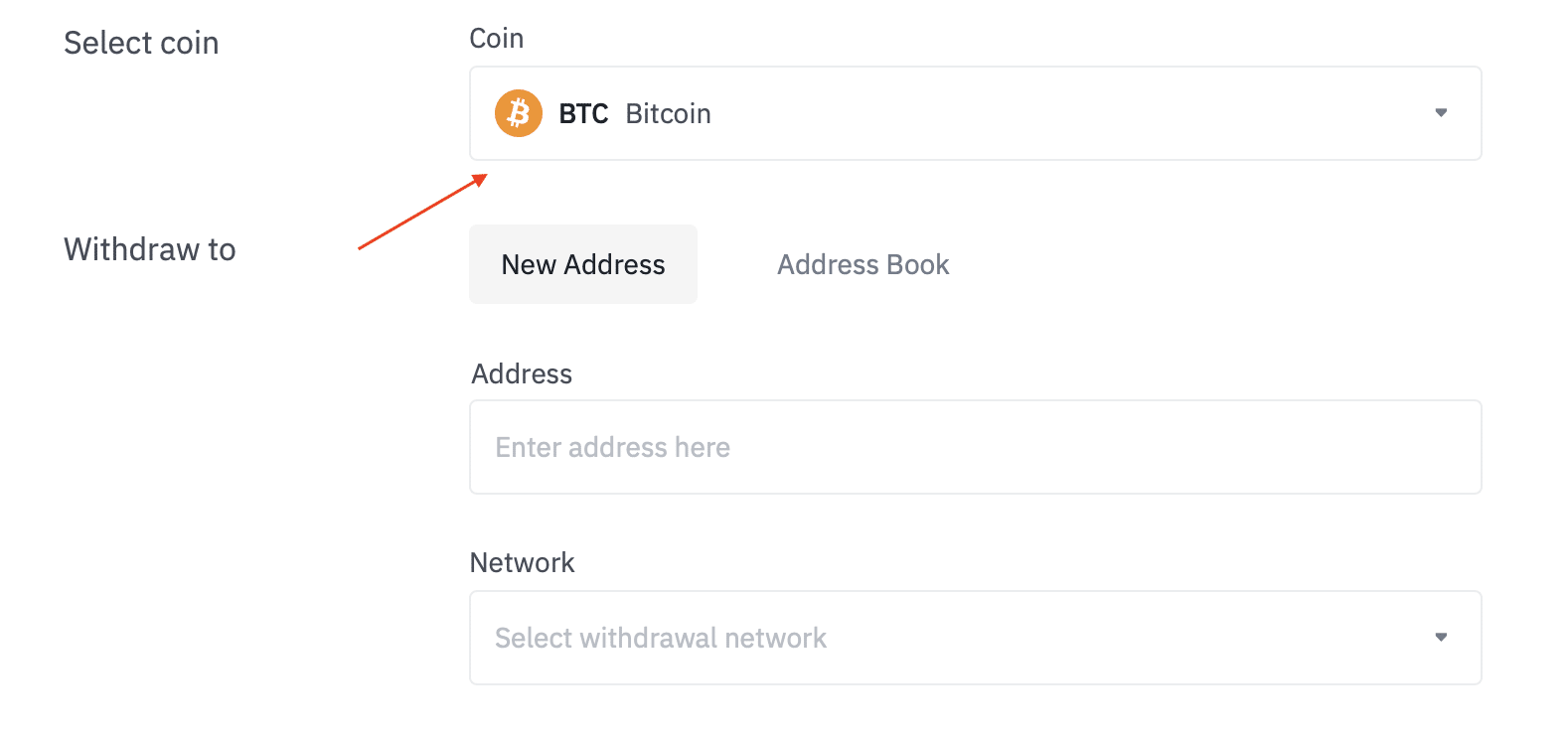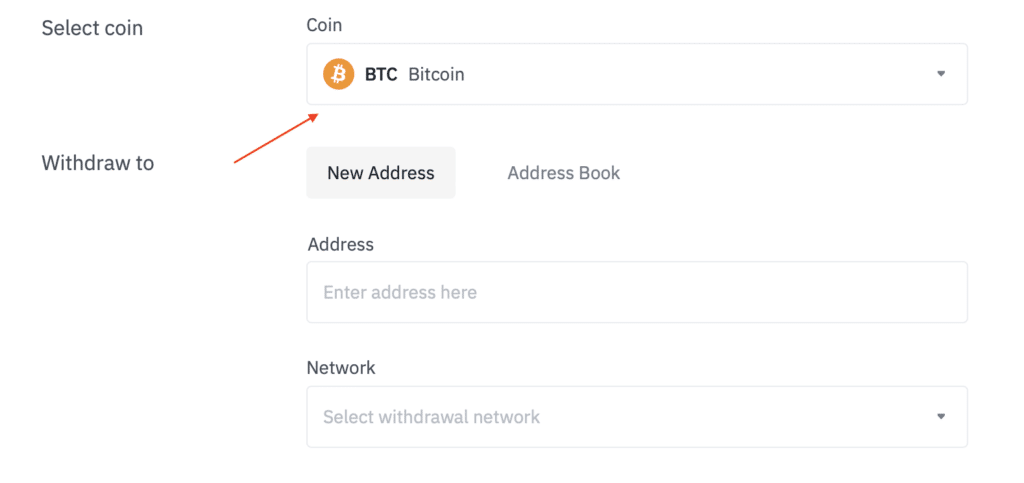 Step 5: select the network. Caution: the network corresponds to the blockchain hosting this coin. If you send BTC to a Bitcoin wallet, choose the Bitcoin network. An ERC20 coin must be sent over the Ethereum (ERC20) network. Similarly, a Binance Smart Chain coin must be sent over the BSC (BEP20) network. Selecting the incorrect network could result in a permanent loss of the transferred funds. Binance will not refund losses due to user error during the transfer process. It is thus recommended to first transfer a small amount to verify that the transaction was successful before proceeding with the rest of the funds. This will avoid mistakes, especially if this is your first withdrawal or if you're in doubt. You are better off losing a little on transaction fees than losing everything due to an avoidable mistake.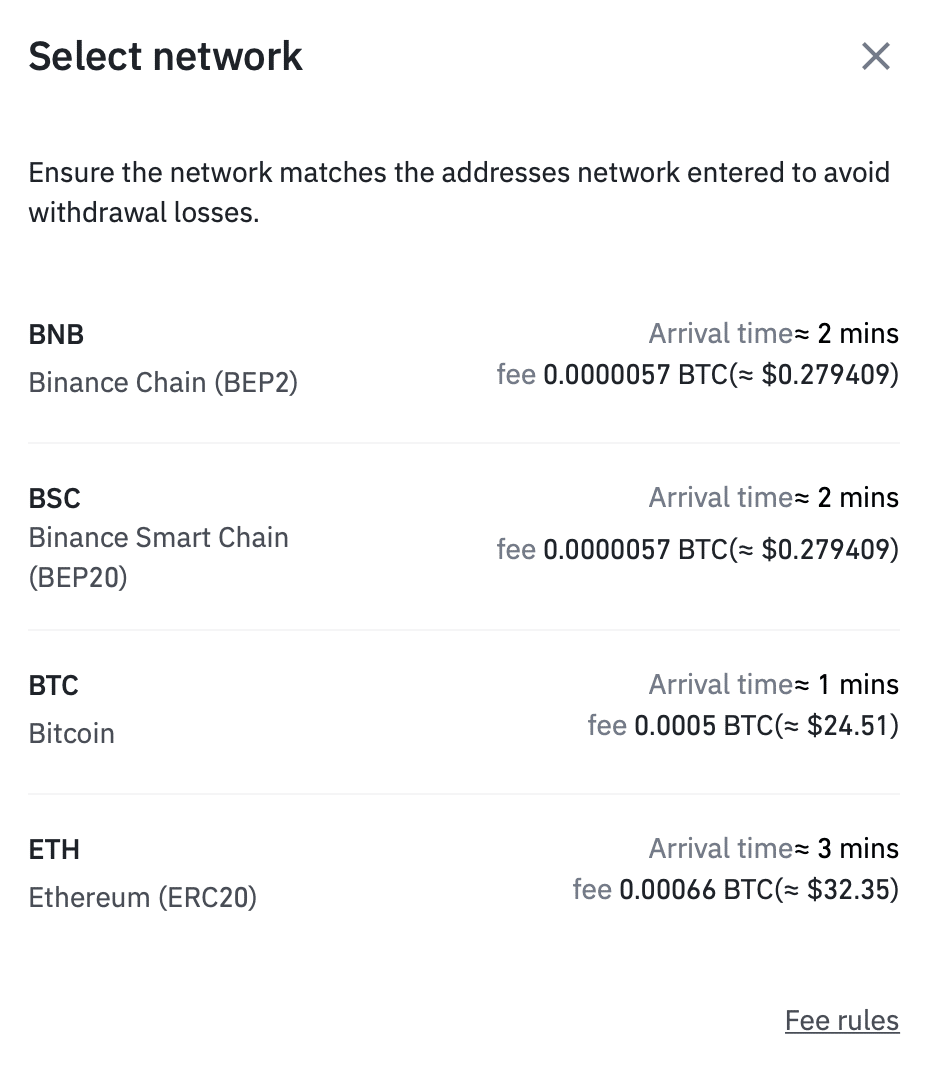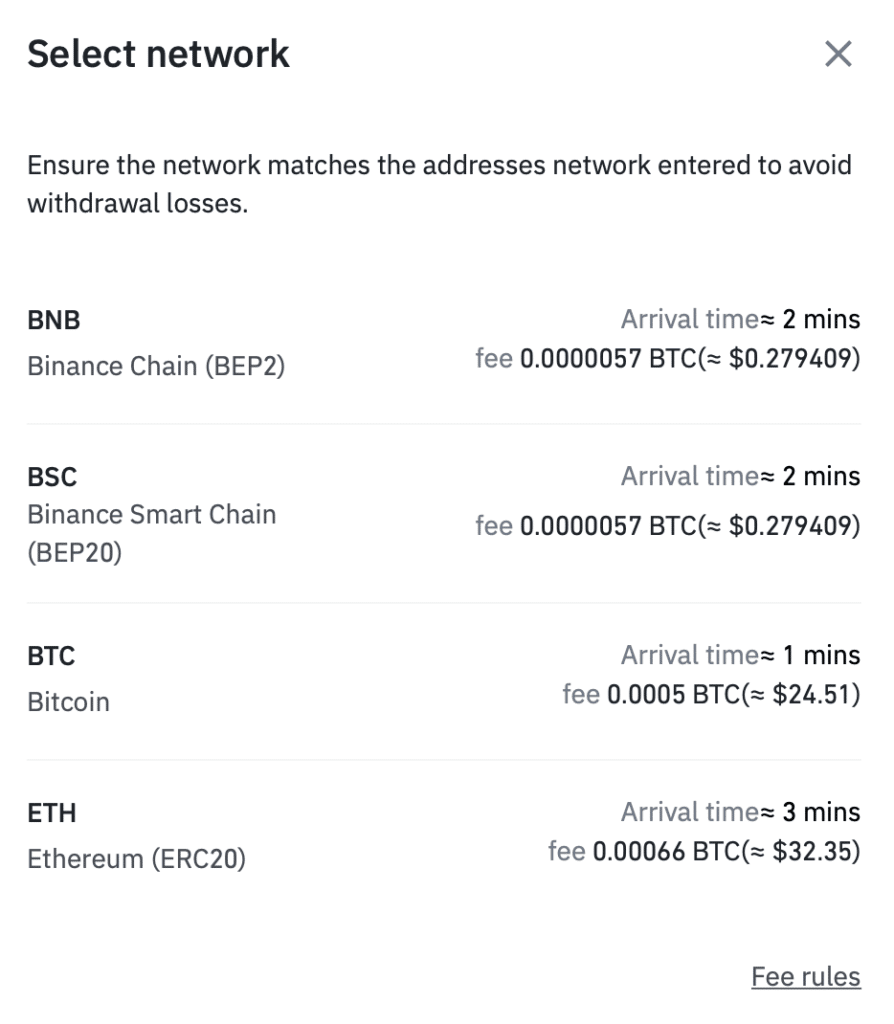 Step 6: if you selected Bitcoin, enter the BTC wallet address of your recipient. It is very important to enter a Bitcoin address or the coin might be lost if you enter another address. (This also applies to Ethereum or any other coin).


Step 7: fill in the remaining required fields in order to ensure a secure withdrawal.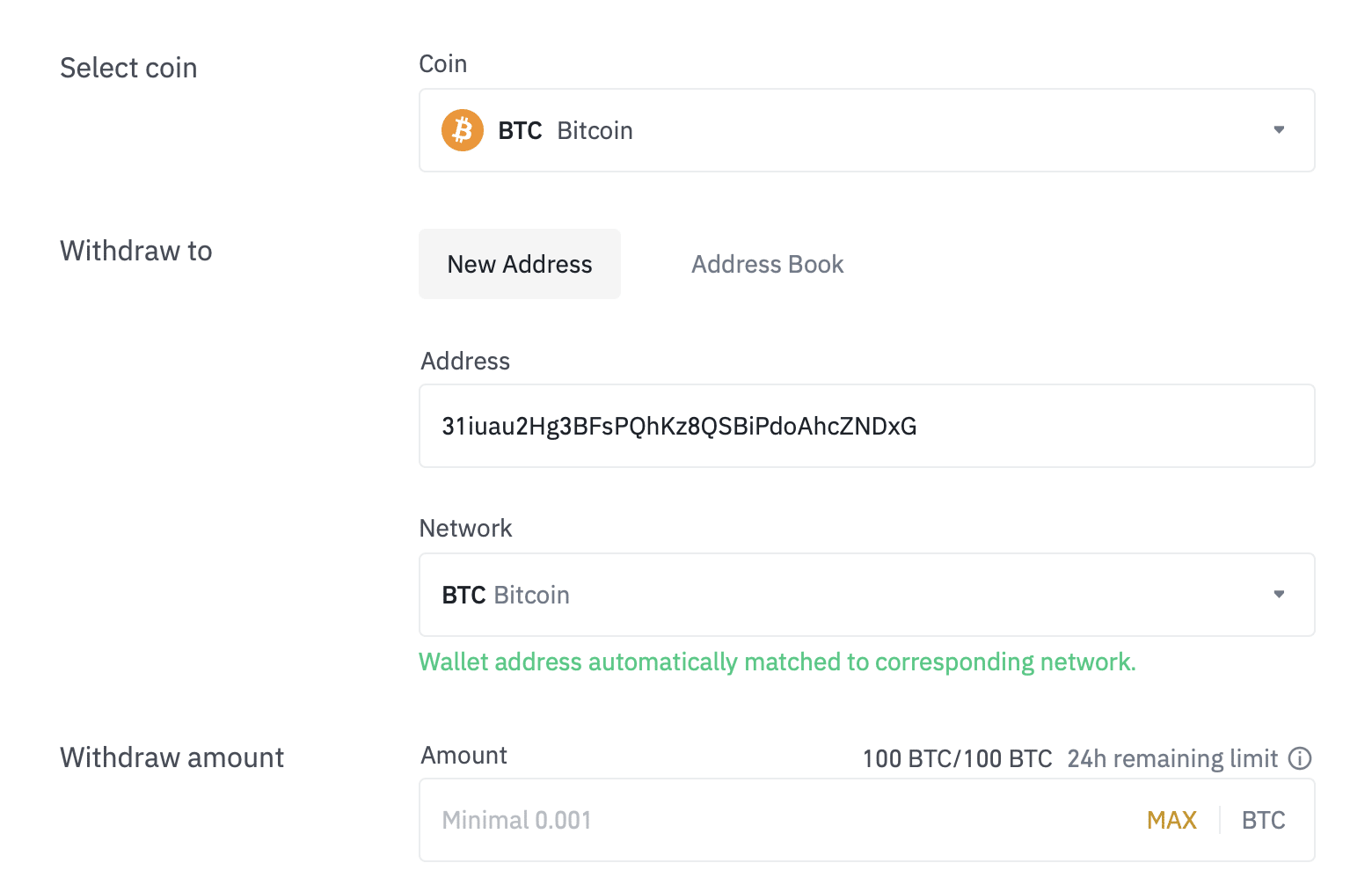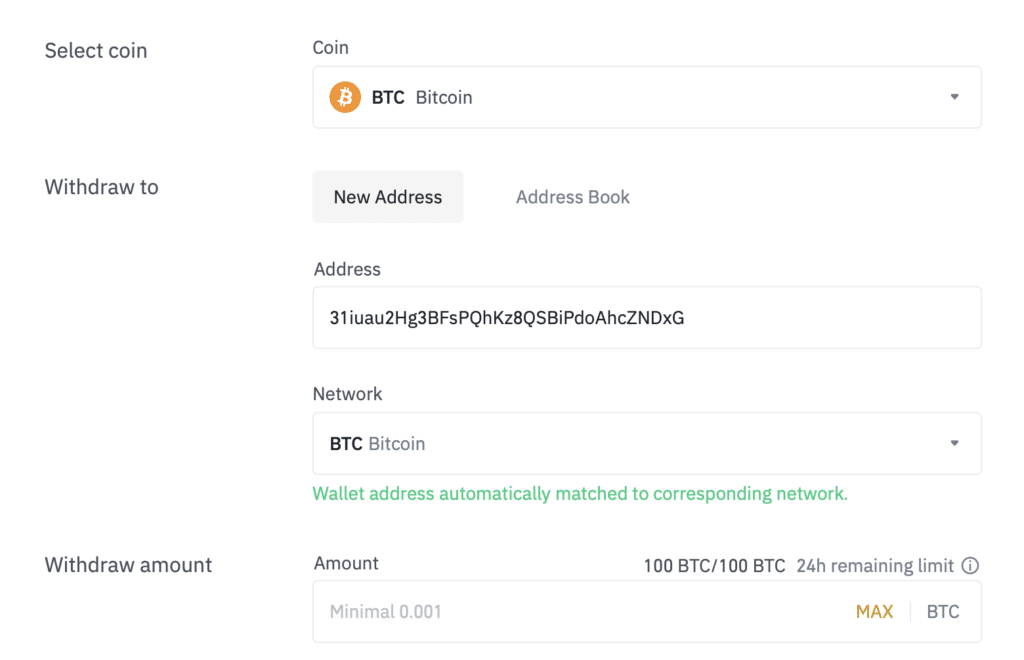 Step 8: you will receive an SMS with a verification code that must be entered as quickly as possible in the Binance platform. This allows Binance to verify your identity as the individual requesting the withdrawal.
To register for Binance, click here.
Withdraw euros from Binance
To withdraw euros from Binance, first convert your cryptocurrencies into a fiat currency of your choice. You can then follow these steps.
Step 1: sign in to Binance and click on "wallet" and "overview".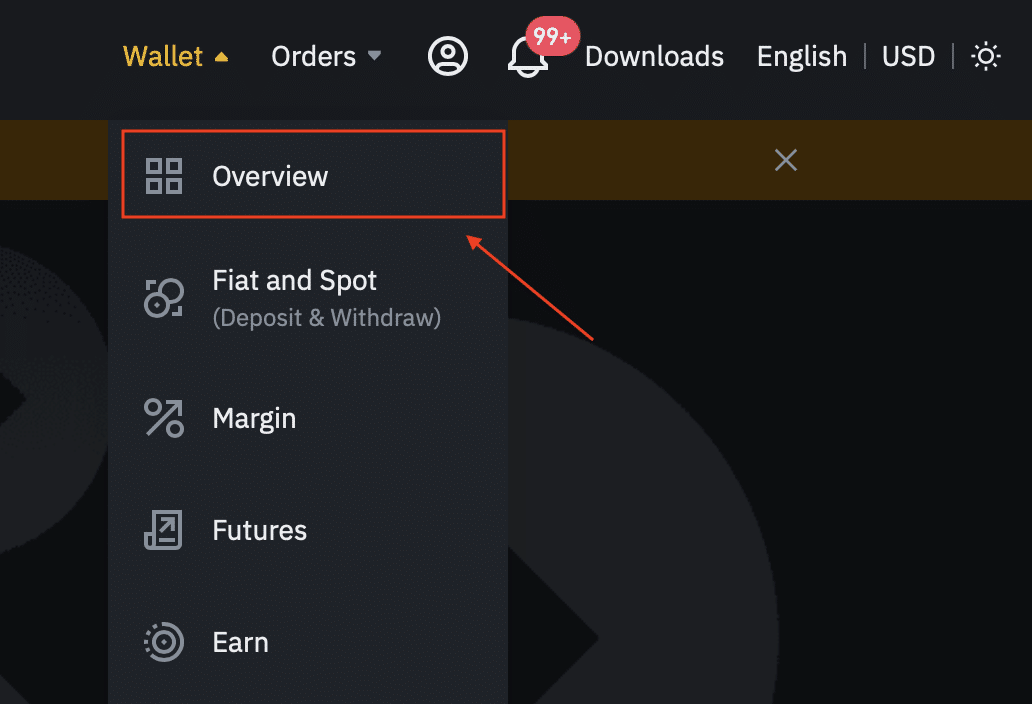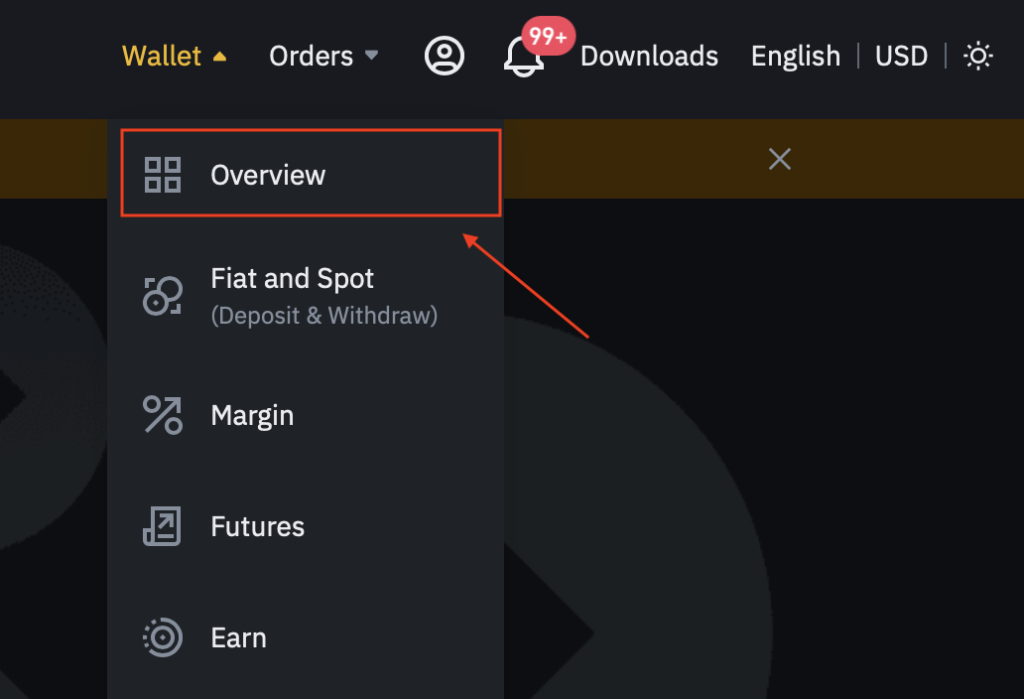 Step 2: click on "withdraw".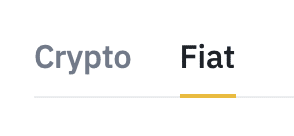 Step 4: select the currency in which you wish to receive your funds.
Step 5: select how you wish to receive your funds. You may choose between bank transfer (SEPA) (suspended), bank transfer (SWIFT, in USD) or bank card (VISA only).
Step 6: enter the desired amount to withdraw and click on "continue".


Step 7: fill in the required fields to receive your funds via your chosen method. Before finally confirming the transaction, you will be presented with an overview.
A full tutorial on Binance is available (in French). Learn how to register, buy, sell, and trade cryptocurrencies, and more– all answers are on this video.
You can also discover leverage on Binance Futures!

FAQ on Binance
Is Binance safe?
Binance is the largest website to exchange, buy and sell cryptocurrencies in the world. It is used by millions of users every day. Binance is one of the most serious brokers in the industry, and you can safely provide them with personal details. However, cryptos are not without risk, and if you do not wish to trade and want to protect your cryptocurrencies from potential hacks against Binance or your own account, you can withdraw your cryptocurrencies to a hardware wallet such as Ledger. Not your keys, not your cryptos.
Can one pay with credit card on Binance?
You can buy cryptocurrencies on Binance with your credit card. To do so, refer to the earlier section on "Buy cryptocurrencies with a credit card on Binance" in this article.
Does one need to be over the age of majority to register on Binance?
Just as for any broker in traditional markets, you must be over the age of 18 to start using Binance and trading cryptocurrencies, as mentioned in the general terms and conditions. Thus, if you are under the age of 18, do not try to register for Binance as you will be caught upon verification.
For how long has Binance been around?
Binance is a trading platform that was launched on 14th July 2017 and has its headquarters in Hong Kong (special administrative region in China). Its CEO is Zhao Changpeng. In 2018, Binance became the largest cryptocurrency broker worldwide in terms of volume and number of users. It also has its own cryptocurrency, the Binance Coin (BNB) and its own blockchain, the Binance Smart Chain.