What is Crypto.com?
Launched in 2016 and partly founded by Kris Marszalek, Crypto.com is a cryptocurrency trading-dedicated application. It does not offer any access to other markets such as stock exchanges, metals or ETFs. The marketplace Crypto.com has been existing for several years and already has over 10 million users across over 90 different countries.
The application is particularly known for its usability and its design suited to all investor profiles. In addition, Crypto.com offers attractive functionalities such as Crypto Earn, Supercharger or Recurring Buy. Last but not least, users can also purchase their favorite cryptocurrency directly with their credit card.
Key elements about Crypto.com
Website: Crypto.com
Fees and commissions: average
Available assets: 156
Users: over 10 million users in total

Fees and commissions on Crypto.com
Fees for credit card purchases
As you might already know, Crypto.com offers users to buy cryptocurrencies through credit card. Although this payment method is significantly faster than bank transfers, transaction fees charged to the users are rather high: fees of at least 3.5% are charged for each credit card transaction.
Withdrawal fees
Withdrawal fees on Crypto.com depend on the cryptocurrency you wish to withdraw. For example, Bitcoin (BTC) withdrawals cost 0.0004 BTC, equivalent to around $18 (mid-August 2021). Withdrawal fees for Ethereum amount to around $25 (0.0004 ETH). This means fees also depend on the price of the cryptocurrencies.
To learn more on withdrawal fees, we suggest going through the dedicated page on the app. To do so, go into settings and click "Fees & Limits".
Crypto.com NFT
In 2021, following the launch of "Binance NFT", Crypto.com launched its own NFT platform. Crypto NFT is a marketplace that offers all types of digital art and collection pieces. You can find tens of digital objects in limited edition created by talented artists from all over the world. Their price might range between a few dollars all the way to several thousand for the rarest of them.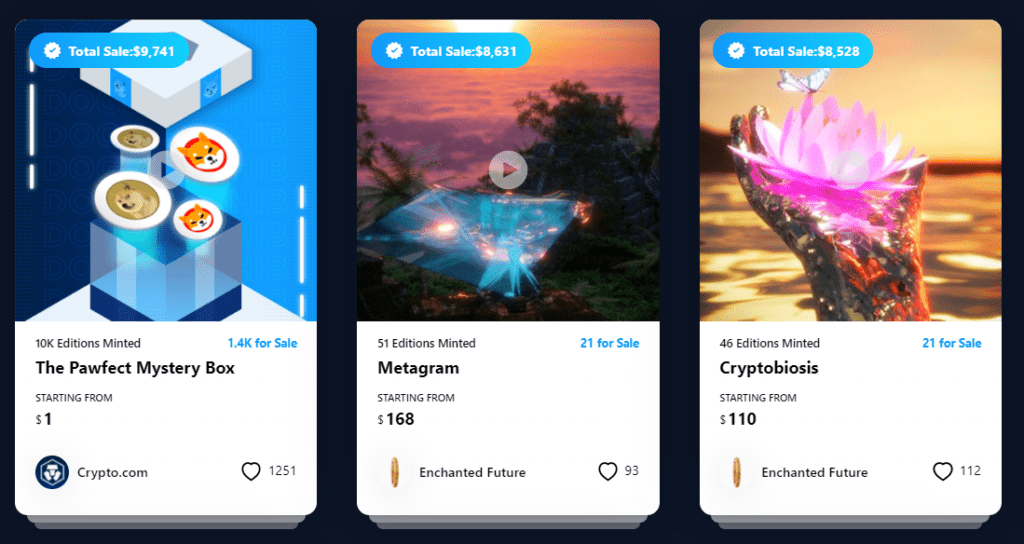 Additionally, Crypto NFT partnered with a large number of big brands and celebrities such as the F1 team Aston Martin, the rapper Snoop Dogg, or even the famous International Ice Hockey Federation IIHF. While it might be a temporary phenomenon or a market with real potential, the NFT industry is, without a doubt, showing rapid growth and attracts millions of users every month.
As a high-level estimate, the traded volume of NFTs passed $1 billion in August 2021, an all-time high.

Recurring Buy
"Recurring Buy" enables Crypto.com users to automatically buy a certain amount of cryptocurrencies at a pre-defined time interval. This option is particularly targeting traders following the so-called "DCA" strategy (dollar cost averaging). This enables you to reduce the overall impact of volatility on your entry price without having to pay attention to the asset price. For example, you may choose to invest $100 on Bitcoin (BTC) every Friday over 5 months.
To set up your Recurring Buy strategy, click on the "Crypto.com" logo on your app and go to "Recurring Buy".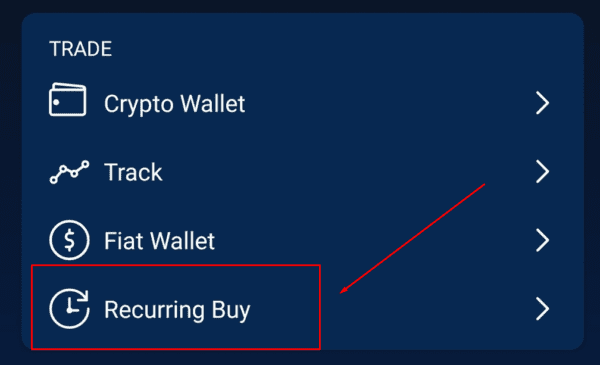 Click on the "Start Recurring Buy" tab and choose the cryptocurrency you wish to invest in with this strategy. You can then insert the amount and the time interval: weekly, bi-weekly or monthly.
Note that the minimum investment is $50.
Supercharger
The Supercharger function enables you to stake cryptocurrencies on various DeFi-based projects at a pre-defined APY. A new project is listed every 40 days, upon closing of the previous event. Each project undergoes two phases: a 10-day charging period and a 30-day reward period.

The first phase is the charging phase (10 days) during which one can enter the project. It is followed by the reward phase (30 days) during which you receive daily rewards that depend on your initial investment.
As of the writing of this article, the DeFi project "Boson Protocol" (BOSON) is available. To join, click on the "Crypto.com" logo on the home screen of the app and click on the "Supercharger" tab.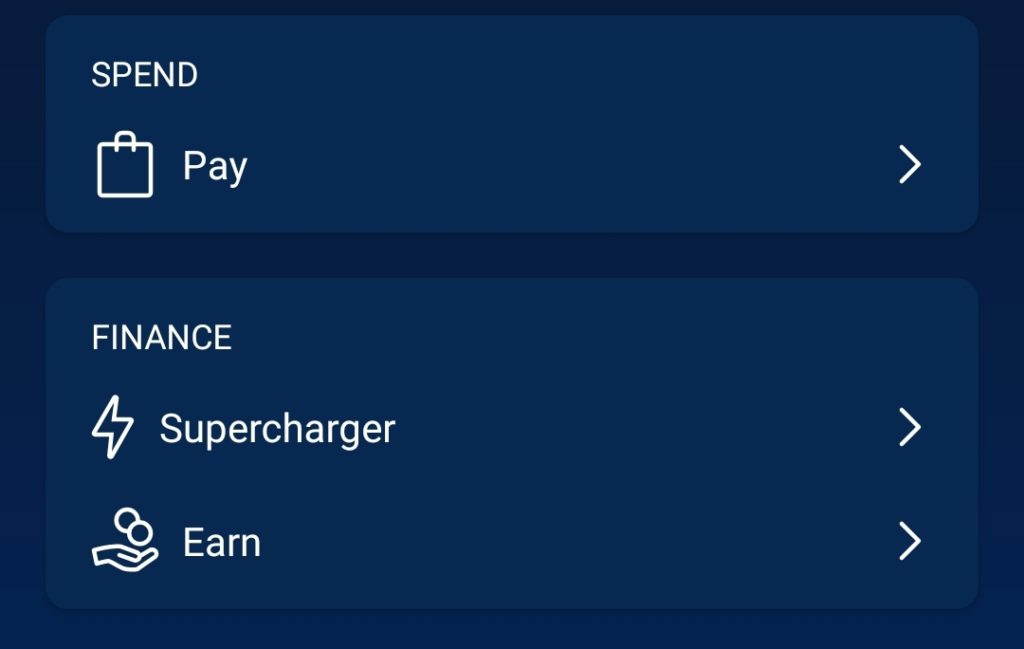 Crypto DeFi wallet
In May 2020, Crypto.com's developers launched a new application: a crypto wallet based on DeFi technology. "DeFi Wallet" can be downloaded from the App Store or Google Play and it offers users to deposit and safely hold DeFi assets.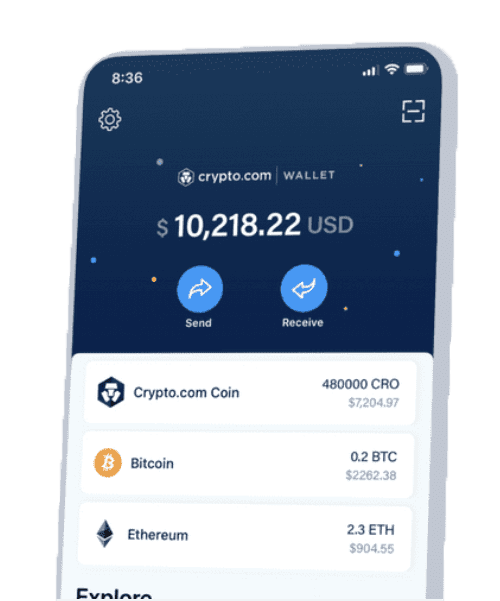 In addition, DeFi Wallet offers very attractive functionalities and advantages to its users:
Wallet: safely hold cryptocurrencies (private keys)
Send: send cryptocurrencies at a chosen speed (fees will be charged)
Staking: earn interests on over 35 different tokens
Swap: exchange tokens within a simple click
Crypto.com cards
The Crypto.com platform is well-known for offering interesting offers and advantages through their credit cards. Over 5 different credit cards are available to users having a certain amount of CRO staked. Credit cards are available when staking as little as a few hundred dollars, but $400,000 worth of CRO are required to be eligible for the "Obsidians" credit card. Here are the different offers available for each available card:

Midnight Blue card (level 1):
The Midnight Blue card is available to all without any CRO requirements. However, card holders benefit from significant less advantageous features compared to other cards:
Cashback: 1%
Free subscription: None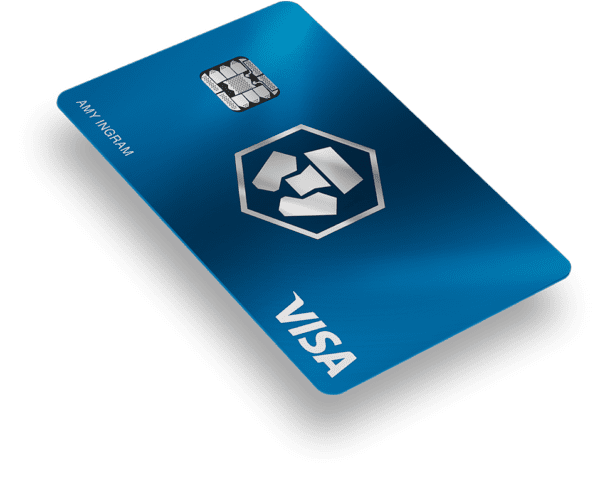 Ruby Steel card (level 2):
The Ruby Steel card is available when staking over $400 worth of CRO on Crypto.com. It is certainly less accessible than the first one but more advantageous:
Cashback: 2%
Free subscription: Spotify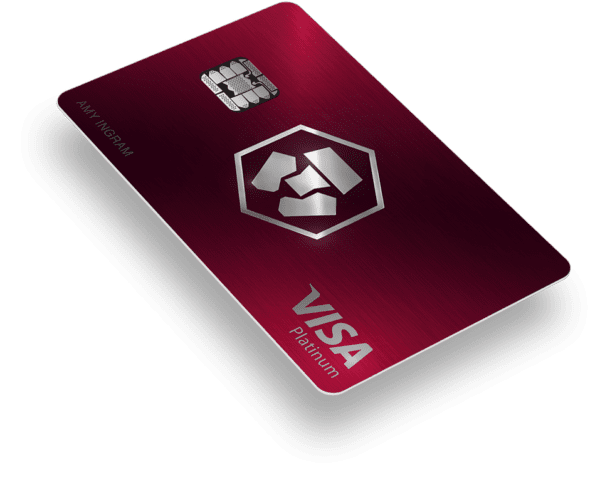 Royal Indigo and Jade Green cards (level 3):
The Royal Indigo and Jade Green cards are among the most popular credit cards on Crypto.com. Although they have different colors, they offer the same advantages. They are available when staking over $4000 worth of CRO.
Cashback: 3%
Free subscription: Spotify and Netflix
Offers: Access to the "Lounge Key" lounge of your airport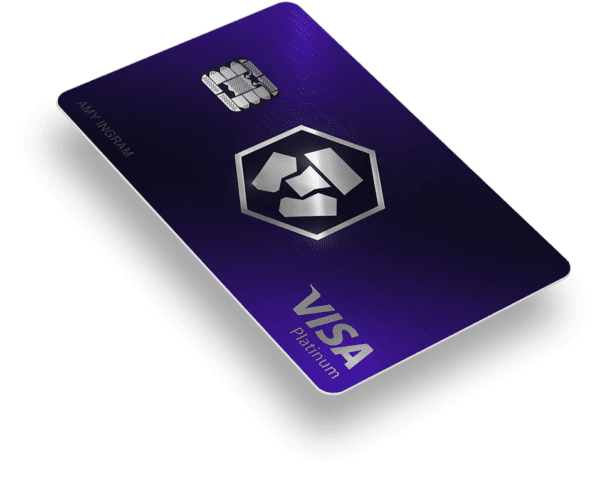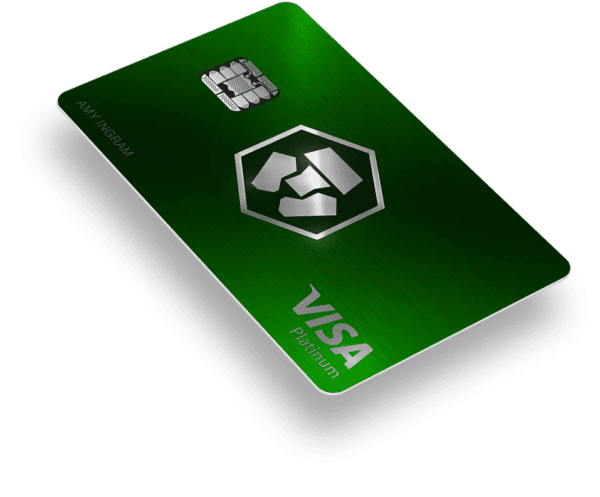 Frosted Rose Gold and Icy White cards (level 4):
The Frosted Rose Gold and Icy White cards are available when staking over $40,000 worth of CRO on Crypto.com. These two cards are significantly less accessible than the previous ones but offer a higher cash back rate and more diverse advantages.
Cashback: 5%
Free subscription: Spotify, Netflix and Prime Video
Discount: 10% on Expedia (travel, rentals)
Other: Bonus interest and exclusive merchandise welcome packs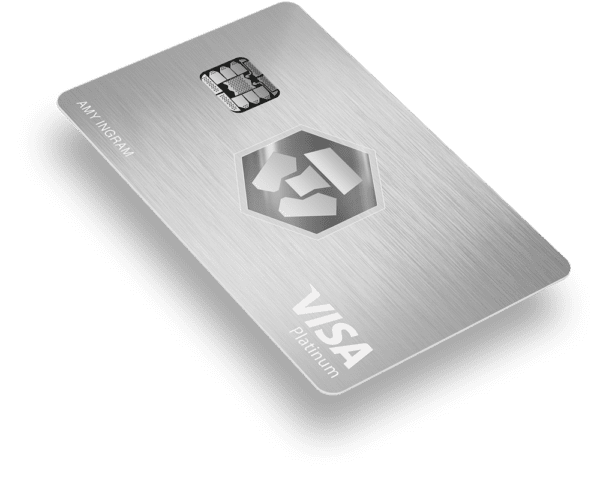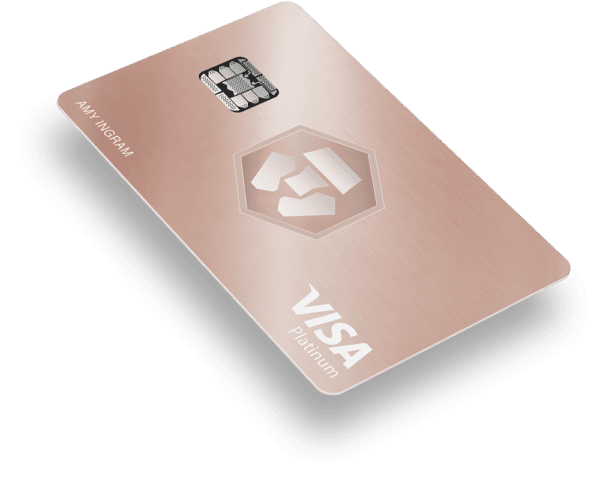 Obsidian card (level 5):
The Obsidian card is the most advantageous card available on Crypto.com. It enables card holders to access exclusive offers. However, staking $400,000 worth of CRO is necessary to be eligible for the card. This card is therefore targeting traders and investors with significant investment capitals.
Cashback: 8%
All advantages offered by other cards
Private Jet partnership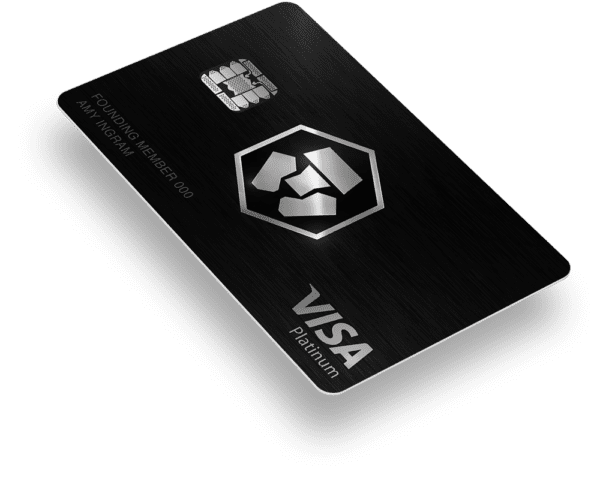 Crypto Earn
Crypto Earn enables Crypto.com users to receive rewards on their cryptocurrencies on a daily basis; rewards amounting up to 14% on stablecoins every year. You may choose to allocate a certain amount of your cryptocurrencies (among a list of over 40 different cryptocurrencies) to the dedicated Crypto Earn wallet.
You may choose a lock period of 1 month, 3 months or a so-called "flexible" period. This means that your staked cryptocurrencies cannot be unstaked before the end of the defined term (excluding flexible terms). The generated interests depend on both your staked CRO and the chosen lock period.
For example, if you deposit $5000 worth of BTC during 3 months and hold less than 400 CRO in your wallet, your estimated daily rewards are $0.61, i.e., around $4.33 per week. Note that the rewards are paid at the end of each week.
How to use Crypto Earn
First, click on the "Crypto.com" logo at the bottom of the homepage and click on the "Earn" tab.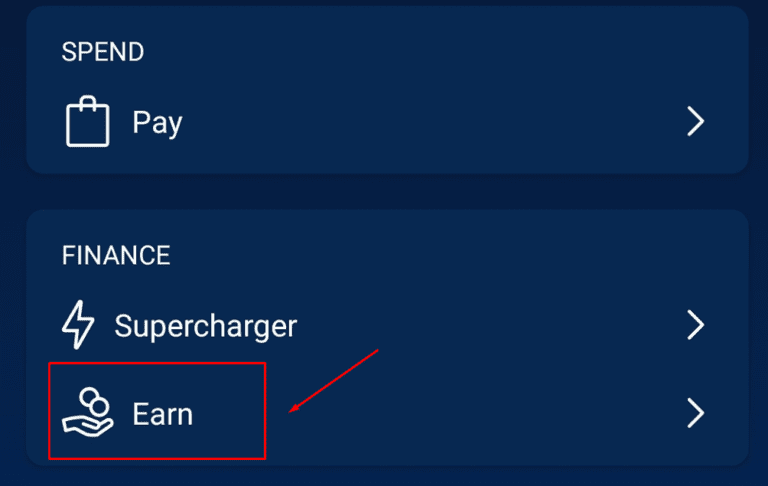 If you hold at least a Jade / Indigo card, don't forget to switch the toggle at the center of the page. As a reminder, one needs to stake at least $4,000 worth of CRO to be eligible for these cards. After doing this, click on "Start Earning Now".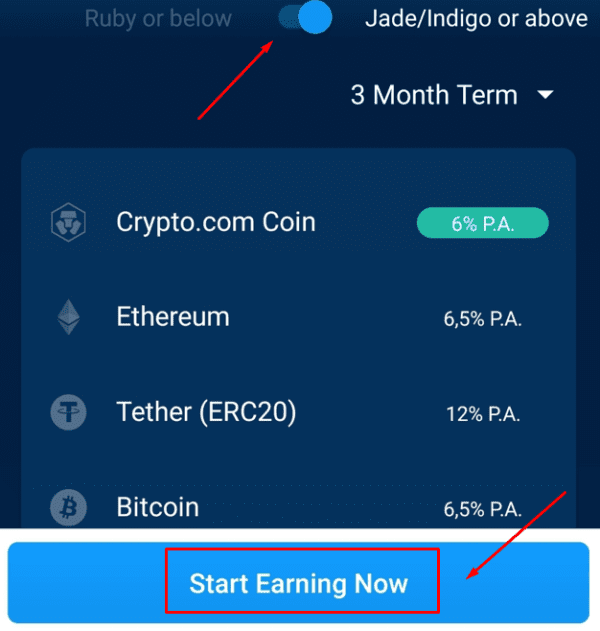 You can now select the cryptocurrency you wish to deposit in the Crypto Earn wallet and the staking duration: 1 month, 3 months, or a flexible term.
The flexible term allows you to unstake your assets at any time. However, the rewards will be significantly less attractive. At the end of your chosen term, the entirety of the staked cryptocurrencies will be transferred to your main wallet.
Crypto.com exchange
Crypto.com also decided to develop its own advanced trading platform. Based on their graphical interface and their limited investment tools, it was indeed necessary to build an exchange dedicated to trading. Crypto.com mainly targets experienced investors and traders that are more used to certain advanced tools such as leverage.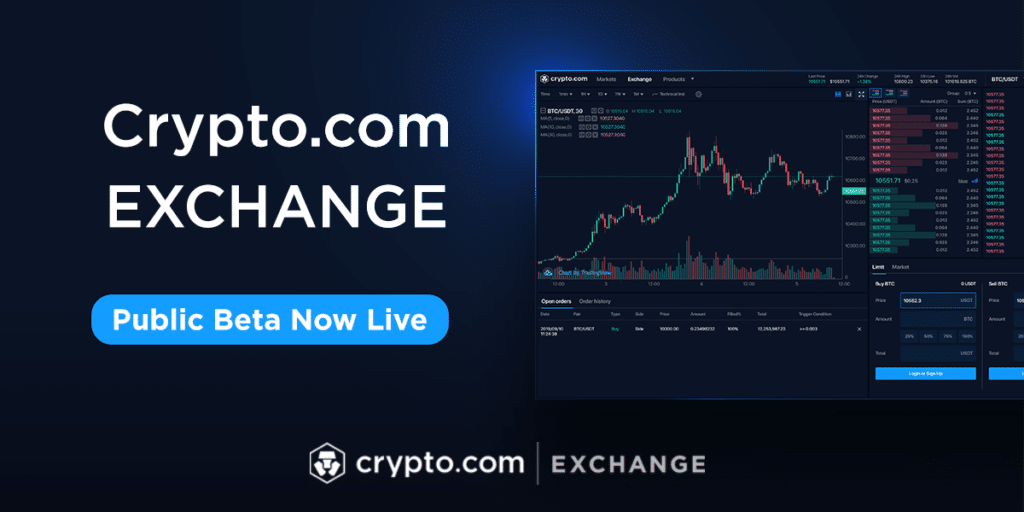 In comparison to the application where over 150 assets are available, "only" 100 different cryptocurrencies are available on their trading platform. You can obviously find the leading cryptos such as Bitcoin (BTC) or Ethereum (ETH), but also less popular tokens that include AXS, QTUM and many others on top of the platform-native CRO token.
In addition, Crypto.com offers two markets: Spot and Futures.
Futures contracts enable more experienced users to use leverage up to 100x. However, at that level, the outcome of your trade is only down to luck and not related to your trading skills. For example, if you invest $10 with a 100x leverage, your investment will be equivalent to $1000. This means that if your asset price goes down by as little as 1%, your position will automatically be liquidated. This is why we recommend not to go above 5x leverage to avoid too-high risk exposures on such volatile markets.

Trading fees
Spot market:
For trades on the Spot market, both makers and takers are charged 0.4% trading fees.
Futures contracts:
For trades on the Futures market, makers and takers are charged 0.05% and 0.07% fees, respectively.
Just like on almost all exchanges, the higher the 30-day trading volume, the lower the trading fees. In addition, if you stake over 50 million CRO, equivalent to around $7.5 million, all trading fees will be waived, both on Spot and Futures markets.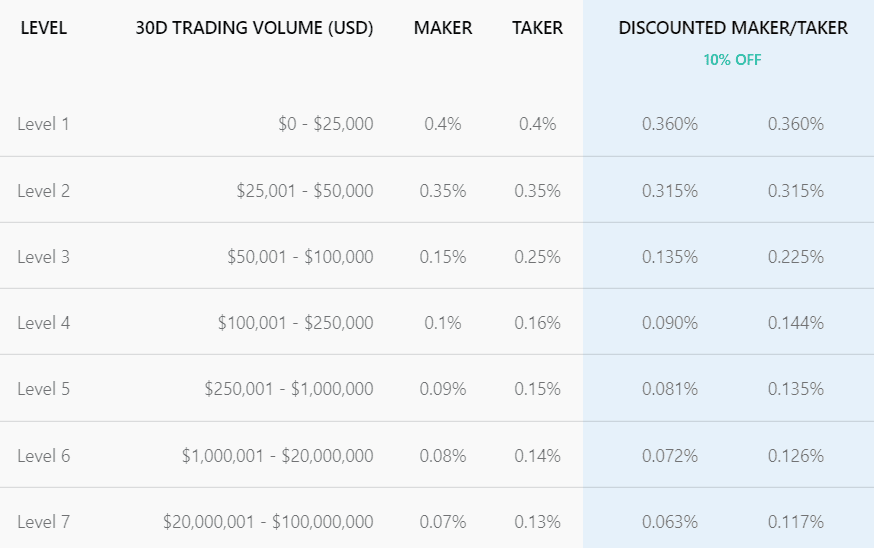 To learn more about the trading fees on the Crypto.com exchange, click here.
How to register for Crypto.com
First, install the Crypto.com app through the Apple Store or Google Play, depending on your phone. Through our referral link, you will get a $25 reward on your Crypto.com wallet after your first deposit.
Once on the application, click on "Sign Up" and enter your email address.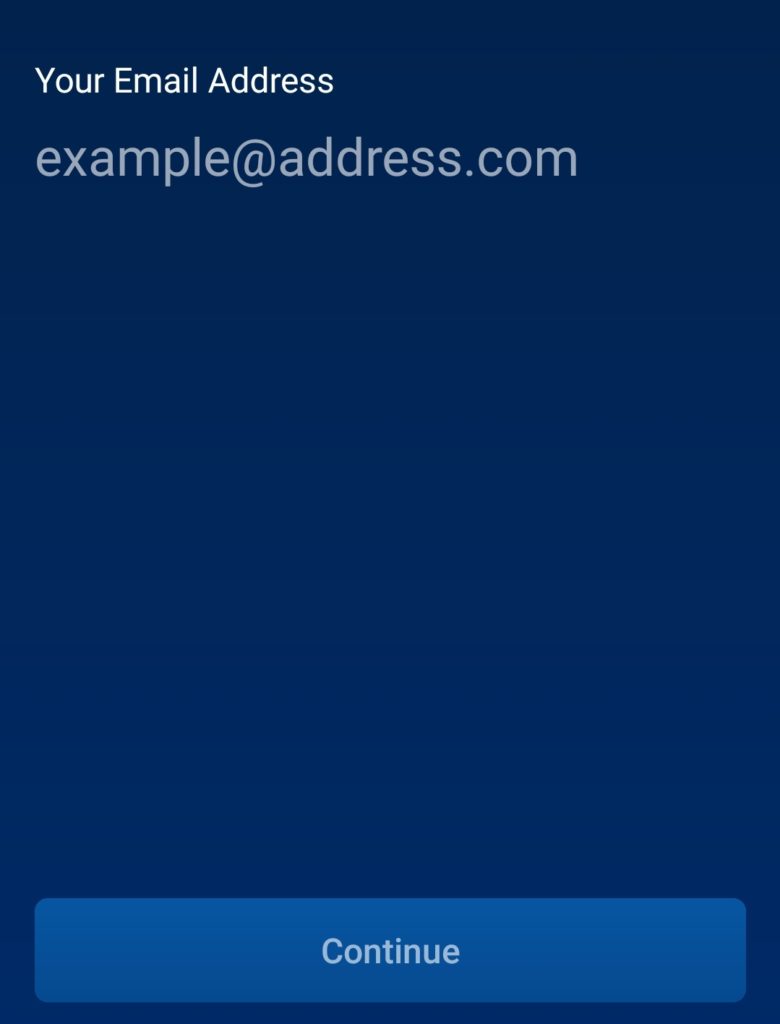 You will receive an email with a link to confirm your email address. Follow the provided link to proceed to the next step. You can then enter your phone number and click on "Send Verification Code". Once again, you will receive a verification code that you will be prompted to enter on the app.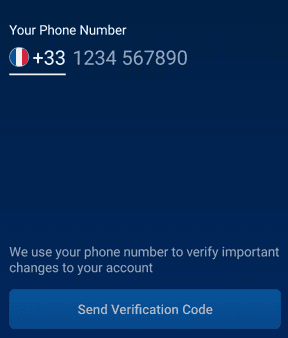 Identification verification (KYC)
The registration process on Crypto.com is almost complete. You must now enter a few personal details and documents including name, ID and a selfie. To do so, simply follow the steps as shown on the app.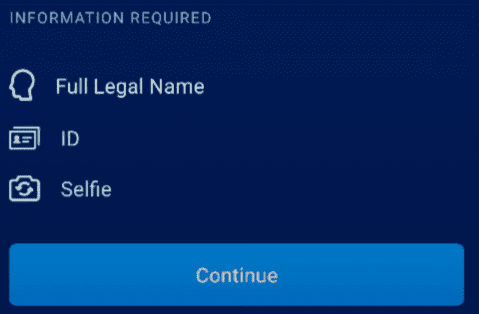 Your account verification is now complete and you will be receiving a confirmation within the next few days to confirm the validity of the provided information.
Passcode
Upon completion of the KYC process, you will be asked to set a 6-digit passcode when you next go on the app. Note that you will be allowed to change this passcode through the app settings at a later stage.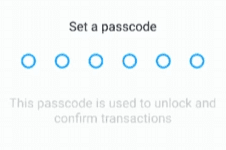 To finalize the registration, select your preferred currency (e.g., EUR, USD, CAD) based on your country of residence. Congratulations, your Crypto.com account is now created and active. We, however, recommend a final step before performing your first deposit.
How to secure your Crypto.com account
To minimize your account's vulnerability, we highly recommend that you enable double-authentication (2FA). To do so, go into the app settings (gear icon) at the top left corner of your screen. Click on "2-Factor Authentication" and switch the "Enable 2FA" toggle.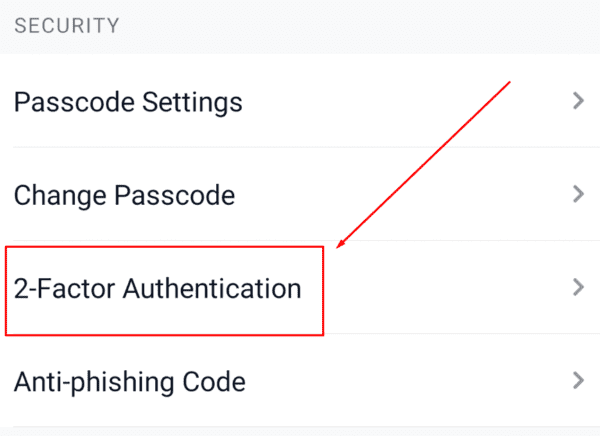 Launch your authentication application, e.g., Google Authenticator available on the Apple Store and Google Play if not yet downloaded, and enter the authentication key provided by Crypto.com.
Well done, your account is now secure and you can safely make your first deposit on the application.

How to deposit on Crypto.com
We will now show you how to deposit fiat currencies (e.g., EUR, USD) on your Crypto.com account, along with cryptocurrencies withdrawn from other trading platforms such as Binance or FTX. To deposit fiat currencies, the only available method is through bank transfers.
Note that crypto purchases via credit card are also available and will be presented later on in the article, in the "How to buy cryptocurrencies on Crypto.com" section.
First, go on the main page of the app and click on "Transfer" and "Deposit".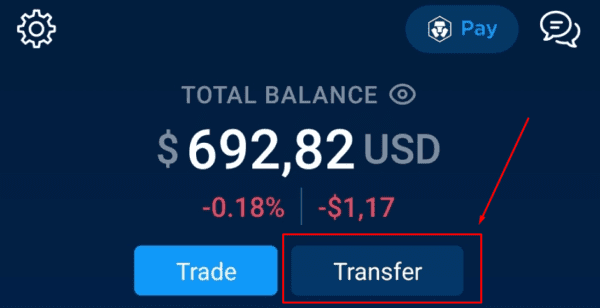 Secondly, click on "Fiat" and select the currency you wish to deposit, based on your bank's currency. For the purpose of the example, we will choose Euro (EUR).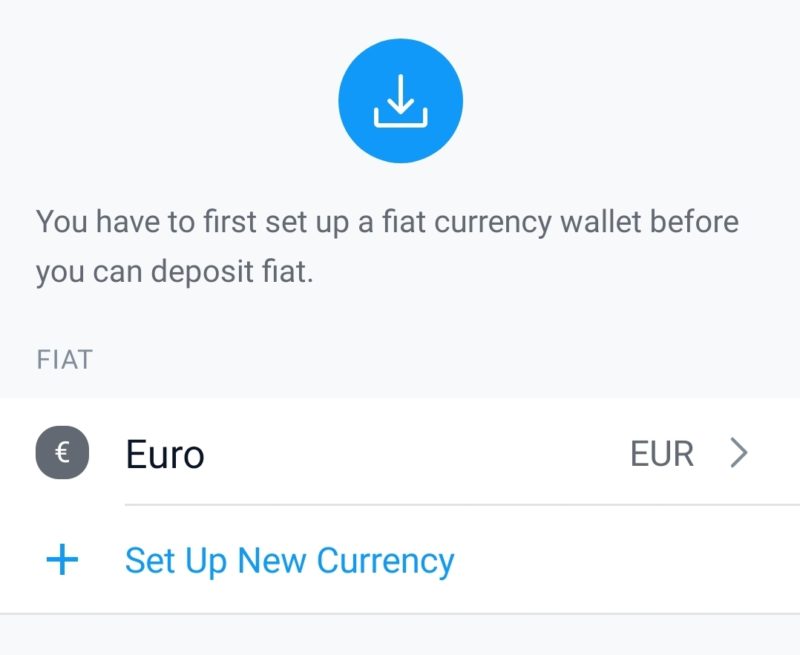 Finally, go on your online or mobile banking and enter the bank transfer recipient details (Crypto.com) as displayed on the Crypto.com app. Once the bank transfer is sent, the deposit should appear on your Crypto.com account within 2 to 5 working days.
How to deposit (transfer) cryptocurrencies on your account
You can also deposit cryptocurrencies coming from another exchange. To do so, follow the initial steps of Fiat deposits but choose "Crypto" instead of "Fiat".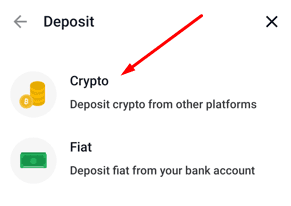 Next, choose the cryptocurrency you wish to deposit to your account. The deposit address for the specific asset will be shown on your app; enter this address on the exchange from which you wish to withdraw. Do not forget to choose the correct network (e.g., ERC20, BEP2) based on the exchange you withdraw from to avoid the risk of a canceled or delayed transaction, if not lost.

How to buy cryptocurrencies on Crypto.com
After having explained how to deposit on your account, we will now present how to purchase your first cryptocurrencies.
First, click on "Trade" at the bottom of the Crypto.com homepage.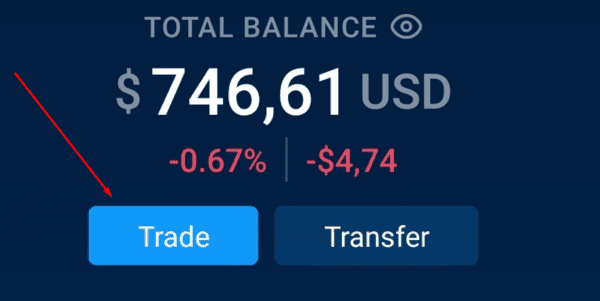 Following this, click on "Buy" and select the cryptocurrency you wish to purchase among 156 currently available assets. For the purpose of the example, we will choose Ethereum (ETH).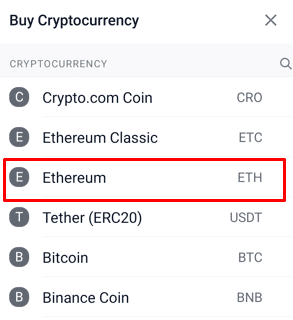 Once on the next page, choose the wallet you want to use to buy your cryptocurrencies. You have three options:
Crypto Wallet: wallet that holds your cryptocurrencies (e.g., USDT, ETH)
Fiat Wallet: wallet that holds your fiat currencies (e.g., EUR, USD)
Credit Card: purchase cryptocurrencies directly with your credit card (see detailed process later in the article)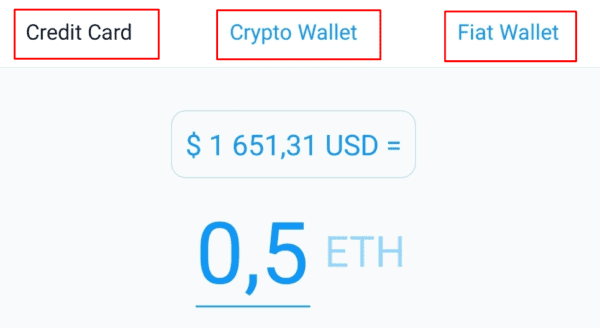 Enter the amount you wish to purchase and click on "Buy". The transaction will only take a few seconds to be completed.
Credit card
As already mentioned, if you do not have either fiat or cryptocurrencies available on your account, you may very well purchase some directly with your credit card. However, you will be charged a 3.5% transaction fee. We therefore recommend to only use this method when really necessary.
To purchase cryptocurrencies with your credit card, follow the steps previously outlined but choose "Credit Card" as a payment method. You will then be asked to add your credit card. Do so by clicking on "Add Credit or Debit Card". Upon completion of this step, enter your deposit amount and click "Buy".
Congratulations, your purchase is completed. It will be processed within a few minutes, after which you can start leveraging this investment.

Conclusion: our opinion on Crypto.com
At the time of the article, Crypto.com is surely one of the most attractive exchange applications on the market. It indeed offers many functionalities and advantages to users, such as Crypto Earn, Supercharger, or Recurring Buy. Moreover, Crypto.com launched its own trading platform named "Crypto.com Exchange", a more complete and detailed platform ideal for more experienced traders and investors.
Lastly, Crypto.com is a very well-suited application for investors that wish to enter this booming market. However, more experienced traders might prefer other trading platforms such as Binance or FTX and find them more interesting.