Elrond definition : what is it ?
Elrond is a decentralized blockchain network with a high bandwidth, it is fast and secure and offered as an alternative to the existing worldwide economic infrastructure. It claims to be the first project to use the "adaptive state sharding" technology and secure Proof-of-Stake (SPoS) in order to achieve speed and security.
Elrond has various objectives:
Offer the tools essential to the emergence of a worldwide financial ecosystem, directly on its blockchain.
Offer a bandwidth scalable with internet and with minimal latency for transactions.
A simple access to the full ecosystem, so that anyone may conveniently interact with the blockchain.
How does Elrond work ?
Elrond's innovation consists of two new technologies: "Adaptive State Sharding" and "Secure Proof-Of-Stake".
Secure Proof-of-Stake (SPoS) is a consensus algorithm specifically designed for Elrond. Elrond nodes form a consensus group and determine the chances of becoming a validator for the following block. Validators are mingled randomly and may be redirected to another segment, enabling the network to maintain a high level of security. Validators are rewarded in EGLD.
Sharding is a technique in which data is fragmented into shards, independently and in a horizontal manner, in order to partition memory storage.
Elrond's innovation lies in the way sharding is processed. Adaptive State Sharding multiplies this method's efficiency, combining by its own the 3 principles of sharding : sharded transactions, network sharding and state sharding.
The sharding method put in place by Elrond aims to achieve the following objectives:
Faster transactions (6-second blocktime)
Easily traceable transactions
Easily and quickly upgradable, without affecting network security and decentralization
For now, Elrond has 3 shards with each shard able to process ~5200 TPS (transactions per second), meaning that for the moment the network has the capacity to process a total of 15'600 transactions per second. If the network faces increased demand, one or several shards may be added to support a higher number of transactions per second. This is more or less similar to Ethereum's 2.0 upgrade.
Elrond plans on introducing an EVM (Ethereum Virtual Machine) management service to support interoperability between Ethereum and Elrond applications.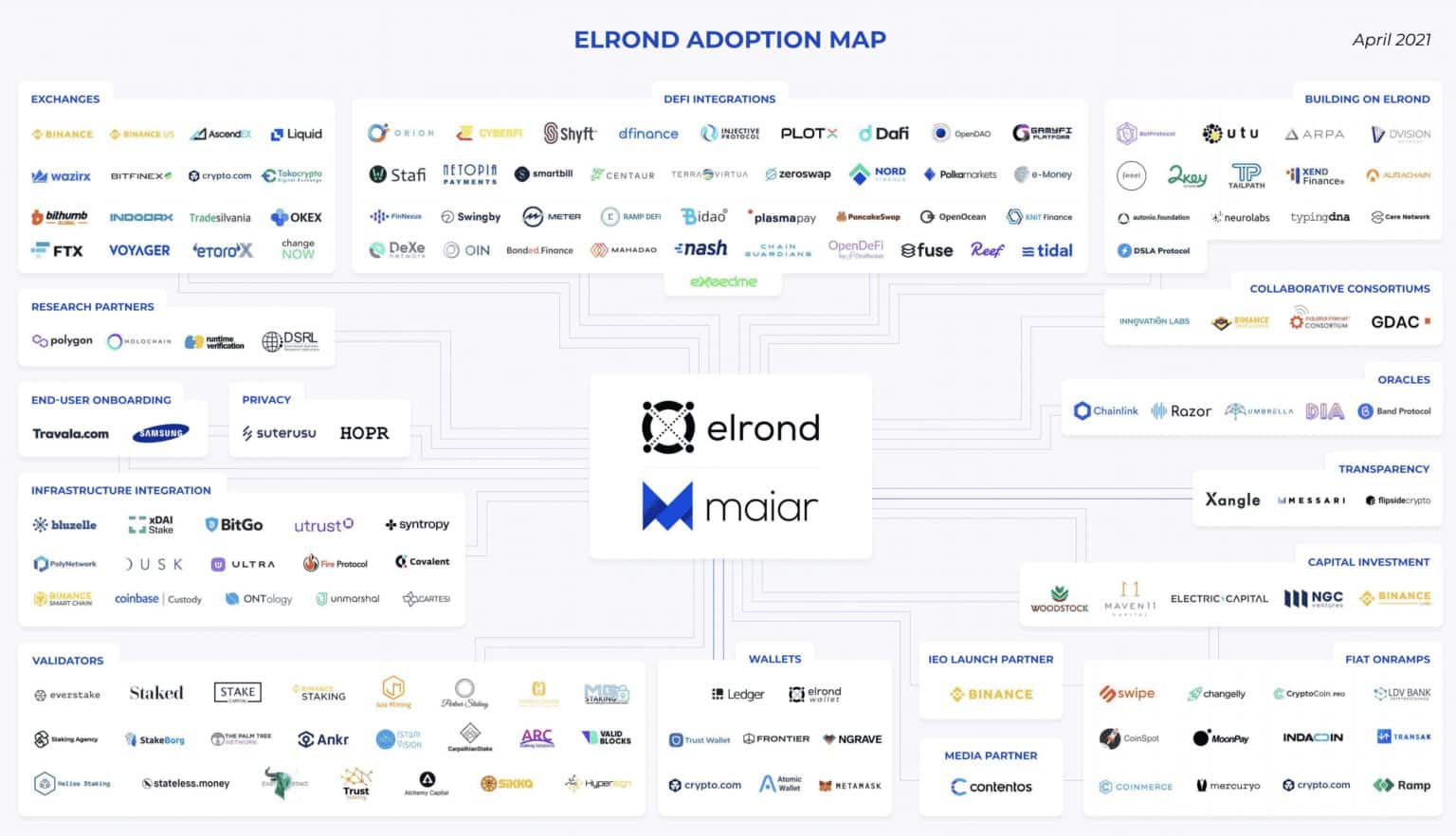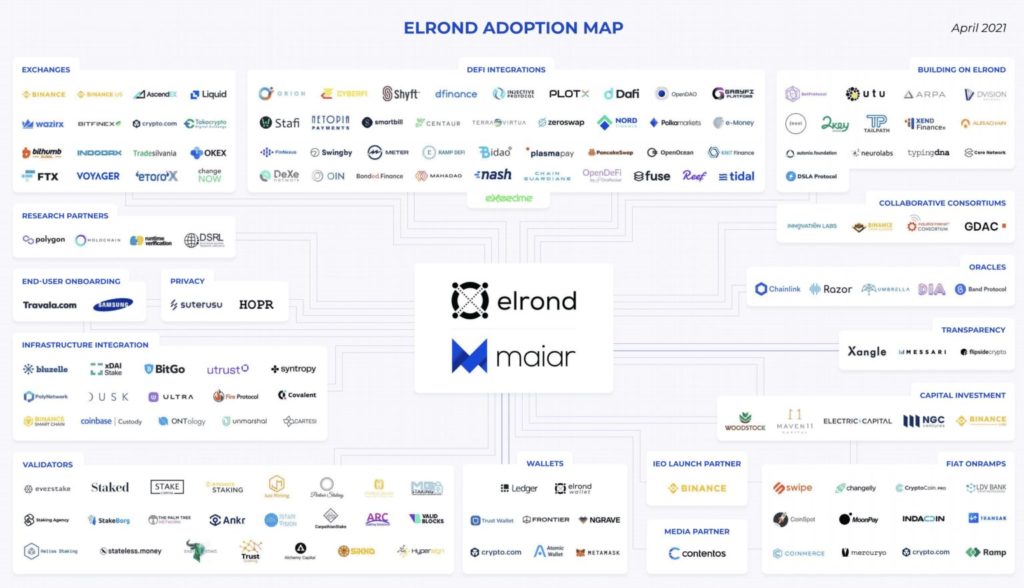 What is Elrond Gold used for ?
As a medium of exchange
Similar to Bitcoin and most other cryptocurrencies, Elrond Gold (EGLD) is a peer-to-peer medium of exchange. The protocol allows any individual to transfer value through a transaction.
Paying network fees
All the transactions which are broadcast on the Elrond network are settled in EGLD. This is the case whether you are creating ESDT (Elrond Standard Digital Token) or executing smart contracts.
Governance
In the near future, Elrond Gold holders will be able to vote with their EGLD regarding proposals submitted by the community.
Token distribution within the ecosystem
Some projects within the Elrond environment decide to distribute part of their tokens for free to holders of Elrond Gold. Maiar Exchange distributes its MEX tokens over a period of 12 weeks to Elrond Gold holders. The project is not alone doing this, Maiar Launchpad expects to do the same: brace yourself for a flurry of DeFi tokens within the Elrond ecosystem.
Staking
Elrond Gold token holders can participate in staking thanks to the Proof-of-Stake (PoS) consensus mechanism. The return on investment ranges from 15 to 19 % per year if you are using a staking provider and 21 % per year if you operate your own node.
Elrond Gold price development and milestones. EGLD chart analysis and predictions
June 19, 2019: Publication of the whitepaper
The Elrond project came to life when the whitepaper was published in June 2019 by the Elrond team.
July 2nd, 2019: Birth of ERD
Elrond (ERD) was launched in early July 2019, with the IEO (Initial Exchange Offering) taking place on Binance. They raised funds for a total of 3,25 million dollars and the price for ERD was 0,00065 $.
October 2019: Battle Of Nodes
The "Battle Of Nodes" is a testnet used to detect potential weaknesses before the effective deployment of an update. This testnet is one of Elrond's tools to ensure the network's security and prove its scalability. Elrond will financially reward anyone that identifies a point of vulnerability.
July, 30, 2020: Elrond network launch
After more than one year of development and a final iteration on Elrond's testnet, which succeeded to perform 260 000 transactions per second, the genesis block was created on July 30, 2020. The price for ERD exploded during the month when it launched, reaching 0,029 $, corresponding to a price appreciation of more than 350 %.
September 3rd, 2020 : ERD swaps to EGLD
On September 3rd of 2020 the ERD coin becomes EGLD (Elrond Gold) with a ratio of 1000:1 (1000 ERD=1 EGLD): EGLD aspires to be digital gold. Following this change, the price of EGLD collapses from 34 $ to 6 $ in only two months.
October 14, 2020 : EGLD staking launches
Staking of EGLD was introduced in early October with a return on investment up to 29 % per year as a delegator and 36 % per year if you operated your own node.
January 31, 2021: Maiar is launched
Maiar, a highly anticipated release, was launched on January 31, 2021. The Elrond network sees its number of addresses double in five days and, according to us, Maiar remains one of the best applications for the crypto market in terms of comfort and ergonomics.
February 7, 2021: Elrond breaks the 100 $ symbolic level
In 12 days EGLD sees its price increase by 180 %, reaching by February 7, 2021 the symbolic level of 100 $. Two days later, it stretches to 217 $.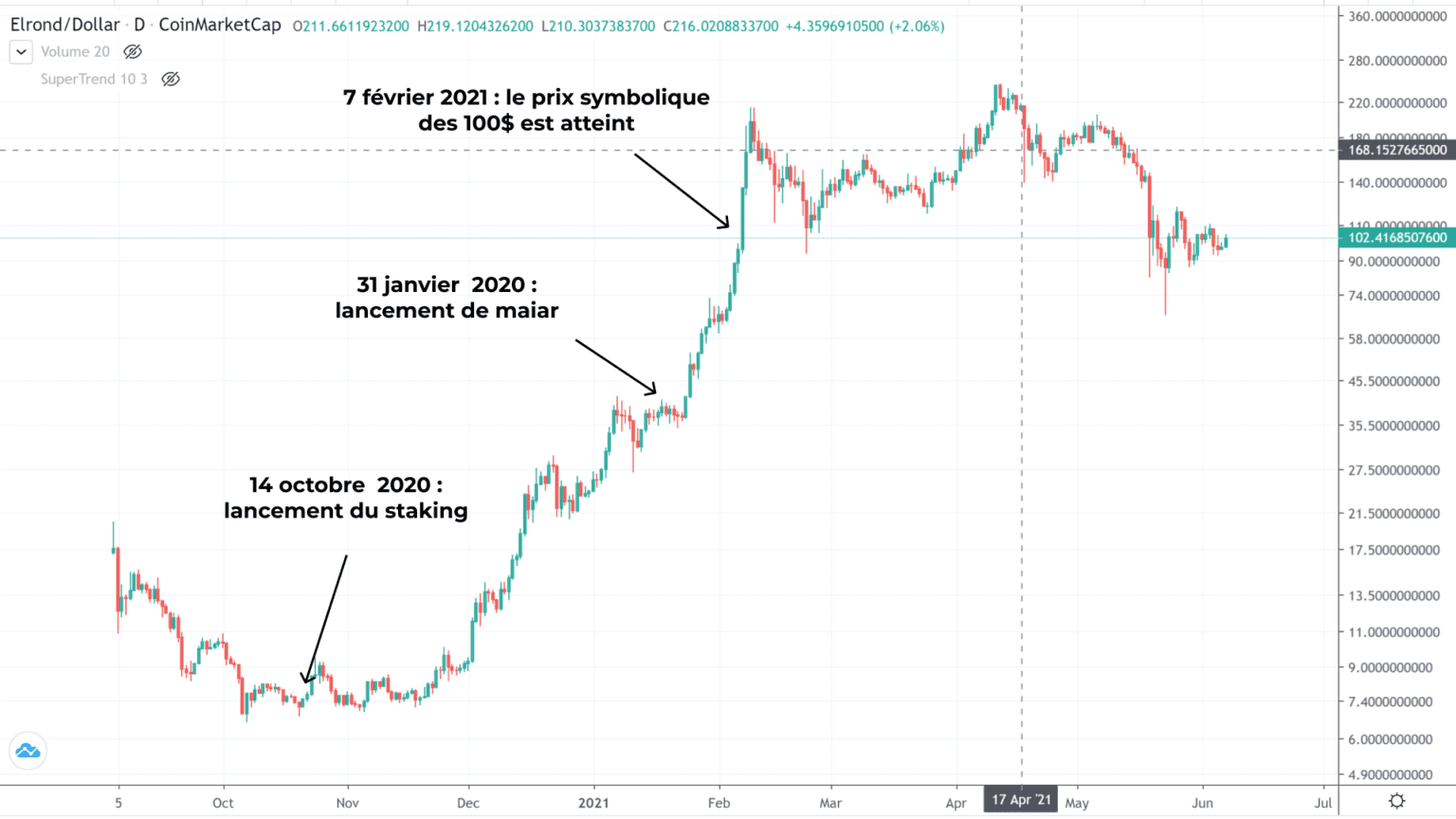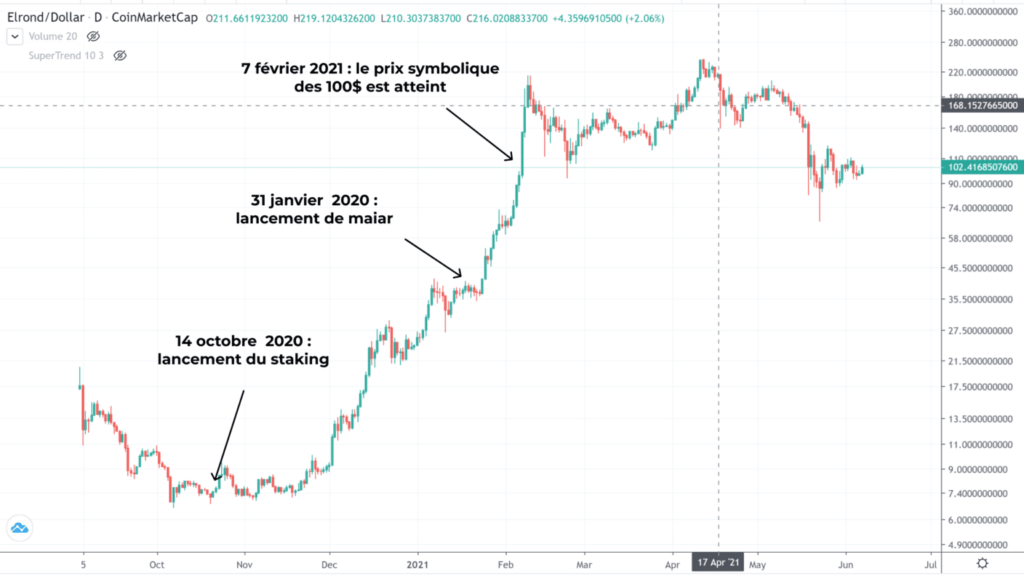 Key figures for Elrond (EGLD)
Price for Elrond Gold (EGLD)
Last price : 148 €*
Rank on CoinMarketCap : 54*
Market Capitalisation : 2 571 492 470 €*
Fully Diluted Market Capitalisation : 4 633 909 491 €*
Circulating supply : 17 439 493 EGLD*
Max supply : 31 415 926 EGLD
All-Time High price : 205,16 €*
*Updated on 11/05/2021
Elrond Gold (EGLD) price chart (in EUR)
Useful resources for Elrond (EGLD)
How to buy Elrond Gold (EGLD) ?
Binance is THE standard for buying and selling cryptocurrencies. Year after year, Binance has managed to climb to the top position in terms of volume and popularity. In addition to trading Elrond (EGLD), you have access to more than 300 different cryptocurrencies. Binance also offers, for the bravest traders, the possibility to leverage your trades, as well as the option to stake your tokens in order to easily yield passive revenues.
FTX is one of the most recent exchange platform but has nothing to envy of its competitors. In addition to Elrond (EGLD) you can trade with 200 other cryptocurrencies. FTX stands out from its competitors by offering derivative crypto products, such as long-term contracts and leverage trading.
Maiar is a mobile wallet and application that will allow you to take full advantage of Elrond's blockchain performance. With this application, you can transfer money to anyone you want by using their herotag (alias on Maiar). On top of that, Maiar does not require your identification documents, you just need a telephone number to create an account.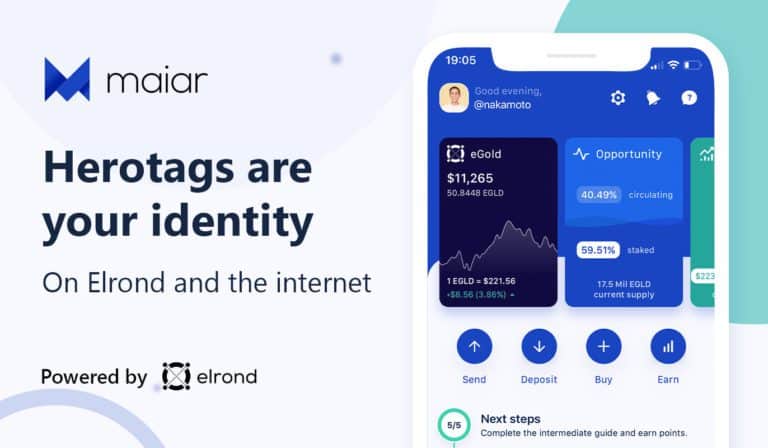 Kucoin is the kingdom of low capitalization cryptocurrencies. In addition to Elrond (EGLD) you will be able to trade with over 300 different cryptocurrencies. This platform has chosen to focus on cryptocurrencies that are less familiar, but nevertheless interesting.
Which wallets can you use to store Elrond (EGLD) ?
Online wallets
Elrond Web Wallet
Elrond Web Wallet is an online wallet. Therefore, it is not necessary to download anything else to access your wallet. It allows you to store, stake and manage your EGLD as well as any other asset on the Elrond network. As of recently, it enables you to interact with the dApps within the Elrond ecosystem.
Downloadable wallets
Maiar is the wallet of reference for Elrond. It is a mobile application that allows you to store, stake and manage your EGLD as well as other assets on the Elrond network. Maiar's particularity is that it enables anyone to transfer their EGLD just by using the Herotag, there is no need to copy-paste the destination address anymore. As of late, it also allows you to interact with the dApps within the Elrond ecosystem.
Hardware wallets
Ledger Nano
Ledger, on top of being a French company, has managed to become the standard in terms of hardware wallets. Looking like a USB key, the Ledger Nano is an ultra-secure wallet that can store hundreds of cryptocurrencies, including EGLD.
There are two versions: Ledger Nano S and Ledger Nano X. The first one, cheaper, offers limited space. The second one, slightly more expensive, has more space available and the possibility to connect via Bluetooth.
Our articles on crypto news and events
Elrond (EGLD) FAQ
What is Elrond (EGLD)?
Elrond is a new generation blockchain specifically designed for performance, security, upgradability and interoperability. The Elrond blockchain can process 15 000 transactions per second on-chain and transactional finality is guaranteed at 6 seconds, however, in our humble opinion, the time to process transactions will decrease in the future.
What's the best way to buy Elrond (EGLD)?
The best way to buy Elrond Gold is on an exchange market. You can use Binance, which allows you to purchase directly with your credit card, or Maiar.
How to safely store your Elrond Gold (EGLD)?
If you want to store your EGLD, we recommend you use a free application such as Maiar or the Elrond Wallet Web. You can also store your EGLD on a hardware wallet like Ledger.
What are Elrond's advantages?
Elrond is a cryptocurrency but it's also a promising technology. The network can accommodate thousands of transactions per second at a minimal cost while maintaining a secure and decentralized network.
How to predict price action for Elrond?
It's no easy task to answer this and the advice we give may not be sufficient. In order to best anticipate price action it is important to familiarize yourself with technical analysis, which, if mastered correctly, can be a very useful tool. You can also follow the latest news on EGLD to learn more about its fundamentals.
How do you mine EGLD?
It is not possible to mine EGLD in the same way that you mine BTC or ETH because this crypto does not rely on Proof-of-Work (PoW) to function but on Proof-of-Stake (PoS).
Is it possible to farm or stake Elrond Gold (EGLD)?
Yes, it is possible to stake EGLD with a return on investment between 15 to 21 % per year on Maiar or on the Elrond Web Wallet.

It will also be possible to farm your EGLD on Maiar, the decentralized exchange.
Find out about other cryptocurrencies in 2021