Dogecoin had its moment of glory and made it to the top 10 a few months ago. Shiba Inu aims to be its direct successor and replace it soon. As a result of its fast rise into the top 100, Shiba Inu was quickly named the "Dogecoin killer" by its supporting community. How can such a meme coin have such an impressive ascent?
Shiba Inu even came close to the top 10 while, at first glance, having a lot in common with other "meme coins" that fell into oblivion.
What is Shiba Inu ($SHIB)?
Shiba Inu is an ERC-20 token developed anonymously on Ethereum by the so-called Ryoshi. The website describes Shiba Inu as a decentralized "meme token" evolving in a dynamic ecosystem.
"SHIB is an experiment in decentralized, spontaneous community building. SHIB token is our first token and allows users to hold Billions or even Trillions of them. Nicknamed the Dogecoin killer, this ERC-20 only token can remain well under a penny and still outpace Dogecoin in a short amount of time (relatively speaking)."
The Shiba Inu website encourages dog-inspired artists to promote the Shiba "artistic movement" by bringing their community into the NFT market. They also created an Amazon Smile campaign to collect donations and rescue real-life Shiba Inu dogs via the Shiba Inu Rescue Association.
The WoofPaper (Shina Inu's whitepaper) gives 3 reasons for its creation:
"We started from zero, with zero"
"The brilliant minds behind Shib had never collaborated before"
"We love Shiba Inu Dogs"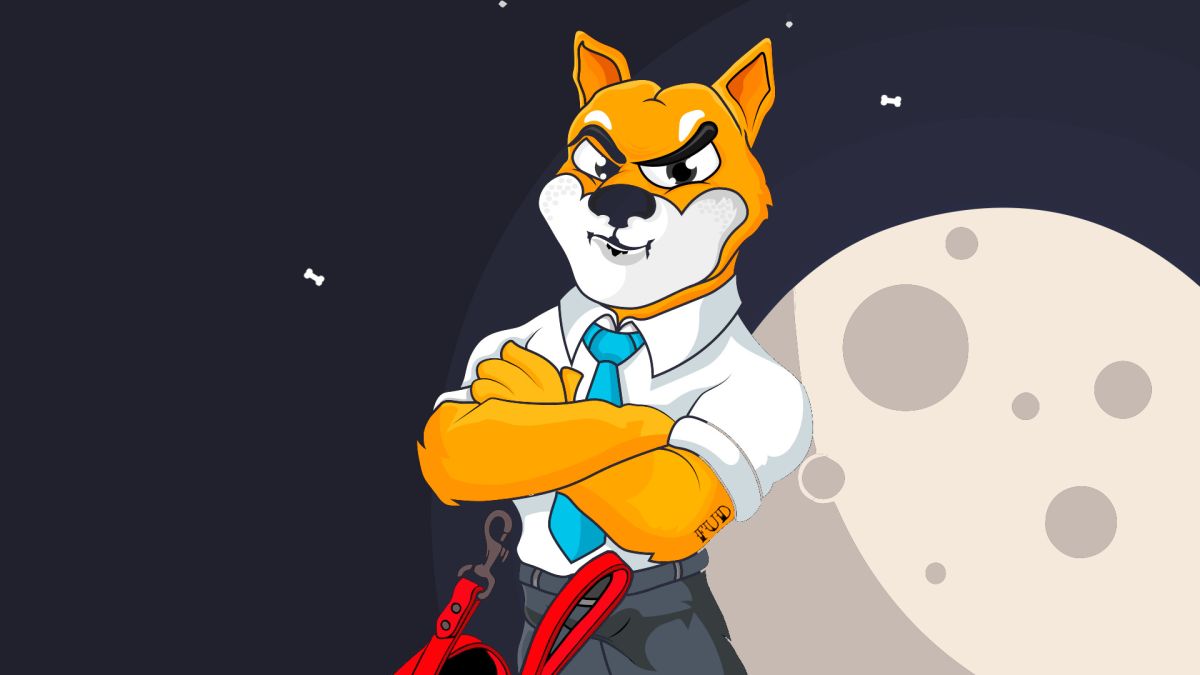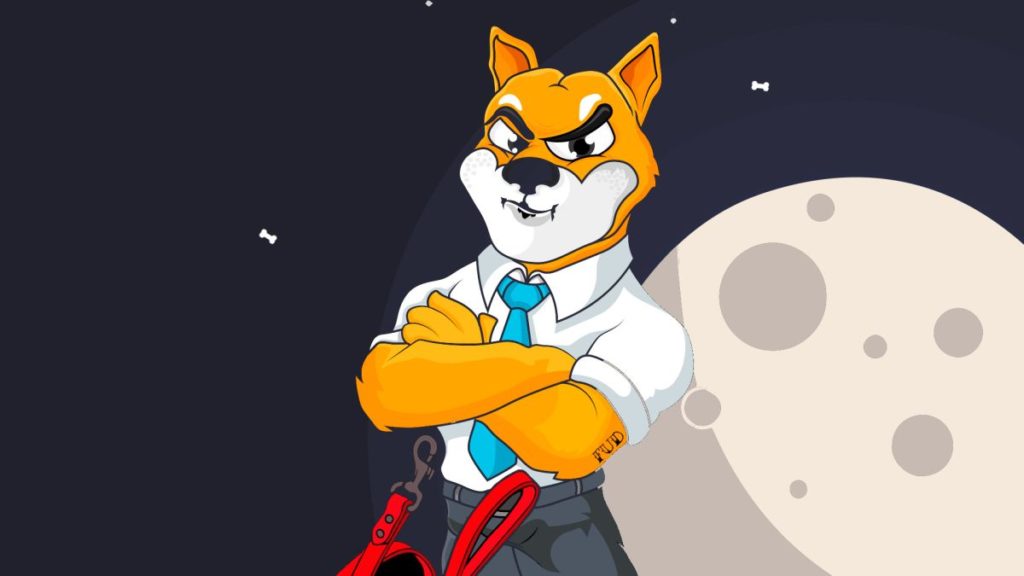 The Shiba Inu ecosystem
The whitepaper highlights that the objective is to build an ecosystem with three tokens, each with a different goal.
SHIB is the founding token of the ecosystem and 1 quadrillion SHIB tokens were minted
LEASH was created in the second stage, with an offering of 107,647 tokens
The third token is BONE, with an offering of 250,000,000 tokens
The team behind these tokens also developed a decentralized exchange platform: ShibaSwap. This exchange is similar to others on the ETH network, such as SushiSwap or Uniswap.
Is Shiba Inu safe?
There's not much to say about its safety. It is an ERC-20 token, meaning it is an Ethereum-based token. SHIB received an audit certification from Certik – a well-known auditor of the industry. This, however, does not mean that this project is flawless, but it highlights that the project was audited by a serious player.
Hype around dog-themed tokens
Shiba Inu and the SHIB token belong to the category of dog-themed tokens, along with Dogecoin (DOGE), Baby Dogecoin (BabyDoge), Samoyedcoin (SAMO), Floki INU (JIND) and many more. These low-price tokens attracted investors that missed the Dogecoin surge that took DOGE from $0.0002 to almost $0.75.
Dogecoin and Shiba Inu managed to stand out from the crowd of dog-themed "meme coins". However, this is not true for many tokens of this type. To those without much DeFi knowledge, succeeding in this domain might seem easy but, in reality, there is an ongoing "meme coin battle" to determine the winner. Shiba Inu appears to run second and aims to take the lead position.
Key figures from Shiba Inu
Its market capitalization is $36 billion and continues to increase daily
There are currently ~549,095,000,000,000 SHIB in circulation
The price of Shiba Inu went up by over 650% during October 2021
The daily traded volume of Shiba Inu exceeds $10 billion
50% of the initial supply was sent to a wallet belonging to Vitalik Buterin, the founder of Ethereum, and was considered burned… until Vitalik sold all his SHIB on May 12 to donate to an association, much to the surprise of the founders of the token. Vitalik's action led to a steep drop in the token's price.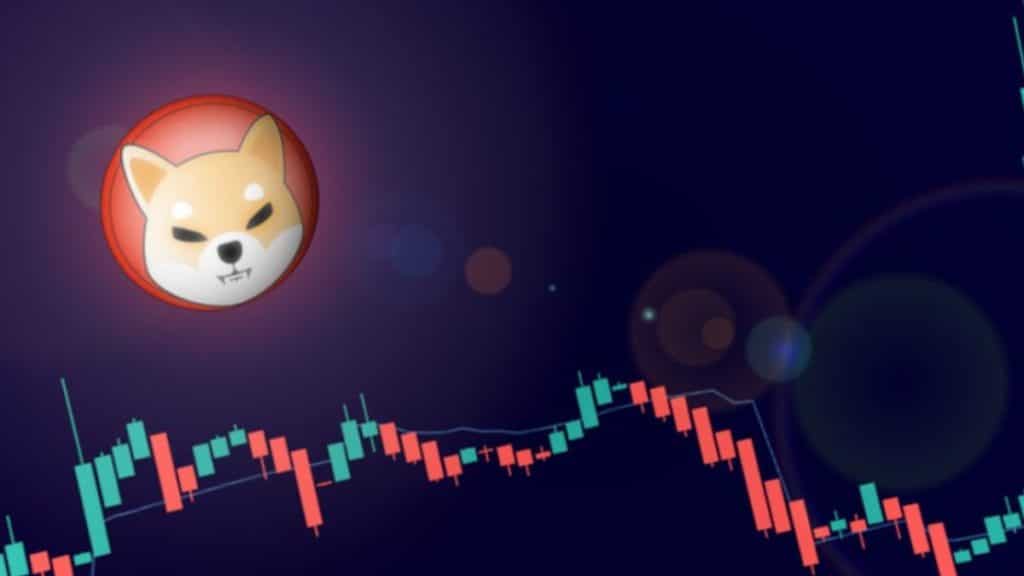 Where can one buy Shiba Inu?
SHIB is available on Binance, FTX, Huobi, Uniswap, OKEx, and many more exchanges.
Its adoption is growing faster and faster on many exchanges, e.g. on Coinbase in September 2021 and, more recently, on FTX.
Crypto investors' opinion of Shiba Inu
Although this token has been on fire for several days, not everyone is a fan, and crypto investors have mixed feelings. For some, what matters is not the concept behind the project, but rather how much return the crypto can yield. To others, advertising such tokens negatively impacts the market, as it gives a wrong image of the crypto market to newcomers.
What bothers many is the fact that a lot of Shiba Inu investors do not analyze the token in which they invest, but instead want "easy money". For many, analyzing the market is important.
News about Shiba Inu
Shiba Inu keeps impressing and receiving positive attention, even among well-known celebrities or within the largest cryptocurrency companies. When will it stop surprising us?
A petition to list SHIB on Robinhood is gaining in importance
If we had to list potential reasons that would explain the impressive pump of Shiba Inu at the end of October, a petition that collected over 326,000 signatures on Change.org urging Robinhood to list Shiba Inu would be one of them. During a conference call on Tuesday evening presenting the firm's results, CEO Vlad Tenev declared that the firm was seriously considering adding new cryptos to their offering.
"We feel very, very good about the coins that we're currently listing on our platform, and for any new coins that we add we want to feel equally if not more good" Tenev said.
It is important to remember that even Coinbase, the largest cryptocurrency exchange in the US, listed the token in September 2021.
According to a recent study, SHIB is the third most researched cryptocurrency on Google worldwide in 2021.
Bacancy Technology indeed made impressive announcements regarding Shiba Inu: in 2021, there were on average 2.8 million monthly searches about Shiba Inu. As a comparison, the two leaders, Bitcoin and Ethereum reach 22 million and 6.3 million monthly searches on Google, respectively.
A whale buys $11.5 million worth of Shiba Inu
The recent October surge seems to be partly due to a large purchase of Shiba Inu tokens by a whale.
The blockchain data indeed shows that an ETH whale bought for $11.5 million worth of Shiba Inu yesterday.
The impressive rise of Shiba Inu
The overperformance over other cryptocurrencies enabled Shiba Inu to reach the 10th position among the largest cryptocurrencies in terms of market cap.
Note that this new increase of Shiba Inu since yesterday led to a new all-time high of $0.00008845. At the start of the month, SHIB was only worth $0.00000720.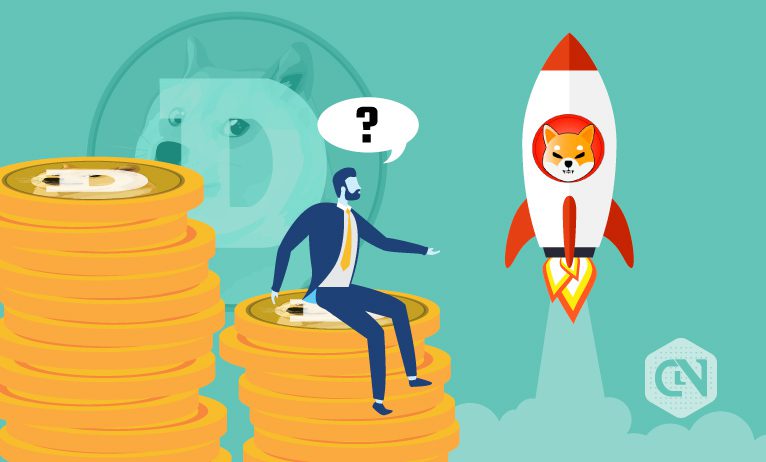 Elon Musk confirms not holding any SHIB; the price dumps
A community page providing news about Shiba Inu targeted a Tweet at Elon Musk with the hope of starting a price rally similar to those that happened for its historical acolyte. The post ended up being a terrible move for SHIB holders and a disastrous marketing campaign, thereby failing to cast a positive light on Shiba Inu.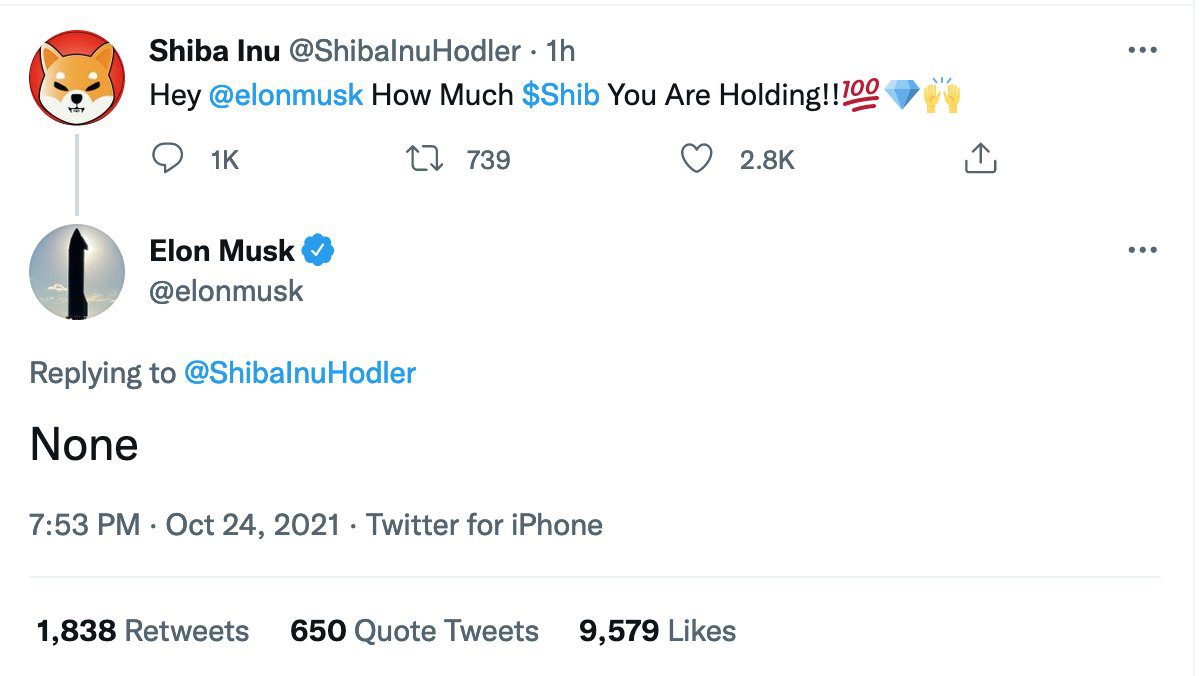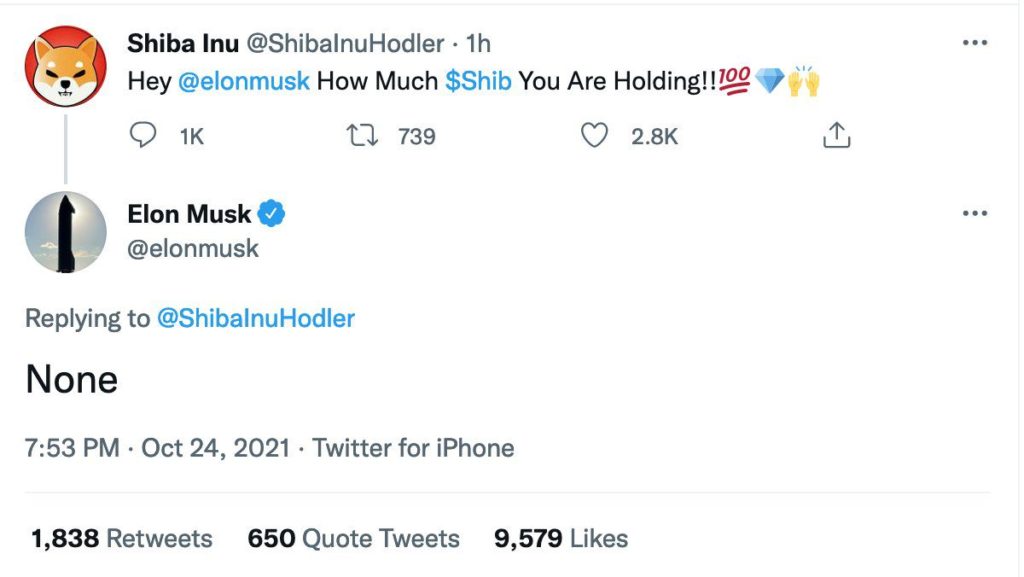 Elon declared in the tweet's comments that he does not hold any Shiba Inu, which led to a price decrease from $0.000044 to $0.000032 in a few minutes. This 20% dump however only temporarily frightened holders and was followed by the ongoing pump that we can see on current charts.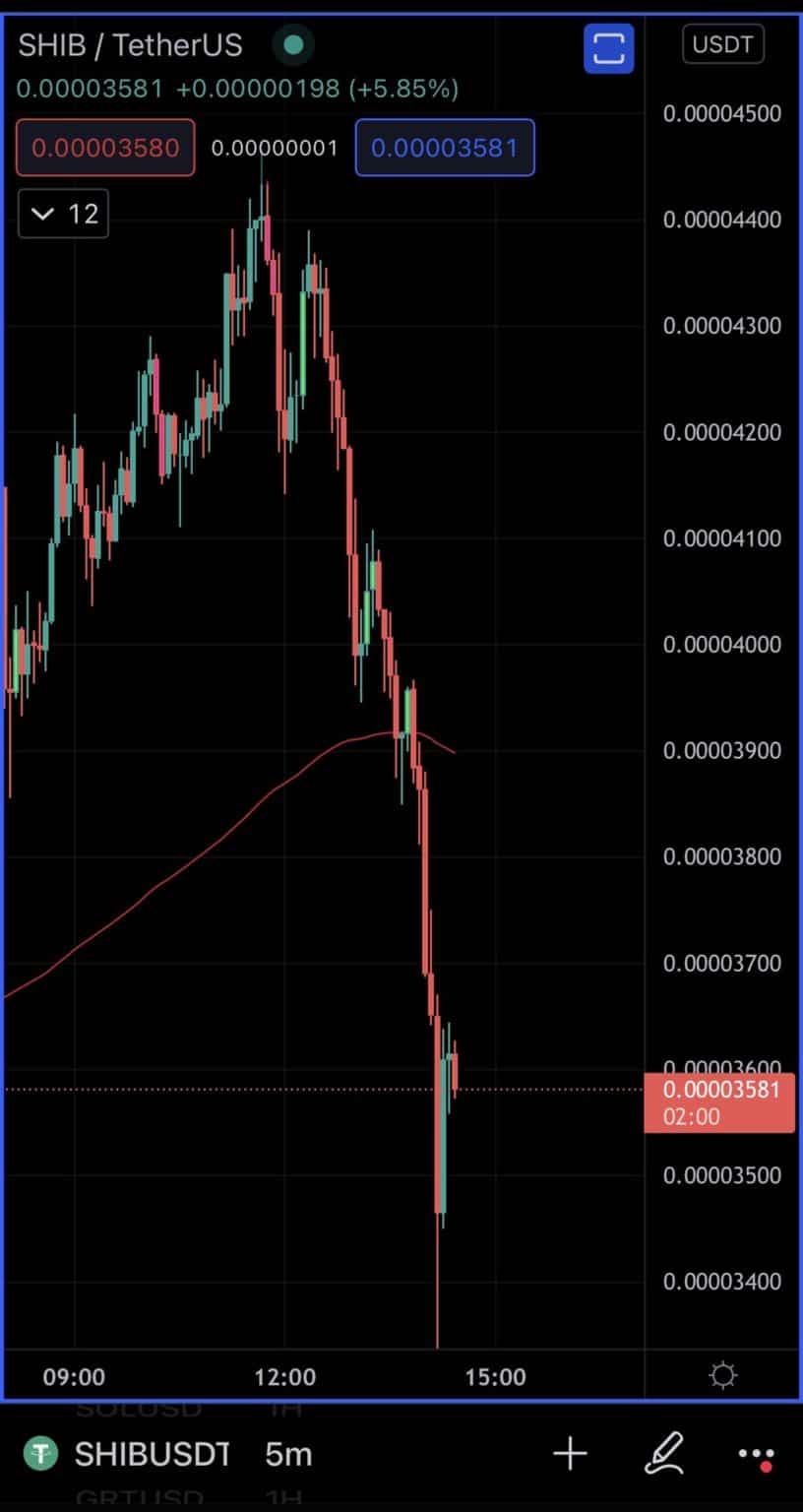 Tweets from the community page have a tendency to annoy Shiba Inu investors. For example, user Shibalaskan begged to "stop pestering celebrities when the community is doing fine without this sort of foolishness".
It seems that some users do not want a 2nd Dogecoin, referring to a token manipulated by one or several posts from Elon Musk or other celebrities, but rather a healthily growing token.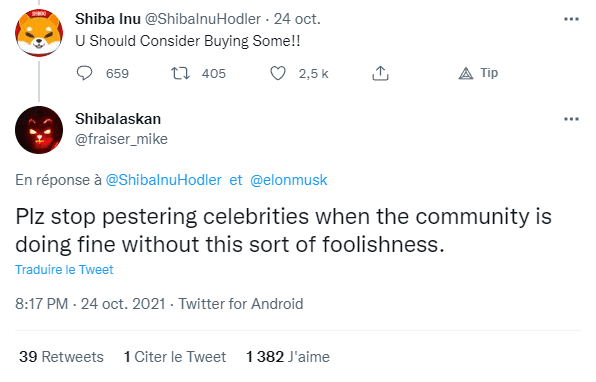 A new crypto-billionaire thanks to Shiba Inu
A new crypto-billionaire was just added to the list. In August 2020, an investor bought around $8,000 worth of Shiba Inu (SHIB). Their wallet is now worth around $5.5 billion… They apparently have not sold any single token since their initial purchase.
Media Morning Brew revealed the information in a tweet.
eToro finally lists Shiba Inu
Robinhood missed the boat by not listing Shiba Inu early enough on their platform. eToro, the investing and trading platform, managed to anticipate the pump as they listened to their trader community. At the end of July, eToro gave in after many user requests and finally listed Shiba Inu. This proved to be beneficial not only for the platform users/traders but also for the platform itself.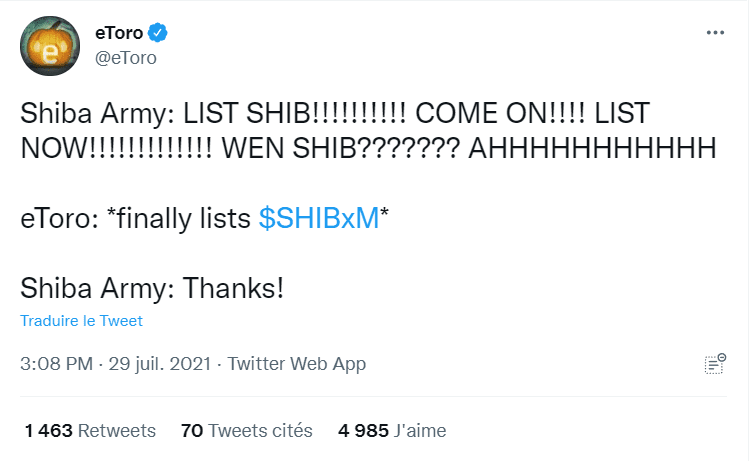 Conclusion
Although Shiba Inu performed well during the month of October, we cannot foresee whether this bullish trend will continue much longer. What is certain, however, is that the crypto industry is not done with surprising us over and over again! 🔥
Sources