Binh Thanh Le of Brockton, Massachusetts, was sentenced to eight years in prison and will lose about $2.3 million in Bitcoin after launching the "EastSideHigh" darknet marketplace, according to the Boston Herald.
Massachusetts U.S. Attorney Rachael Rollins said afterward, "This sentence sends a clear message to Dark Web criminals: the federal government is entering this space. We will find you and hold you accountable," she added, "Thanks to the incredible work of our law enforcement colleagues, there is one less cybercriminal hiding in the shadows." Following his prison sentence, Le will be monitored upon his release for three more years.
Binh Thanh Le started EastSideHigh at the age of 22, selling drugs like Xanax, ecstasy and ketamine.
His illicit business generated him a profit of about 59 Bitcoin, which was first seized in March 2019 during a law enforcement operation. Today's news indicates that this seized Bitcoin is now confiscated. At the time, the funds were worth about $200,000, far less than the current price of over $2 million.
In June 2019, Le was then charged with two other individuals, Steven McCall and Allante Pires, for conspiracy to manufacture and distribute drugs. At the time of the seizure, law enforcement found more than 44 pounds of ecstasy, more than 15 pounds of ketamine and more than 10,000 Xanax tablets.
Darknet and crypto markets
In its early days, Bitcoin and the few cryptocurrencies that have emerged were primarily used on the Darknet to circumvent censorship. As a result, legal cases on the darknet often involve cryptocurrencies, a relationship that has greatly affected its reputation. Here are some of the criminal cases that have shaken the crypto world in recent years
Xanaxman: In August 2021, Maryland "Xanaxman" dark web drug dealer Ryan Farace reportedly continued to trade in prison, following a November 2018 forfeiture of 4,000 Bitcoins.
Terrorism: Three days before Christmas last year, it was the turn of Khuran Iqbal, a convicted terrorist in the UK, to be jailed for trading crypto on the dark web. In 2014, he had been jailed for disseminating terrorist publications and possessing terrorist information.
SilkRoad: Ross Ulbricht, founder of the most famous darknet marketplace SilkRoad, was an early and unfortunate Bitcoin star using Bitcoin as an exchange value for drugs, when the cryptocurrency was only known by a few followers of cryptography and digital innovations.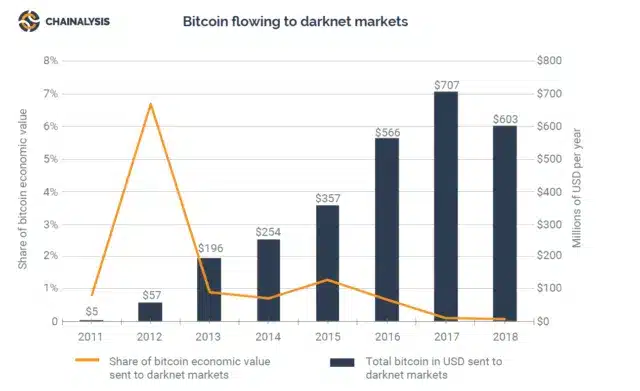 Cybercrime cases related to cryptocurrencies, which can be called crypto-crime, keep resurfacing and being solved, it seems to be a will of the authorities to secure this ecosystem to launch its democratization on a large scale, as the latest executive order of Biden suggests.