Justin Kan, the co-founder of popular streaming platform Twitch, re-enters the video game sector, this time within the cryptocurrency industry, by launching with several of his associates an NFT marketplace dedicated to the Play-to-Earn metaverses, called Fractal.
In this article, I will cover this very recent announcement, which a lot of people will be talking about. Indeed, unlike its "competitors" OpeanSea or Solanart, Fractal wants to focus on Gaming and metaverses (virtual worlds). More specifically, on video games using blockchain technology and those that want to issue assets on the blockchain to certify property and the unique nature of its digital assets.
The Fractal platform should be coming out in a couple of weeks. The website fractal.is only gives a few details on what's upcoming, but if you know where to search, everything becomes clearer!
Fractal, presentation of the NFT marketplace
"People have always been capable of making real money by playing video games" Justin Kan, Twitch.tv co-founder
Kan and the Fractal team intend to transform the platform into some kind of Kickstarter for blockchain games, enabling users to buy exclusive NFTs during presales that contribute to financing the creation of the games themselves.
The Fractal platform will serve as a primary market for gamers, allowing them to purchase non-fungible tokens (NFT) directly from the video game developers, and use them in the game.
The utility of the platform is mainly justified in the secondary market, where users will be able to buy, sell but also swap NFTs among each other, outside of the game. This is not something new, websites such as eBay, IGVault, MMOGA, or OPSkins (before its foreclosure) already enabled gamers to buy or sell virtual assets.


Sales, however, are often forbidden by the game developers because of the risk of money laundering or simply because minors doing business may be incompatible with local laws.
In France for example, only adults can open a bank or Paypal account, or have the right to access gambling games. This is the reason why game developers block everything: to avoid problems and abusive behavior.
What is the purpose of using a blockchain ?
Blockchain enables NFTs to be assigned an individual signature that is impossible to reproduce. There are many use-cases for this: a skin for your game character or weapon, land or a virtual house, objects of value like a safe or a badge. In essence, any kind of asset received within a specific context or a digital object that represents value, even just a sentimental one!
Justin Kan voiced his opinion on the subject: "Like clothing in the real world, if you get a really awesome jacket. They made more than one of those and other people have them. But you have a story. It was in New York, in Brooklyn, and you saw it waking down the street. You buy it and then it's awesome and maybe you give it to a friend. It's an item with a whole story and it means something to you. Digital items are the same way and that's something that I didn't expect, but it's really cool."


Thanks to the signature and the chronicle of events (including the creation and subsequent transactions), you will easily be able to prove ownership of a given object but also that it is authentic and not a counterfeit replica. It is therefore essential that from the start Fractal and creators play by the rules to make sure that a limited edition is effectively limited, to ensure the rarity and value of that object.
"Auditing these projects will be a major task because no one wants to see a company announce a 10 000 pieces limited-edition NFT drop and then find 70 000 of them offered in the marketplace" – VentureBeat
What's important to note is that blockchain facilitates traceability of transactions, it can therefore be an effective tool against fraud as well as for tracking transactions on secondary markets.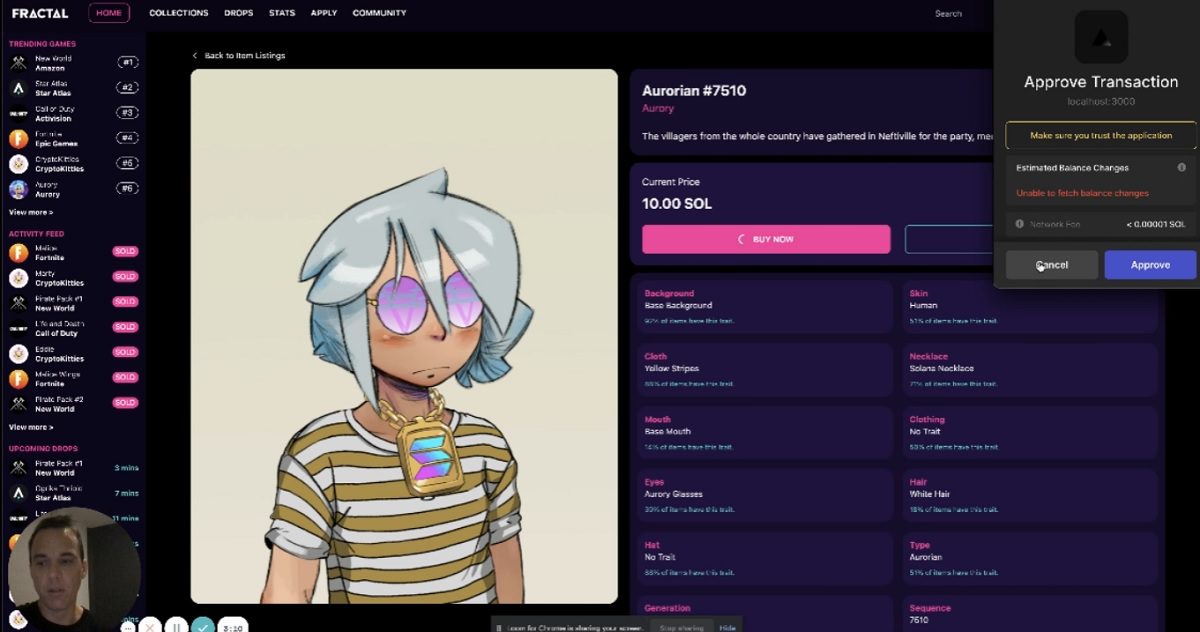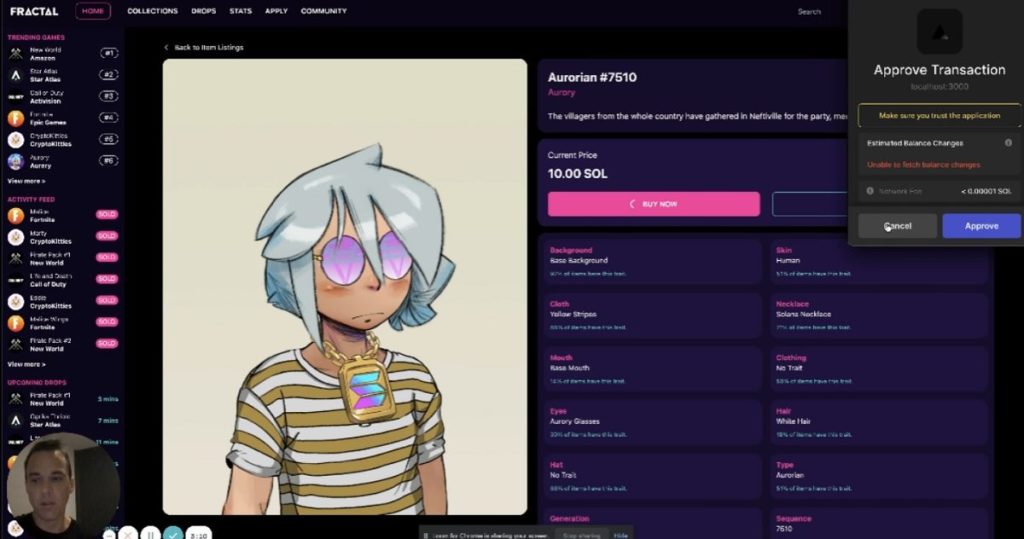 Fractal, launched on Solana but is it exclusive ?
At launch, only Solana projects will be listed. Fractal says it started with NFTs on Solana (SOL) because the low costs and high speed of transactions of its blockchain are attractive for companies in the gaming sector that are looking to sell a high number of assets.
The company nevertheless intends to integrate other blockchains in the future, according to a Coindesk representative. It is interesting to note that Coindesk & Grayscale: the biggest crypto investment fund in the world, both belong to the mother company Digital Currency Group. We can therefore conclude that the representative's statements are not empty promises.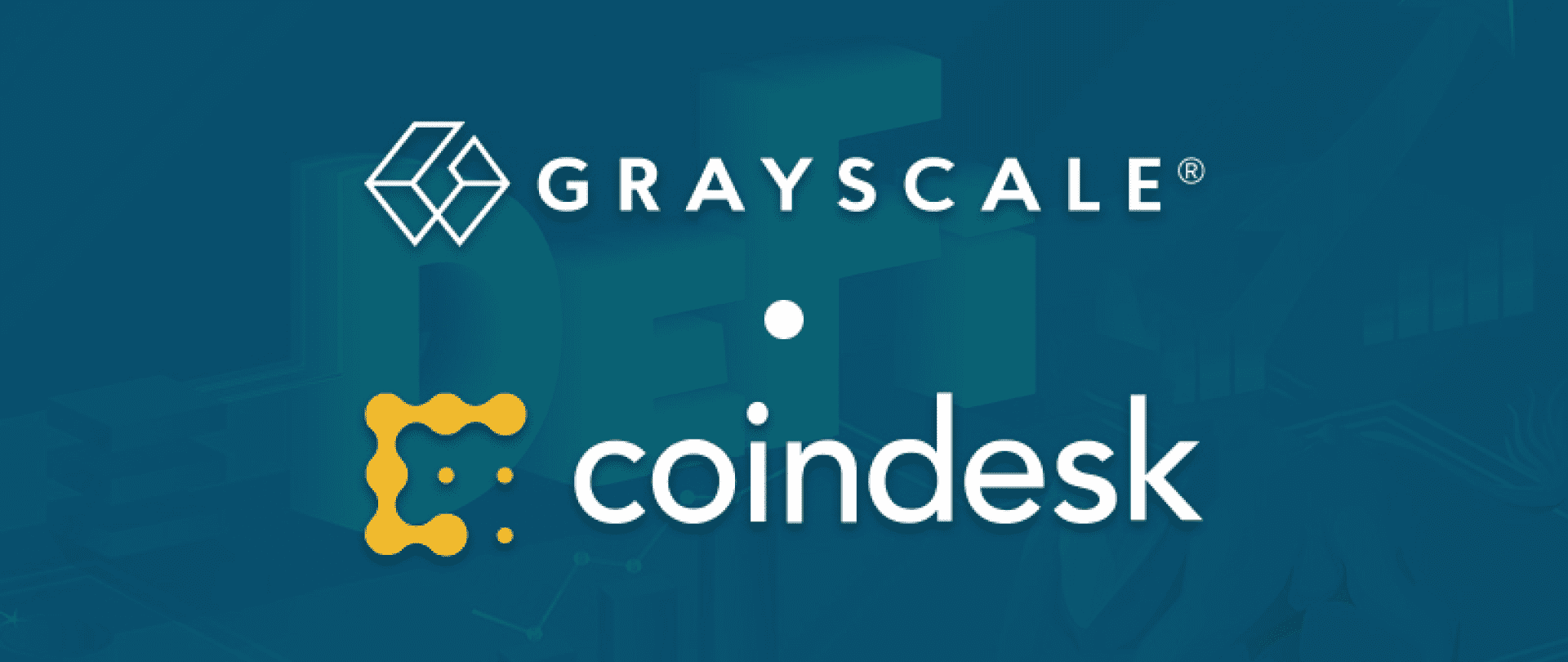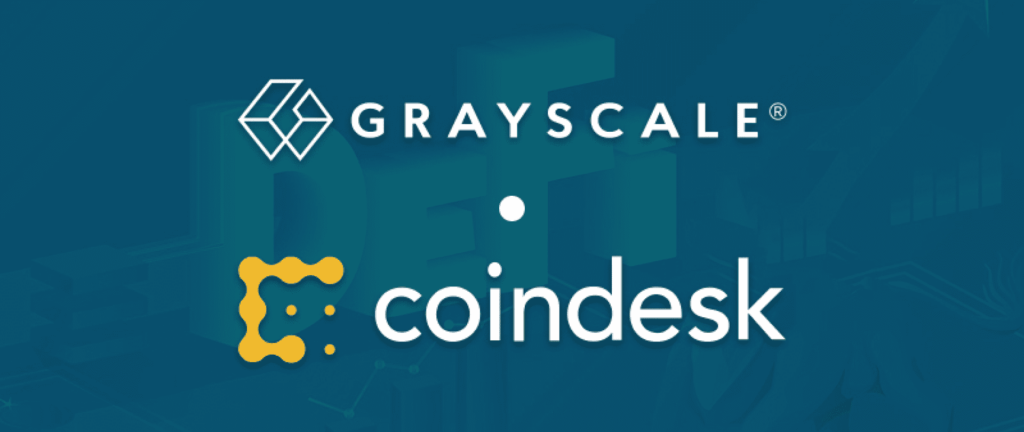 Fractal, a curated listing procedure to avoid abuse
"We are not interested in supporting scams or people that will not deliver projects. Our goal is to work with the best video game companies. There are now more genuine companies that have a history of creating games that are coming to this space, and we work to work with them", Mr. Kan declared.
Here is a list of games and metaverses on Solana that will most probably be partnering with Fractal upon the marketplace's launch: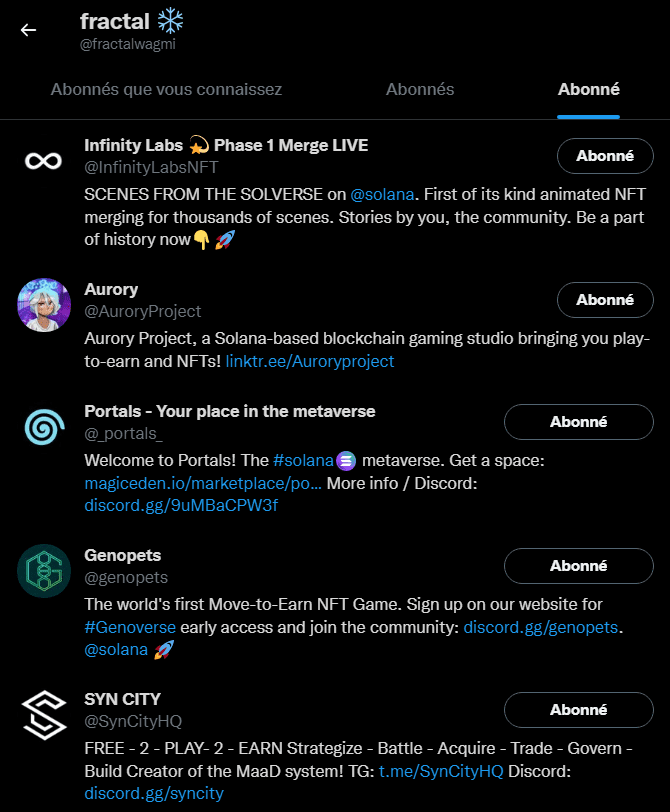 The last project, Mini Royale, featured in a demo presented at media company VentureBeat.com, is the first significant multiplayer shooting game on Solana, supported by Faraway.
Faraway recently raised funds for a total of $21 million. These $21 million are part of a $100 million budget allocated to blockchain-based games, financed by Lightspeed & FTX. We can say that the circle is now complete!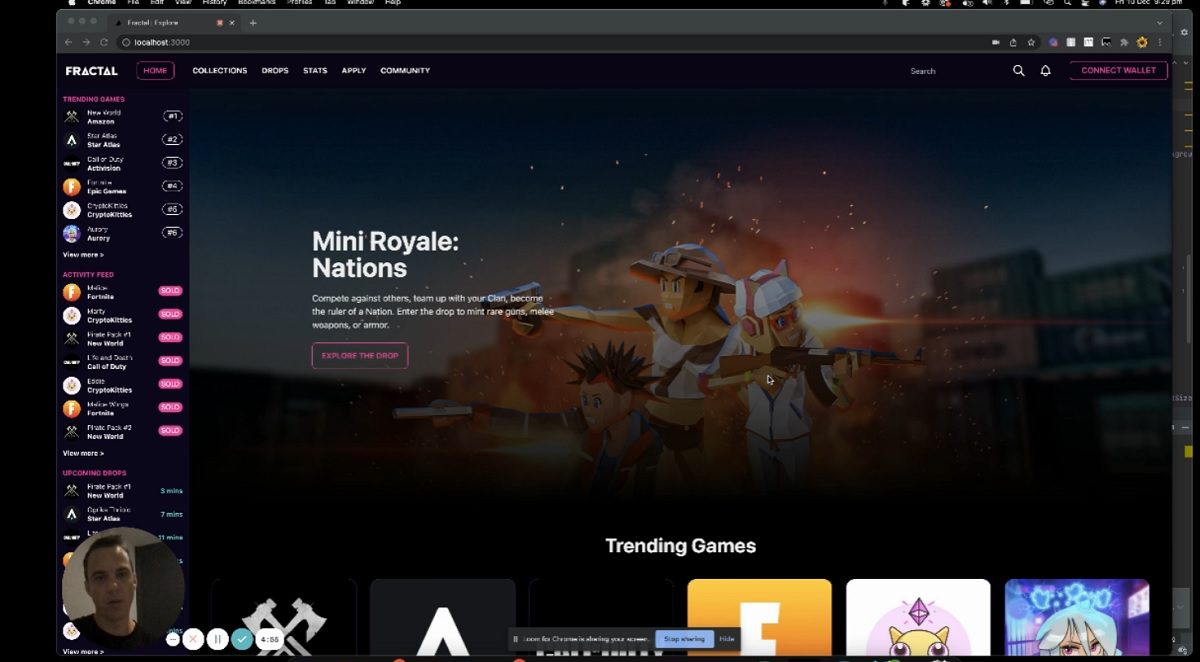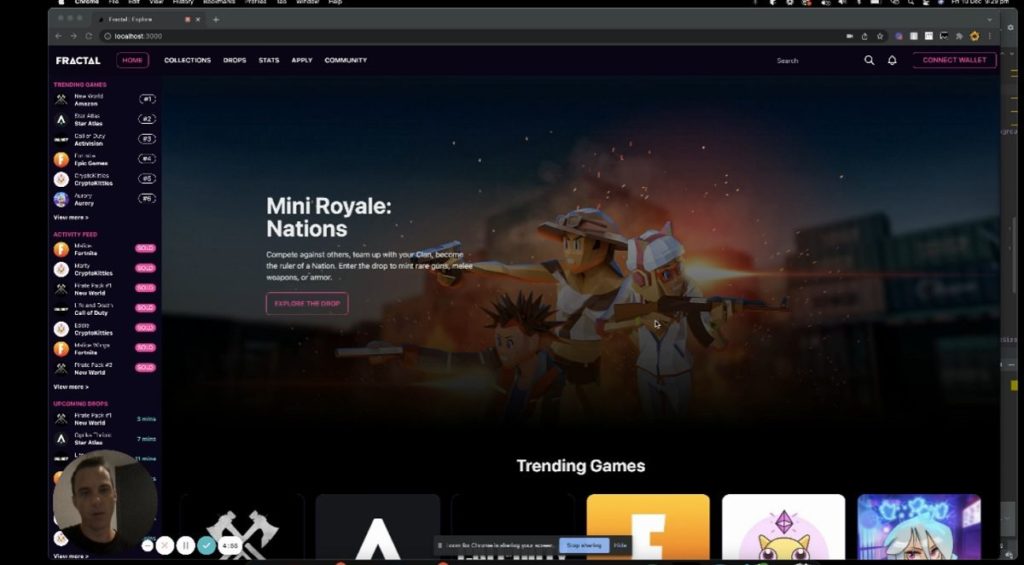 A new experience for the hardcore gamers ?
"When I was growing up and playing games, I played Ultima Online and World of Warcraft during an absurd amount of time", he declared.
The online multiplayer role-playing game Ultima Online, from Richard Garriot, gathered thousands of players into a virtual and enduring fantasy world. You could be in a team with other players to kill monsters and collect loot. But if you died in the game, your hard-earned belongings could be stolen from your dead body by bystanders. It was brutal, ruthless, but Kan loved games with high stakes.
We already know that the Play-to-Earn game Aurory entered into a partnership with the e-sport organization TSM FTX to offer e-sport for its game. It will consist of creatures called Nefties that can die or disappear if you lose the fight, a kind of on-chain battle royale where only the best-prepared fighters win the big prize.
An exciting new development for e-sport and the cryptocurrency sector, I'm in!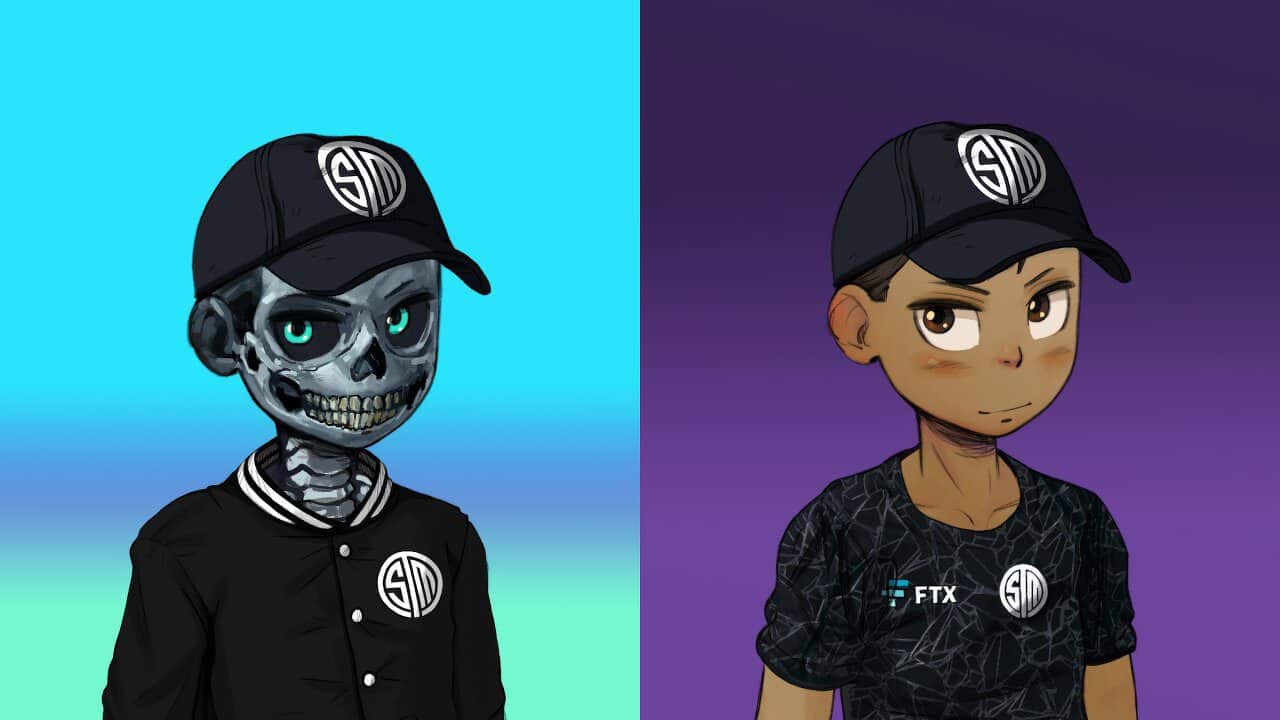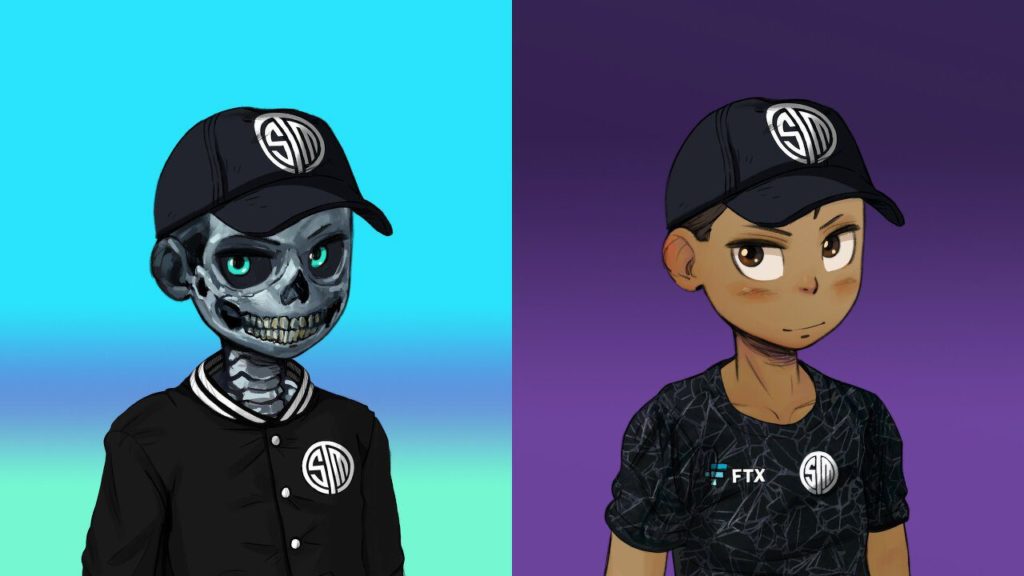 Mandatory KYC for all projects ?
In my view, Fractal didn't choose the Solana blockchain for its decentralization feature but more for its practicality. This, however, is not a problem for me. It is indeed necessary for proper due diligence of the studios that sell the NFTs. To this day, there has been no comment from the Fractal team with regards to the subject of client identification, and the question remains open.
In the pictures from the Fractal presentation we note the following games:
New World – Amazon Games
Fortnite – Epic Games studio
Call of Duty – Activision
It is unthinkable for a gamer to present his ID card to purchase a game or a skin in a game, and that is perfectly normal. But what happens when all these virtual objects are exchanged in the same way as currencies? After all, the crypto market has accustomed us to avoid buyer identification as best as possible to preserve anonymity.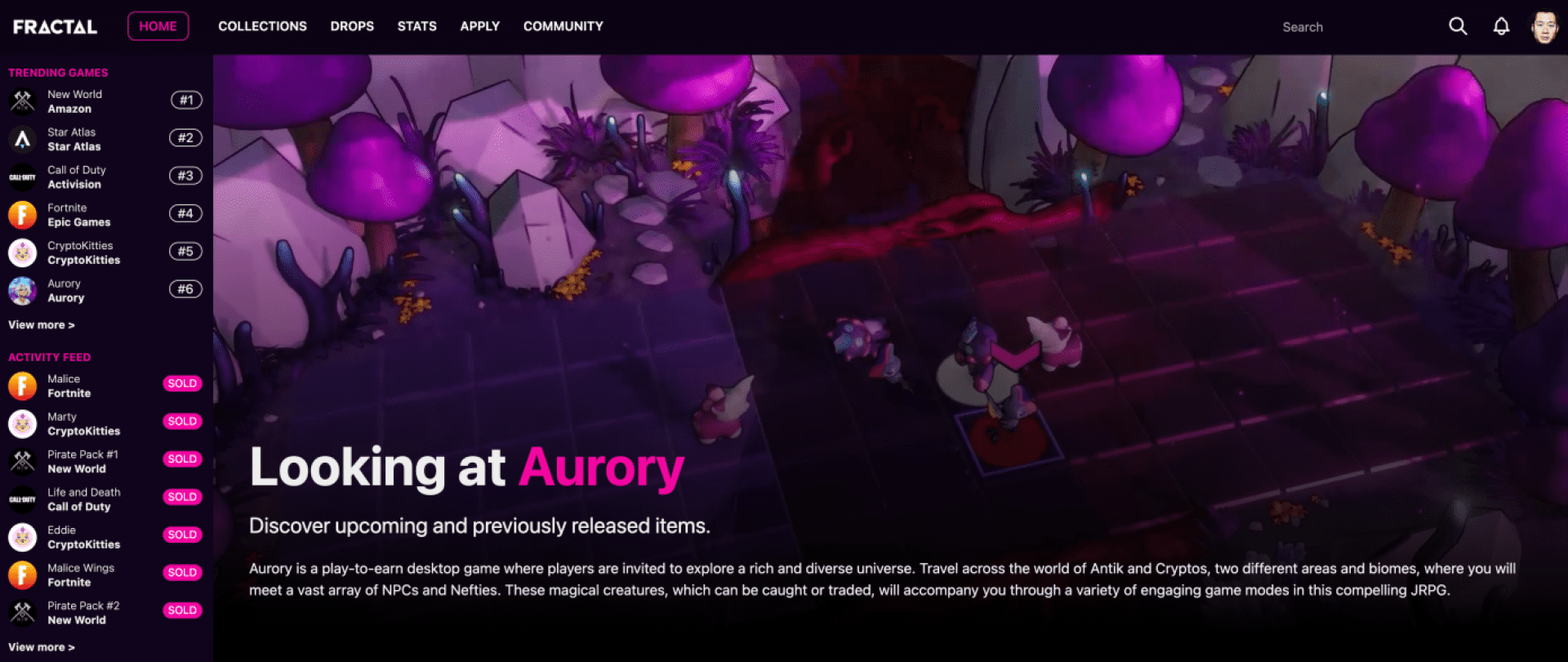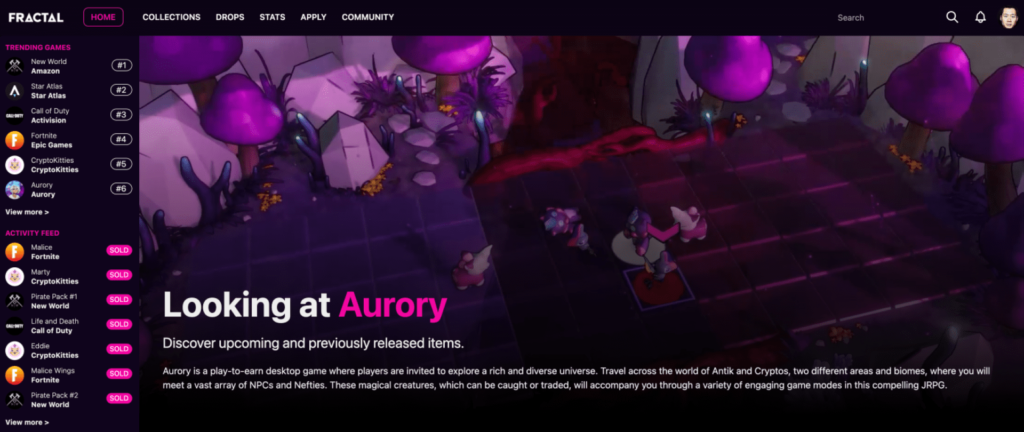 In this market, we have video game developers that are often listed on the stock exchange and they have to comply with extremely strict regulatory obligations. This is not a trend that will disappear overnight, and even if the subject remains taboo, I believe my question is legitimate: how can Fractal cooperate with traditional video game developers like Activision, Epic Games, or Amazon without enforcing basic client identification?
Think about it for a minute, Steam gave up on Bitcoin (BTC) as a form of payment in 2018.
Amazon only accepts credit cards as the official payment method on its platform. The only other unofficial form of payment allowed is the Amazon gift voucher, and it is not certain that this remains a "gray" zone forever, because Amazon gift vouchers can be likened to a currency in a limited range of offered goods and services: the Amazon website.
Epic Games only accepts credit cards, PayPal and Paysafecard. Paysafecard belongs to the Paysafe group, KYC is mandatory for merchants that want to collect payments.
Anonymity for the seller AND the buyer does not exist for these developers, why should it be different in the crypto market?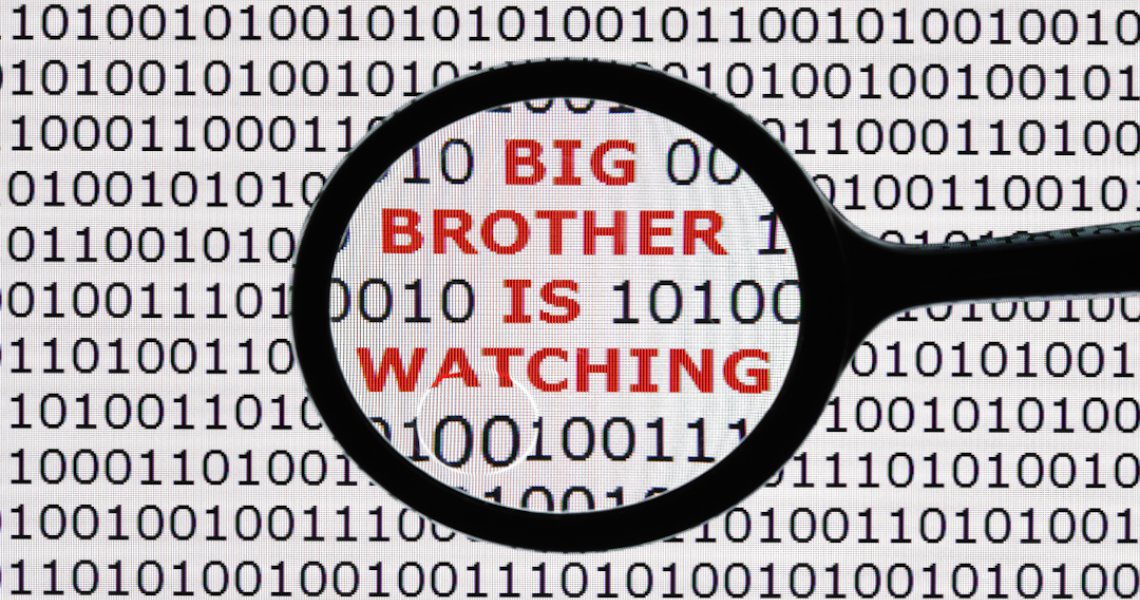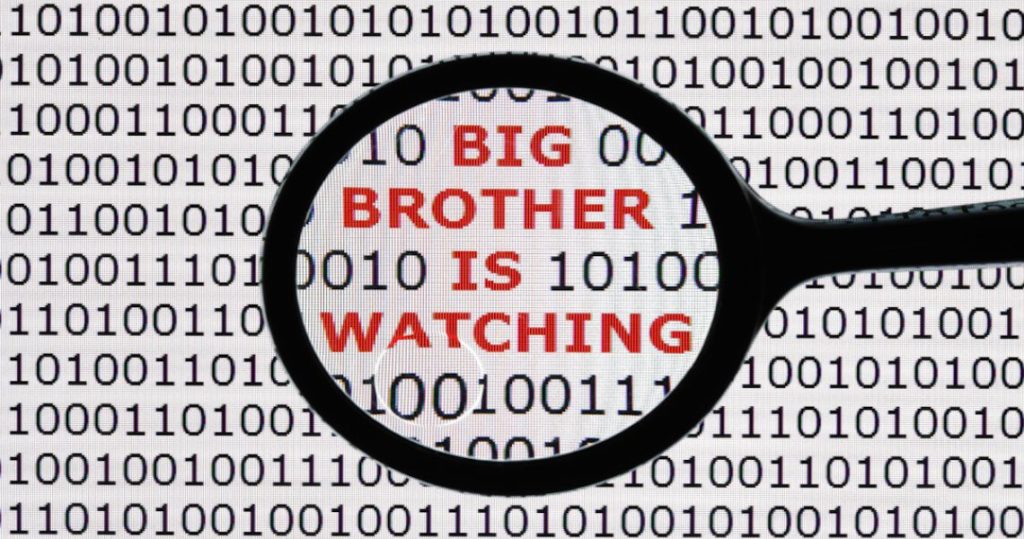 A governance token for a future Fractal DAO
Fractal has suggested that there will be a governance token linked to a future decentralized autonomous organization (DAO). We do not yet know what will be the function of this token, however, it should be associated with an Airdrop for the users that play along by inviting friends to join Fractal's official Discord server.

Video analysis of Fractal's project
Sources
💰 Venturebeat – very comprehensive: https://venturebeat.com/2021/12/13/twitch-cofounder-justin-kan-is-back-with-nft-gaming-marketplace-fractal/
🪙 Coindesk: https://www.coindesk.com/business/2021/12/13/twitch-co-founder-justin-kan-launches-gaming-nft-marketplace-on-solana/
🚀 TechCrunch: https://techcrunch.com/2021/12/13/justin-kan-debuts-fractal-a-solana-based-marketplace-for-gaming-nfts/?tpcc=tcplustwitter