This new section of Coin Academy gives a whole new meaning to your preferred media: The Academy is finally available and is entirely free!

Browse through dozens of curated and summarized articles to discover the world of crypto, deepen your knowledge or become a real expert in the domain that you are passionate about.

The Academy : what is it?
The Academy is a special section of the crypto media Coin Academy, classified in different categories:
Entirely free, this part of the website is designed for all levels of readers. Beginners will benefit from clear-cut articles that will give you the foundations to start in crypto, whereas mid-level and expert audiences will have access to more complex articles in order to widen their knowledge.
Why did we create The Academy?
We think that many people could largely benefit from the crypto space if they had a chance to get familiar with it. By facilitating access to essential information about crypto, this universe that we are so passionate about would more easily open up to the rest of the world.
With that in mind, we decided to aggregate dozens of articles specifically curated to be accessible and understandable by all.
Users of the blockchain and its services, despite being more experienced, can also benefit from data that will expand their knowledge, without having to search through the internet extensively.
The Academy concentrates all the crypto knowledge available in order to welcome new entrants, beginners, enthusiasts, but also the most experienced ones!
How to use The Academy
When you land on the homepage of The Academy, you will see a list of different sections. To start, you can simply choose to define your level of knowledge in crypto by clicking on either Beginner, Intermediate, or Expert.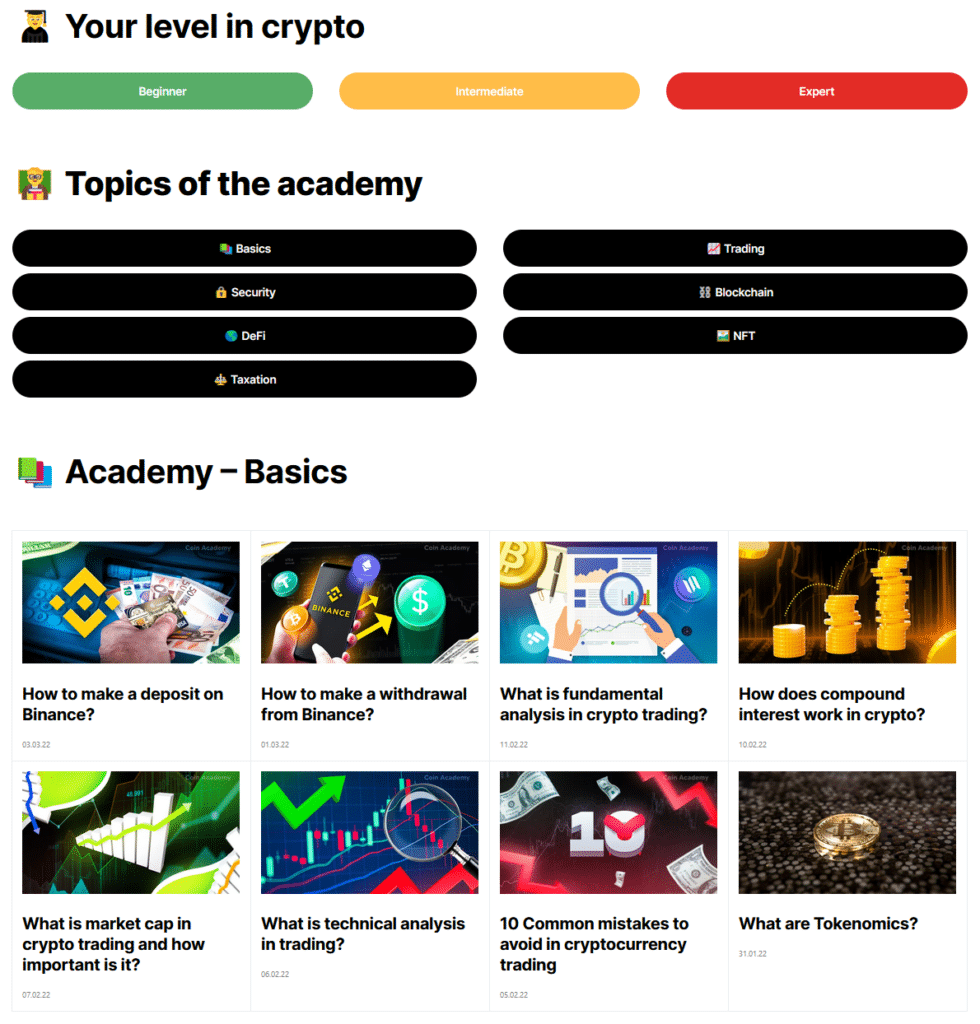 You can also choose between different subjects treated by The Academy. Click on the one you are interested in and find out about all our articles covering this theme, classified by reading level.
Don't hesitate to navigate through the various pages of the website to find what you're looking for!
Where to start
Among all the different categories found on The Academy, you'll notice one that particularly stands out. "The basics" is a special section that is specifically designed for beginners, but it is also useful to intermediate-level readers.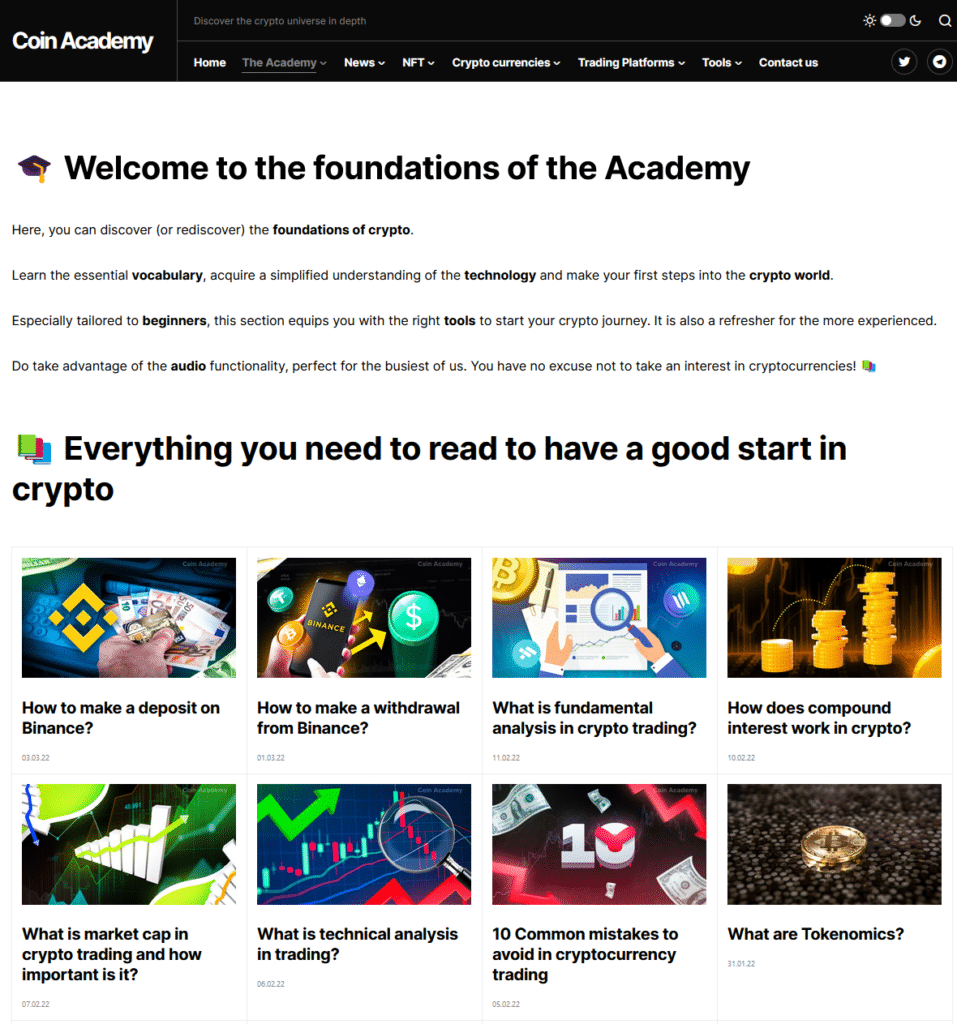 If you are just starting in crypto and don't know where to start, we would recommend you to start with "The basics". You can also choose from a list of different subjects and find all the articles related to it that are accessible for beginners.
The Academy has no strict rules and even though our articles display specific levels of experience, they are available to everyone, totally free of charge. A beginner may prefer to read an article considered "Intermediate level" in the same way that an experienced user may decide to refresh his knowledge with an article destined for beginners.
Who should use The Academy?
You guessed it right, The Academy is for everyone and particularly for beginners, regardless of their level of reading comprehension. This section of Coin Academy is perfectly adapted for people that have just learned about crypto and that want to start their adventure in the best way possible.
Those that have basic concepts of crypto will hugely benefit from articles that will immediately bring them to the level required to step into the game.
Nonetheless, those that already have a good experience were not forgotten and a plethora of articles are available to expand their knowledge.
Whether you're a noob in this place or you have years of experience, you will definitely benefit from The Academy, so don't wait anymore!