Key figures for SafeMoon (SAFEMOON)
SafeMoon (SAFEMOON) cryptocurrency price
Latest price: $ 0.0000014*
CoinMarketCap rank: 214*
Market capitalization: $791,856,943*
Diluted capitalization: $1,354,653,791*
Circulating supply: 585,536.37 B SAFEMOON*
Maximum supply: 1,000,000.00 B SAFEMOON*
All-time highest price (ATH): $0.000011*
*Updated on 22/02/2022
SafeMoon (SAFEMOON) price chart


The price of the SafeMoon token had an explosive start with an 8,000% increase in its first month after being released on the market. Its price increased again by 1,600% before entering a strong correction phase between May and June 2021; the token's price decrease was not helped by the "dump" of Bitcoin. After this, the price had a stabilization period that unfortunately ended with a new bearish phase in which it currently is.
Useful links for SafeMoon (SAFEMOON)
How to buy SafeMoon (SAFEMOON)
Gate.io – 10% discount
Gate.io is probably the first renowned cryptocurrency exchange to have been developed in China. In addition to SAFEMOON, the platform offers the trade of more than 200 different cryptocurrencies. Although it is not known for its ease of use, the fees offered by this platform are relatively low.

👉 Sign up for Gate.io
MXC – 10% discount
Founded in April of 2018, the MXC trading platform did not go unnoticed in the community. This exchange is famous for its very effective trading engine, as well as its advanced security system.
PancakeSwap
Notably known for its "Farms" and "Pools" features, the PancakeSwap platform is held in high regard on the cryptocurrency market. You can buy SafeMoon tokens there, among many others, in the "Exchange" tab of the website.
To deposit your cryptocurrencies on the platform, you simply need to connect your wallet such as "Trust" or "Metamask" by clicking on the "Connect" button at the top-right of the website.
SafeMoon (SAFEMOON) price evolution and key dates. SAFEMOON chart analysis and predictions
March 9th 2021: Launch of SAFEMOON
The SAFEMOON project was introduced in the first quarter of 2021. A few weeks only after its launch, the token had already made a lot of noise on the cryptocurrency market and went through a strong price increase.
April 2021: SafeMoon price explosion
Going as high as a 1,600% increase, the token went through its greatest (consecutive) increase since its inception. Very popular on social media, SafeMoon became the center of attention of many traders.
April 21st 2021 : Strong correction for the token
After its takeoff that had the token's price multiplied by more than 17 on the market, it sooner or later had to go through a correction that would scare many traders. It should be noted that the decrease of Bitcoin's price did not help in this regard.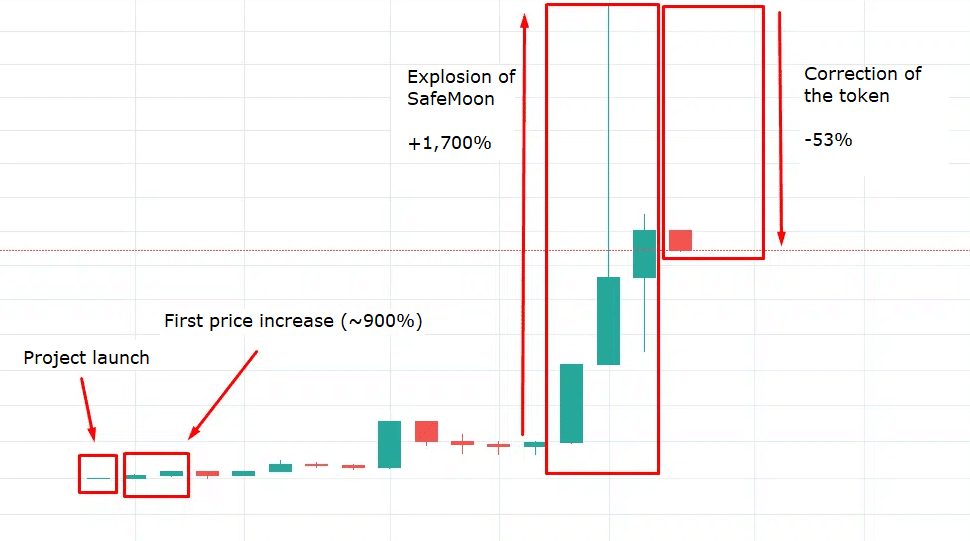 SafeMoon definition: what is it?
Very popular on social media since its launch in March 2021, the SAFEMOON token does not really present itself as a cryptocurrency, rather a token based on decentralized finance (DeFi).
According to the founders of SafeMoon, the project aims at solving problems faced by numerous cryptocurrencies, such as volatility and a lack of liquidity for some of them (due to the fact that traders tend not to hold their cryptocurrencies for a long time). According to the road map provided on SafeMoon's website, the team plans on opening their own exchange platform in 2022, on which users should be able to trade NFTs.
Although SafeMoon may seem to have a strong short-term potential, it still presents risks. This project being purely speculative and fueled by social media, and/or a Ponzi scheme, are possibilities that cannot be dismissed at the moment.
It should be noted that the project's developers own 35% of the LP tokens, and therefore have the possibility, if they so wish, to withdraw all their liquidity at once and magically disappear. This is why this investment seems rather risky, especially for beginners who are getting started on the cryptocurrency market and, therefore, probably do not know enough about the projects in which they choose to invest their money.
We strongly recommend you to be very cautious regarding this type of project.
How does SafeMoon work?
As mentioned earlier in this article, SafeMoon is not a proper cryptocurrency, rather a digital token launched by the community and based on DeFi. This technology mostly aims at shaking the financial world by allowing people to trade through "peer-to-peer" networks, without the need for a banking institution.
Most investors tend not to keep their cryptocurrencies in their wallets, which causes a lack of liquidity and higher volatility for these currencies. SafeMoon put a billing system in place for users who wish to sell their tokens.
Indeed, SafeMoon owners who wish to sell their tokens have to pay transaction fees that amount to 10% of the transaction amount. Half of this 10% is reinjected in the user pool that holds on to their SAFEMOON tokens. The other half is taken as a tax and added to the liquidity pools available on the PancakeSwap platform.
The marketing scheme used in this project is very different from others on the market, which makes this investment rather risky for people who do not know much about SafeMoon.
SafeMoon notably posted this on Facebook: "Don't forget that the trip to the moon is a long one, and the longer you hold on, the more tokens you will get."
Again, we can see the codes of a Ponzi scheme 2.0, similar to the Bitconnect scam. The goal is clear, encouraging users to remain in the network as long as possible to make the token's price increase.
What is SafeMoon used for?
At the moment, SafeMoon does not have a real utility within the cryptocurrency market due to its recent creation. Nevertheless, according to the project's creators, users that have SafeMoon tokens in their wallets have access to a certain discount. This aims at rewarding users who hold on to their tokens in the long run.
The project is mostly advertised on social media such as Twitter, on which the word "SafeMoon" was propelled to the rank of #1 trend for a time. Following this, the token piqued the interest of many users, especially new ones who just entered the cryptocurrency market.
What remains to be known is whether this token has a sustainable and promising future on the market, or whether it is doomed to fail suddenly at some point, leaving many investors at a loss.
Only time will tell us this, but if there is one piece of advice we would give you at this point, it is to keep a cool head and not jump on the SafeMoon bandwagon without learning about this project. Only invest what you are ready to lose, and be mindful of the projects in which you invest.
Which wallets can you use to store SafeMoon (SAFEMOON)?
Online wallets
Trust Wallet
Trust is one of the most renowned online wallets in the world, and you can use it to store SafeMoon safely and very easily.
Metamask
Just like its competitor Trust, Metamask is an excellent solution to store your cryptocurrencies online. To do this, you simply need to install an extension available on Google Chrome, and add the asset that you wish to store.
Hardware wallets
"Ledger" wallets:
Ledger is a world-famous company for its harware wallets; it offers its users the possibility to store their cryptocurrencies in complete safety.

The company offers several types of wallets such as "Ledger Nano S" and "Ledger Nano X".

👉 Click here to get a discount on Ledger wallets
SafeMoon (SAFEMOON) news. Read our articles about this cryptocurrency:
This section is empty, we will update it as soon as possible.
Frequently asked questions about the SafeMoon (SAFEMOON) cryptocurrency
What is SafeMoon (SAFEMOON)?
SafeMoon is a token based on DeFi, very popular on social since its introduction in March 2021. According to the founders of SafeMoon, the project aims at solving problems faced by many cryptocurrencies. For instance, the fact that most investors do not keep their tokens for a long time.
What is the best way to buy SafeMoon (SAFEMOON)?
Platforms such as PancakeSwap, Gate.io, and MXC are among the best solutions to get SafeMoon tokens.
How to safely store SafeMoon (SAFEMOON)?
We recommend that you use an online wallet such as "Trust" or "Metamask". You just need to download one of these wallets to then safely store your SafeMoon tokens.
What are the advantages of SafeMoon?
SafeMoon founders declared that their token will reward users that buy it and keep it in their wallets, whereas users who decide to sell the token will receive a penalty.

Apart from this "reward" promised to token owners, the project is currently purely speculative and does not have any real utility. Although the SafeMoon token regularly goes through strong price increases, investing in it is not recommended for users who do not know much about it.
How to anticipate SafeMoon's price evolution?
It is always hard to predict the evolution of a token's price, and we cannot know exactly what will happen. However, you can get an idea by analyzing the token's price chart and keeping an eye on the project's news and future developments. This may give you an edge over the rest of the market.
How to mine SafeMoon?
There is currently no known solution to mine SafeMoon.
Is it possible to farm or stack SafeMoon (SAFEMOON)?
At the moment, we do not know of any way to farm or stack this token.
Rating: 1.6/5 with more than 178 votes
Find out about the prices of other cryptocurrencies in 2022