"Please be advised that loans are no longer supported in your jurisdiction. For this reason, we are forced to cancel your current loans […] Please take the necessary steps to repay your loans before March 15, 2022 at 02:00 UTC. Outstanding loans and associated interest will be automatically repaid from the funds in your spot wallet after this date"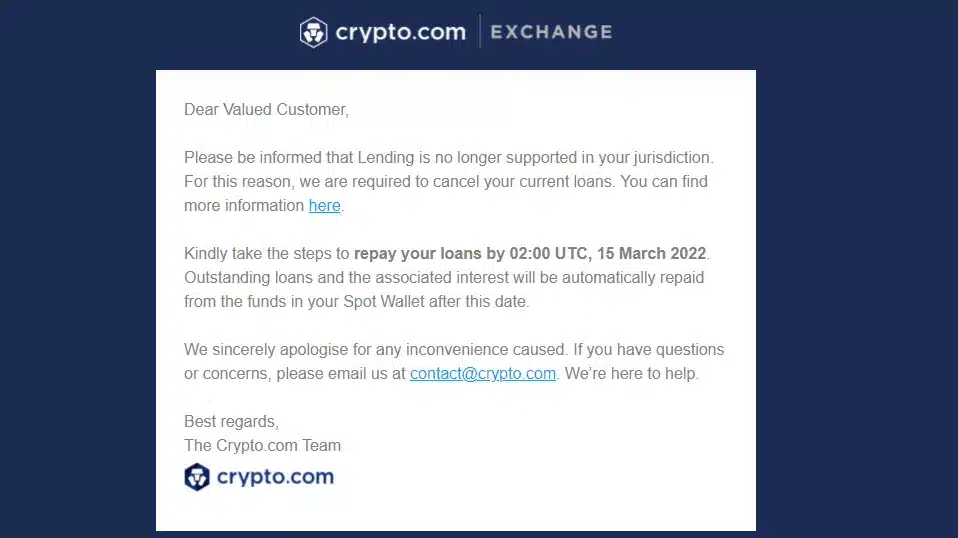 According to the new directive, if users fail to repay their loans by March 15, their collateral will be sold and loan positions will be closed by the exchange platform.
Crypto.com's decision comes just a month after BlockFi took the brunt of unregulated lending services, and many users are speculating that regulatory crackdowns could be the potential reason for the decision.
The reasons for the sudden change remain unclear as other users of the social network Twitter accuse the platform of trying to replenish its finances after an aggressive and costly marketing campaign.
"It would appear that marketing expenses are starting to take a toll on the balance sheet."
Indeed, many members of the crypto community are wondering about the exchange's finances. Despite the fact that the exchange has not raised much money, the marketing expenses over the past few years have been astronomical.
UFC sponsorship, Formula 1, partnerships with actors and other celebrities, stadium buyouts… Crypto.com has an extremely aggressive approach to marketing and does not go unnoticed.
On the other hand, crypto currency lending services have been particularly watched by regulators for over a year now. Several crypto-currency companies have actually been strongly warned. Gemini and Celsius, which offered crypto lending products, were investigated by the U.S. Securities and Exchange Commission (SEC) in January, while BlockFi was hit with a $100 million penalty for offering unregulated crypto lending products in February.
Whether this is due to pressure from regulators or troubled finances, the general community sentiment on this decision is clearly negative.
Many regret the time frame deemed far too short to repay active loans. The notification, simply sent by email, could also have been slightly more visible, to avoid users being surprised to see their collateral suddenly sold.
If you are using the crypto loan services of the Crypto.com platform, but have not received any email notifying you of the suspension of the service, consider checking your eligibility anyway. You can do so by checking the list of countries excluded from the program at the link below: