While the founder of Terra (LUNA) proposed yesterday his rescue plan in order to save Luna and UST holders, the Korean authorities asked him today to participate in a parliamentary hearing on the collapse of the two tokens that are UST and LUNA.
If the Terra ecosystem soap opera is now known to all, let's recall that since May 10th, its two tokens (LUNA, a volatile token, and UST, the associated algorithmic stablecoin) are facing a historic and unprecedented fall. Indeed, the UST, in principle always equal to 1 dollar, as well as LUNA have almost reached a price close to 0.
Since then, reactions have been coming in from all over the world. Whether positive or negative, the world's regulators are concerned and are scrambling to settle the issue of stablecoin regulation as quickly as possible. For example, the British authorities yesterday spoke out in this direction.
South Korea sent its opinion today: it wants to organise a parliamentary hearing on the collapse of Luna and the UST and is asking the founder of Terra Do Kwon to attend. Compared to the overall reaction of national regulators, Korean lawmakers seem to be ahead of the game in addressing Terra's difficulties. They are said to be willing to "probe" the Terra project in order to remedy it.
A hearing of the founder of Terra (Luna / UST) soon to be held in South Korea?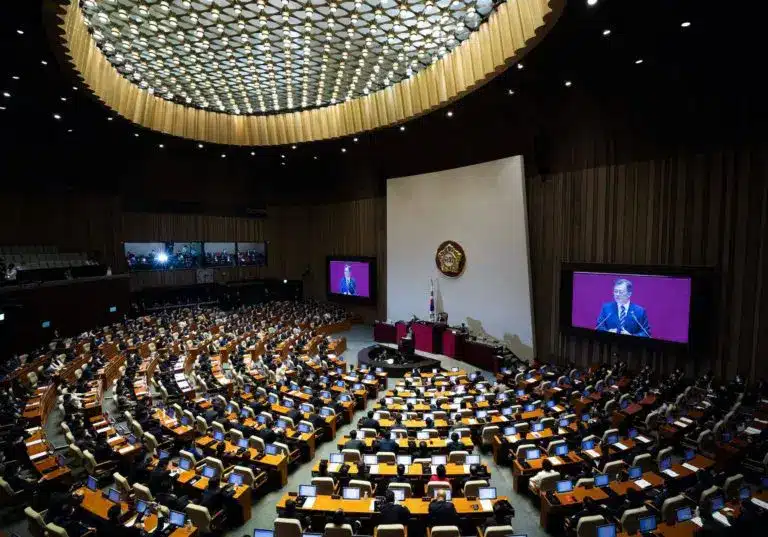 The Korean press reports that the abolition of UST parity was brought before the National Assembly's Political Affairs Committee at a plenary meeting. One of the MPs present at the plenary meeting (Yoon Chang-hyeon), a member of Korea's ruling party, asked the government to call Do Kwon, the founder of Terra, to hear him on the current events.
The idea is to organise a parliamentary session in the presence of Do Kwon so that he can explain the whole situation and finally find, together, a solution to protect investors. The aim seems to be to limit the damage as many Koreans have been – like other populations – impacted by the merciless fall of the two tokens. Indeed, despite the fact that most of the Korean stock exchanges concerned have blocked transactions, they estimate that more than 200,000 South Koreans have suffered heavy losses, to the extent that some are left homeless and without savings.
Korean MP Chang-hyeon said:
"Coinone, Korbit and Gopax stopped trading on 10 May, and Bithumb on 11 May, but Upbit only stopped trading on 13 May. Upbit, which was the last to stop trading even after seeing the crash, is number one with an 80% share. In just three days, it earned nearly 10 billion won [$7.8 million] in commissions."

Korean MP Yoon Chang-hyeon
To save Terra, the founder proposes a new Terra blockchain using a fork. The new blockchain would be called "Terra Classic" and the token "Luna Classic (LUNC)".
Given the current context, more proposals are expected in the next few days.