Key figures for Chainlink (LINK)
Chainlink (LINK) cryptocurrency price
Latest price: $15,00
CoinMarketCap rank: 22*
Market capitalization: $7 billion
Diluted capitalization: $15 billion
Circulating LINK supply: 467 million*
Maximum supply: 1 billion LINK
All-time highest price: $52.88*
*Updated on 02/21/2022
Chainlink (LINK) price chart
After having increased steadily in the first half of 2021, regularly reaching new all-time highs, the price of the Chainlink token has suffered a severe correction in July 2021. It then struggled to bounce back, and its trend is currently bearish.
Useful links for Chainlink (LINK)
How to buy Chainlink (LINK)?
Binance – 20% discount
To this day, Binance is the number 1 exchange on the cryptocurrency market, notably due to the platform's reliability and trustworthiness, as well as the many advantages that it offers to its users. In addition to Chainlink (LINK), you can trade more than 300 different cryptocurrencies there.

👉 Sign up for Binance
FTX – 5% discount
Renowned for its low fees and ease of use, FTX is an exchange that should not be missed by users who wish to trade their cryptocurrencies. In addition to Chainlink (LINK), more than 200 cryptocurrencies are available on this platform.

👉 Sign up for FTX
Kucoin – 10% discount
Kucoin, also known as "the people's exchange", is a platform that is famous for offering a wide variety of cryptocurrencies, many of which have a low capitalization but very high potential.

👉 Sign up for Kucoin
Chainlink price and key dates. LINK chart analysis and predictions
September 2017: Project launch
On September 20th, 2017, the Chainlink ICO was closed after raising more than 32 million dollars. Following this, the LINK token was launched on its first platform. In the two weeks that followed its launch, this token went through a 300% price increase.
December 2017: Parabolic increase
After going through a correction of approximately 70% in only a month, the price of LINK went up to $0.71, which corresponds to a 330% increase. This rise continued during the following weeks, going up to $1.42 before entering an 80% correction period.
2019: Solid recovery for the LINK token
After reaching its lowest price of $0.16 in June 2018 (during a bear market period), the token finally rebounded and its price went back up. In early 2019, LINK went through a strong price increase that will last until June 2019, propelling its price to $4.53. In only 6 months, the token's value had a 1,400% increase, its price was multiplied by 16.
April 2021: Chainlink 2.0
The whitepaper for Chainlink 2.0 was published on its website in April 2021, detailing the future changes and features of the project.
Chainlink definition: what is it?
Chainlink is a decentralized network that allows for the digitization of information that is found in sources outside of the Blockchain (off-chain), in order to then integrate it to Smart Contracts through an oracle network.

The problem with Smart Contracts is that they can only deal with data that is present inside a Blockchain (on-chain). Although they play a crucial role in a network, this limits their potential greatly, notably in their ability to interact with external data such as:
Meteorological data
Sport results
Fiduciary currencies
This is where an oracle comes into play. However, by using a single centralized oracle, the data that is gathered from the physical world can be faulty (hacking, error…) and therefore misleading to the Blockchain on which it will be imported.
It's at this point that Chainlink shows its usefulness, thanks to its decentralized network of oracles; these act as "gateways" that allow for the safe addition of data from the real world (off-chain) to a Blockchain network via Smart Contracts. This solution eliminates security and reliability issues that could potentially be met with a single, centralized source (oracle).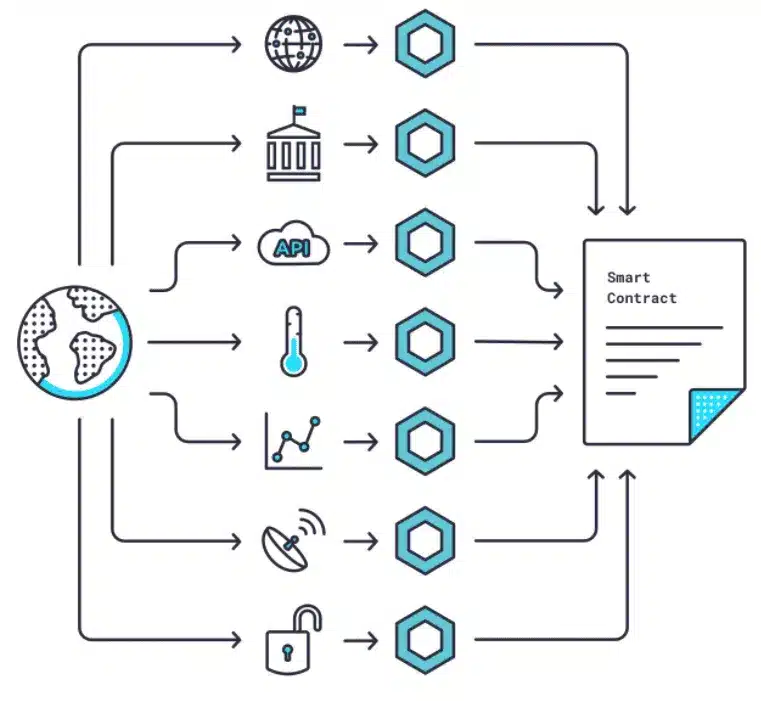 How does Chainlink work?
Chainlink's main objective is to create a digital gateway that connects data from the Blockchain (on-chain) to the external world (off-chain). Chainlink is therefore made of two types of infrastructure, on-chain and off-chain.
Here's a detailed explanation of the way Chainlink and its ecosystem work.
On-chain infrastructure
First of all, "oracle contracts" treat the data requests made by users. The nodes of the Chainlink blockchain then examine the requests made by users who wish to get off-chain information, using USER-SC contracts known as "user contracts".
After this, the contract oracle of Chainlink generates three different types of sub-contracts:
Reputation contract: its role is to examine the background of an oracle provider, to check among other things its authenticity and history, in order to guarantee its reliability before forwarding a request to an "order-matching contract".
Order-matching contract: this contract transfers the contract from which the request originates (user contract) to the relevant oracle depending on the service requested and the offers available. It then collects and selects the best "offers" from oracle providers, based on the results provided by the reputation contract.
Aggregating contract: lastly, the aggregating contract collects all the feedback from oracle providers, analyzes this data, and then determines the final result of the Chainlink request. Note that if the results given by different oracles are not identical, adjustments are made at this stage.

To sum up, the process of on-chain functions is made of three steps:
Oracle selection (Reputation contract)
Data declaration (order-matching contract)
Aggregation of the results (aggregating contract)
Users can configure or replace Chainlink contracts as they wish thanks to their modular features.
Off-chain infrastructure
The "off-chain" part of Chainlink's infrastructure deals with data that comes from outside the Blockchain. It is a network of what are called "oracle nodes" that are connected to the Ethereum network. Chainlink founders insist on the fact that they are striving to make their platform compatible with all major Smart Contracts networks available on the market.
Chainlink nodes first collect data from a source that is external to the Blockchain, in order to take care of the data request specified in the "user contract". To translate this request, nodes use "Chainlink Core", a central node software that links on-chain and off-chain data.
Chainlink Core translates the data request from an on-chain programming language to an off-chain language, so that data sources from the real world can understand this request.

"Chainlink's node software comes with integrated subtasks, including HTTP requests, JSON analysis and conversion to various blockchain formats."
Once the request is translated by Chainlink Core, an external API (Application Programming Interface) collects data from the source.

After this, the data is once again translated to an on-chain programming language in order to be interpreted by the Blockchain. The data is then forwarded to Chainlink's aggregation contract that will validate data from several sources at once.
Node developers can also add programs known as "external adapters", which offer additional off-chain services to users. Adapters can notably be used to simplify the use of programs that work with a complex, multi-step API.
Explanation of the Chainlink Blockchain
LINK was built on the Ethereum Blockchain in compliance with the ERC-20 norm for tokens. This token has an additional ERC223 feature known as "transfer and call", which enables tokens to be treated by contracts in a single transaction. It can be bought or sold using fiduciary currencies or other digital currencies.
What is the Chainlink token used for?
The LINK token has a primordial role in the Chainlink ecosystem and the functions of the network. Here are the cases in which Chainlink (LINK) is used:
The LINK token is used to pay the Chainlink node operators as a reward for their work (notably the retrieval of data from off-chain sources). Prices are fixed in advance by operators, depending on the demand for off-chain data.

Node operators also use LINK to participate in the Chainlink network and ecosystem. They have to deposit LINK to contribute to the network and prove their engagement in it.
LINK is also used for the following purposes:
Paying for data conversion to formats that can be read by the Blockchain
Paying for off-chain operations
Being used as a warranty for node operators
Although it is very useful in the Chainlink network, the LINK token does not really provide any advantages for most of its owners, contrary to other cryptocurrencies such as BNB.
However, if the project reaches its ambitious objectives, this could revolutionize the use and efficiency of smart contracts, which would likely cause the price of the LINK token to increase.
On which wallets can you store your Chainlink tokens (LINK)?
Online wallets
MEW
MyEtherWallet (MEW) is a free online interface that allows you to store cryptocurrencies developed on the Ethereum Blockchain. It is a very secure online platform on which you will be able to manage your ETH and ERC20 tokens very easily.
Downloadable wallets
Metamask
Metamask is an excellent solution to store your cryptocurrencies online. To do this, you simply need to install the extension available on Google Chrome, and then add the asset that you wish to store.
Trust
Just like its competitor Metamask, Trust is among the most renowned online wallets in the world; you can use it to store your LINK tokens, among many others, in complete safety and easily.
Hardware wallets
Ledger
Ledger is a world-famous company for its hardware wallets that offer the possibility for its users to store their cryptocurrencies safely.
The company offers several types of wallets such as "Ledger Nano S" and "Ledger Nano X".

👉 Click here to get a discount on Ledger wallets
Chainlink (LINK) news. Read our articles about this cryptocurrency:
This section is empty, we will update it as soon as possible.
Frequently asked questions about the Chainlink (LINK) cryptocurrency
What is Chainlink (LINK)?
Chainlink is a platform that acts as a "gateway" between data that is located on the Blockchain (on-chain) and sources from the real world, outside the Blockchain (off-chain). It then integrates off-chain data into Smart Contracts through an oracle network.
What is the best way to buy LINK?
To acquire your first LINK tokens, we advise that you go through the Binance exchange, current leader of the market, renowned for its reliability and the security that it offers to its users.
How to safely store Chainlink (LINK) tokens?
You can choose to store your LINK tokens in a secure online platform such as Binance, especially if you plan on keeping them for a short to medium period of time. Although risks are minimal, make sure that your account is fully secured before proceeding.

You can also store your tokens on a hardware wallet like Ledger. This solution is not free, but it is the safest and most reliable way to store your cryptocurrencies.
What advantages are offered by Chainlink?
LINK does not really offer its owners any advantage, contrary to other tokens such as BNB and MEDIA. However, the LINK token is very useful within the Chainlink network, and is notably used to pay node operators, to pay for data formatting as well as off-chain operations; it is also used as a warranty for operators.
How to anticipate the evolution of Chainlink's price?
It is always hard to predict the price of a token, and we cannot know exactly what will happen. Still, you can get an idea by analyzing the chart of the token and keeping an eye on the project's news and future developments. This may give you an edge over the rest of the market.
How to mine LINK?
At the moment, we do not know of any way to mine LINK.
Is it possible to farm or stack Chainlink (LINK)?
You can indeed farm LINK on the PancakeSwap platform, thereby getting a certain APR (Annual Percentage Rate) specified on the website.
Rating: 4.4/5 with more than 177 votes
Find out about the prices of other cryptocurrencies in 2022