Introduction to Polygon Matic network
Polygon, formerly known as the Matic Network is a – scaling solution – that aims to provide multiple tools to improve the speed and reduce the fees and complexity of transactions on blockchain networks. The project defines itself as the Internet of Ethereum blockchains.
Would you like to discover this ecosystem? In this guide, we are going to learn step by step how to configure a Metamask wallet to access the Polygon (Matic) network.
Polygon's network goal: to make auxiliary blockchains more accessible
At the centre of Polygon's ambition is Ethereum. A network that houses a series of decentralized applications where you can find all types of solutions, from the metaverse crypto to token swaps.
Ethereum blockchain is inevitably in Polygon's sight since it is one of the most expensive blockchains to use. The increasing use and extraordinary popularization of blockchain is a double-edged axe. Indeed, the costs and fees of transmitting and using have been increasing drastically for several years now.
However, this does not prevent countless projects from being launched each month on this ecosystem. Such activity on its blockchain has made Ethereum blockchain almost unusable, as the cost of transmission increases and traffic becomes clogged.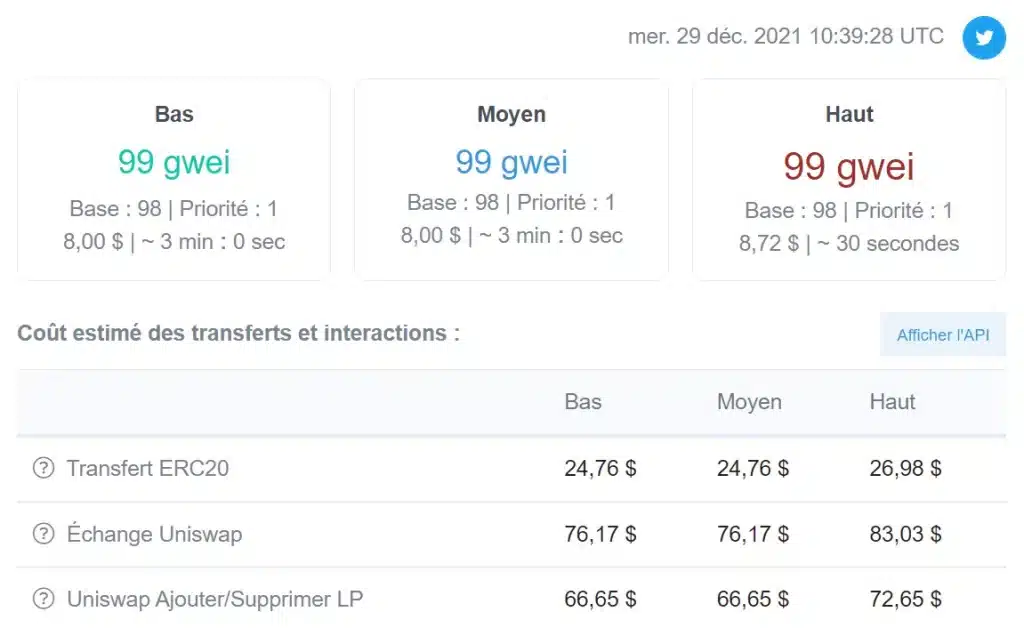 Polygon intervenes in solving this problem by setting itself as a level 2 Network which leans that it acts as an additional layer to Ethereum blockchain without modifying the original layer of the blockchain. Like its geometric namesake, Polygon has got many sides, shapes and uses and promises a simpler framework for building an interconnected network.
Significantly lower fees on Polygon Matic blockchain
Polygon wants to help Ethereum blockchain grow in terms of size, safety, efficiency and utility and seeks to encourage developers to bring attractive products to market faster.
Build by developers, for developers

Quote from the project official website, projecting the desire to provide complete products to dApps and blockchain developers.
Polygon MATIC's mainnet has already made it possible to execute more than 500 million transactions, validate more than 17 million blocks and create just over 10 millions wallets addresses.
The mainnet network block time is equivalent to an average of 2,1 seconds. The transaction fees are positioned between $0.000070 and $0.0013 depending on the desired operation.
Polygon's MainNet can accomplish 65 000 transactions per second.

MATIC: the native token of Polygon blockchain
After changing its name, Polygon preserved its cryptocurrency MATIC, the digital token that underlies the network. MATIC is used as a payment and settlement unit between participants who interact within the network. In the same way as Ethereum with his native ether token ETH, you have to possess this token to use the network.

The team behind Polygon Matic
Originally called Matic Network, Polygon was based in India where it was founded in October 2017 by Jaynti Kanani, Sandeep Nailwal et Anurag Arjun – India's first cryptocurrency billionaires. The three initial cofounders developed Polygon to resolve issues related to high gas fees and to Ethereum network congestion, as described in the original protocol white paper.
The multidisciplinary and decentralized team that stands behind Polygon is led by the three founders — Kanani is interim CEO — also by Mihailo Bjelic who joined the society shortly after its name change to Polygon and became the fourth co-founder. Polygon is also a partner of Decentraland, Chainlink et MakerDAO. Amongst its investors is Mark Cuban, the billionaire owner of the NBA Team, the Dallas Mavericks.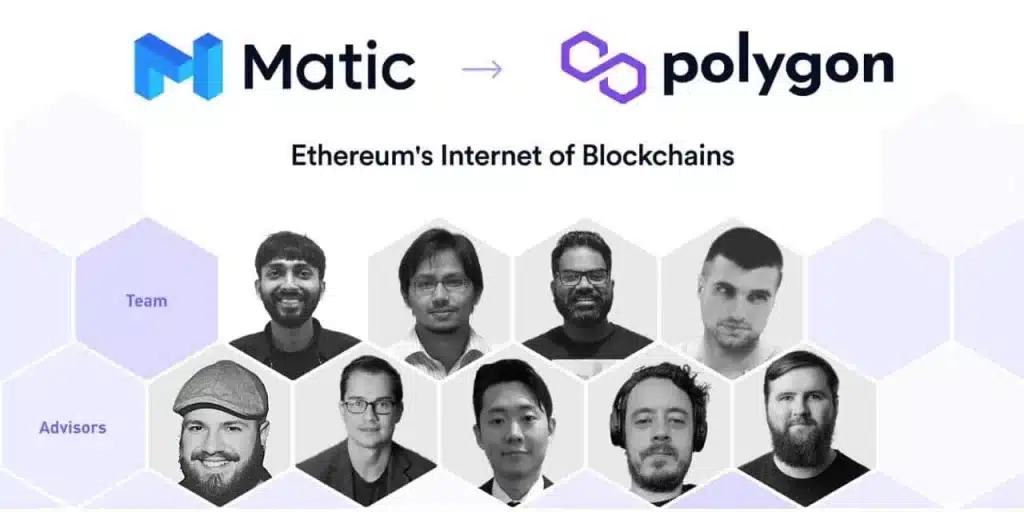 As a decentralized global team Polygon allows like-minded people to include to their vision of creating a world without borders.
Developers can start contributing to the basic protocol or creating their dApps by joining the developer support program.
Decentralized applications available on the Polygon network
Polygon is very popular with the recent tierce-winner of the Play to Earn crypto games. Indeed, the developers of these games have fully understood the purpose of such technology as Ethereum.
Hence, they allow their decentralized application to use all the advantages of the ethereum network without being bothered by its inconvenience.
Here is a non-exhaustive list of the most popular dApps for Polygon:
To date, the value stored on Polygon's DeFi is 5.11 billion dollars with a dominance of 45% for AAVE.
Guide to create and configure a Metamask wallet for Polygon blockchain
To connect the Polygon network and its decentralized ecosystem, it is necessary to have a « non-custodial » wallet (which is not managed by a third party) compatible with it as well as some MATIC tokens, for this tutorial we highly recommend Metamask wallet because it works on Pc and mobile with a lot of applications.
Steps for the configuration of a Metamask Wallet for Matic mainnet
« Non-custodial » wallet for MATIC:
-Metamask (recommended): Chrome, Firefox, Android and iOS.
-Official mobile application Metamask: Android and iOS.
-You can also use a Ledger or Trevor hardware wallet and connect it to Metamask.
Metamask is one of the most used decentralized wallets by crypto enthusiasts. Available for most networks, it is a major asset when a blockchain user wants to browse the different dApps freely.
In the following paragraphs, we will demonstrate the use of the Metamask Wallet. Please note that it is also valid for Metamask wallets on smartphones.
All the links above allow you to download Metamask safely, but you can of course select the extension directly from your favourite store.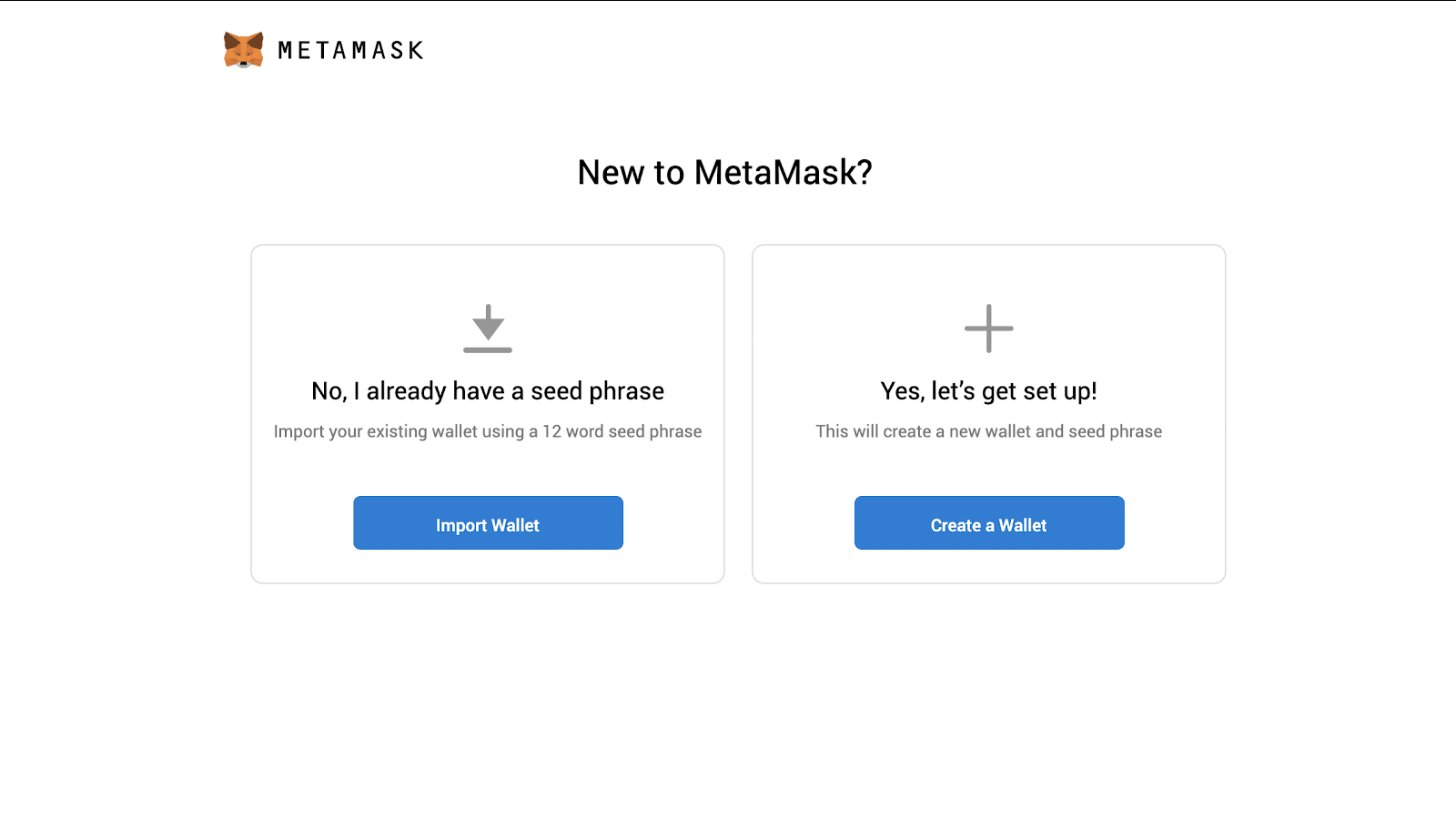 Metamask offers two strong ways to secure your wallet. One is the possibility to create a password with several dozens of characters. The other is the « seed phrase » that you will have to save on physical or digital support to recover your account in case you have lost your password.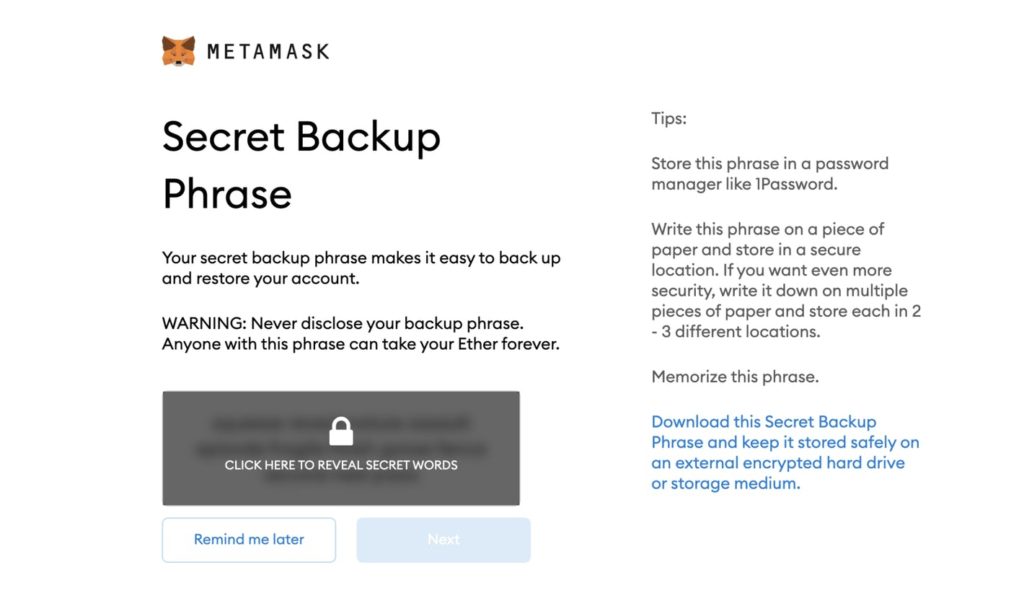 This recovery sentence will be requested right after, to reassure you that you have noted it in its entirety.
Warning: This seed sentence will never be recoverable again other than by taking up the medium on which you wrote it. Without this sequence of words, the cryptocurrencies your wallet holds will be lost forever.
Note: This guide works on a computer and the mobile version of Metamask. To use DeFi applications on mobile, simply open the dApps on Metamask's built-in browser.
Guide to configure Matic mainnet to Metamask
Now you own a Metamask wallet. To access it, simply search for the extension in your « Extensions » tool on your browser. We also advise you to pin it to frequent extensions as you will have to use it.
There are several ways to add a network to your Metamask. Unfortunately, there is always a risk that the network you found on your own will be fraudulent. However, this risk is very low on such large networks. You will therefore have to be meticulous in your searches if you want to add a network that is very little known to surfers.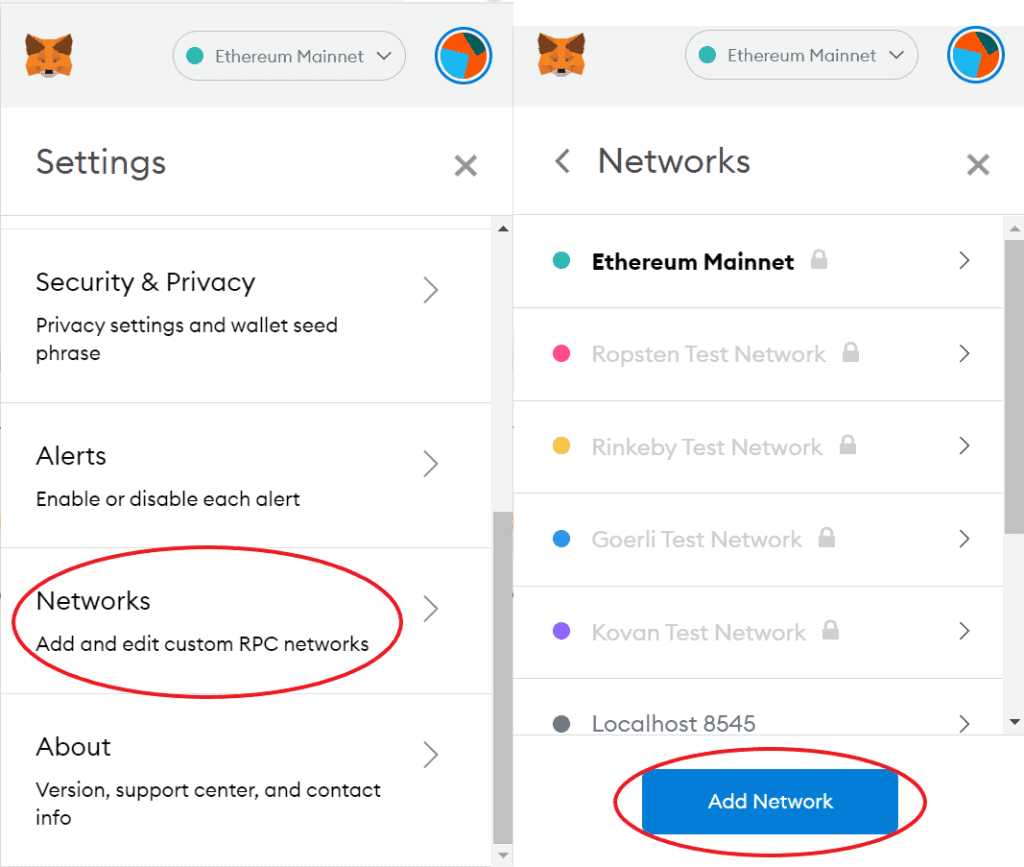 Then enter the following settings:
You can also add the Polygon Mainnet via chainlist.org or by trying to connect your Metamask wallet to a DEX on Polygon like QuickSwap.
Send MATIC to Metamask from Binance
First of all, if you do not yet have a Binance account, you can support us by registering under the link just below.
If you want to acquire MATIC tokens, there are different ways to do it on Binance.
You can either:
Buy MATIC on the cryptocurrency purchase platform by credit card
Deposit Euro on Binance and buy MATIC with the EUR/MATIC pair
Buy Matic with your Pay wallet
Exchange a cryptocurrency for MATIC – select one of the 5 token/Matic pairs available on Binance
The disadvantage of the three first solutions is that their transactions fees are quite high, i.e 1.8% for a credit card deposit.
Congratulations! You now have the Matic token in your Spot Wallet.
MATIC swap on the Quickswap DEX
Quickswap is the most popular decentralized exchange on the Polygon network. All MATIC lock value tokens on this platform are $781 million.
To be able to swap your MATIC tokens to another token on Quickswap, simply login to your Metamask wallet. You will then indicate the extension to ask you if you want to connect to the application. Accept it and check that you are on the Polygon network.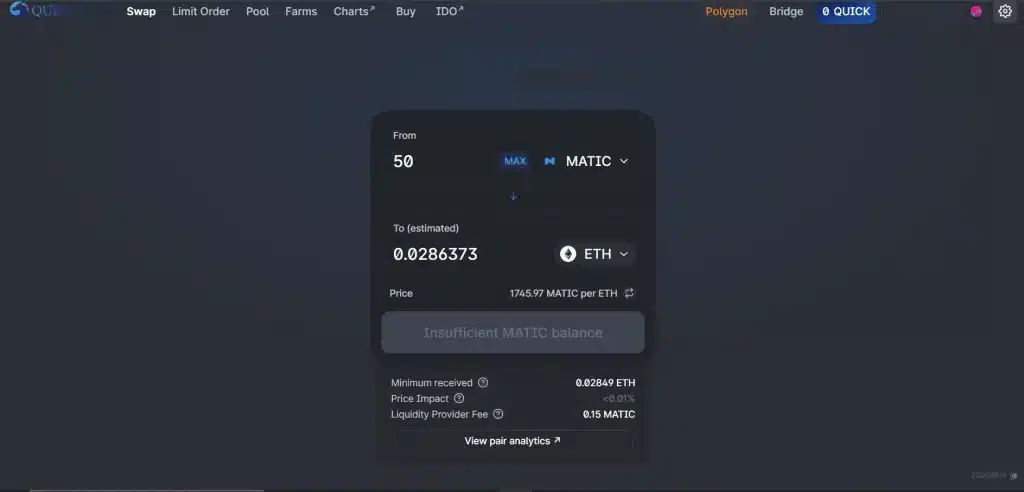 You will then only have to go to the Swap tab of the exchange to select the tokens and the amount you want to swap, then validate the transaction on Metamask.
If you want to learn more about the Polygon ecosystem, you can click on the button 👇
Access our full article on Polygon (MATIC) blockchain by clicking here
Sources :