Presentation of the Winkyverse project
Winkyverse is the first Metaverse in the world focused on education and learning in numerous new and futuristic (Robotic, programmation…) fields, but also in "classic" subjects found in school (English, mathematics…). This project aims to initiate millions of young people in this new virtual universe, still very recent and thus make their learning process funnier, playful and stimulating.
First of all, you should know that before developing the "Winkyverse", this project first made itself known thanks to its first product, an educational and "evolving" robot named "Winky". Launched in 2019, it has been featured on numerous French TV shows and news (TF1, M6, Gulli…) and is still today, used daily by thousands of families all across Europe.
After this media and commercial rise, the teams behind the project have decided to increase their ambition by developing the project that we are about to present to you in this article, the Winkyverse.
This article is brought to you in collaboration with Winkyverse
Winkyverse – The educative metaverse from the future
The Winkyverse is a gigantic virtual world (in 3D), where players, artists and developers can create and monetize their own learning entertainment. Indeed, in addition to assisting children in their "education", it gives the possibility to anyone to design their own video game (academic mini-activity, challenges…). This metaverse is supplied by its own crypto currency, the Winkie (presented below).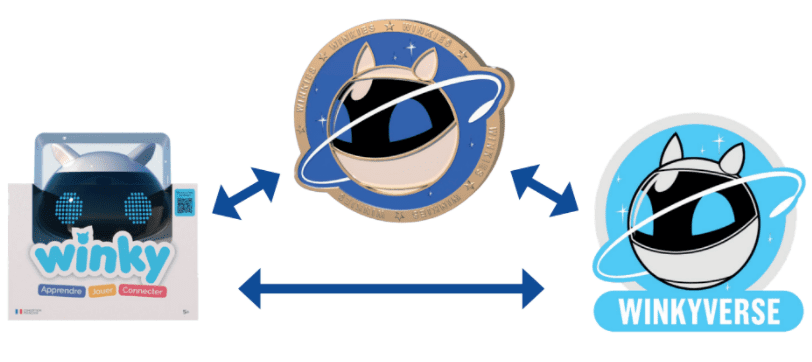 The platform has a broad panel of tools and functionalities that allow advanced developers, but also beginners, to design the academic universe of their choice. Especially since you can integrate many technological advances, such as virtual reality, augmented reality and much more.
"Our goal is to develop and foster a unique ecosystem of user-generated content, with hundreds of thousands of educational games." – Winkyverse stated
The ecosystem has two distinct universes that play a major role in its proper functioning :
Winkymaker : Gives the opportunity to users to create their own (virtual) Winky robot.
Winkyplay : Gives the opportunity to users to create their own learning pastime (mini activities, virtual exercises…).
WinkyMaker
Winkymaker is a design software that gives the opportunity to developers and players to design and customize (in 3D) their own personalized version of the Winky robot, all through the "drag and drop" editior system. Moreover, you can install and create all kinds of accessories that will increase the capabilities of these robots, which will improve and diversify the players' experience in different activities. Do not worry, this tool will be easy to use, and is therefore accessible for beginners with its simplified dashboard.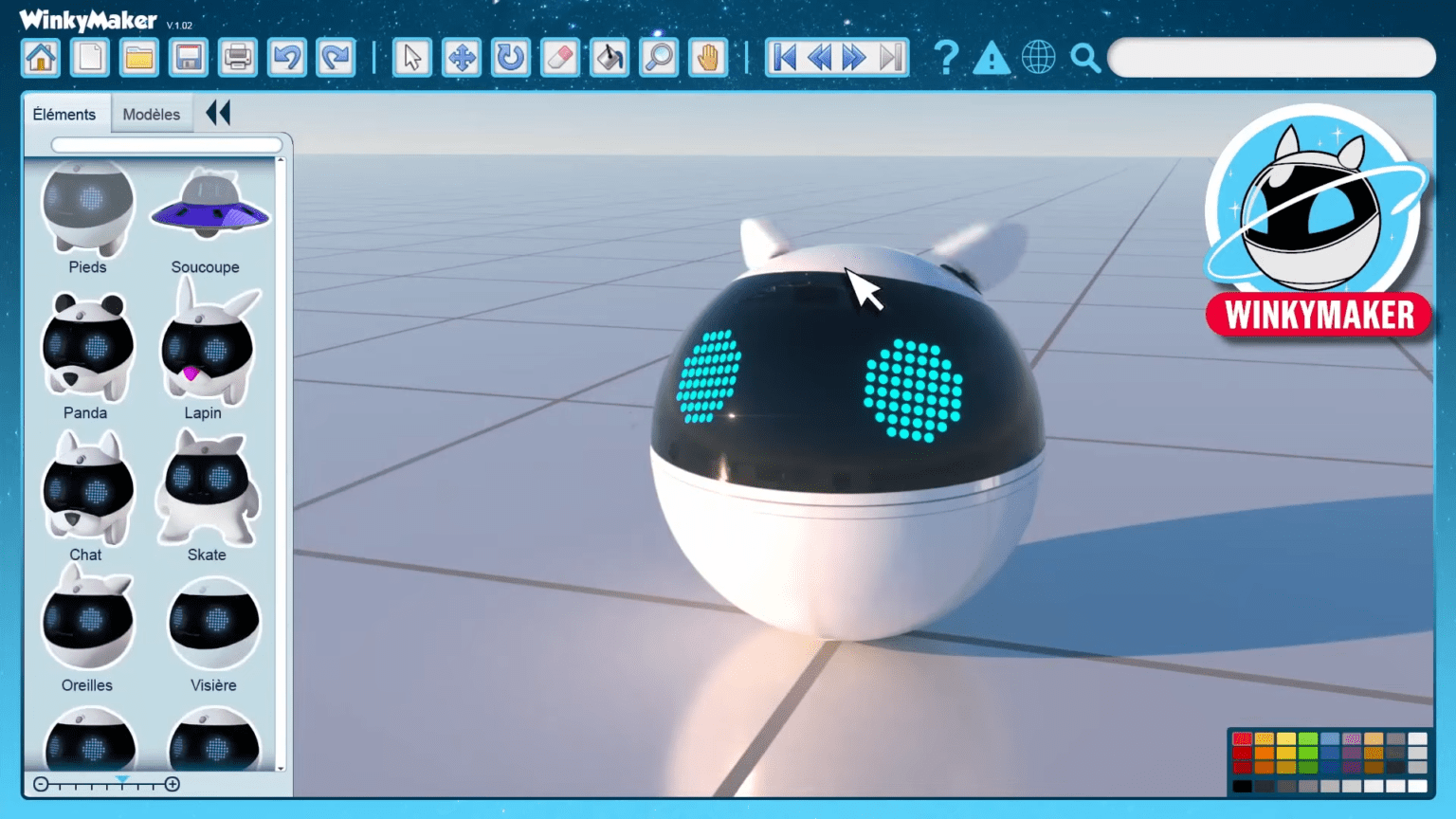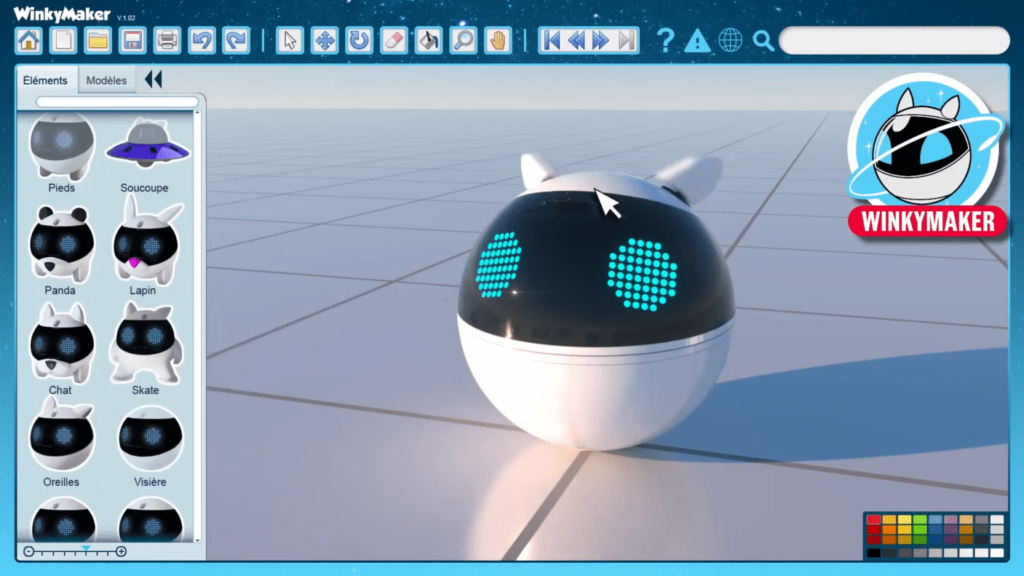 These robots will be able to be used within the activities present in the Winky Play universe (presented below) as well as in the Winkyverse. Without forgetting that a voting system will be set up, which will allow the community to vote for the best robot designs (visually) which will then be produced "materially".
After customizing your robot, you will also be able to to convert it into an NFT (Non Fungible Token), put it on sale on different well known marketplaces, and thus earn money and also "Royalties" on each sale. This process will be possible thanks to the Ethereum "Blockchain" technology.
WinkyPlay
Winky Play is a virtual place where anyone (families, players, artists…) has the possibility to create a learning activity. These pastimes will then be available within the ecosystem, thus allowing children to initiate themself to new (or not) areas, such as programming, English, artificial intelligence, robotics and many others, all in the form of playful and stimulating virtual exercises.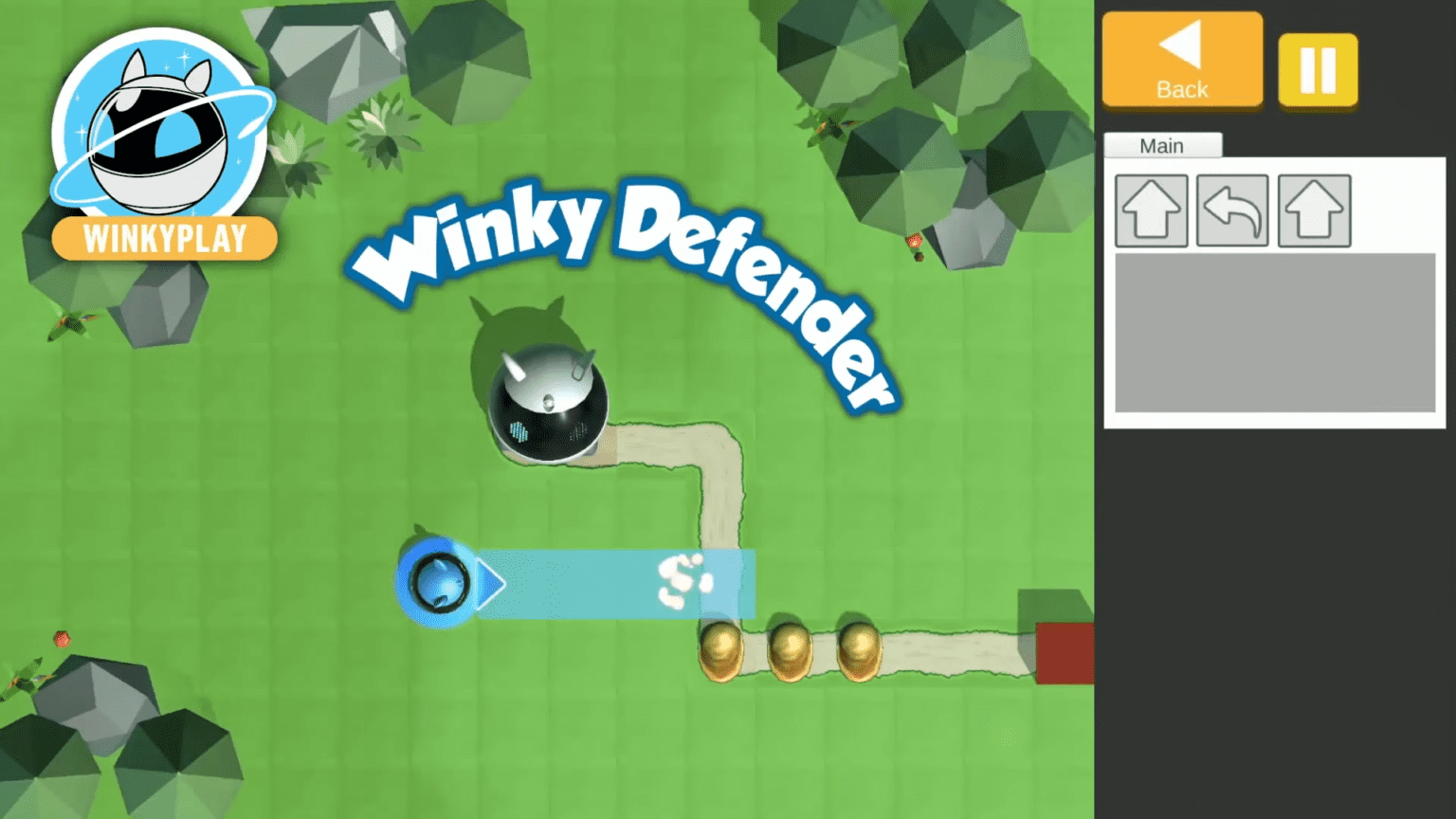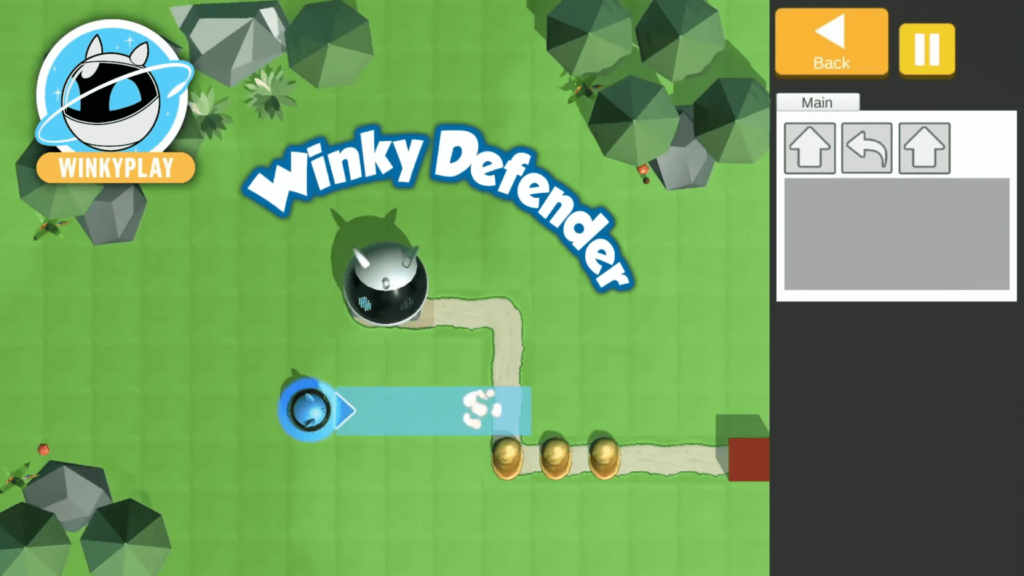 Winky robots can interact with real life (sounds, movements) on many of the learning content present in the ecosystem.
Winkyplay has a total of 6 different categories of applications :
Audiobooks : Winky's robots can tell "educational stories" (predefined) and can interact with children to make them as attentive and curious as possible.
New Technologies : Make your children discover the funny way, the newest technologies developed in the world, such as artificial intelligence (AI), robotics, the blockchain and more.
Fun Video Games : Access a catalog full of entertaining games, accessible both on computer/tablet, but also in augmented reality.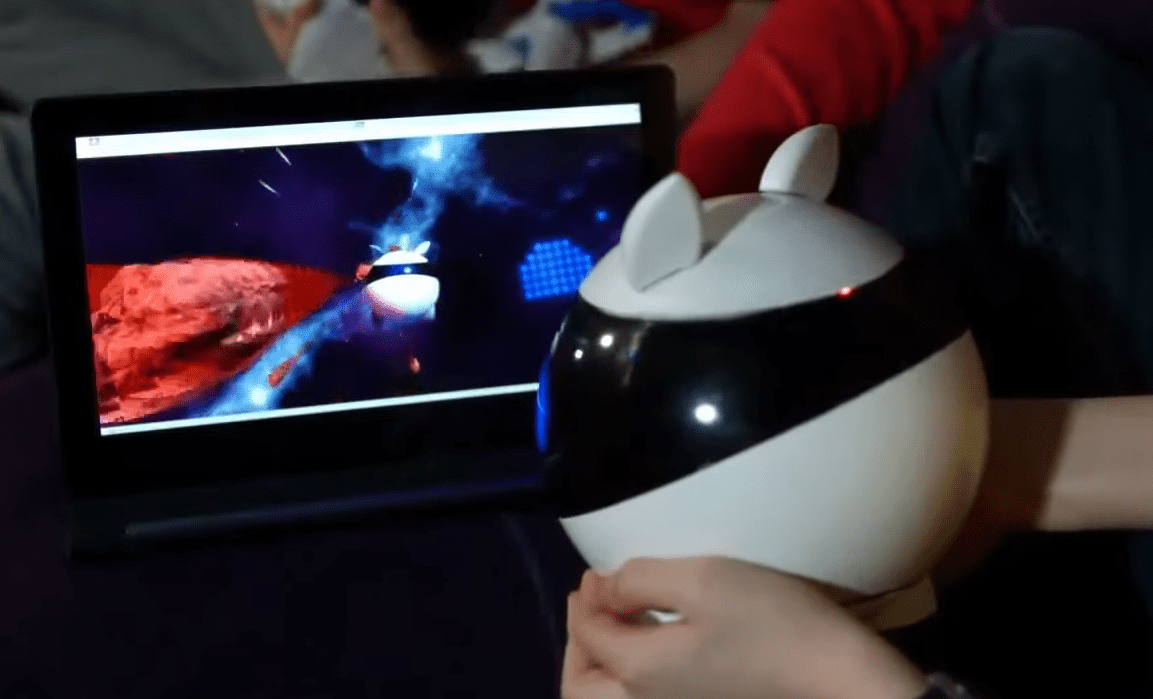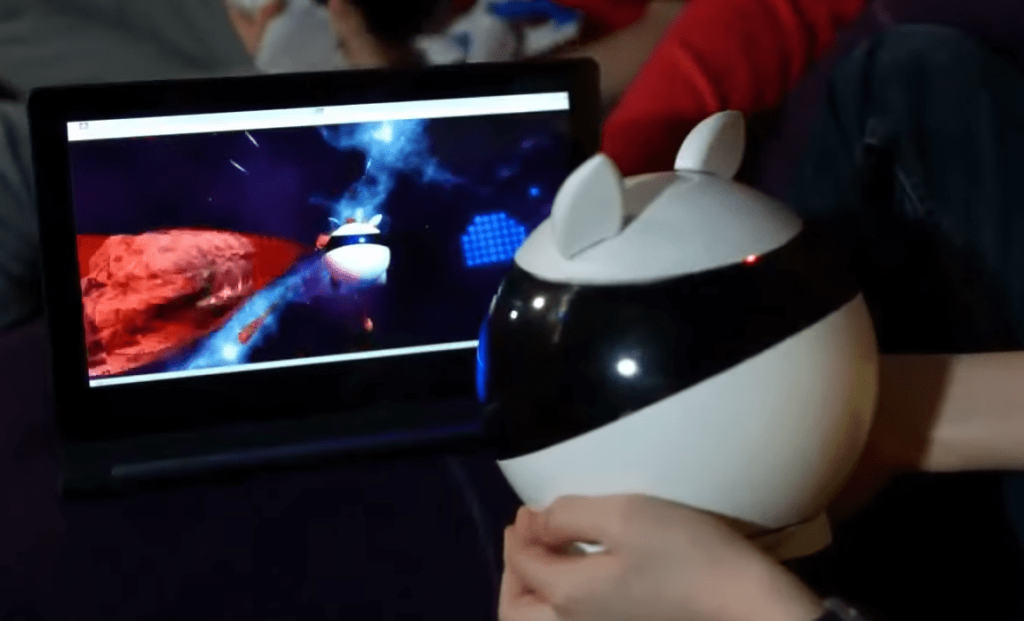 School (academic subjects) : While focused on novelty and technology, Winkyverse also makes the learning process for your children much easier and stimulating for school subjects, such as English, mathematics, geography and many others.
Heroes : The Winky robot interacts with the child's favorite heroes.
Board games : Enjoy this source of fun with your Winky robot which can be used as a referee, a simple companion and even as a "buzzer". This will offer you a unique gaming experience.
From a technical standpoint, Winky Play was developed using the 3D game engine called "Unity".
What is the Winkie (WNK) – the Winkyverse native token ?
Winkie (WNK) is the native and utility token (ERC-20) of the Winkyverse token. It has been developed on the Ethereum blockchain. In other terms, "winkies are the only cryptocurrency of value on the Winkyverse metaverse".
As you can imagine, the WNK crypto currency is used for many tasks within the ecosystem, it gives its holders numerous advantages and will considerably enhance their gaming experience.
The WNK token can be used for :
Reward the developers but also different artists that work on WinkyMaker.
Participate in the governance system (DAO).
Purchase different avatars or customization elements, especially for Winky's robots.
Advertise on Winkyplay.
Buy the Winky robot with a 50% discount compared to the shop's price.
Pay diverse Premium subscriptions (Winkyplay, premium games…).
And even more advantages (discounts, rewards, invitations, exclusive passes…)
The maximal amount of MNK is estimated to be 7.5 billion tokens.
How to buy Winkies tokens (WNK) ?
The WNK cryptocurrency is not, at the moment, listed on any trading platform. To get it, you need to go to the official website, then click on "Buy Winkies". You then have to create an account, and you will be redirected to your dashboard where you can purchase your first WNK.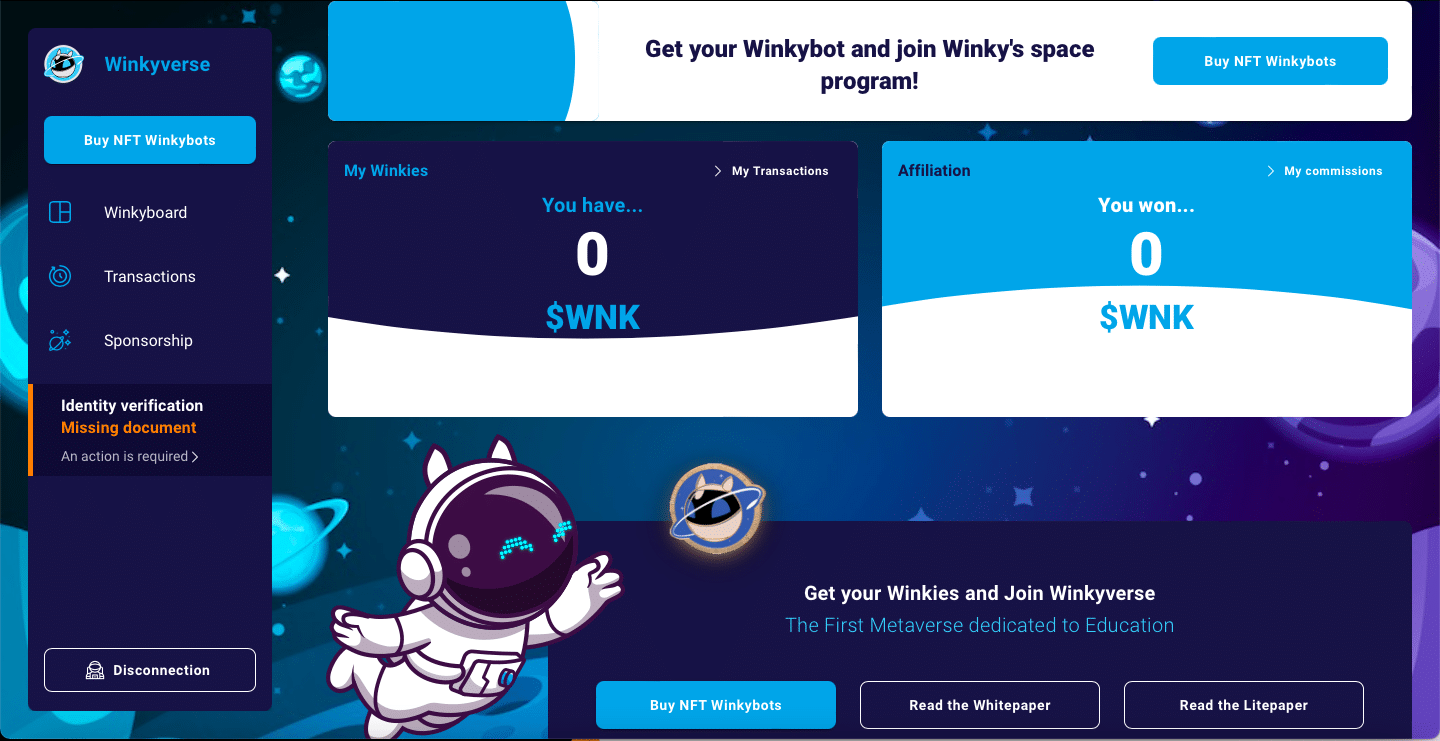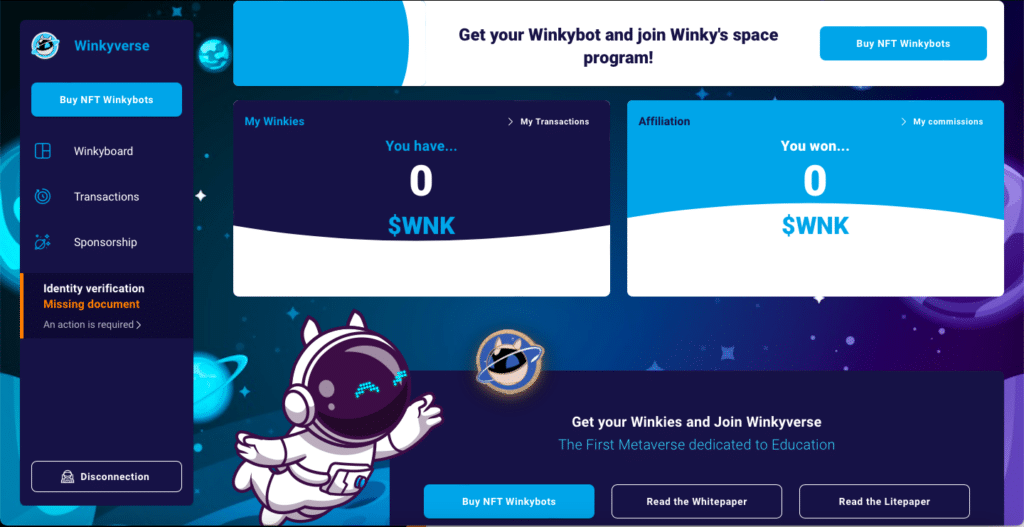 You should know that the distribution of these tokens is actually done by "Round" :
Round 1 (October 25 to November 7, 2021) : price of €0.006 per coin with a minimum investment of 2,500 euros
Round 2 (November 8 to November 21, 2021) : price of €0.008 per coin with a minimum investment of 1,000 euros
Round 3 (November 22 to December 5, 2021) : price of €0.01 per coin with a minimum investment of 250 euros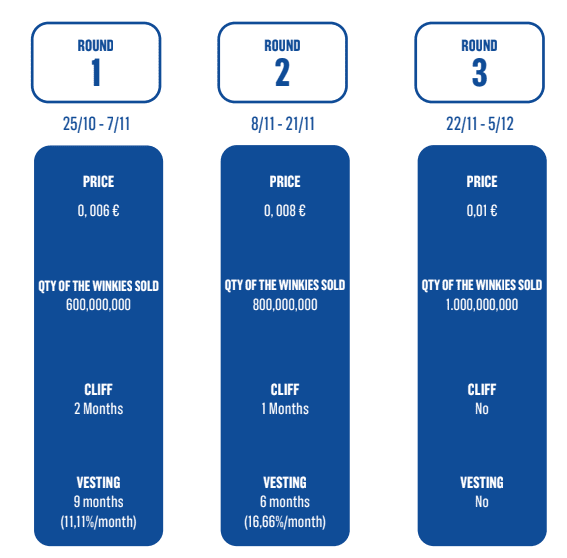 Token Flow :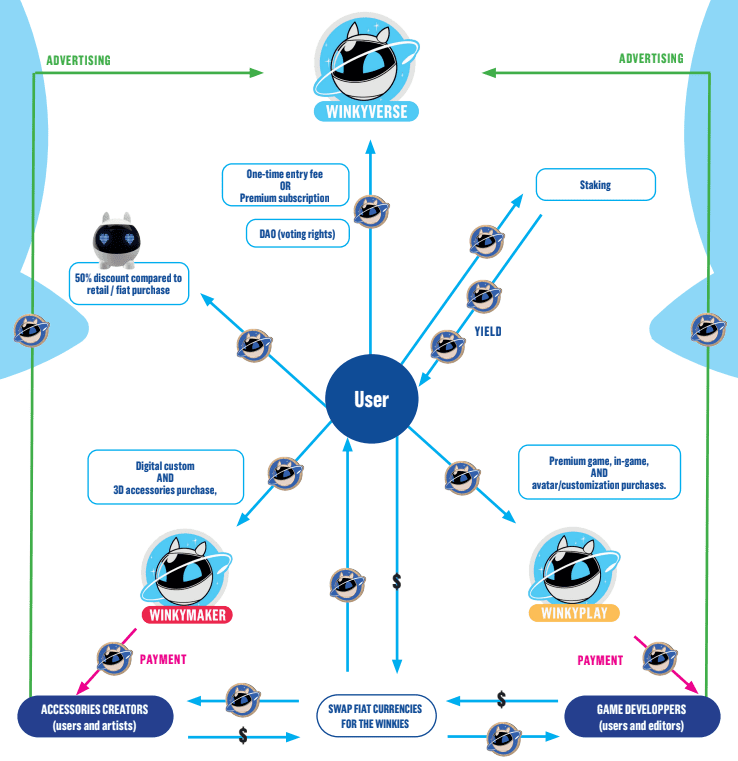 The teams and partnerships behind Winkyverse
The program is managed by a team of 25 experts on video games and education. We can obviously not present them all, but here are some of the main actors :
Boris Kesler (CEO)
Pierre-Yves Thoulon (CTO)
Amanda Ferreira (Communication Director)
Arnaud Meyer (Game Director)
Aurore Belle (Product Director)
And more than 20 other designers, developers, artists, engineers…
Regarding the partnerships, Winkyverse works in collaboration with about 12 majors actors in the video game industry, the blockchain industry and even more :
Ultra (UOS) : Blockchain-based NFT gaming and trading platform
École Polytechnique : Best engineering school in France
Sébastien Borger : Co-founder & COO of The Sandbox and president of Blockchain Game Alliance
Plug In Digital : One of the largest video game development and publishing studios in the world
Conclusion – Our opinion
After standing out with their Winky's robots, the program has all the chances to do the same with the arrival of its brand new virtual world. Indeed, this academic metaverse has the goal to revolutionize the learning process of children, making it playful and stimulating. Their approach to "technological" fields that are still very new, such as programming, robotics, artificial intelligence and even more.
Although mainly focused on children's education, this metarverse also gives the opportunity to players and developers to construct and monetize their own creations (activities, Winky's robots…) and therefore earn various rewards.
Bringing together the world of video games, blockchain, crypto currencies, but also learning, Winkie holds all the criteria to revolutionize the academic sector in our current world.