What is Huobi?
Launched in 2013, Huobi Global is an exchange specialized in the trading and negotiation of crypto-assets. Moreover, the Chinese exchange proposes numerous interesting features, such as the Staking, Primepool, Huobi Earn, and ETH 2.0 that, for most of them, allow you to earn passive income with your crypto.
In this article, we are going to go over all the options available on Huobi, which is currently positioned at the 2nd place of the CoinMarketCap ranking with an estimated daily trading volume of around $9 billion, right behind Binance.

Some key information regarding Huobi
Internet website : huobi.com
Available assets : 339
Fees and commissions : average (0.2% maker & taker fees)
Daily trading volume : + than $9 billion
Fees and commissions on Huobi
The trading fees on Huobi are estimated to be 0.20% and apply to both the market "Takers" and "Makers", for the level 1 users. Your "trader" level can increase depending on the trading volume performed in 30 days. The higher your level, the less you pay fees.
Moreover, users associated with the VIP program, accessible as soon as they perform a monthly trading volume of 500 BTC (or more) on other exchanges, have access to considerably reduced negotiation fees. Indeed, VIPs expose themselves to SPOT fees of 0.0362% for the Makers and 0.0462% for the Takers.
Advantages and drawbacks of Huobi
Positive reviews :
Reliable and secured exchange
Mobile application
Decent transaction fee
More than 340 available assets
High liquidity rate
Negative reviews :
Complex utilization for beginners

Staking, earn interest on its crypto
As is the case in most exchanges nowadays, Huobi Global offers the "Staking" feature that allows users to get daily returns thanks to their crypto.
On this date (08/24/2021), the platform only has one asset, "CSPR". For the users willing to access staking, you only have to drag your mouse over the "Finance" tab and click on "Staking".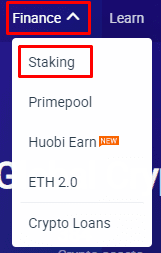 Once on the concerned page, select the project of your choice then click on the "Stake Now" tab.
Finally, enter the amount you wish to allocate to this liquidity pool and click "Stake Now" again. Staking is now active, your earnings will start accumulating 1 day later and will be distributed 2 days later.

Primepool, token airdrops
Primepool allows you to acquire amounts of new crypto coins (Airdrops) listed on Huobi, by "unlocking" other coins during a certain period.
For example, the last Airdrop to date is the "KAVA" token one, on which you could unlock Bitcoin for 365 days, in exchange for a daily return rate of 0.021%. The locking periods are not all that long and can last only 7 days for some airdrops.
To verify if new projects are available, you have to click on the "PrimePool" tab, then position yourself on the airdrop of your choice.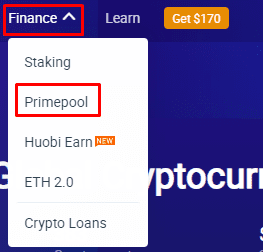 Huobi Earn
Added only a few weeks ago, the "Huobi Earn" option allows anyone to earn interests by positioning themselves on liquidity pools. To do that, you have to lock several tokens in a "flexible", "fix" or "featured" locking mode.
Flexible : The "Flexible" period allows you to earn interests without any locking period. It means that you can withdraw your crypto currencies whenever you want to. However, these daily rates are a lot less interesting.
Fix : "Fix" gains are surely more attractive, but obligate you to lock your tokens during a predefined period (7 to 30 days).
Featured : This mode has limited time offers and limited liquidity, where users can deposit their money during the launching period, then generate interest when it closes. The "Featured" mode exposes you to the highest APY rates on Huobi but remains the most volatile.
Depending on the cryptocurrency and the selected period, rates generally vary between 0.40% and 5% in Flexible, 2% and 8% in Fix, then 30% and 100% in Featured. Moreover, certain tokens are only found in one period. If we take BTC as an example, only available in "Flexible", it delivers a daily API rate of 1.32%.

If you want to use this option, first click on the "Huobi Earn" tab.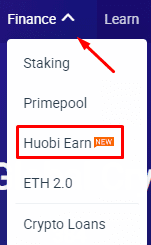 Then select the digital asset of your choice, then click on "Deposit".
ETH 2.0 – Ethereum 2.0
The "ETH 2.0" feature allows Huobi Global users to allocate a certain amount of ETH in exchange for rewards in BETH or HPT (token dedicated to the Huobi liquidity pools). Indeed, the BETH token represents the awaited update of Ethereum (ETH 2.0) and therefore allows its holders to accumulate and earn interests in the long-term until this update is released. The annual return rate estimated is between 6% and 20%.
At each deposit on this option, your Ethereum (ETH) is automatically transformed to BETH. In other words, 1 BETH equals 1 ETH. To access this option, click on the "ETH 2.0" tab.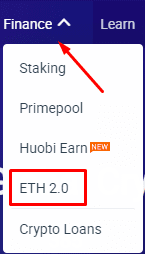 Then click on "One-click exchange", take knowledge of the associated risks, fill in the amount of ETH that you want to allocate, then click on "Submit".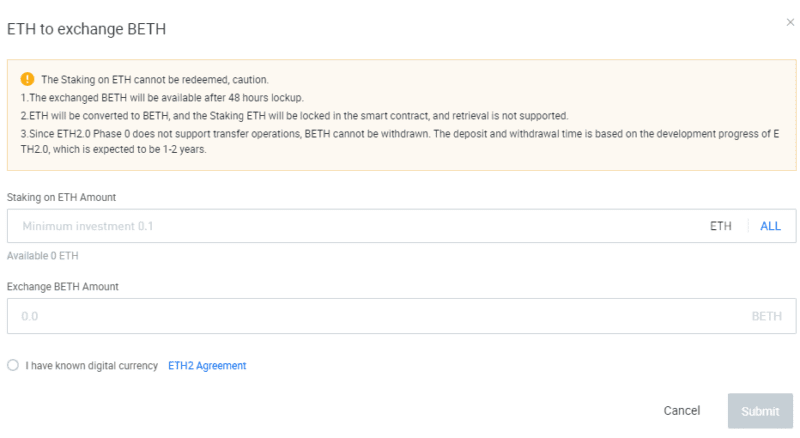 Crypto Loans, borrow crypto
Crypto Loans, available on Huobi, allow you to borrow crypto currencies from the platform, by "allocating" other assets. However, the exchange rate is far more interesting than on the market. For example, if you want to obtain 1 BTC, which currently trades for around 47,100 dollars, you only have to set as collateral an asset of about 30,000 dollars. By going through this feature, you can save up to 50%.
Indeed, Crypto Loans is very useful to instantly answer the needs of users lacking capital. Nonetheless, we should not forget that whenever you borrow crypto, daily interest is charged. It is therefore important to read all the associated conditions before betting your money.

Moreover, you have the choice between three "Loan Term" periods: 30 days, 45 days and, 90 days. The longer the term of your investment, the less interest you pay.
To use this feature, click on the "Crypto Loan" tab.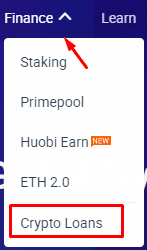 Then, select the cryptocurrency you want to obtain, then the one you want to set as collateral. Afterward, select the length of your loan, confirm the conditions by clicking the case, then click on "Borrow Now".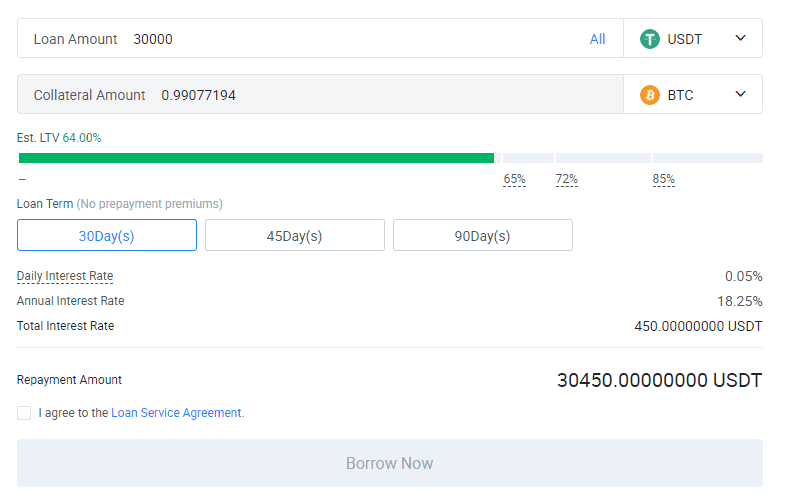 How to register to Huobi?
Before all, click on this link to go to the Huobi Global trading platform
Now, we are going to show you how to register on Huobi, proceed to the security steps, then deposit your money into your Huobi wallet.
First of all, choose to register by using your email or your phone number. Then, fill in your password, accept the conditions, then click on "Sign Up".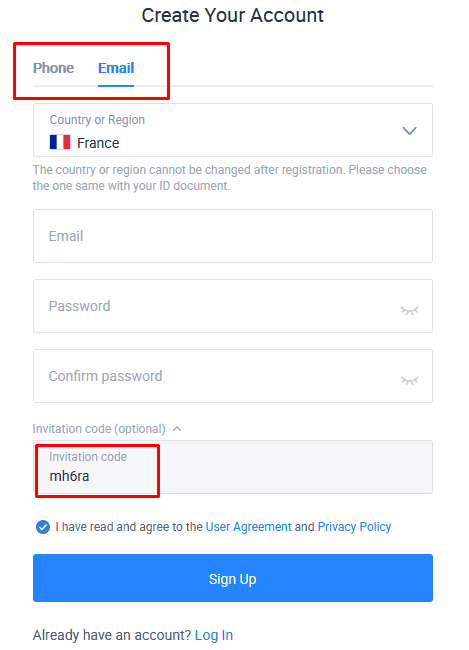 You then have to confirm your registration by indicating the validation code sent to your email/cell phone.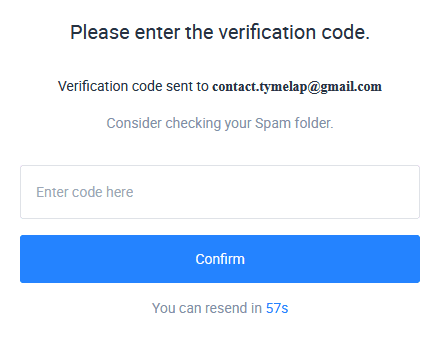 Your account is now created, but there are still verification and security steps to complete, to access all the features on Huobi.
How to verify your Huobi account (KYC)?
To do it, drag your mouse on your profile located at the top right of the page, click on the "Identification" tab, then on "Verify".

Now select the type of identity document (National ID, Passport, or Driver license) that you want to upload, as well as the residency country, then follow the instructions displayed on Huobi.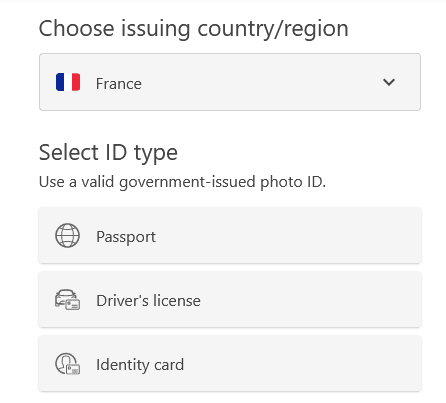 Like most platforms, you can continue the KYC process on your cell phone, or as well stay on your computer where you will have to upload identity documents and plug in a Webcam, to perform facial recognition.
Well done, your Huobi account is verified, you will certainly receive an email within the next minutes to confirm your KYC procedure.

How to secure your Huobi account?
It is now essential to secure your Huobi account, to minimize to the best the hacking risks or other fraudulent infractions.
Once over, drag your mouse on your profile, but this time, click on the "Account & Security" tab.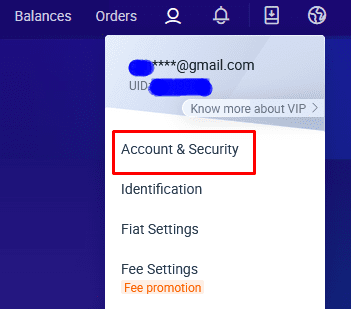 Confirmation of your email/cell phone
For users that have registered with their email address, it is advised to verify your phone number. It is the same for those that have registered by using their phone number.


Then, click on the "Link" tab. You will, in the following seconds, receive a confirmation code on your phone/email that you need to fill on the website.
Double Authentication (2FA)
The 2FA is an additional authentication method that we advise you to enable on the totality of exchanges to which you are registered. You just have to click on the "Google Authenticator" tab, then click on "Verify".


Then, download, if it is still not the case, an application to generate safe passwords (QR codes). To date, one of the most well-known applications is named "Google Authenticator", downloadable for free on Google Play and the App Store. Then, simply follow the instructions indicated on Huobi.
Congratulations, everything is now secured, we are going to show you how to safely deposit money on Huobi.

How to deposit money on your Huobi wallet?
To start, we are going to show you how to deposit FIAT money on Huobi. You can also purchase your crypto currencies directly through your credit card, a method we are going to introduce you to in the "How to purchase your cryptocurrencies?" part.
First, click on the "Buy Crypto" tab located at the top left of the page.

Following, click on "FIAT Deposit", select the digital currency (USD, EUR…) then the deposit method. For citizens "outside of the US", the "SWIFT" payment provider will certainly be your best choice.

Now fill in the amount of your deposit, then click on "Next". Finally, simply fill in the banking information on your credit card, then confirm the purchase.
How to transfer crypto currencies coming from another Exchange
If you hold whatever crypto on another trading platform, it is possible to transfer them to your Huobi wallet.
First, drag your mouse to the "Balances" tab located at the top right of the page, then click on "Exchange Account". Then, select the cryptocurrency that you want to deposit, then click on the "Deposit" tab.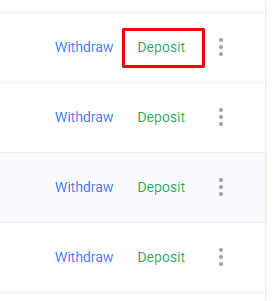 Once on the relevant page, copy the transfer address associated with your cryptocurrency, then fill it in on the exchange of your choice. Do not forget to select the right network (ERC-20, BTC, BSC…), to avoid any problem that could delay or cancel your transaction.
How to purchase cryptocurrencies on Huobi
Now that you know how to deposit money, it is also useful to show you how to purchase crypto currencies. Two methods are currently available: purchasing through a credit card or directly negotiating on the market, in the case where you already possess FIAT money or other coins in your wallet.

Purchase cryptocurrencies on the market
To position yourself on an asset, you just have to click on the "Markets" tab located at the top left of the page, then select the cryptocurrency of your choice, amongst the 337 that are available. You can also directly click on "Spot Trading" then "Exchange". For this example, we choose to trade Bitcoin.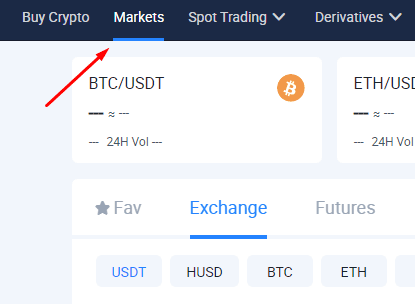 A total of three trading interfaces are available: Original, Trading View, and the Depth. The TradingView graph remains the best for traders and experienced investors. Indeed, you have access to a great number of indicators and trading tools, such as the Fibonacci retracement, the RSI, and the MACD.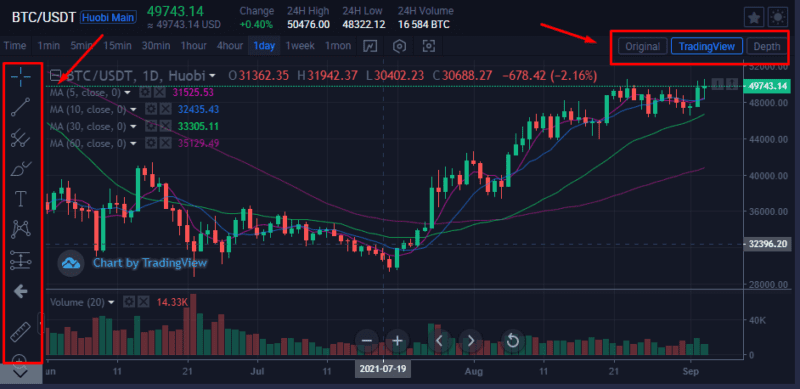 To position yourself on the chosen asset, first select the type of buy order :
Limit Order : Limit orders are executed when the defined price is reached by the price of your digital asset
Market : Orders are performed at the best market price possible.
Stop-Limit : Once that the price crosses the predefined entry/exit point, the stop order becomes an instantaneous order and is executed.
Trigger Order : Trigger orders are executed when the last market price achieves predefined conditions.
Once this is performed, fill in the amount and quantity of cryptocurrency you want to purchase.
Purchase cryptocurrencies by credit card
If you want to purchase your crypto this way, you must click on "Buy Crypto" located at the top left of the page, or directly on the "Buy With Credit Card" tab, which appears when you drag your mouse to the "Balances" tab.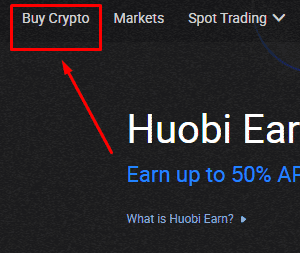 Then, select the cryptocurrency you want to purchase, then the FIAT currency with which you want to purchase it. After indicating the amount of your purchase, click on the "Buy" tab. If you already hold FIAT money on your Huobi balance, you can directly click on "USD Balance"
Moreover, by clicking on the "Convert" tab, you can trade a certain amount of one of your cryptocurrencies for another.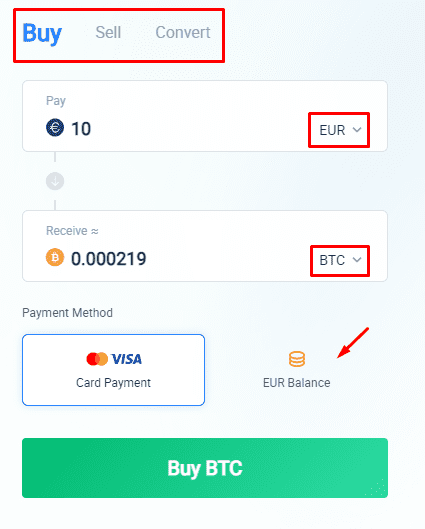 Finally, indicate your credit card coordinates, then confirm your purchase. As a reminder, by going through this purchasing method, you are exposed to more important trading fees (3.5% for a $10 minimum transaction).

Conclusion : Our opinion on Huobi
The Huobi exchange is without any doubt a great trading platform, allowing anyone to purchase crypto currencies safely. In addition, with its 339 crypto coins, it is one of the trading platforms offering the most coins in the world. Huobi also gives the possibility to its user to access very attractive interest rates with its different options, such as Huobi Earn, Primepoll, and Staking.
However, for newbies in the world of crypto, Huobi is not the most suitable exchange. Indeed, other platforms far easier to handle such as Binance and even FTX also exist.
Frequently asked questions about Huobi
What is Huobi?
Huobi is a trading platform specialized in the trading and negotiation of cryptocurrencies.
Can we purchase Bitcoin on Huobi?
Yes, you can of course purchase BTC safely on Huobi. Moreover, around 339 cryptocurrencies are available on the exchange, such as Ethereum (ETH), the Binance Coin (BNB), and even more others.
What are the advantages of the Huobi Exchange?
Huobi proposes to its users a great number of features such as the Staking, Primepool, Huobi Earn, and ETH 2.0, that all allow you to generate passive income with your cryptocurrencies.
Is it safe to invest on Huobi?
Yes, the platform is highly secured. It is still primordial to set the different available security options, such as 2FA.