What is eToro ?
Launched in 2007, eToro is a world-known "social" trading platform that handles more than 20 million users. eToro not only offers its customers to buy and exchange cryptocurrencies but also indexes, ETFs, commodities, currencies, and even shares quoted on the stock exchange such as Tesla, Apple, Netflix, or even Coinbase.

Social trading enables users to copy the trades of specific large accounts, using a technique called "CopyTrading". Here's a list of some of these "big" accounts:
TheBigBanks
BigTech
InTheGame
AllStocks
In addition to having the ability to copy the trades of certain users, eToro also enables users to interact by posting messages on the platform.

Unlike most exchange platforms such as Binance, FTX, or even Kucoin, eToro is a "broker", which means that users purchasing an asset are not directly connected to buyers and sellers, the platform merely acts as an intermediary for the markets.

eToro is very simple to use, allowing beginner traders to trade with ease. However, users that are exchanging cryptocurrencies are exposed to particularly high fees.
Several key elements
Website: etoro.com
Cryptocurrencies available: 19
Fees and commissions: high (considering the standards in the crypto market)
Minimum deposit: $200
Minimum withdrawal: $30
Minimum trade: $25
Virtual wallet (option): Yes
Fees on eToro's platform
Although the platform does not charge any commission for the trades of shares or ETFs, we will tell you about the fees charged for trades of cryptocurrencies, which are relatively high.

When you buy a cryptocurrency on eToro, fees are charged (after the position is closed) as a spread expressed in percentage and can vary depending on which cryptocurrency you choose.

A spread is the difference between the price offered (bid) and the price asked (ask) for an asset. This is actually one of the main sources of income for most brokers. We could consider this as a kind of "hidden fee" because it is usually not mentioned when taking a position on an asset (whether the price is going up or down).

Despite spreads being valid on the entirety of the markets available with a broker (eToro), the fees that are charged on cryptos are usually much higher than those for other markets, such as shares and ETFs, that are trading with only 0,09% fees on eToro. Note that these are the lowest fees possible, obviously fees vary and can certainly fluctuate.

If we take Bitcoin as an example, the minimum fee that you are exposed to is 0,75%. Meaning that, for a trade of $1000, a fee of $7,50 (at the minimum) will be charged when your position is closed.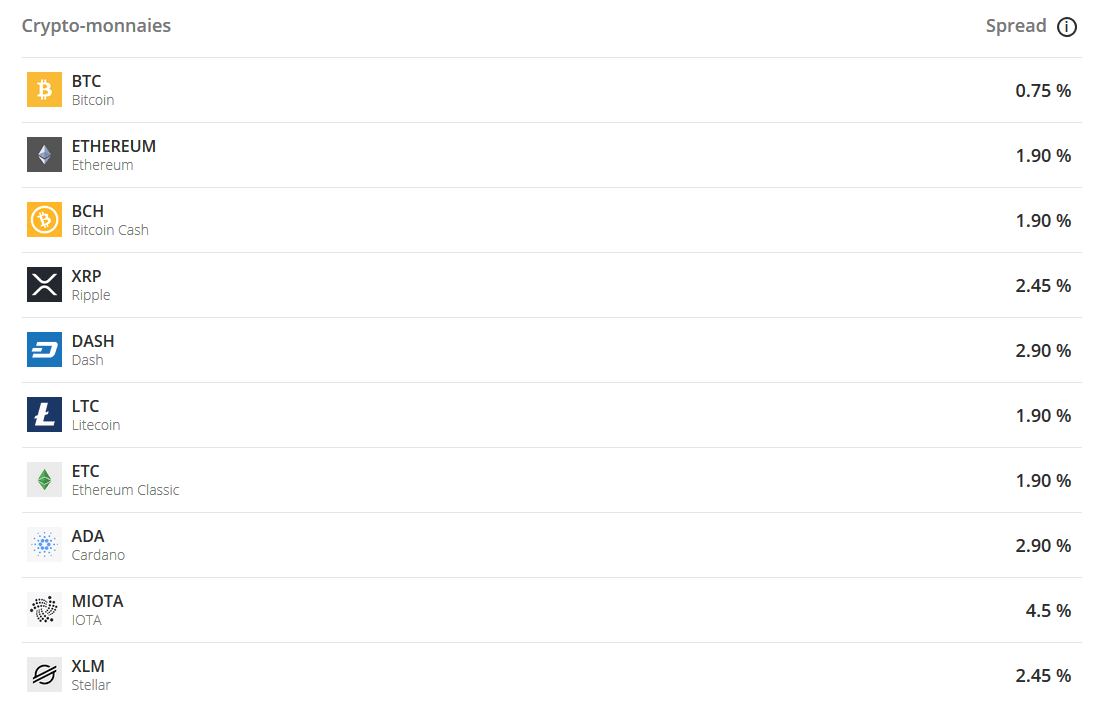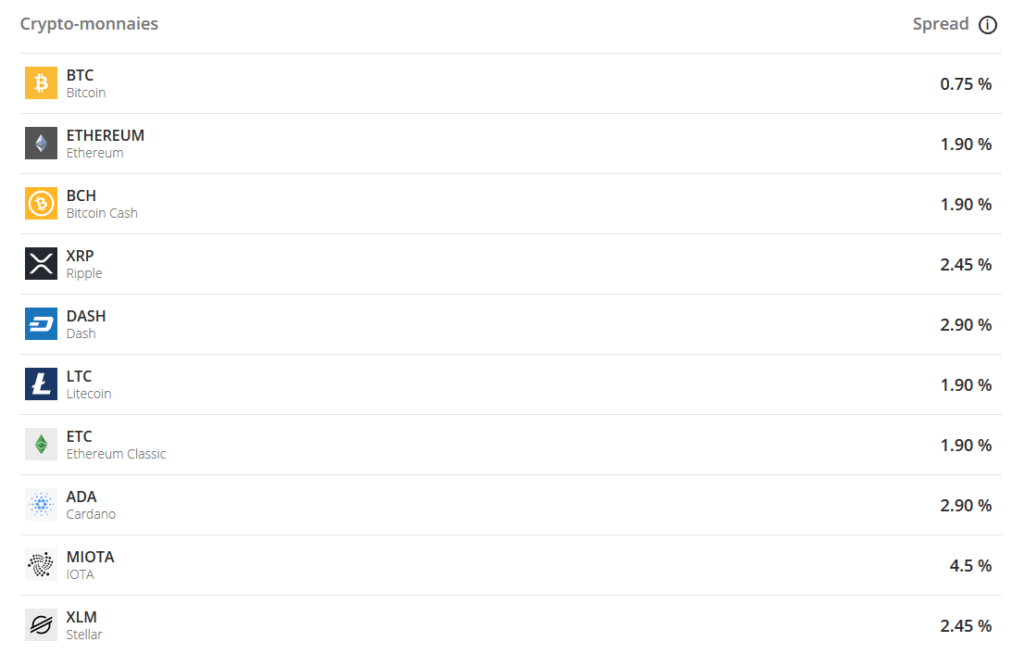 As you can see, fees charged on cryptocurrency trades are very high compared to other exchange platforms such as Binance or FTX, which are notorious for charging the lowest fees in the market.

On Binance, a standard user is exposed to 0,1% fees (when trading spot), which means that he will only need to pay $1 for a $1000 trade. If you use a referral link, a discount of 20% on your fees will be applied. However, the gold medal goes to FTX, which charges between 0,02% and 0,07% fees for each trade (when trading spot).

👉 Register for free on FTX

👉 Register for free on Binance

If you want more details about the fees charged by exchange platforms in the crypto market, we refer you to the following spreadsheet, in which 21 platforms are indexed. Click here.

👉 Register with eToro and save on your fees
Withdrawal fees
To withdraw your money from eToro, withdrawal fees will be applied. Before the update published on March 12, 2020, fees were $25, but following complaints from many users, eToro decided to reduce its fees to $5, which is relatively lower than previously.
How to register on eToro
To begin, you need to go to the eToro website to start the registration. Then, just follow the steps mentioned below:

Step 1: Once you're on the website you need to define your username, indicate your email including the password that you want to use, and accept the general conditions by ticking the boxes.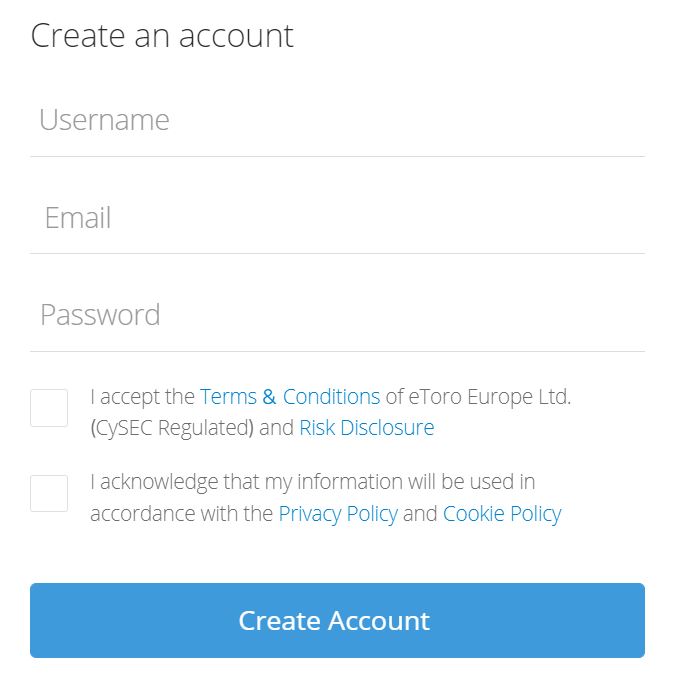 Like all other brokers, eToro is subject to European laws and has to comply with them by asking a series of questions to its users. It is therefore necessary, to deposit money in your account, that you answer these questions by filling in a form.

Note that all the information that you will provide in this form will remain confidential and can be modified at any moment in your eToro account.

Step 2: Click on the tab "Complete your profile", located in the top left of your screen. Then click on "Continue".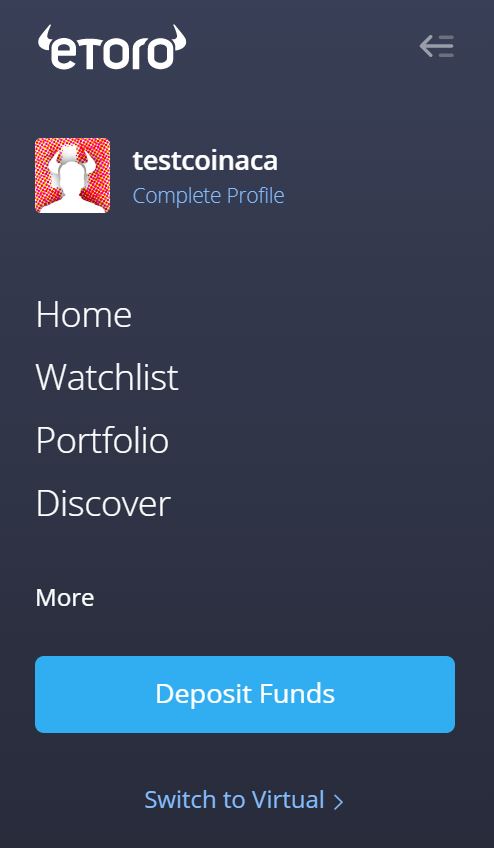 Step 3: Enter the information that is being requested, such as your first and last names, your date of birth, and your gender.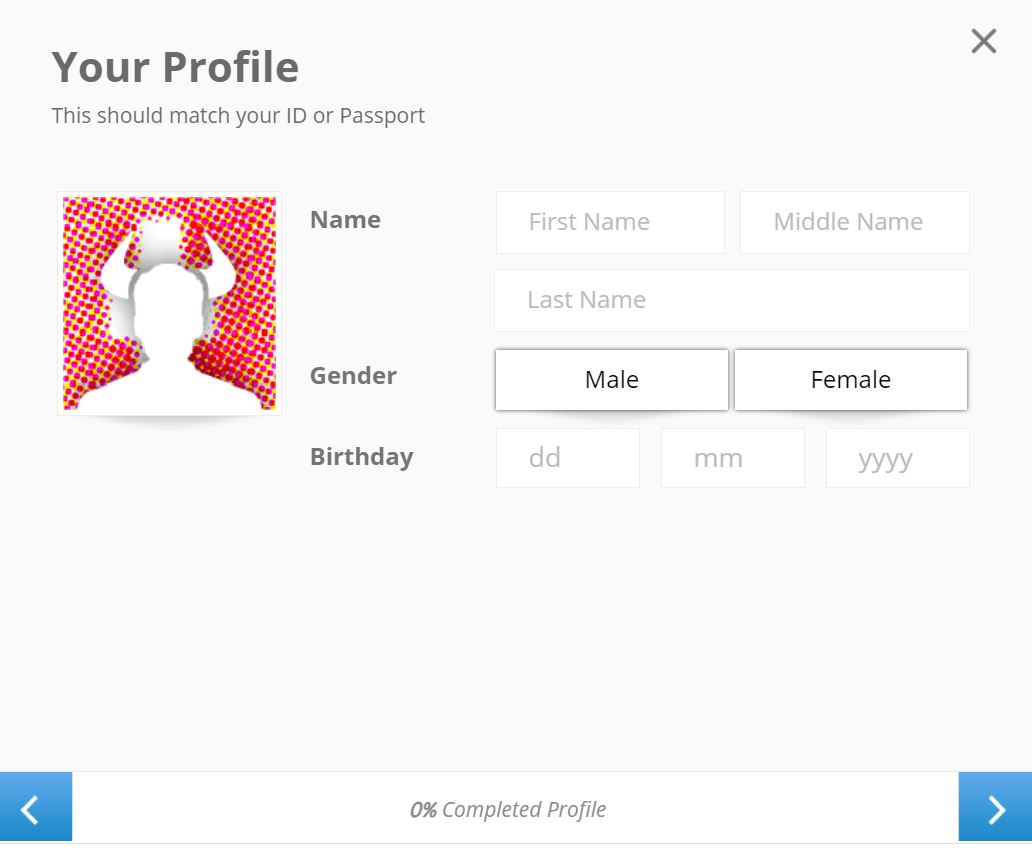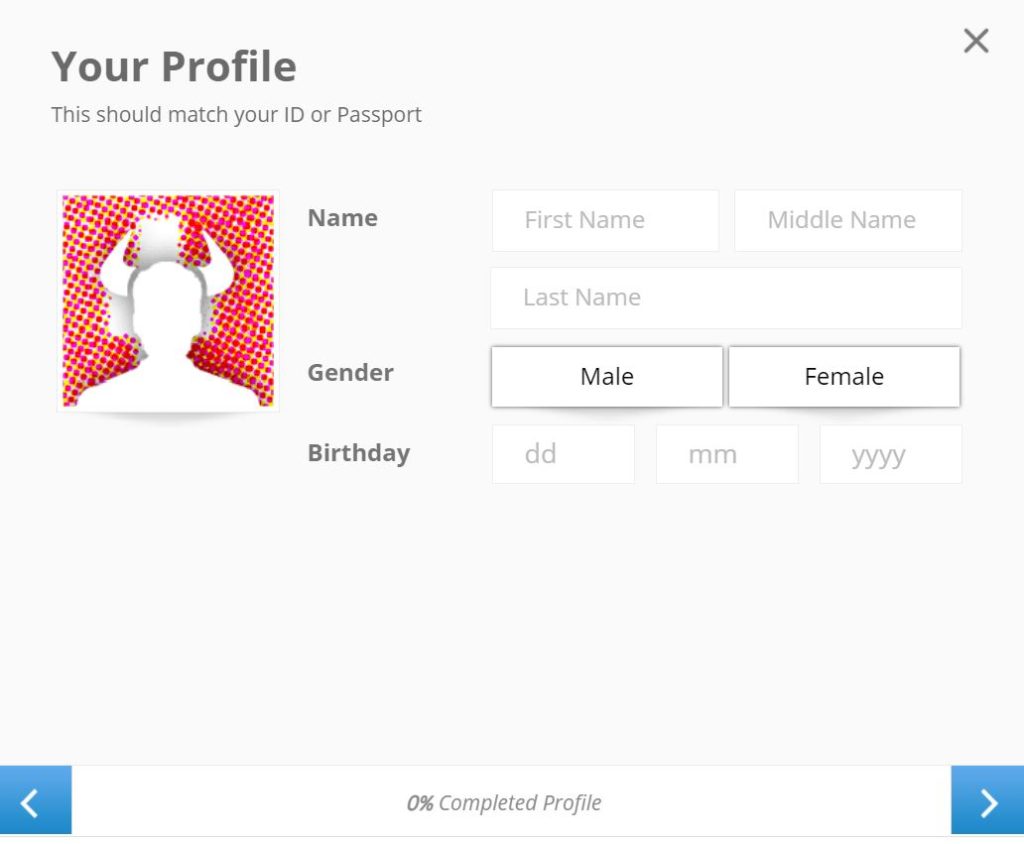 Step 4: Once you've finished the previous step, you need to indicate your residential information. Don't forget to mention whether you're an American citizen or not by ticking the box in the middle of the tab.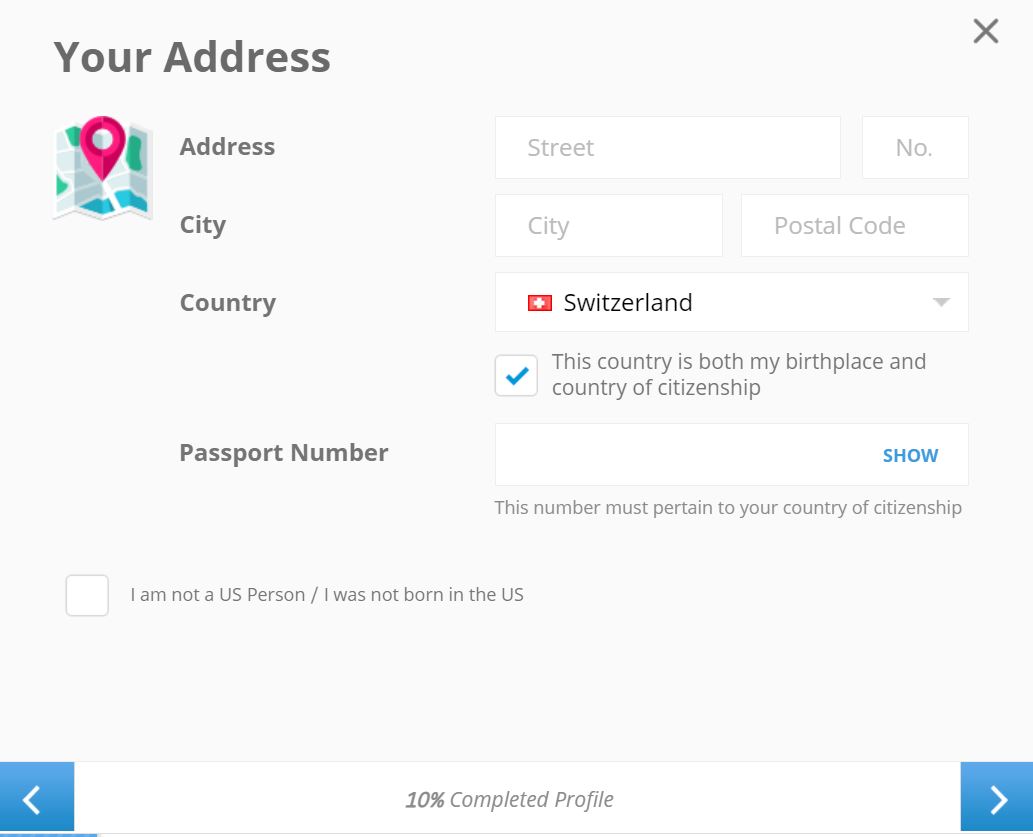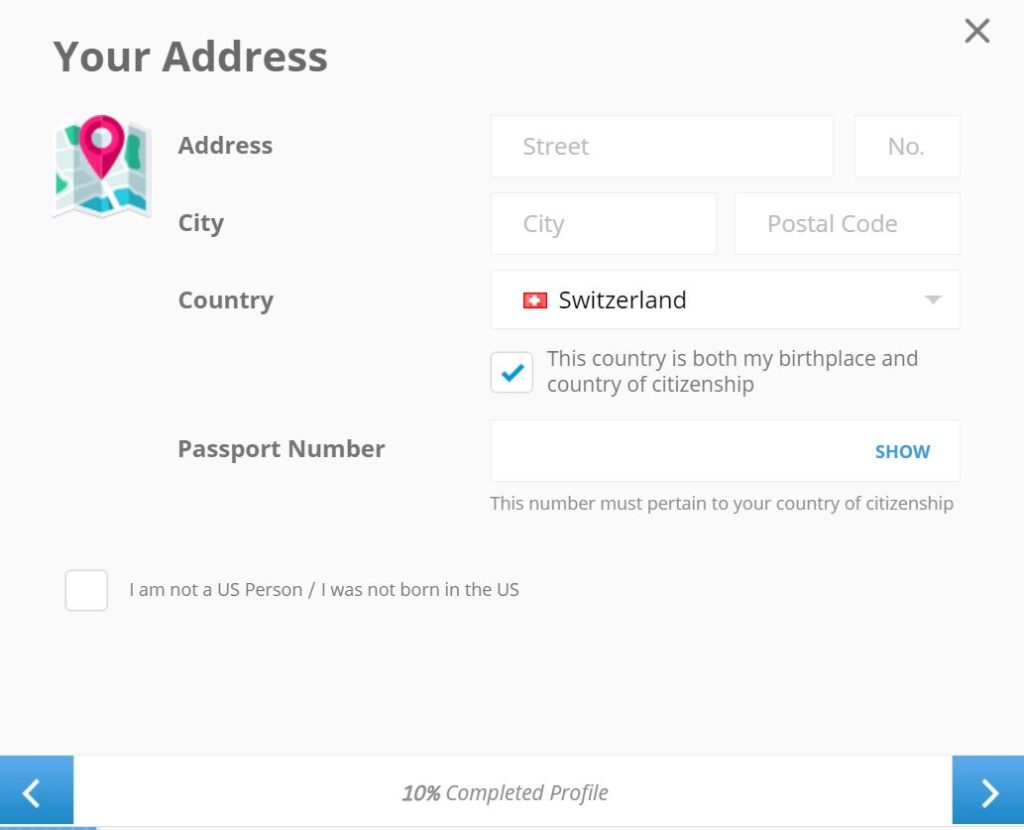 Step 5: Then, you must declare information related to the number of times you have invested in stocks / ETFs and cryptocurrencies. Make sure to provide accurate information. If this is your first investment, you can tick the "never" box.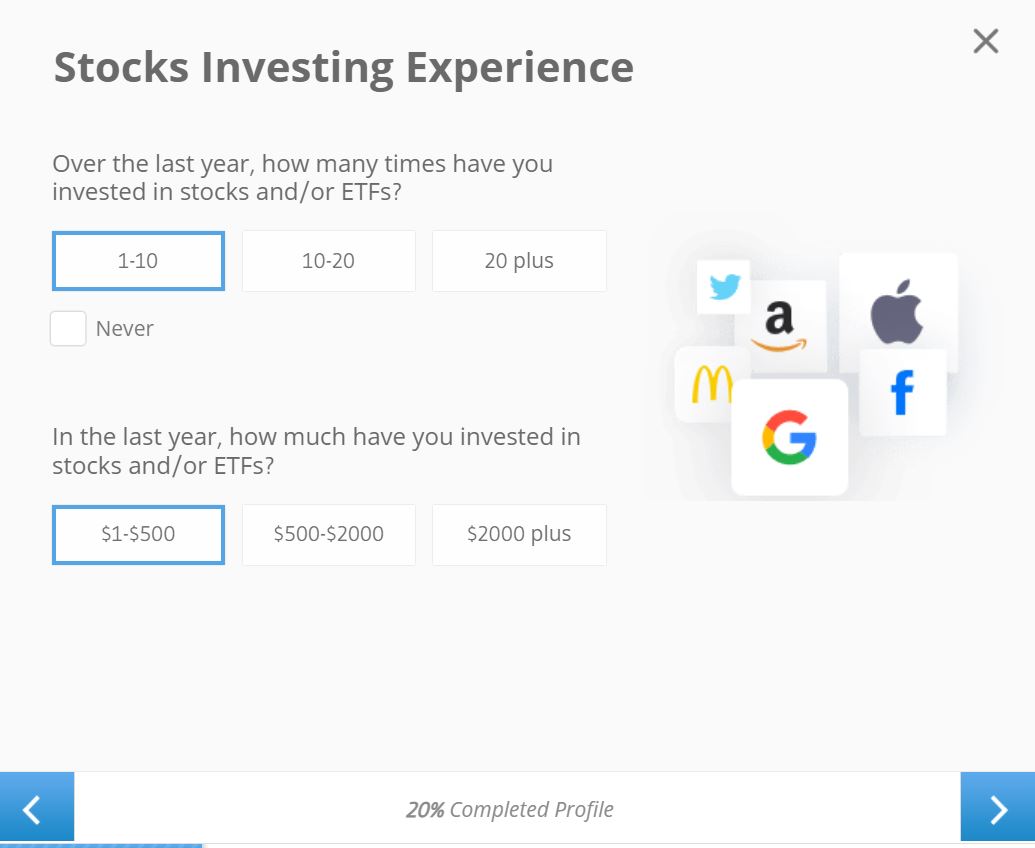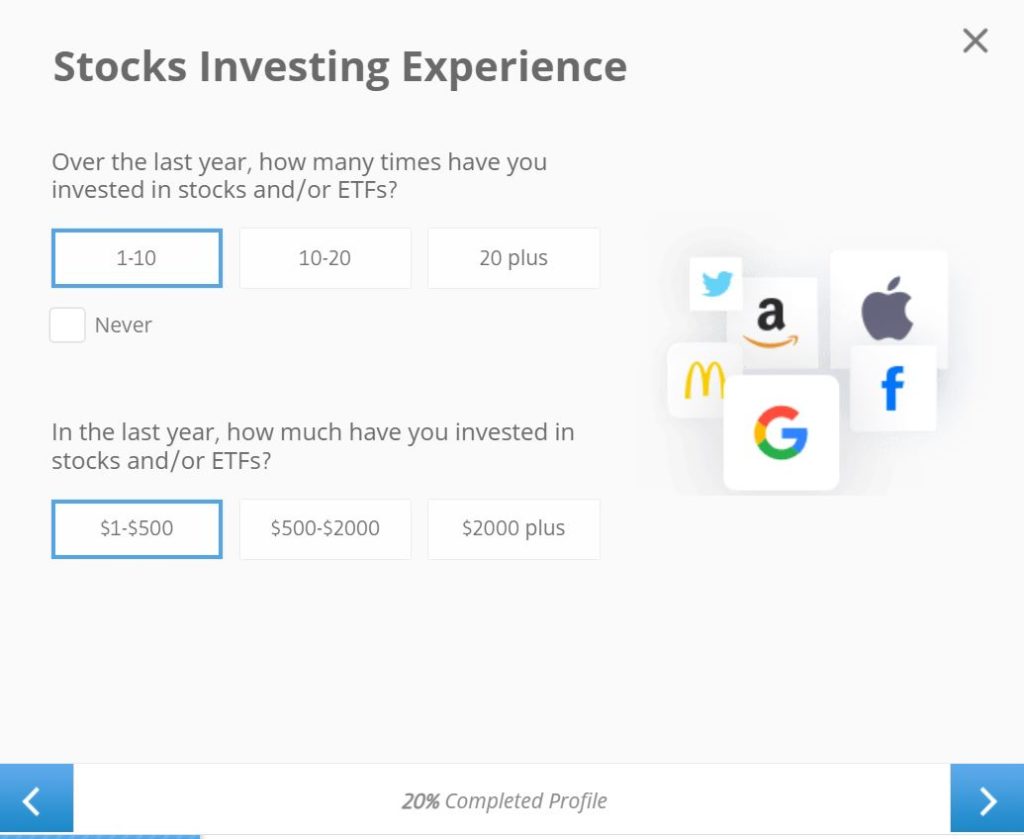 Step 6: If this isn't your first time investing, indicate the number of times you have traded with leverage during the previous year. Then, mention the total amount invested.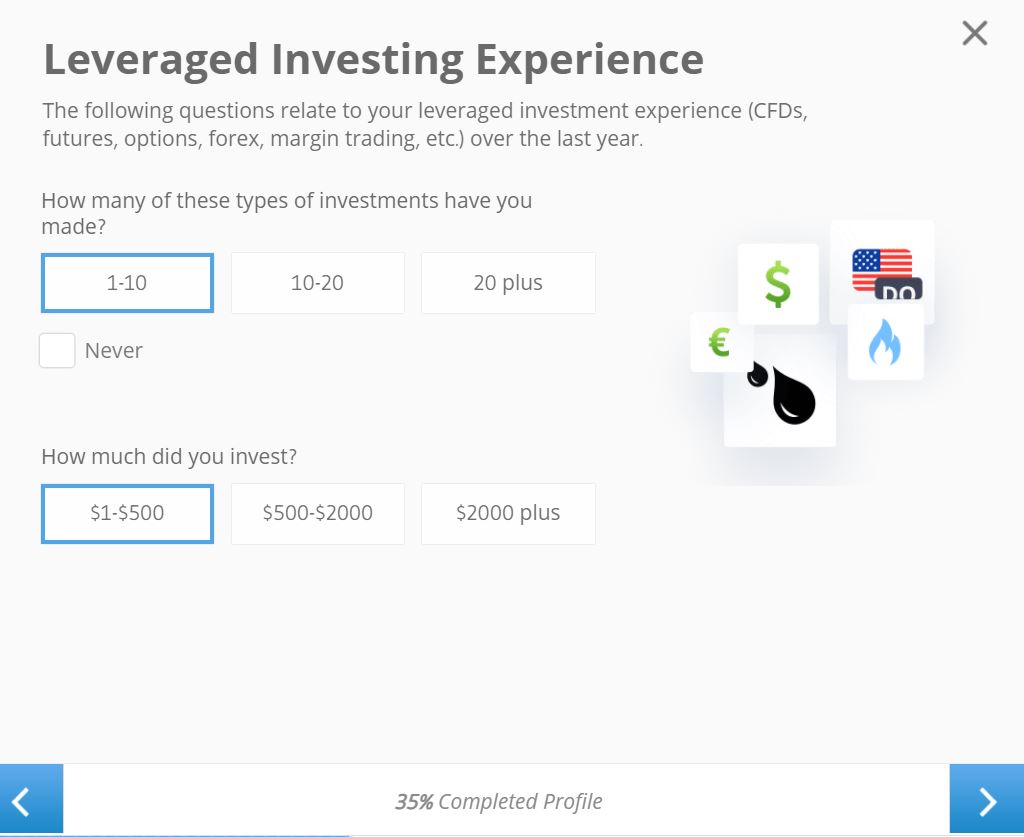 Step 7: In order to provide the most information possible regarding your trading experience, select the appropriate boxes.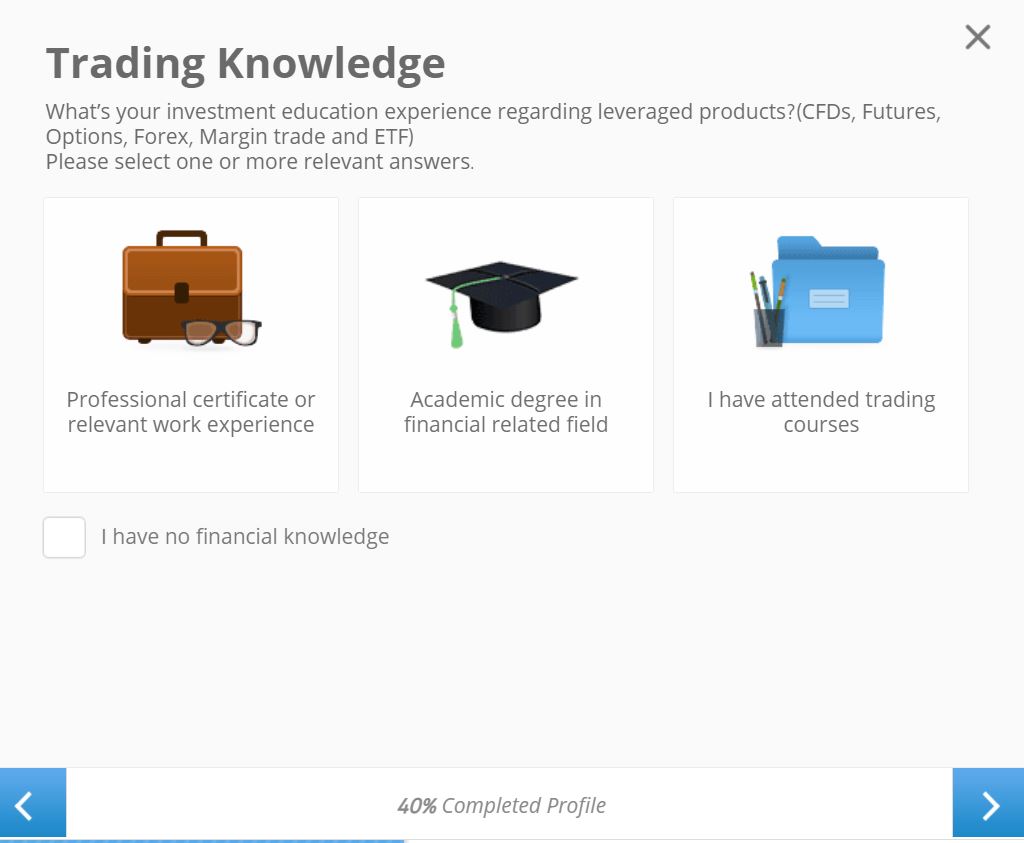 Step 8: In this form, select the answer that seems correct to you to move to the next step.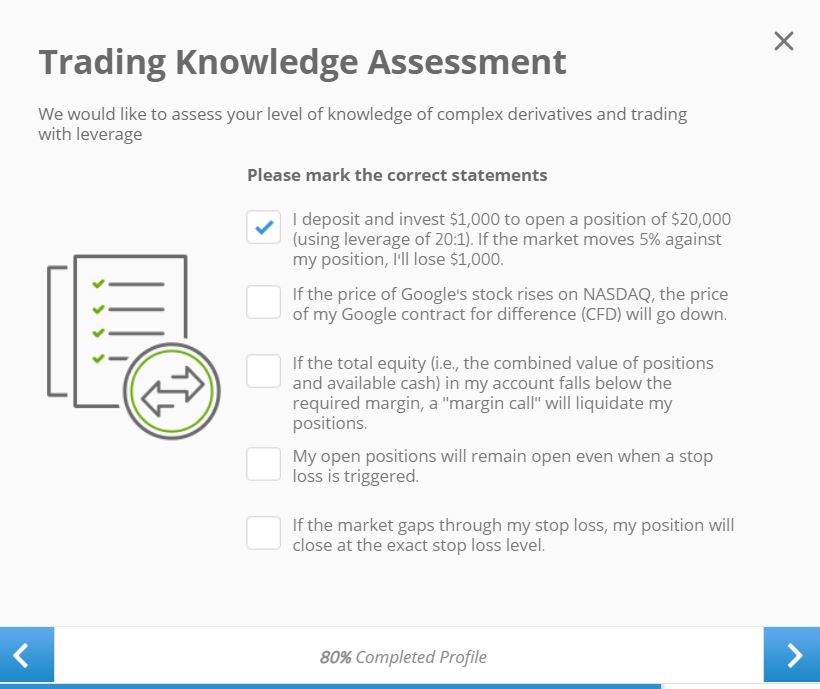 Step 9: Now you need to indicate which financial markets you want to trade on once the registration will be complete.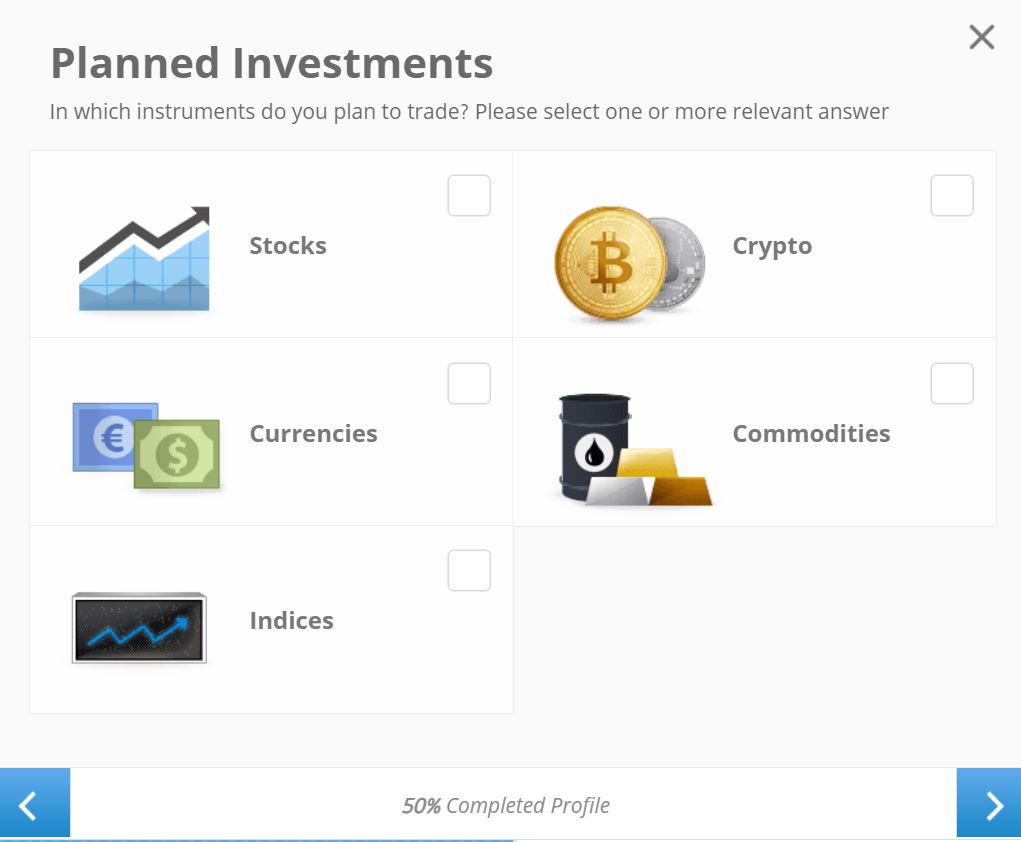 Step 10: Indicate how much time you intend to leave your positions open on eToro.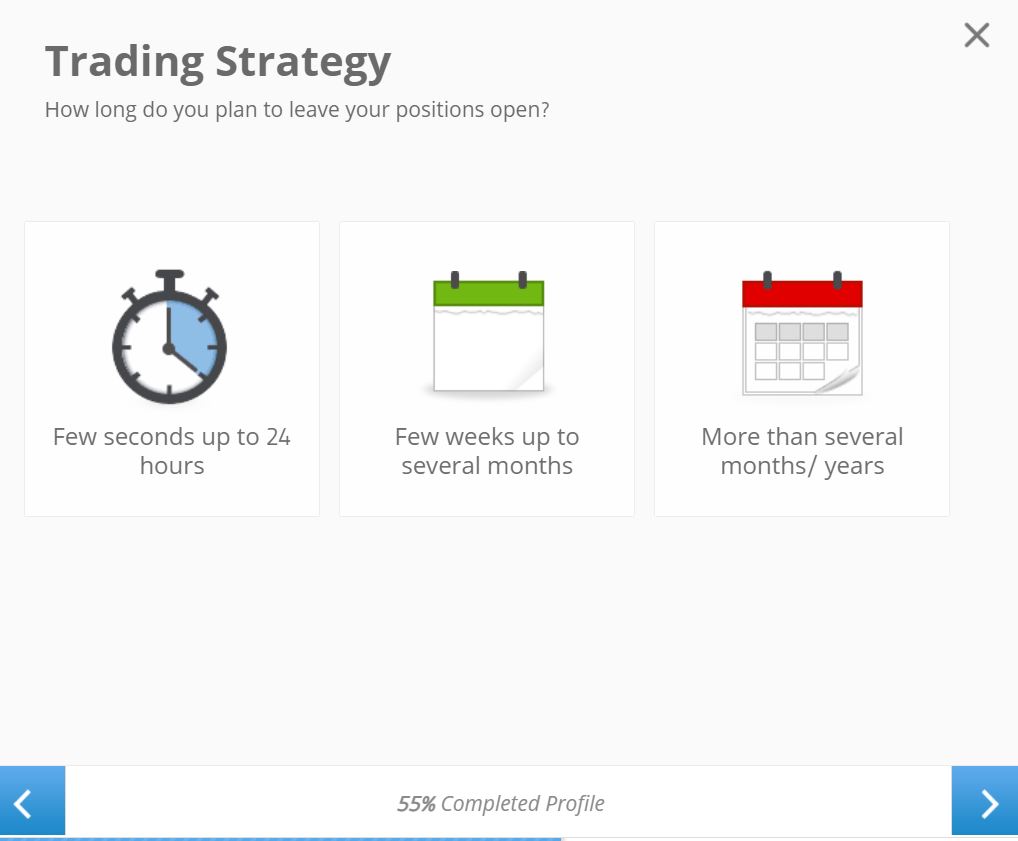 Step 11: Tick the box that best describes your main objective in trading.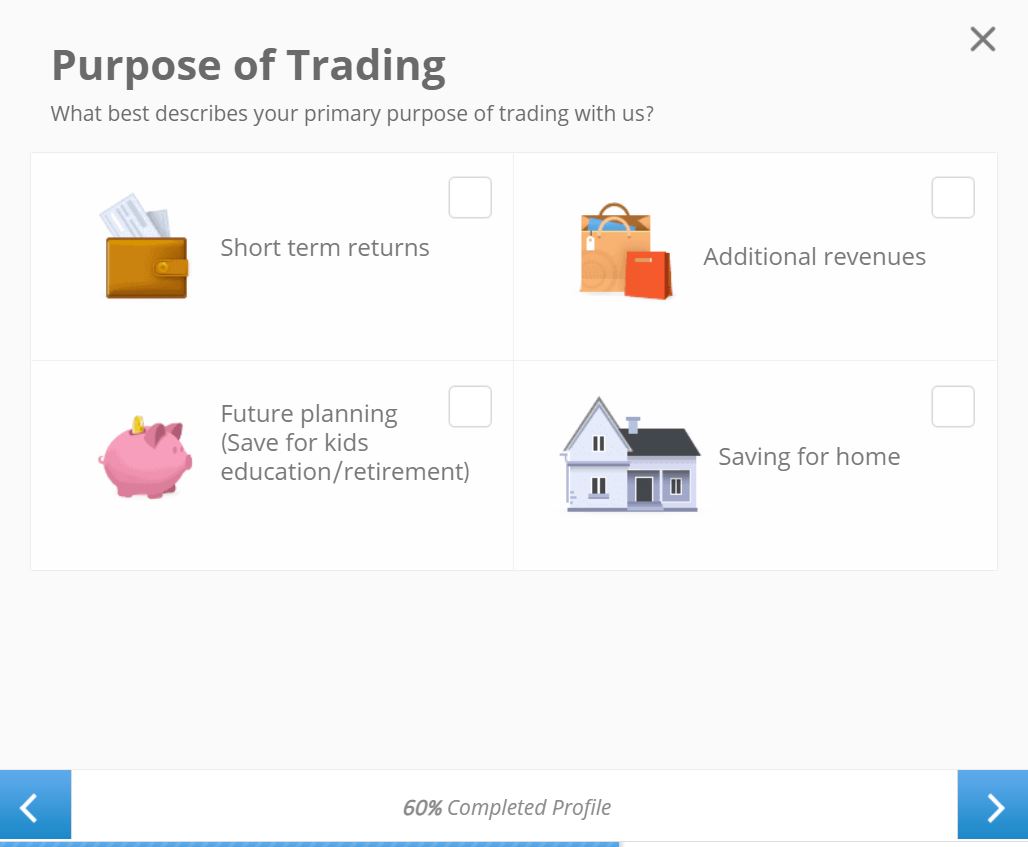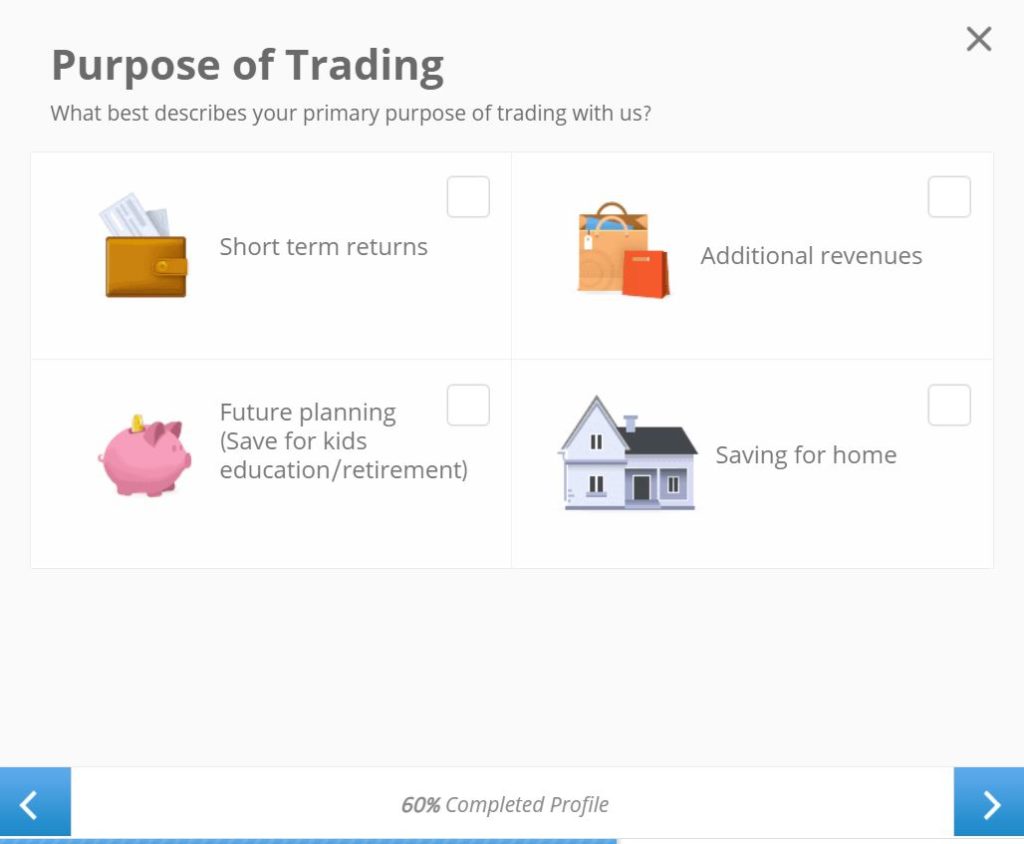 Step 12: Select the amount of money you intend to deposit in your eToro account this year. Then, mention the risk / reward scenario that you expect to realize on your future positions.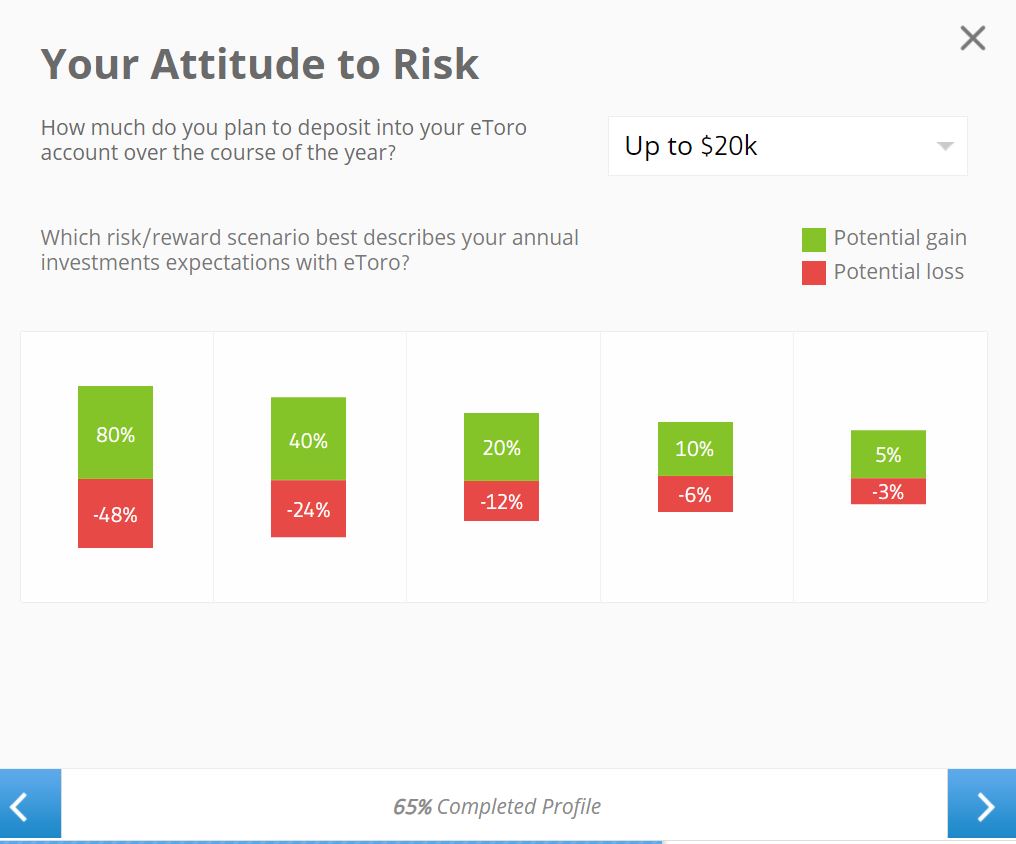 Step 13: Although most users aren't concerned by this step, indicate if you (or someone in your family) is associated with any of the situations described in the image below: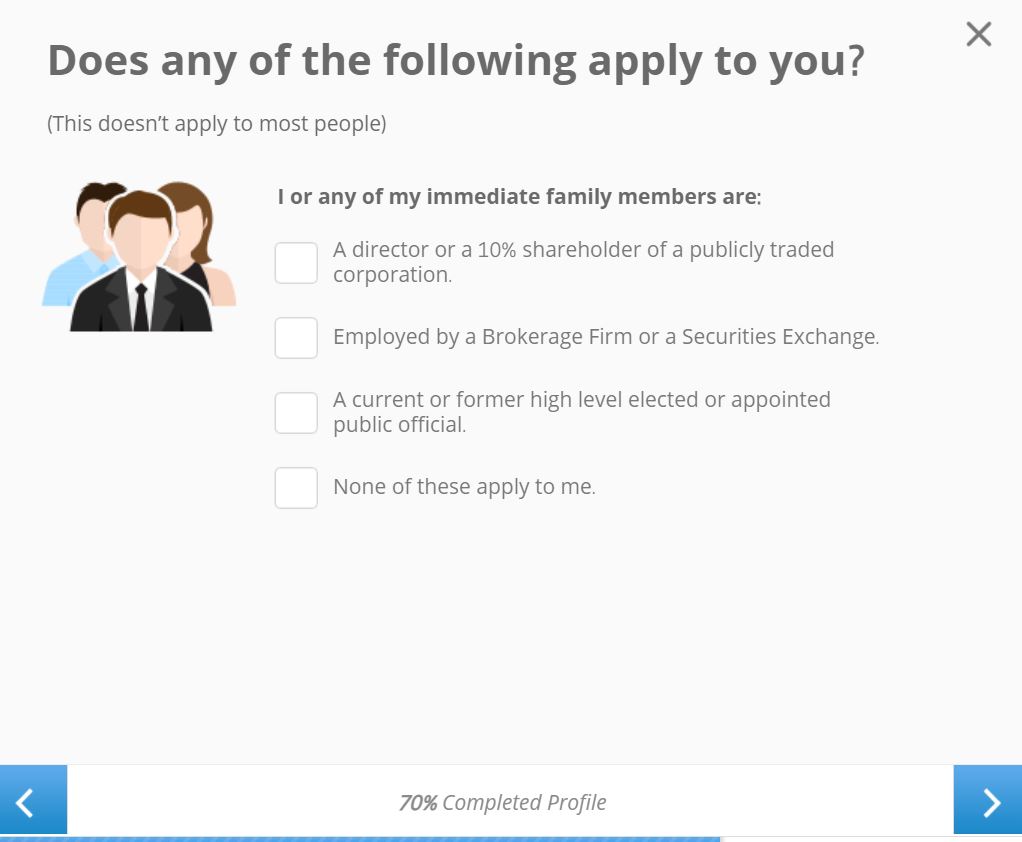 Step 14: To make sure you are investing proportionally to your financial resources, eToro requires you to indicate your main source of income and your current job.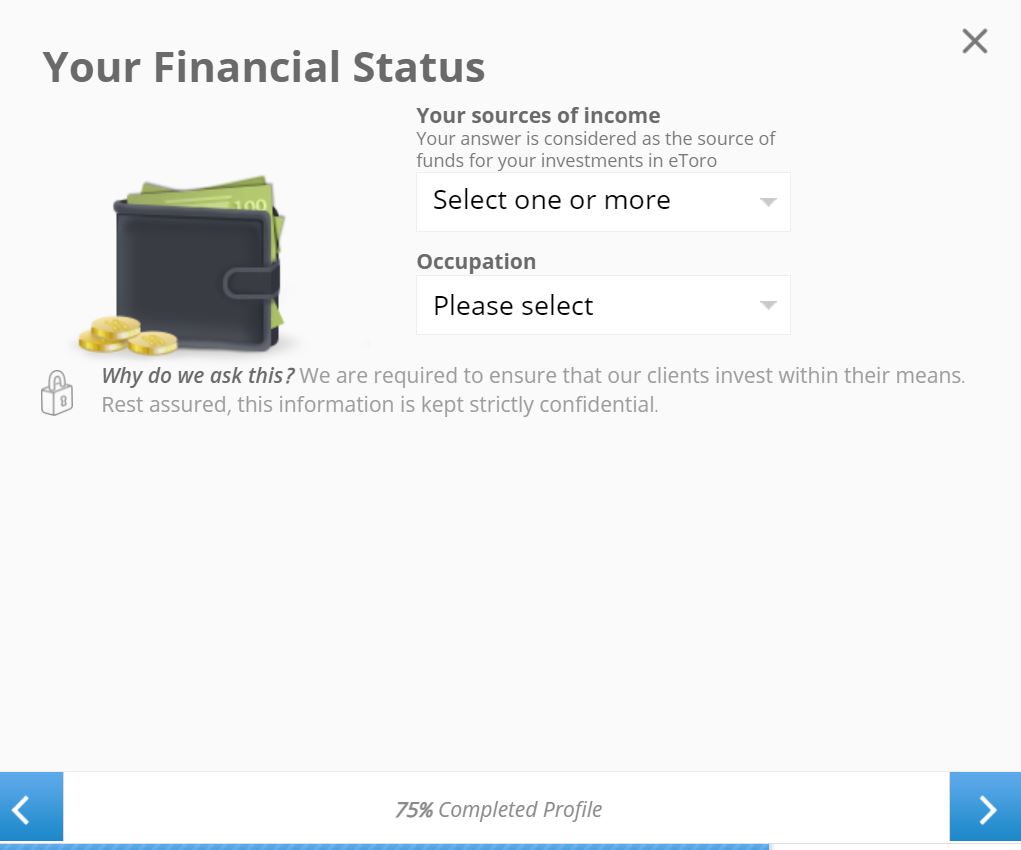 Congratulations! You can make your first deposit on eToro. If you wish, you can also finalize the verification procedure to access all the functions available on the platform.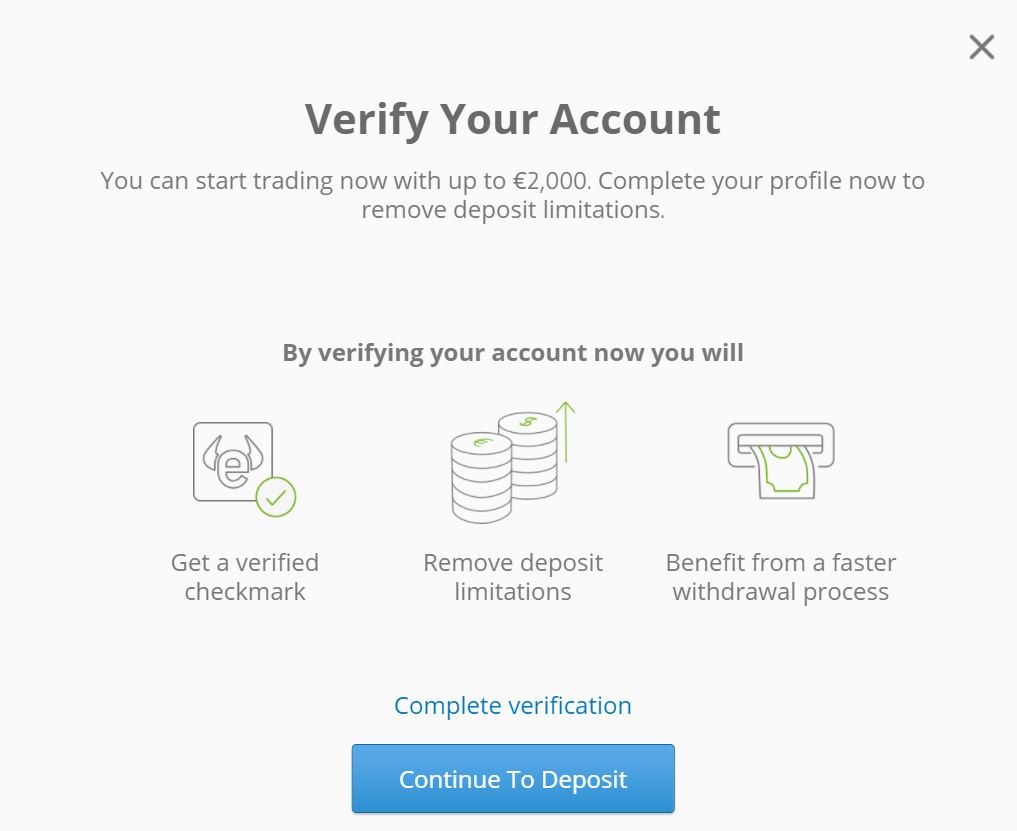 Verify your eToro account
To access all the functionalities available on eToro, you must verify your account. To do that, just follow these steps:

Step 1: If you haven't clicked on the "Complete verification" tab, as seen in the image above, you can finalize this process by clicking on "Complete Profile", or by going directly to your settings tab.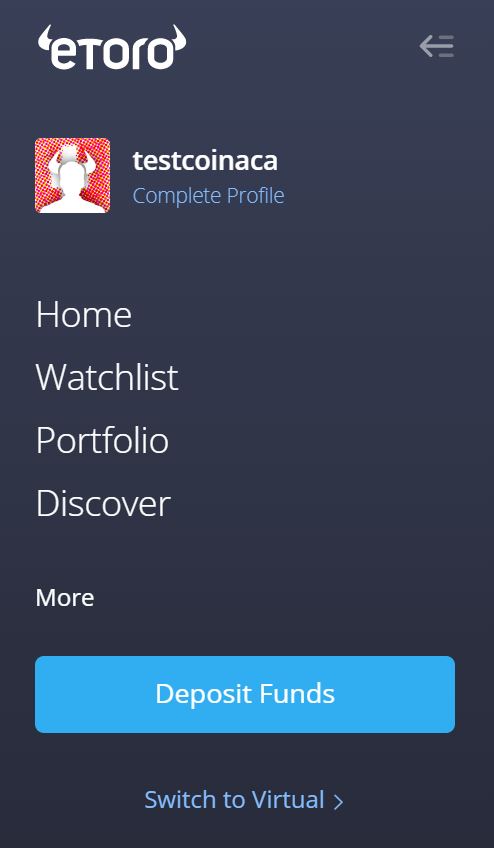 Step 2: Just click on the "Complete verification" tab.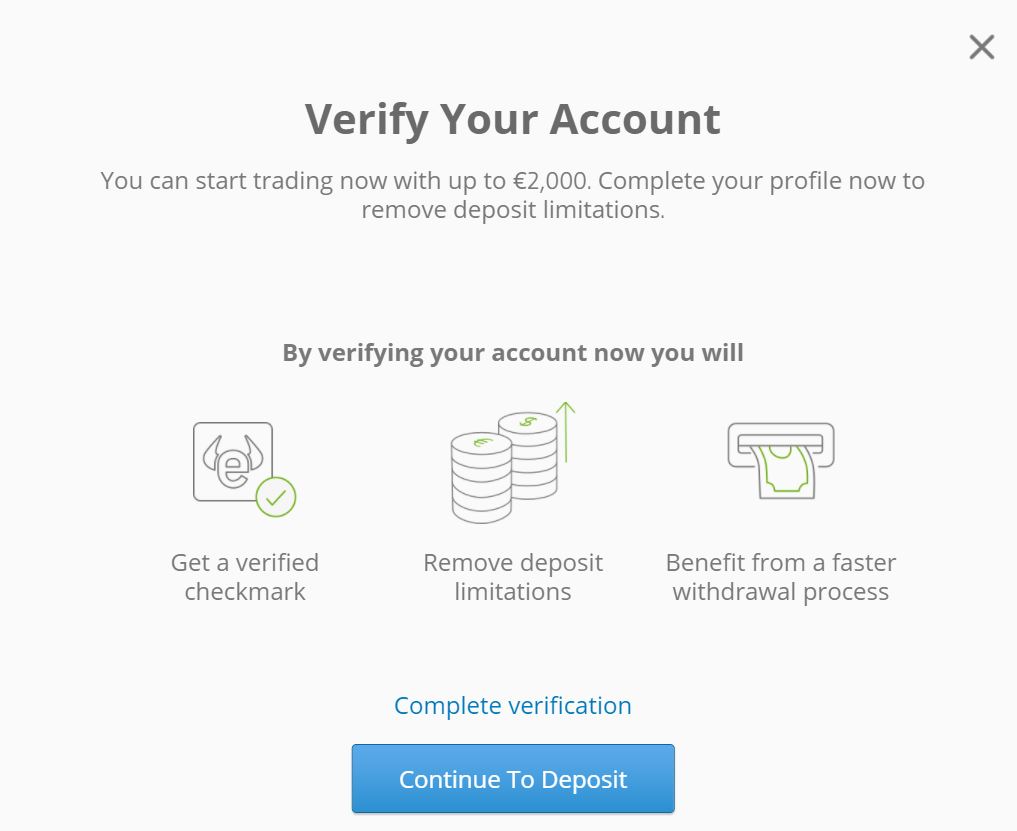 Step 3: Once that is done, indicate your telephone number. Then, provide the verification code that you received.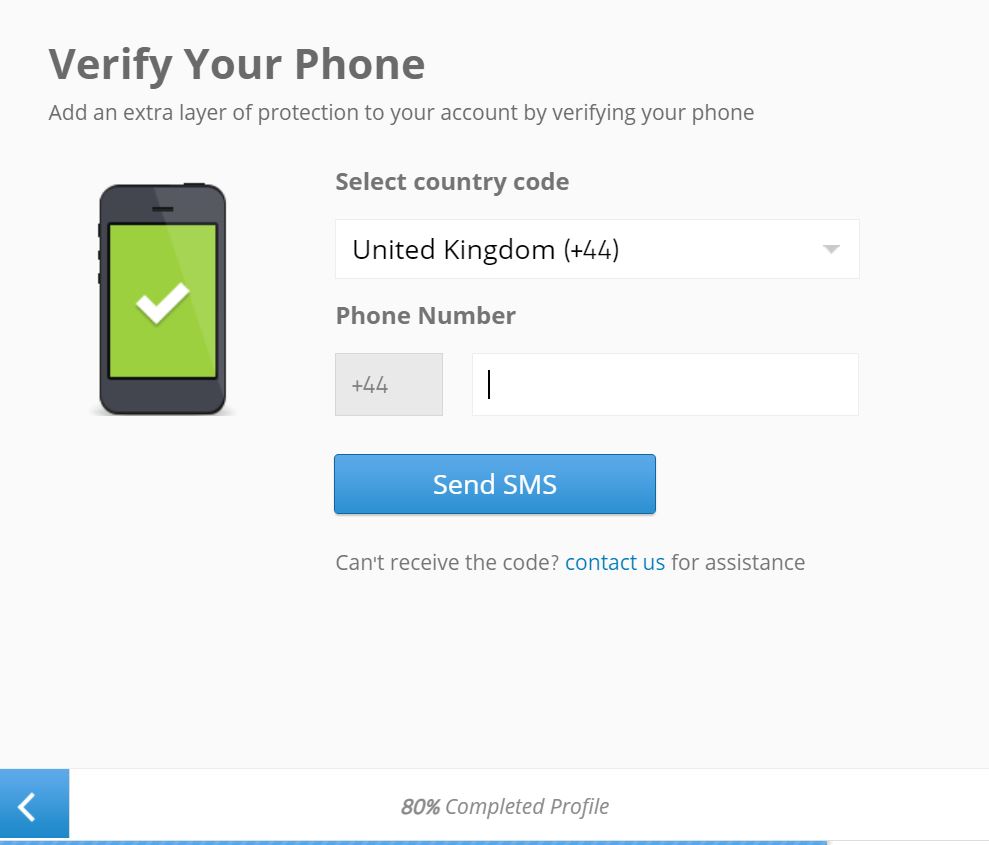 Step 4: To finalize the verification of your eToro account, you must provide your tax identification number. To do that, go to your settings and click on your profile.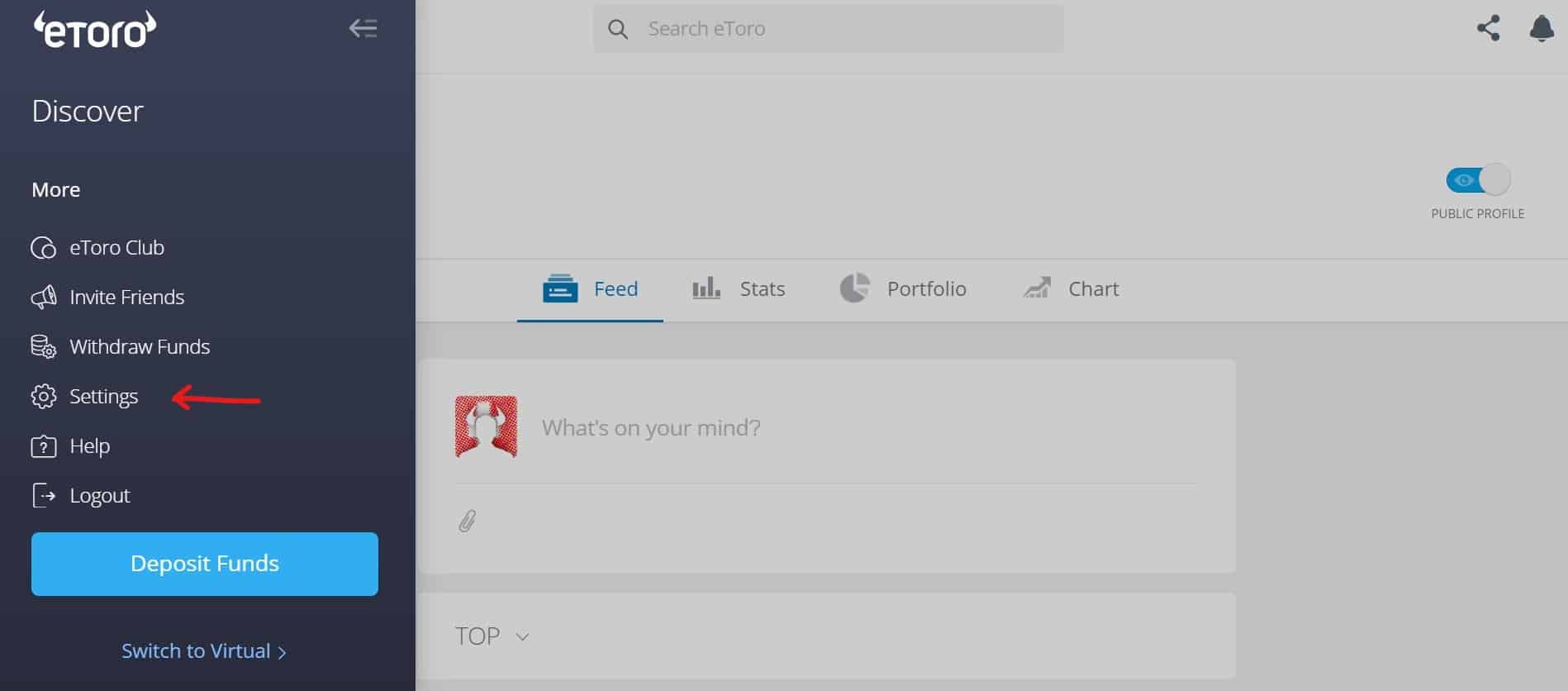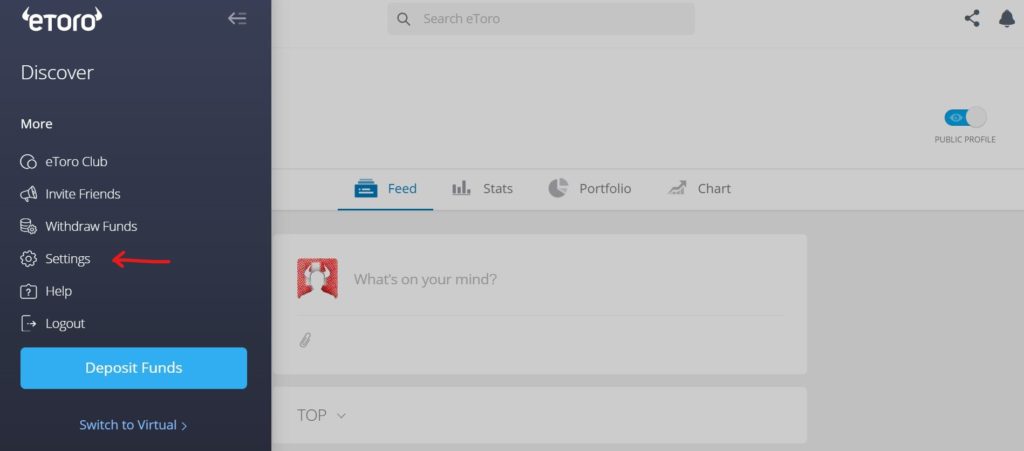 Step 5: Click on the "Tax identification number" tab.
Step 6: To finish, indicate your tax ID. If you don't know it, you can tick the corresponding box underneath.
Congratulations! You have finalized your verification and fully completed your profile. Note that you can also provide your ID card as well as proof of residence. To do that, just click on your profile and submit the documents requested (make sure that the file does not exceed 8 Mo).
Well done! You now have access to all the options available on the eToro trading platform.
Secure your eToro account (2FA)
To obtain an additional layer of security on your eToro account, you can add two-factor authentication. To do that, click on the "account" tab located in your settings.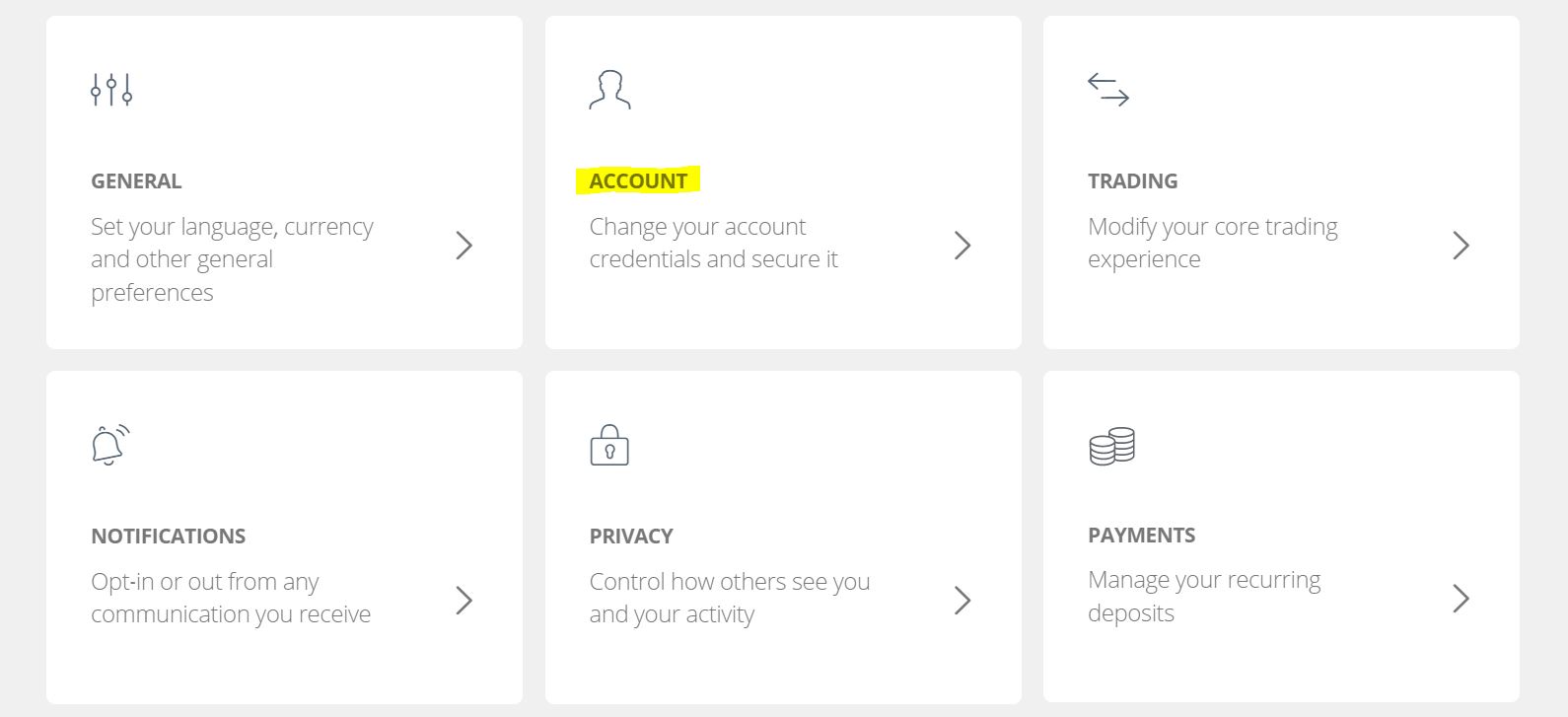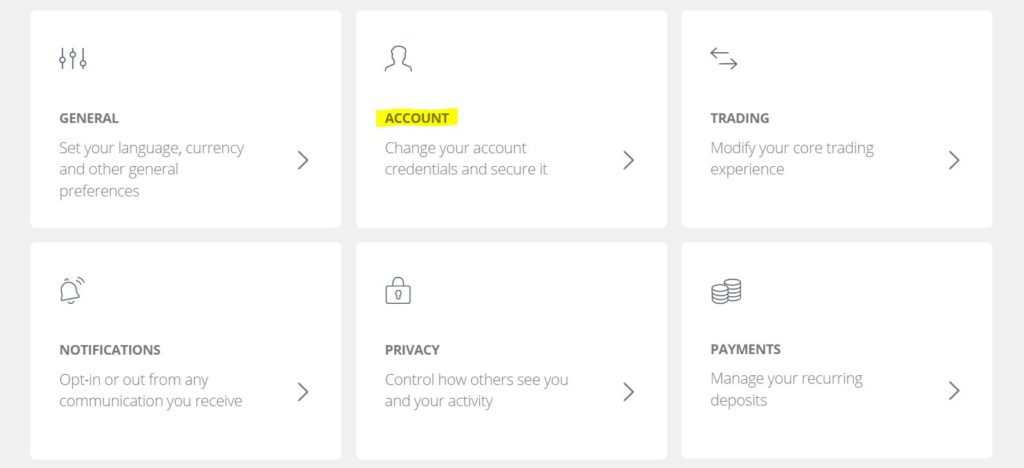 You then need to tick the box to activate it. You will receive a verification code via SMS that you will be requested to submit on the website.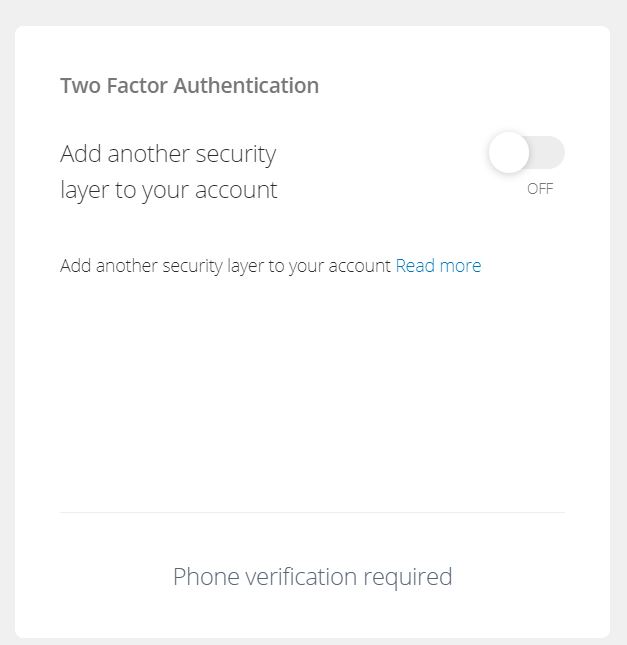 Your account is now extra secured! We will now show you how to deposit money in your eToro account.
Deposit funds on eToro
eToro offers its users different ways to deposit, with the most common being:
Credit card
Wire transfer
Paypal
Indeed, eToro offers deposits via Paypal, unlike most other platforms.

The minimum amount you must deposit the first time is $200. Then, for the next deposits, the minimum amount will be $50. However, for wire transfers, the minimum amount you can deposit is $500.

Note that there may be specific exceptions that you can find on the eToro official website by clicking this link.
Credit card
To deposit funds via credit card, click on the "Deposit funds" tab, located in the bottom left of your screen.

You then need to mention the amount that you want to deposit, as well as the digital currency. Choose the "credit/debit card" payment method and provide the information that is requested. Note that the credit card must be in your name.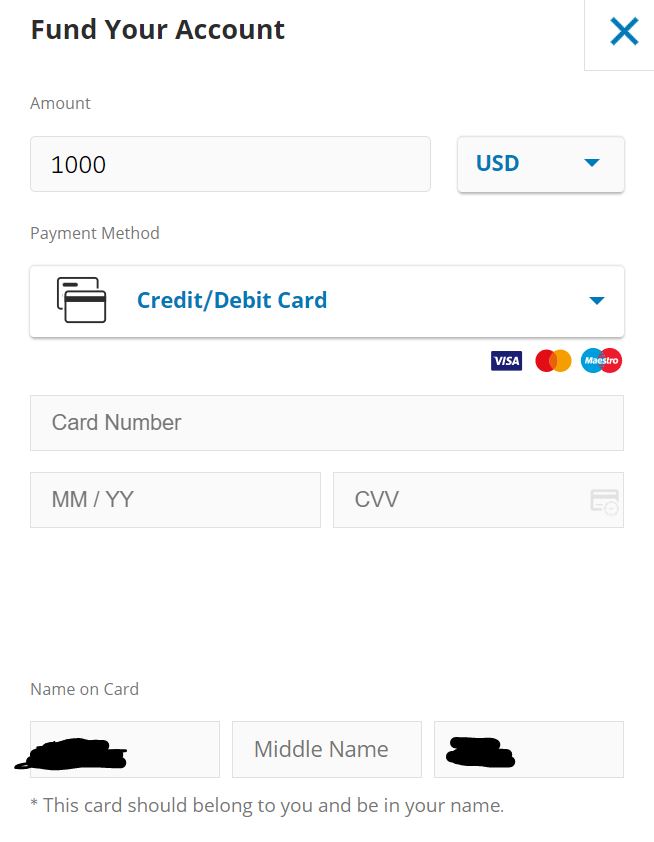 Wire transfer
Just like the credit card deposit, you must click on "Deposit funds" and indicate the amount that you want to deposit, which should be $500 (~411 euros) minimum. Then, click on "Continue".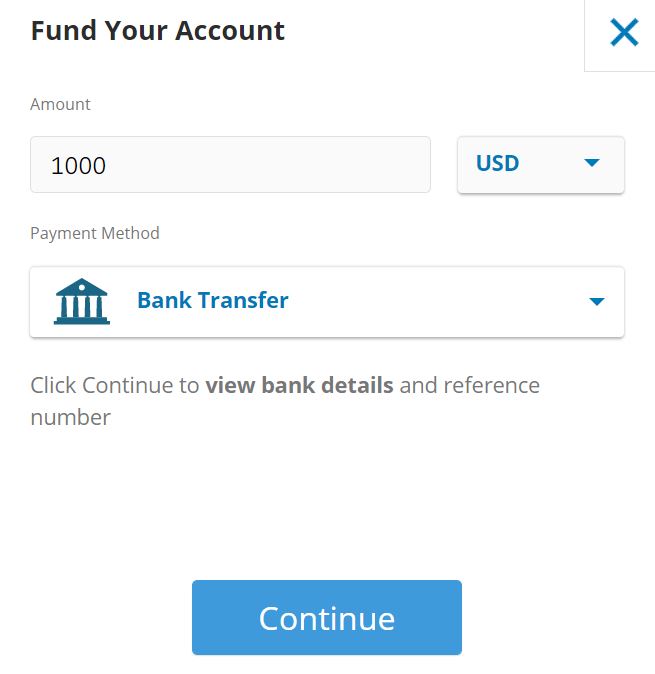 Once you've done that, go to your bank account and proceed with the wire transfer by providing the information displayed on the next page.

Don't forget to mention the transaction ID as a reference number in the details of the bank wire. Without it, your transaction may be delayed or even rejected.
According to eToro, wire transfers can take from 4 to 7 banking days to be processed once the transfer is initiated. During the transaction, an email is automatically sent to you to assist you in the process.
Paypal
As mentioned previously, eToro offers its customers the possibility to deposit funds via Paypal. To do that, just click on the "Deposit funds" tab, and choose "Paypal" as a method of payment.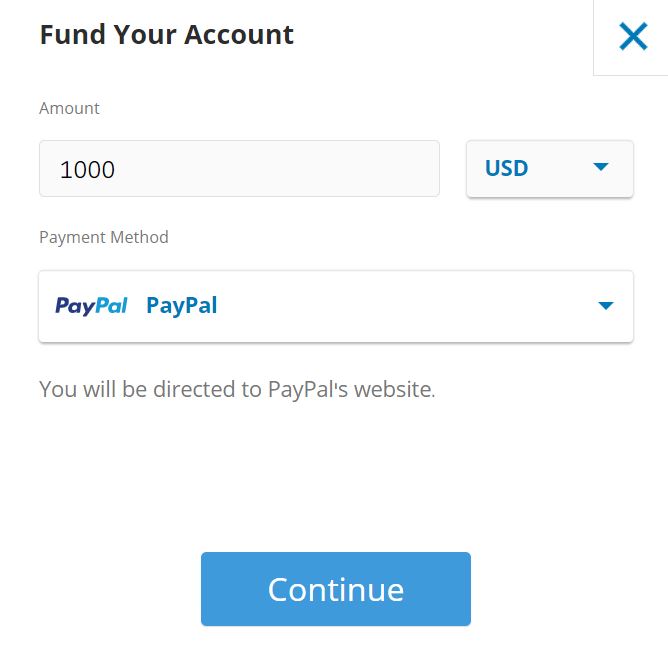 Indicate the amount you want to deposit on the platform and click on "Continue". Following this, you will be redirected to Paypal to confirm your transaction.
Buy cryptocurrencies on eToro
We will now show you how to acquire your first cryptocurrencies on eToro. A total number of 19 cryptocurrencies are available on the platform. For this example, we will choose Bitcoin.
Step 1: First, click on the "Discover" tab located on the left of your screen, then choose the crypto that you want by clicking on the "Buy" button.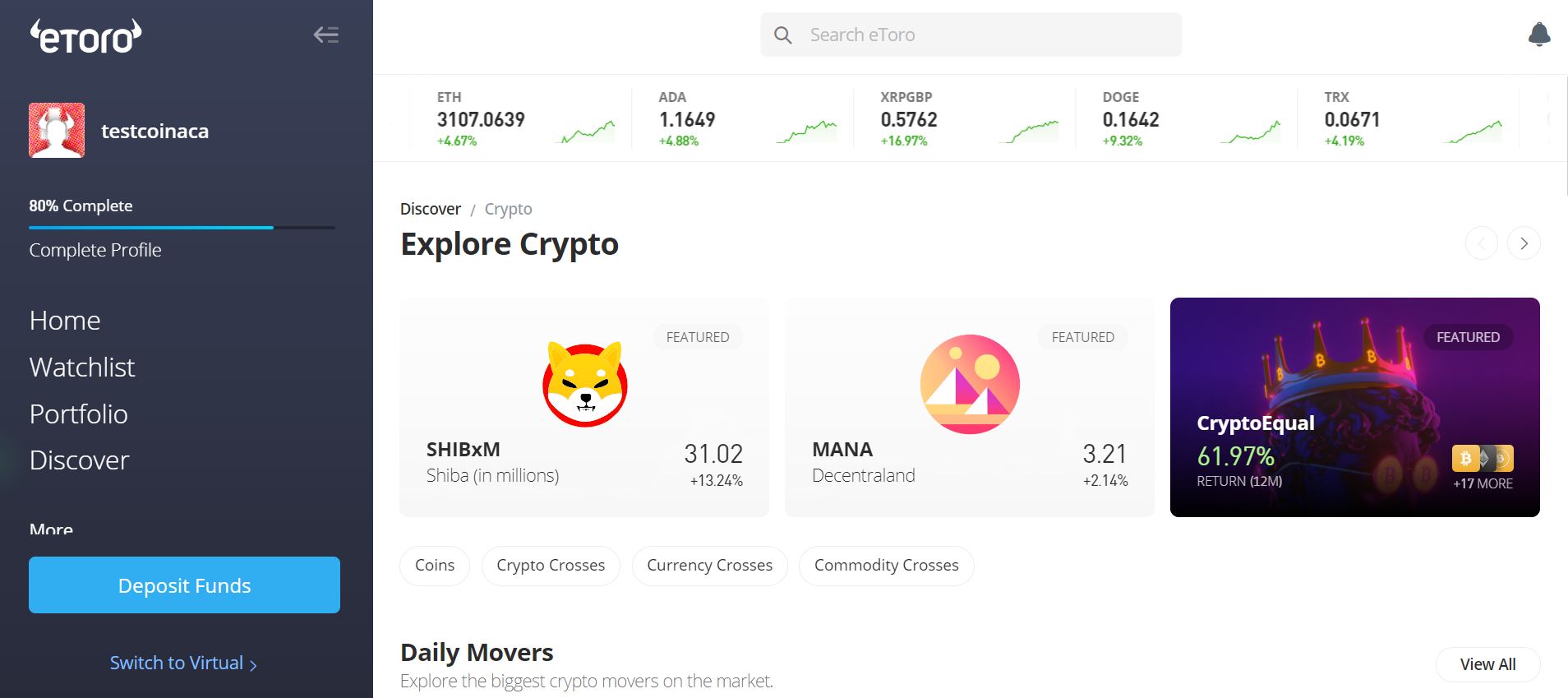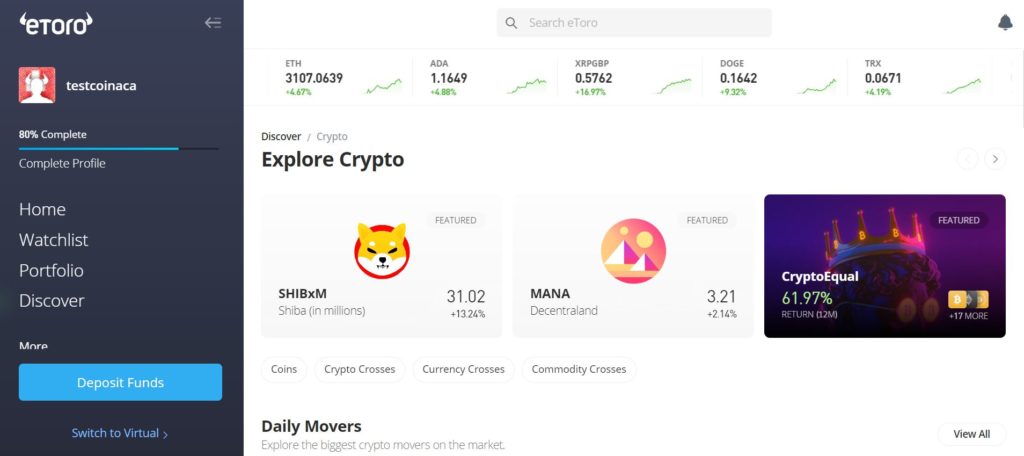 Step 2: Indicate the amount that you want to allocate and click on "Open trade".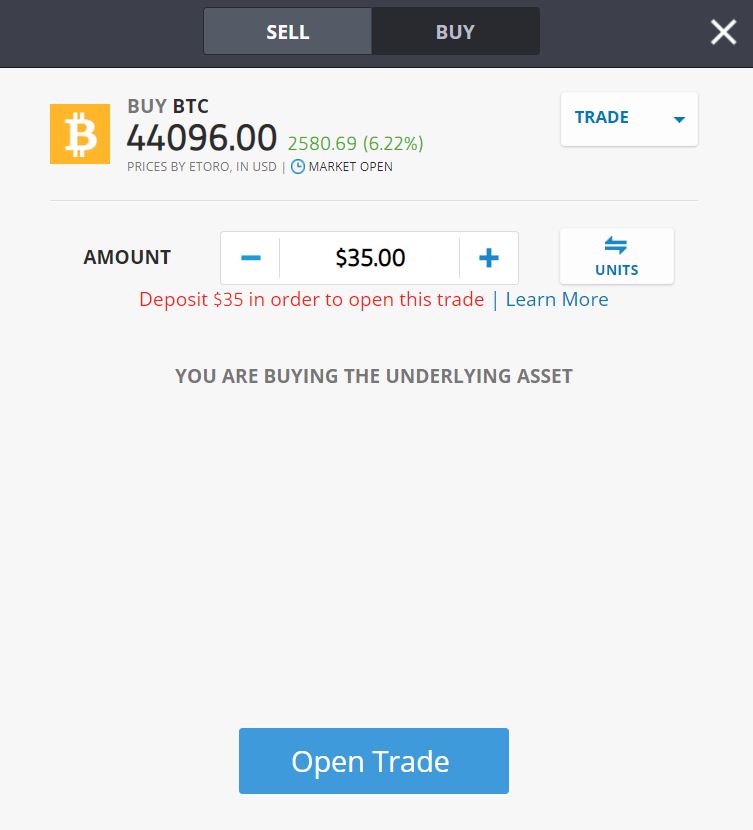 Your position is now open, you can immediately check your profit & loss by going into your wallet.

If you wish, you can put in place a "Stop-loss" as well as a "Take profit", or simply terminate the position yourself. To do that, go to your "Wallet" tab located on the left of your screen, then click on the position that you want to modify.


To terminate your position: click on the red cross located on the right side of the screen
To add a Stop Loss: click on the "SL" tab
To add a Take Profit: click on the "TP" tab
👉 Register with eToro and save on fees
eTorox: A platform entirely dedicated to cryptocurrencies
The eToro trading platform launched its own cryptocurrency exchange, eTorox. It is built for professional traders, companies, and wealthy users. eTorox is solely dedicated to FIAT money and cryptocurrencies.

eTorox currently offers stable cryptocurrencies (stablecoins), that are pegged to FIAT currencies:
EURX-USD (eToro Euro)
GBPX-USD (eToro Pound sterling)
GLDX-USD (eToro Gold)
NZDX-USD (eToro New Zealand Dollar)
SLVX-USD (eToro Silver)
CADX-USD (eToro Canadian Dollar)
CHFX-USD (eToro Swiss Franc)
JPYX-USD (eToro Japanese Yen)
AUDX-USD (eToro Australian Dollar)
In addition to these 9 assets, eTorox offers to trade more than 27 cryptocurrencies, such as BTC, ETH, XRP, LTC, or even EOS.

eTorox is a secure and reliable trading platform. It is unfortunately not affordable for standard users, but rather for a specific profile of investors. Note that France isn't among the list of countries accepted by the platform.

To check if your country is accepted by eTorox, click on this link.
Our view on eToro's platform
Positive elements:
Easy to use
Reliable and secure
Six markets available (cryptos, shares, indexes, …)
"CopyPortfolios" functionality
Negative elements:
Very high fees and commissions for cryptocurrencies
Withdrawal fees
Only 19 cryptocurrencies are available
Minimum deposit of $200
Conclusion
eToro is a very reliable platform, used by more than 20 million people and known all over the world. However, fees related to cryptocurrencies are very high, somewhere between 0,75% and 5%. This is much higher than what most other crypto exchange platforms offer (such as Binance or FTX).

Although many different investment options exist, such as shares, ETFs, and currencies, there are only 19 cryptocurrencies available to trade on the exchange, which is relatively low compared to Binance for example, which offers more than 300 of them on its platform.

eToro is a very good platform for individuals that want to diversify their investments in different markets and copy the portfolio of specific investors. But for those that only want to acquire cryptocurrencies, we would not recommend this exchange.

👉 Register with eToro and save on your fees