Introduction to the platform
Launched in 2017, DYDX is a decentralized exchange (DEX) developed on the Ethereum network. This DEX allows its users to swap crypto currencies on different financial products, such as Spot, Margin, and Perpetuals/Futures. Moreover, it has numerous attractive features such as staking, a governance system as well as a borrowing option.
Currently, it has an estimated 2.3 billion dollars daily trading volume and more than 465,000 trades are performed daily. In this article, we will show you how this DEX differs from its competitors.

Advantages and drawbacks
Positive feedbacks :
Fast, secure, and very efficient
Low transaction fees
Phone friendly interface
Up to x25 leverage
Negative feedbacks :
Gas fees for initial deposits (USDC & DAI)
Few cryptocurrencies available

Borrow cryptocurrencies on DYDX
The "Borrow" option is available on the DEX and allows you to borrow cryptocurrencies. When you deposit an asset on your Sport or Margin portfolio, it is automatically taken over by a "global lending pool", where borrowers can then borrow the same asset.
How to borrow cryptocurrencies?
First, go to the "Spot/Margin" section. Then, click on the "Borrow" tab at the top of the page.

Now select the digital asset you want to borrow. You have the choice between Ether (ETH), USD Coin (USDC), and DAI. After completing this field, take knowledge of the displayed "interest rate (APR)", as well as the "Account Collateralization". The "Interest Rate" tab represents the APR rate you will have to pay to lenders (depending on your loan).
Regarding the "account collateralization", it represents your collateral ratio. This collateral ensures that the lenders' withdrawn funds are insured. Additionally, the platform does not allow you to borrow with a collateral ratio smaller than 125%. Once your loan is granted, if your collateral ratio falls below 115%, your collateral is automatically liquidated. It is therefore very important to keep a close eye on these data.
Finally, you can also deposit an asset (different from your loan) in the "Deposit" part, to increase your collateral ratio. For example, it can be necessary in the case where your ratio is below 125%.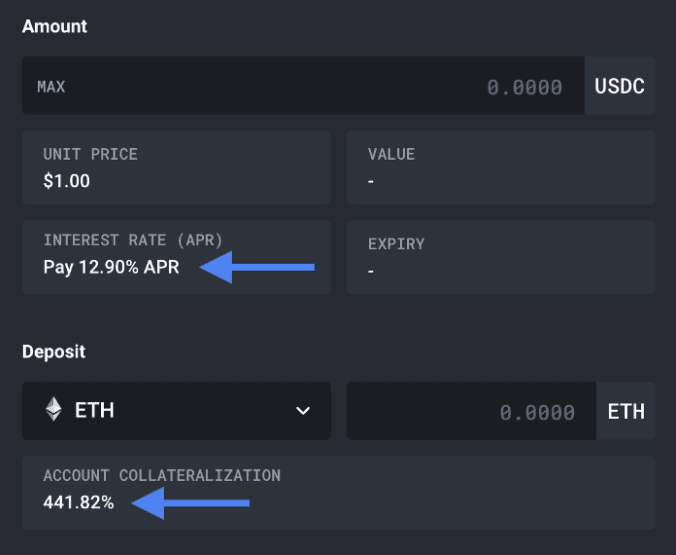 To learn more about this functionality, please click on this link
Staking – Earn interests thanks to your crypto currencies
DYDX offers the possibility to stake cryptocurrencies and collect interest, but also participate in the governance system (detailed lower in the article). Note that this staking and reward system operates on cycles called "Epochs". Each of these epochs lasts 28 days and starts after the end of the previous cycle. Moreover, the rewards in each pool can be claimed 7 days after the end of each epoch.

Your earnings are calculated according to the share of USDC each user holds in a pool and are displayed on your dashboard.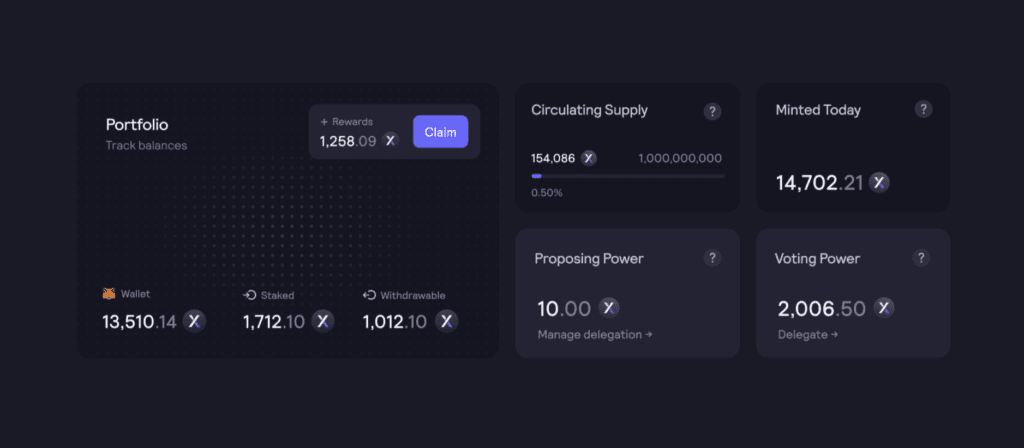 Up until now, the available liquidity pool locked nearly 300 million USDC.
How to stake your crypto currencies on DYDX?
First, go to the main interface and click on the "Governance" tab.

Then, click on "Stake" and indicate the amount of your allocation.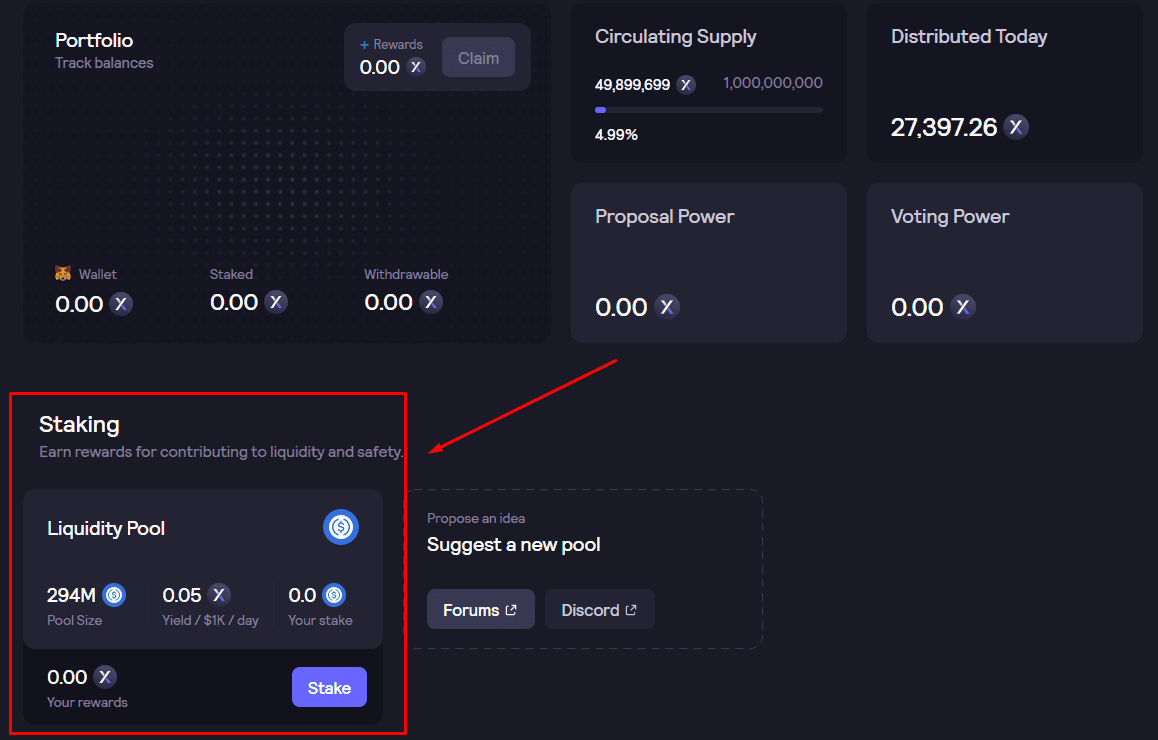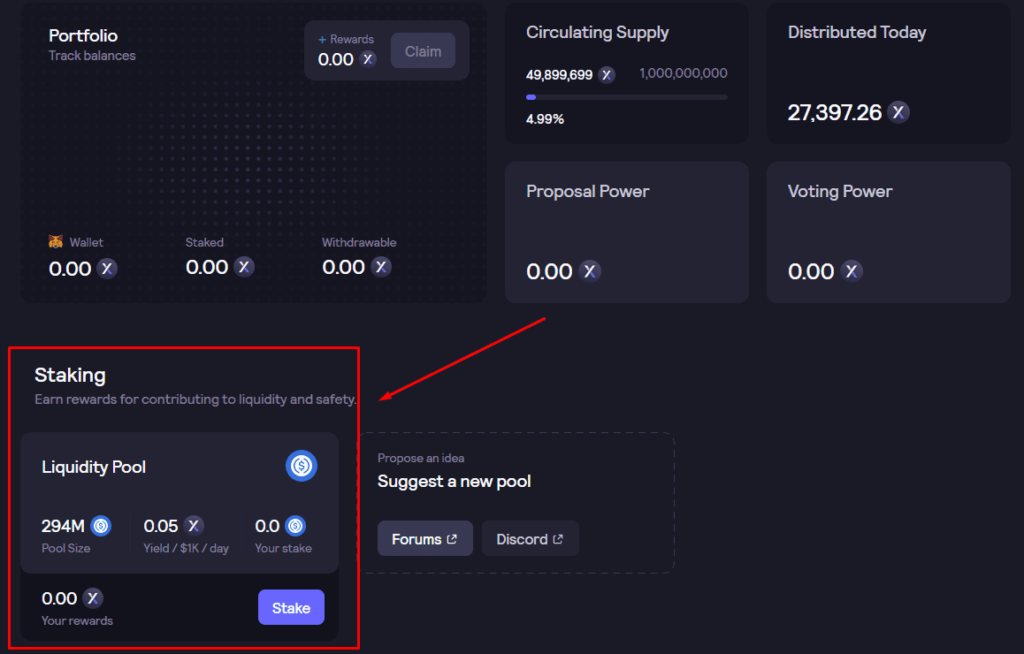 Know that to withdraw USDC from a liquidity pool, it is imperative to claim it 14 days before the end of each epoch. This period is called the "blackout window". Indeed, withdrawals cannot be made during this "blackout window". Otherwise, you have to wait until the next epoch to carry out the same process.
Trading rewards
DYDX also allows you to be rewarded depending on your trading activity. The biggest traders that negotiate on the Layer 2 protocol (perpetual) can try and win a certain amount of DYDX tokens. 25% of the initial coin supply (250 million) is allocated for this type of reward and a total of 3.8 million DYDX are distributed per cycle (28d).

In other words, the higher your futures trading volume, the more likely you are to be at the top of the leaderboard and therefore be rightfully rewarded.


As with staking rewards, your earnings are displayed on your dashboard. They can also be claimed 7 days (waiting period) after the end of each epoch.
DYDX – The DEX governance token
Launched on the 8th of September 2021, the DYDX token introduces itself as being the DEX governance token. Indeed, by staking these tokens, investors have the opportunity to influence future decisions taken by the protocol, regarding its updates, and ecosystem modifications.
Holders get up to a 50% discount on their trading fees. This discount is applicable from 100 DYDX held in a wallet.
Currently, as we write this article (09/23/2021), the cryptocurrency is trading at around 13.7 dollars and has a market capitalization of about 780 million dollars. For investors willing to buy it, you can find this coin on many exchanges, such as Binance, FTX, Kucoin, or Huobi.
How to use the DYDX exchange
It is time to explain to you how to use it and how to use the different features it offers. As mentioned above, two types of financial markets are available: the Spot/Margin and the Perpetual.
Spot/Margin Market
Deposit funds on your Spot/Margin portfolio :
First, click on "Trade", then on the "Margin" tab, located at the top right of the page.

Then, connect your wallet to DYDX, click on the "Portfolio" tab then on "Deposit". Note that you can perform a direct deposit on the Spot and Margin dashboards (the process stays the same).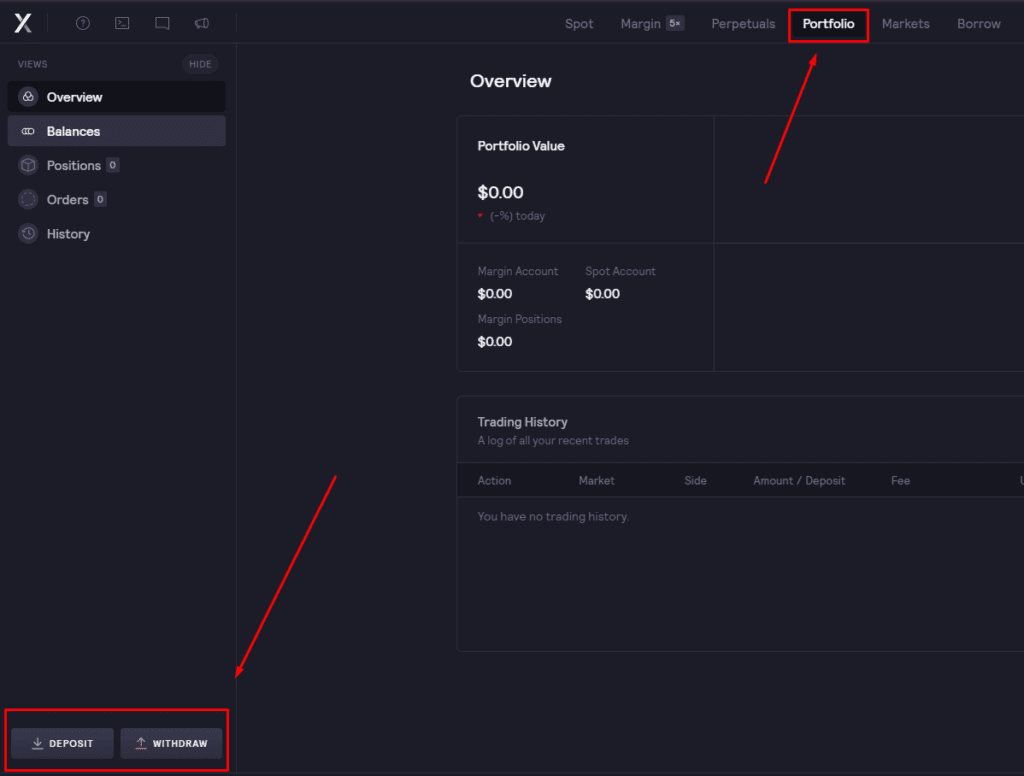 You must now select the source of your deposit (MetaMask or other), your destination wallet (Spot or Margin), and then choose the asset of your choice. For those willing to deposit USDC or DAI, you must first enable them by clicking on "Enable USDC/DAI".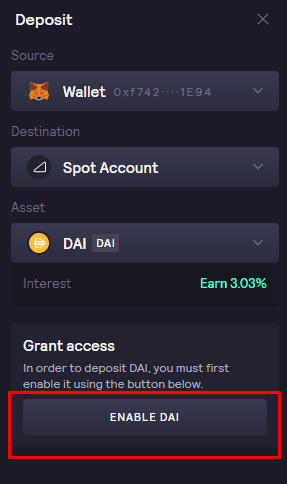 You will then be redirected to a Metamask tab (or other) where you will have to pay gas fees and confirm the transaction. Do not worry, this will only be necessary for the first deposit.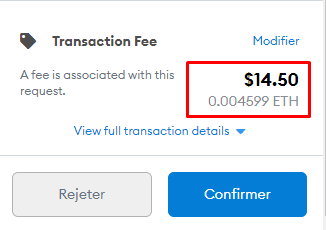 Once this step is done, go back to DYDX and finalize your deposit. You then have to set the amount of the cryptocurrency you want to deposit.
As you surely noticed, each asset has an assigned interest rate. Indeed, whenever you deposit cryptocurrencies into your DYDX balance, you automatically lend money to traders that are using the "Borrow" option and thus receive interest.

Finally, click on "Confirm Deposit" to acknowledge the deposit.
Well done, your deposit has been successfully performed. If you want to transfer coins from Spot to Margin, click again on "Deposit", however, select them on the "Source" and "Destination" fields.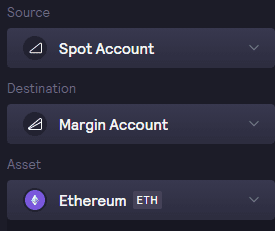 Trade on Spot/Margin :
Now choose to trade on "Spot" or "Margin". In both cases, only three trading pairs are available: ETH-USDC, ETH-DAI, and DAI-USDC. Once on the concerned trading interface, select the pair of your choice.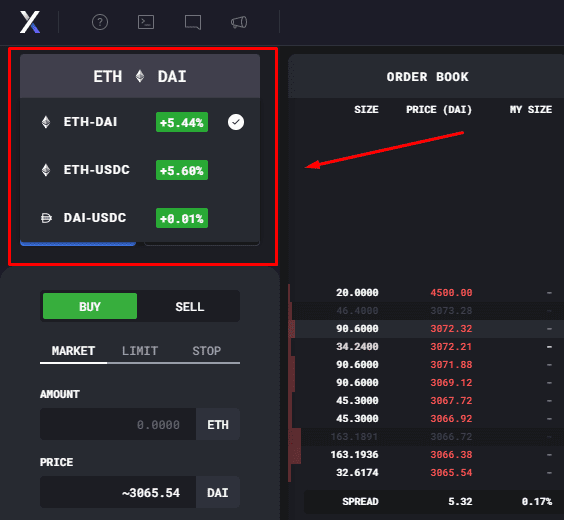 If you are interested in Margin, you have the possibility to bet on the increase (LONG), but also to bet on the decrease (SHORT). Moreover, you can perform between x1 and x5 leverage, which is more than enough for such a volatile field. After setting these parameters, set the buy order (Market, Limit & Stop), fill in the amount, then click on "Place Order" (Spot) or on "Open Position" (Margin).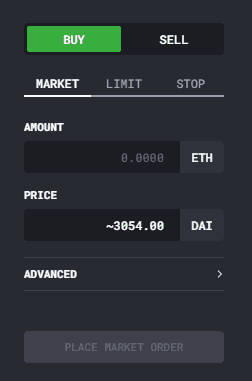 Well done, your order has been registered. If you want to sell a certain amount of your assets, just click on "Sell", then indicate the amount.
DYDX Perpetuals/Futures
This type of contract was added almost one year ago. It is based on Layer 2 of the Ethereum blockchain and is optimized by the "StarkWare" protocol. Until now, these contracts support more than 24 crypto currencies pairs, such as BTC-USD, ETH-USD, or LINK-USD. More pairs will be available in the future.
Additionally, you have the opportunity to use up to x25 leverage, which multiplies your bet by 25. Note that this is only available for certain crypto currencies. Most of them are capped between x5 and x10.
Important: This mechanism exposes you to extremely high volatility. It is for this reason that we recommend you not to perform any leverage greater than x5.

Trading fees
With futures, traders are exposed to transaction fees estimated to 0.05% for "Makers" and 0.10% for "Takers".
Nonetheless, a discount on transaction fees is applied for any trader betting more than 1 million dollars within 30 days. In addition, DYDX holders get a discount on their trading fees. Indeed, this discount starts at 3% for 100 DYDX, up to 50% for 5 million DYDX held.
How to trade futures?
First, click on the "trade" tab located at the top right of the main interface, then on "Perpetuals".

Second, connect your wallet, then create your "perpetual" account by filling in additional information, such as your "Username" and your "Email". Registration only takes a few seconds.
After that, click on the "trade" tab to access the trading interface.

Once on the page, select the crypto currency that you want to buy, amongst the 24 that are available. For example, we select the "ETH-USD" pair.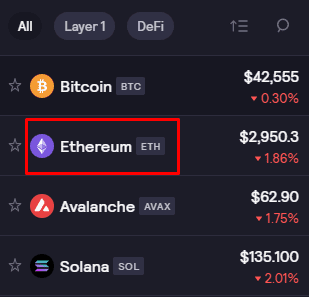 Then, if it is not already the case, you must deposit funds into your account. To do this, just click on "Deposit", fill in the amount of your deposit, then click on "Confirm Deposit".
In case you are making your first deposit, you need to enable USDC by clicking "Enable USDC", then confirm the transaction on your wallet.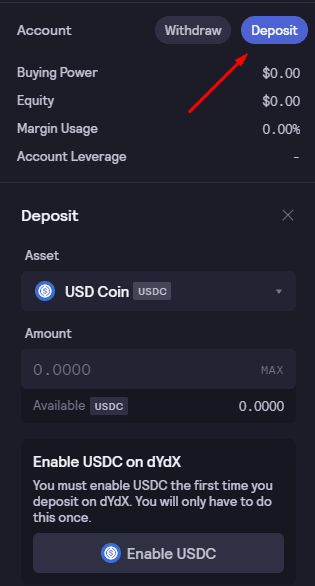 As a reminder, the cryptocurrencies deposited in your perpetual portfolio cannot be used for Spot/Margin.
Now that you hold currencies, you can continue your purchase.
As on other DEXs/CEXs, select your type of buy order (Market, Limit, Stop), specify the amount of your asset, your leverage, and then click on "Place Order".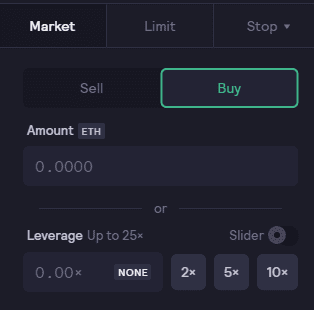 Conclusion : Our opinion on the DEX
DYDX is a great decentralized exchange (DEX), provided with a secure and efficient ecosystem, allowing its users to swap their cryptocurrencies with ease. The approach is quite different from other existing Dexs in the DeFi ecosystem. Indeed, it has many financial products and tools usually only found on centralized exchanges (CEX). It is particularly for this characteristic that it distinguishes itself from its competitors.
Moreover, the DEX has an automated lending and borrowing system that gives a premium to traders and investors using it. However, other DEXs also provide features that are very interesting, such as Farming and Swap, and they still remain serious competitors.