What is Bybit?
Bybit is an online trading platform, specialized in the exchange of derivatives for cryptocurrencies. Created in March 2018, this platform reached a user count of more than 1.6 million in 2021.
The main objective of the company is to provide a service focused on customer satisfaction, by offering an intelligent, intuitive, and innovative trading platform. Bybit is therefore dedicated to professional traders as well as individual users all around the world. The platform prides itself on being available for its customers at any moment. As an illustration, a 24/7 chat is accessible on Bybit.
While online trading platforms specialized in the exchange of digital assets are more and more common, Bybit still manages to differentiate itself on the market. Indeed, the specificity of this exchange platform is to allow for margin trading, by offering the possibility to place orders with leverage effects that can go up to x100.
Bybit: key elements
Website:

Bybit.com
Fees and commissions: Low
Volume d'échange quotidien : ~ 11,802 milliards d'euros
Daily average volume: ~ 11.802 billion euros
Available assets : 5

Fees and commissions on Bybit
Two types of fees are to be taken into account on Bybit: withdrawal fees and trading fees (transaction fees). The latter can differ depending on the currency used and the type of transaction being enacted.
Withdrawal fees
When it comes to withdrawal fees, it all depends on the currency you wish to withdraw.
BTC : 0.0005
ETH : 0.01
XRP : 0.25
EOS : 0.1
USDT : 10
Trading fees
On Bybit, transaction fees differ depending on the type of trading you make on the platform. There are 2 different pricing schemes that go as follows:
Makers

: these traders announce the price at which they wish to sell or buy their cryptocurrencies on the market. Their orders will therefore be

executed with a delay

. Makers

gain an extra 0.025%

of the transaction amount

Takers: on the contrary, these traders buy and sell at the market price. Their orders are therefore executed immediately. However, their transaction fees are less advantageous. They pay the platform 0.075% of the transaction amount
Click here to learn more about makers and takers.

Our assessment of the Bybit platform
Pros
Intuitive, user-friendly interface

24/7 customer service
iOS and Android mobile apps
Cons
Few available assets

High withdrawal fees
Minimum of €20 to buy crytpo currencies

Different types of contracts
Three different types of trading contracts are offered on Bybit:
Inverse perpetual contracts
USDT perpetual contracts
Inverse futures contracts
To access these contracts, simply go to the Bybit homepage, and click on the "Contract info" tab at the top of the screen.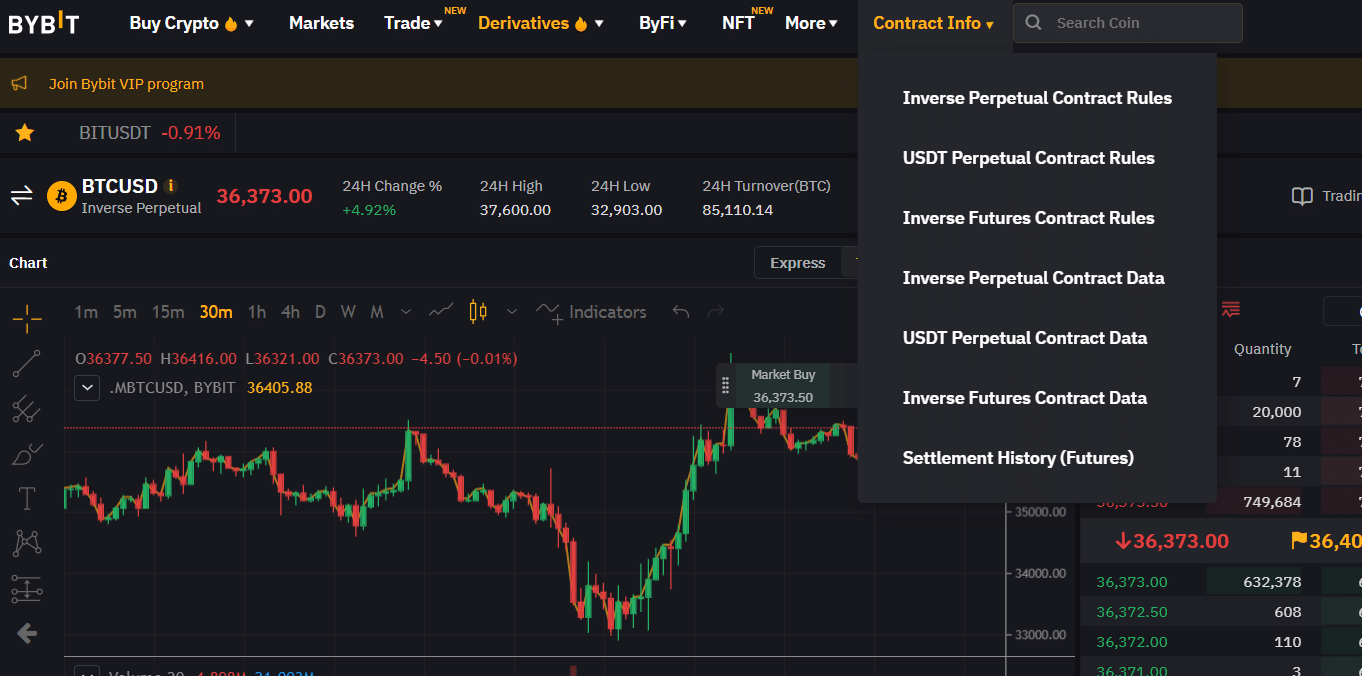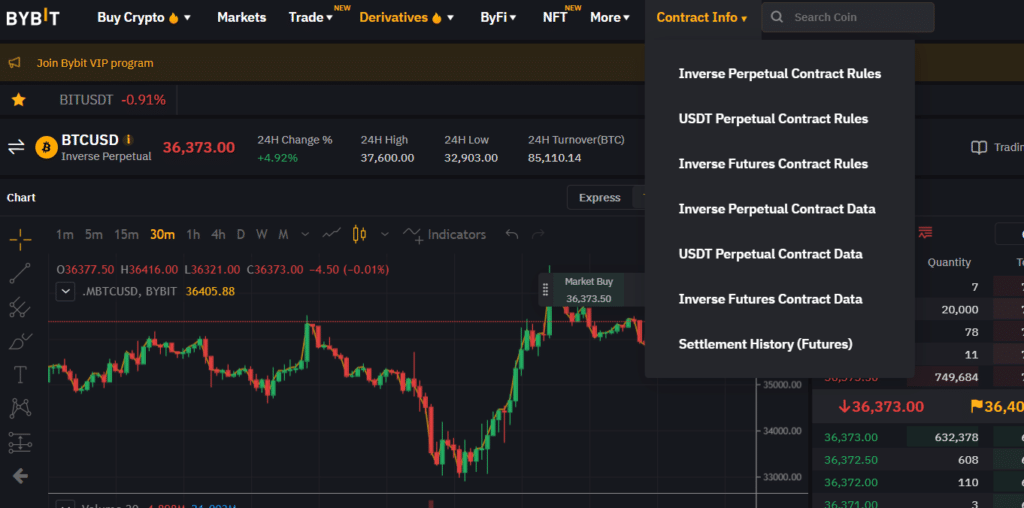 Inverse perpetual contracts
On Bybit, a perpetual contract corresponds to a cryptocurrency derivative. Its specificities are that, on the one hand, it does not have any expiration or settlement date, and on the other, this contract copies a margin-based spot market. Therefore, the buying or selling price is fixed on the reference indicator of the cryptocurrency linked to the derivative in question.
With this contract, you bet on currency prices directly with cryptocurrencies. Your gains or losses will therefore be in BTC, ETH, EOS…
USDT perpetual contracts
A USDT perpetual contract functions in the same way that a perpetual contract does. With this contract, you bet on prices going up or down for cryptocurrencies such as Bitcoin, Ethereum… The only difference is that your gains or losses will be in USDT in this case.
Inverse futures contracts
An inverse futures contract is a trading operation engagement for an asset. The price of the contract is fixed today, but the asset will be purchased and delivered in the future. On Bybit, futures contracts are only offered every three months.
👉 Click here to find out more about this contract's terms and conditions.

Live analysis tool
In order to use the platform to its full potential, Bybit provides a Trading View window on the platform's homepage, which allows users to follow in real-time the prices of the assets available in the interface.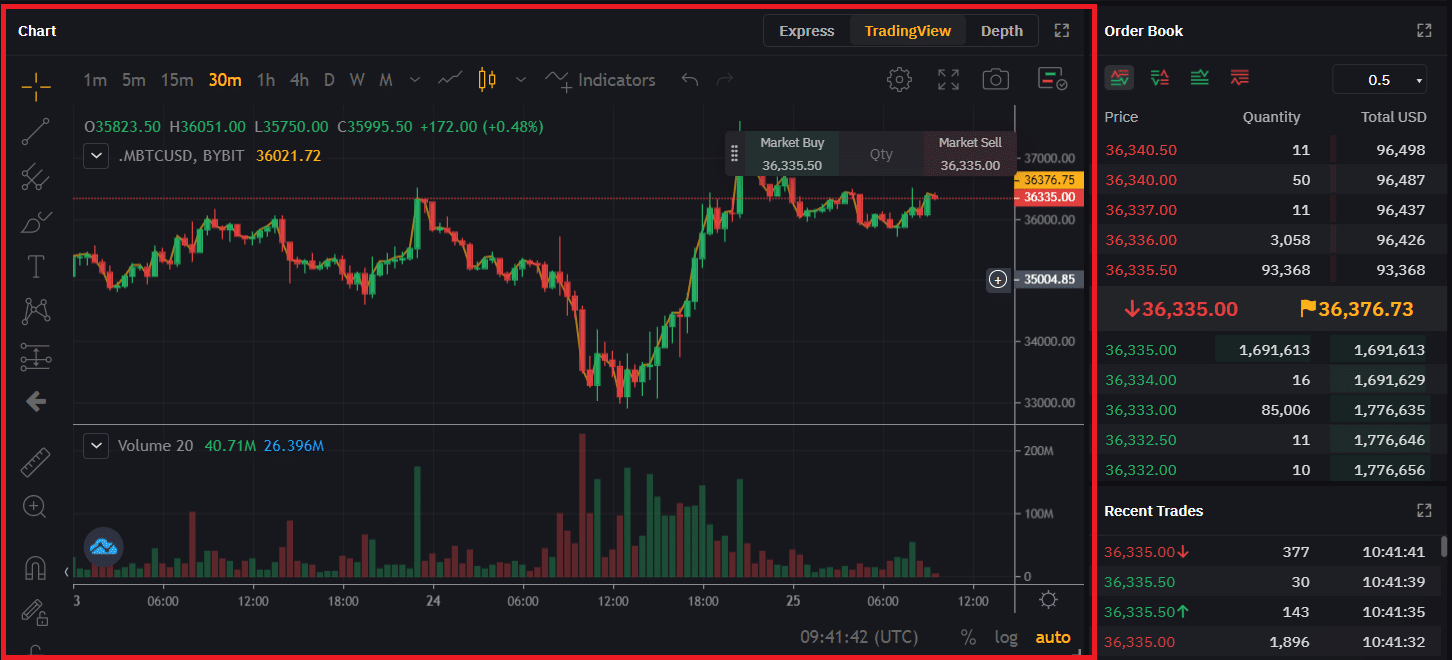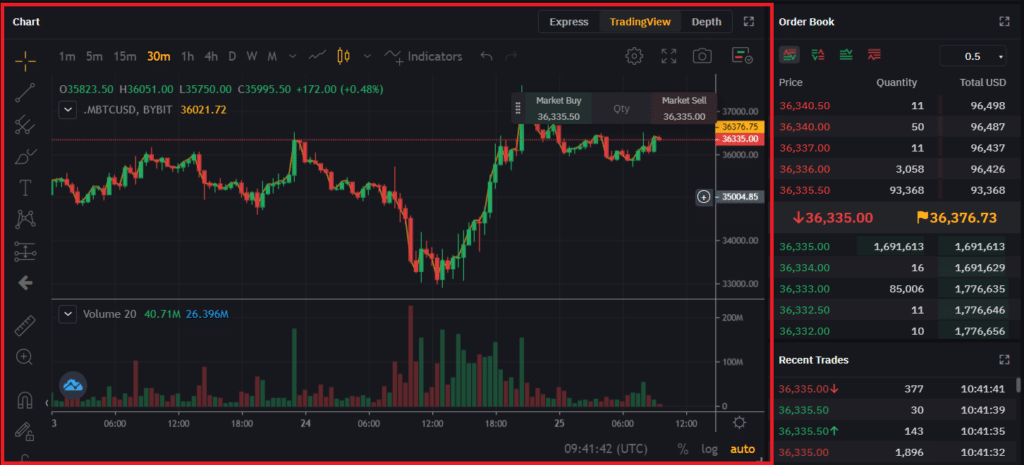 Furthermore, on the platform's homepage, you can also access the order book, keeping a record of the latest trades made on the platform in the currency you are positioned on.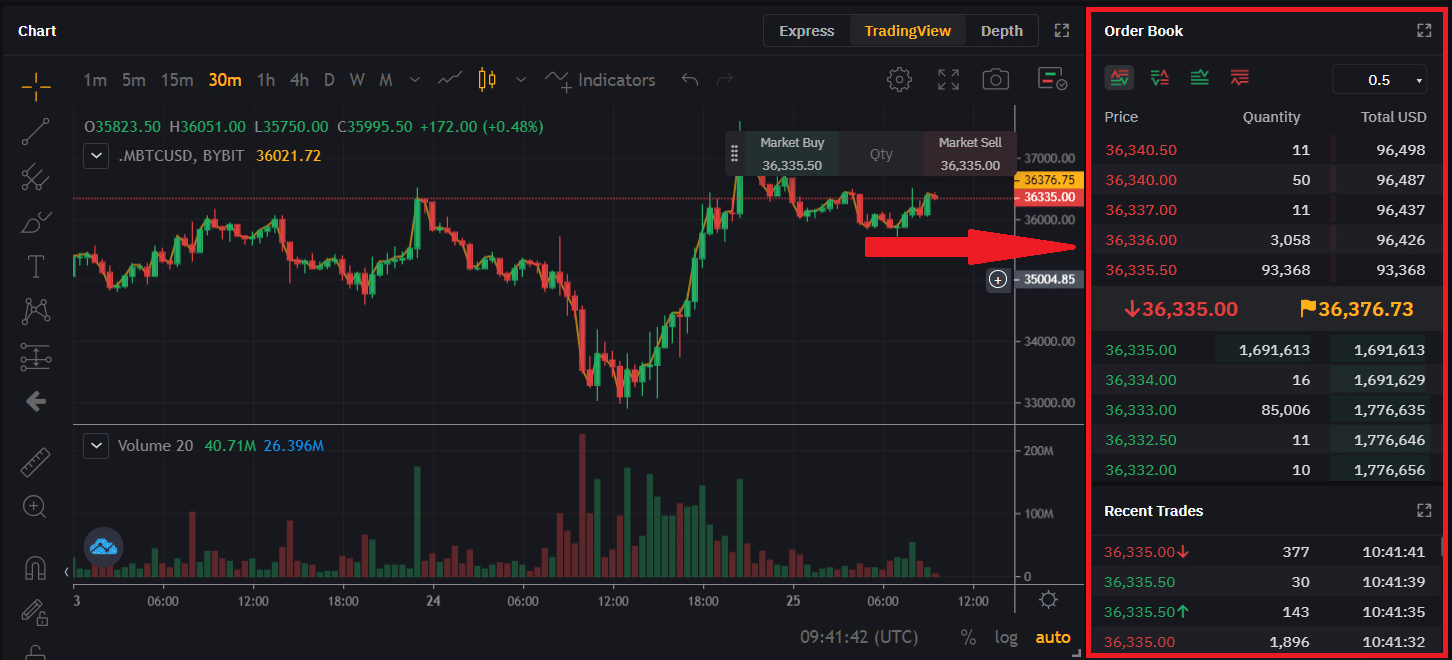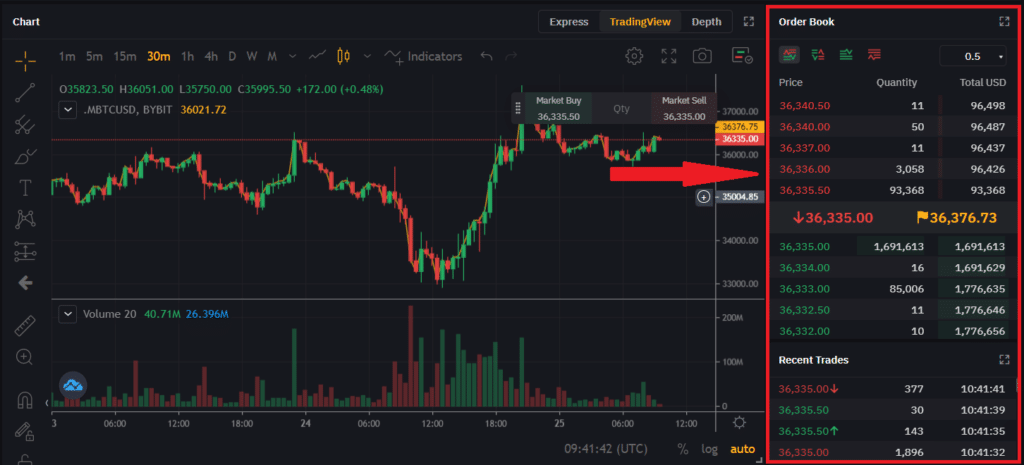 How to sign up for Bybit?
The sign-up process on Bybit is quite straightforward. Here are the steps to follow.
Upon arriving at Bybit.com, a window will appear allowing you to enter your email address and create a password.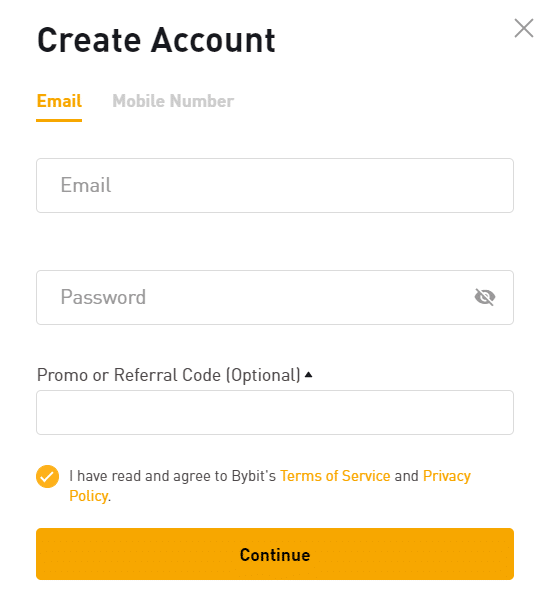 The platform will then ask for verification to finalize the creation of your account. You'll find this code in the inbox of the email address you used to create it.
👉 Use this link to get an extra $10 when signing up for Bybit!

How to secure your Bybit account?
To access your security settings, first, go to your account tab at the top-right of the platform's homepage. Then, click on "Account & Security".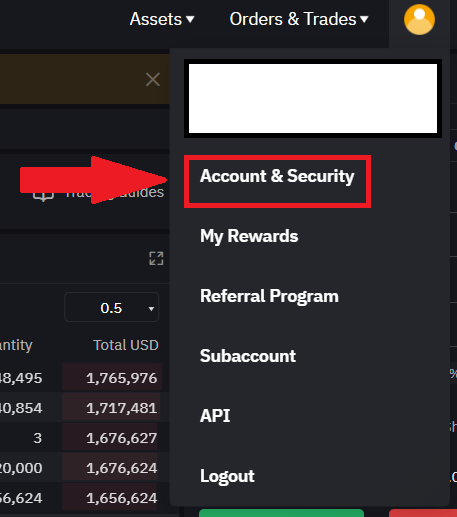 There are several ways to secure your account on Bybit. The platform offers two-factor authentication (2FA) either via SMS, email, or Google Authenticator.


Applying a two-factor authentication (2FA) to your account can be essential to truly secure your data and assets on the platform. The fact that Bybit offers this option is a good sign of the overall platform's security.

How to deposit funds on Bybit?
Once again, several functionalities can be used to deposit currencies on Bybit. First of all, go to the "Assets" tab at the top-right of the screen and click on the account on which you'd like to deposit funds. In our example, we are going to click on the "Spot Account" button.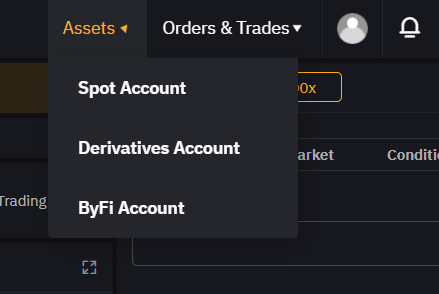 In this part of the platform, you will have an overview of your current equity. This is also where you will be able to deposit, withdraw and transfer assets.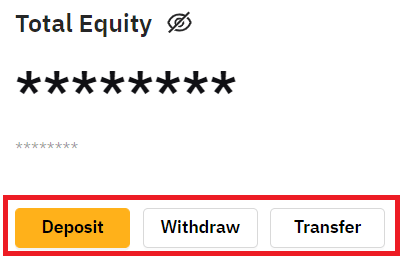 Import cryptocurrencies on Bybit
In order to have cryptocurrencies on your Bybit account, the first possibility is to deposit assets you already own on a wallet. To make a link between the wallet and the platform, select the currency for which you want to make the deposit and click on "Deposit".


The platform will then provide a QR code corresponding to the address at which you need to make the deposit. Warning: you must use this address for the selected currency only. If you send ETH to an address specifically made for BTC, your assets will be lost forever.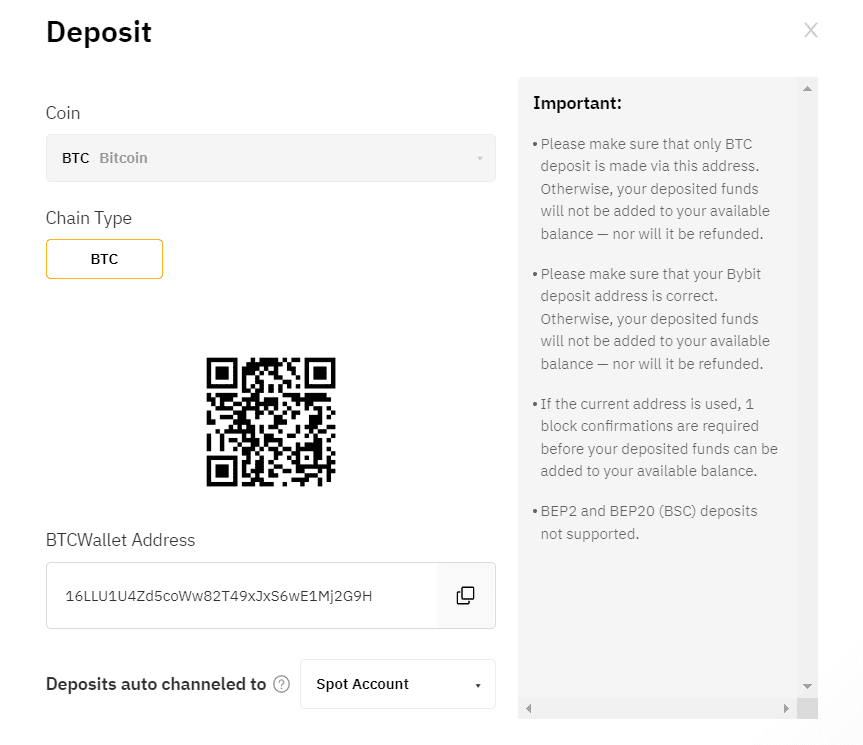 Buy cryptocurrencies with FIAT currencies
In order to obtain cryptocurrencies directly from the Bybit platform, hover on the "Buy Crypto" tab at the top-left of the homepage, and click on the "Express" button. You will then be able to buy cryptocurrencies using euros, dollars, or other FIAT currencies, through a debit card payment, bank transfer, or using ApplePay. Please note that a minimum of €20 is required to buy cryptocurrencies on Bybit.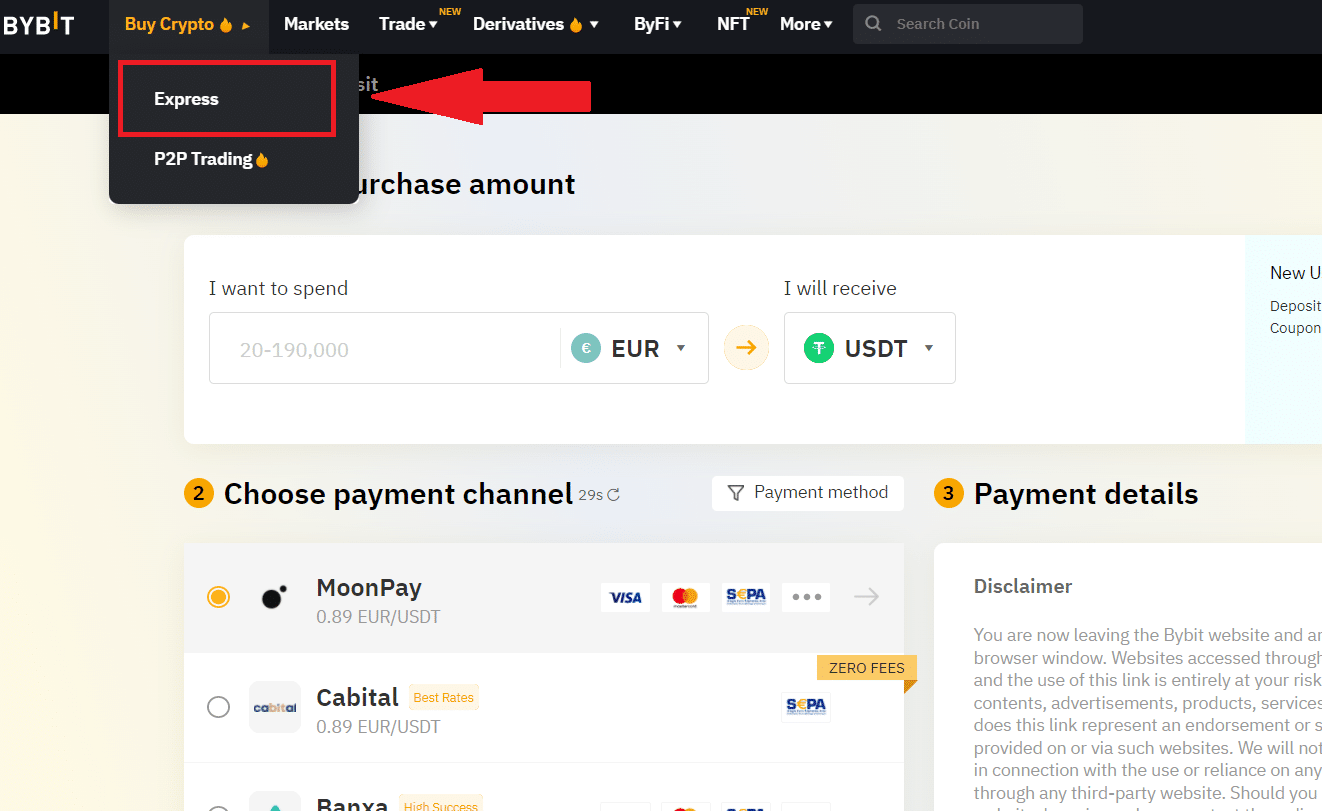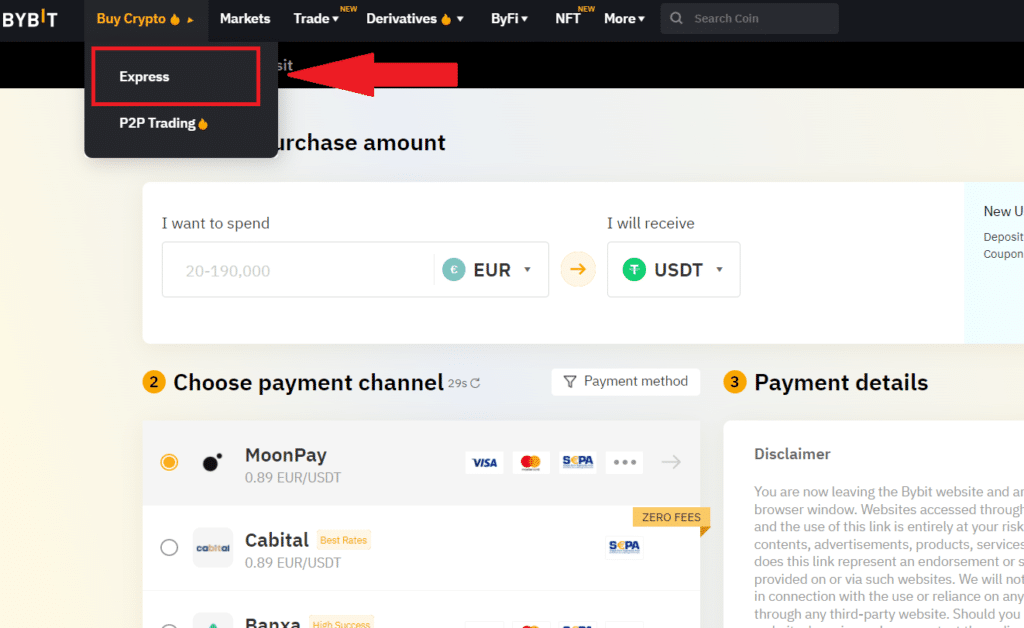 Transfer cryptocurrencies
In the "Assets" section seen previously, you have the possibility to exchange cryptocurrencies directly on the platform by clicking the "Transfer" button.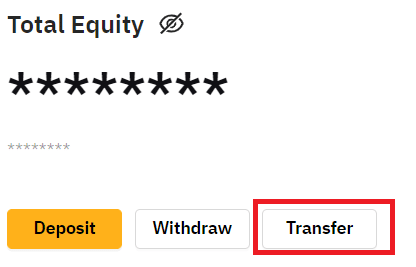 How to place an order on Bybit?
There are three different types of orders available on Bybit:
"Limit" orders

"Market" orders
"Conditional" orders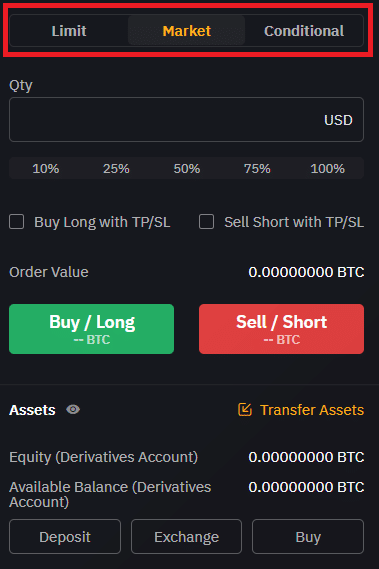 To place your order, you first have to select the type of order you wish to make, the amount you will place on it, as well as the leverage effect that you'd like to apply to it if you wish to do so.
"Limit" orders
The goal of a limit order is to specify the trading price that is the most likely to appeal to the market demand (highest buying price, lowest selling price). Traders use this type of order to minimize transaction costs. It is therefore usually used by high-capital traders, and those who wish to remain in a position for a relatively long time.

"Market" orders
Market orders are executed instantly. The best price on the market is the one that is selected for the trader in this case. Transaction costs are higher, but operations are completed much more quickly. This type of order is often used by less experimented traders, or those who have a smaller capital to invest.
"Conditional" orders
A conditional order is executed once a predefined condition is fulfilled by the trader. This instruction can be a benchmark price, a price index, or the latest negotiated price.
Click here to sign up for Bybit.
How to use leverage effects on Bybit?
Leverage effects are one of Bybit's main features. Indeed, the platform allows multiplying positions up to a factor of x100. While this option exposes users to important risks, it also enables the most experimented traders to make great profits, even with a small initial capital.
By using the leverage effect, a trader can place a position that will be much more important than initially invested. Gains can therefore be multiplied as well as losses.
Two functionalities are offered to users in order to place positions with a leverage effect:
Long Leverage
Short Leverage

Long leverage, or leverage buying, is a way of betting on an asset's price going up. On the contrary, Short Leverage, or leverage selling, corresponds to a trader betting on this price going down.
In order to place an order with a leverage effect, first select the type of margin you wish to use. By using the cross margin option, all available balance is automatically used to avoid liquidation. Cross margin does not allow you to manually edit the leverage effect of your order, which will automatically place it at the riskiest level. You can however change this in the "Trading Settings" of the platform.

To select the margin mode you wish to use, click on the "Cross" button on top of the order placement window. A "Margin Mode" window will then appear: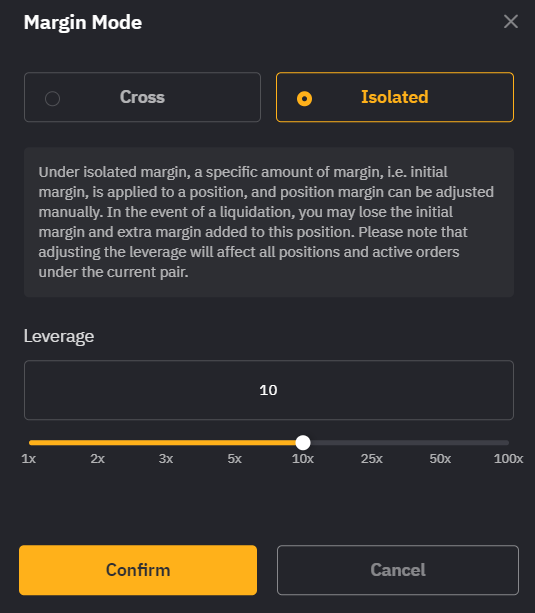 You will then be able to select another margin mode: the "Isolated" mode. With this option, the currency selected for your order will be the only one to be tapped into in case of a liquidation. This window also enables you to manually adjust the leverage effect settings.
Risk management
As described earlier, trading with the use of leverage effects can be a risky move. This is why efficient risk management is crucial in the development of a good trading strategy.
In this regard, one useful tool is strongly recommended when placing orders. Namely, the TP/SL. When you bet on prices going up "buy long" or down "sell short", TP (Take Profit) will give you the possibility to close a position when a profitability threshold is reached. Conversely, SL (Stop Loss) will close a position when a loss gets too important, in order to save your wallet.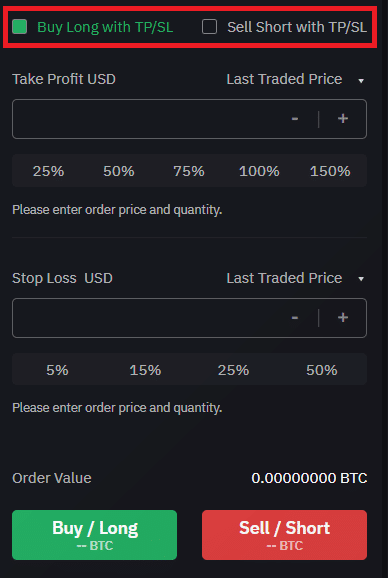 When the settings are satisfactory, click on "Buy / Long" or "Sell / Short"; a summary window will then appear with a detailed recap of your order, which you will then be able to confirm.
Click here to sign up for Bybit.

Conclusion: our final opinion of Bybit
Bybit is a complete trading platform, offering intuitive functionalities and a very responsive customer service. However, Bybit is a platform that will appeal more specifically to experimented traders. Its main feature is the use of leverage effects that can go up to x100, although it is important to keep in mind that this option can be very risky for unexperimented traders.
Moreover, the diversity of assets available on Bybit is quite low when compared to other platforms offering similar services. Transaction fees are not particularly high but still higher than on other platforms like Binance, Bitmex, or FTX, the latter also being specialized in the trade of cryptocurrency derivatives.
👉 Use this link to get an extra $10 when signing up for Bybit!

Frequently asked questions about Bybit
What is Bybit?
Bybit is an online trading platform. Specializing in the trade of cryptocurrency derivatives, it offers a service tailored for professionals of this sector, with leverage effects that can go up to x100!
Can we trade cryptocurrencies on Bybit?
Absolutely. Bybit specializes in the trade of cryptocurrencies and crypto-derivatives. Five currencies are available in this regard: BTC, ETH, EOS, XRP, and USDT.
Is it safe to trade on Bybit?
The Bybit platform is entirely safe. While it is still recent (created in 2018), it never suffered from any security breach. Fund withdrawals are made three times a day on hardware wallets, and the platform offers two-factor authentication (2FA) to secure its users' data and assets.