What is Bitstamp ?
Launched in 2011 by Damikan Merkak and Nejc Kodrič, Bitstamp is a trading platform specialized in cryptocurrencies trading. Indeed, you can find a total of 32 assets on it, such as Bitcoin, Ethereum and many others. Initially, the company was founded in Slovenia, then moved to the UK in 2013, before finally end up in Luxembourg within 2016.
Furthermore, Bitstamp is considered to be the world's first "fully licensed" Bitcoin (BTC) exchange.
In this article, we will go over the entire range of features available on Bitstamp, which currently ranks 11ᵉ in the CoinMarketCap rankings, with a daily trading volume of about $560 million.
Key information about Bitstamp
Website: bitstamp.net
Fees and commissions : High
Available assets: 32
Daily trading volume: $560 million
Fees and commissions on Bitstamp
Trading fees
Trading fees are estimated at 0.5% for each transaction (purchase) made on Bitstamp. In fact, this rate is the same for all the cryptos present on the site.
Compared to trading platforms like Binance or FTX, the Bitstamp exchange offers much higher transaction fees that are less affordable for their users.
Banking fees
As we will see later in the article, Bitstamp offers the purchase of cryptocurrency directly by credit card. Although this method is much faster than wire transfers, it is nevertheless subject to particularly high transfer fees. Indeed, for each purchase via credit card, Bitstamp applies a 5% fee.

Advantages and disadvantages of the Bitstamp platform?
Positive feedback:
Reliable and secure platform
Easy to use
High liquidity rate
Mobile application
Negative feedback:
Relatively high fees
Only 32 cryptocurrencies

Staking Ethereum 2.0 (ETH2)
The Bitstamp platform offers its users the possibility of staking quantities of cryptos, to obtain greater or lesser reward rates.
However, this staking has the particularity to accept only the currency "ETH2" (Ethereum 2.0). Indeed, if you want to stake, you must exchange your Ethereum (ETH) for ETH2 tokens. Thereafter, your tokens will be locked until the long-awaited Ethereum 2.0 update is officially published on the blockchain. As you can imagine, you will not be able to withdraw or exchange your wagered tokens until the Ethereum 2.0 upgrade is complete.
The annual reward rate is estimated at a maximum of 6.5%. Nevertheless, ETH2 staking carries certain risks such as loss of tokens, interest reduction and many others. It is therefore strongly advised that you allocate a small percentage of your capital in case you are interested, so as not to expose yourself too much to the volatility and associated risks.
To learn more about ETH2 staking, please click on this link.

Bitstamp mobile app
In January 2019, Bitstamp decided to launch its own cryptocurrency exchange app. This allows more people to access the features available, without having a computer. The application can be downloaded for free on Google Play and the App Store.
The Bitstamp application offers its users a very easy-to-use and intuitive interface, allowing anyone to buy cryptocurrencies with ease. Although the available features are limited, you can still perform major actions, such as buying, transferring and trading cryptocurrencies (Bitcoin, Ethereum…) safely.
How to register on Bitstamp?
If you would like to receive discounts on your transactions, click on the link below:
To begin, please click on the "Register" tab located at the top right of your interface.

Then select the type of account you want to use. You can choose between the :
Personal account : Account dedicated to individuals.
Corporate account : Account dedicated to organizations and/or institutions, containing several users.
In our case and certainly for most of you too, the preferred account type will be the personal account.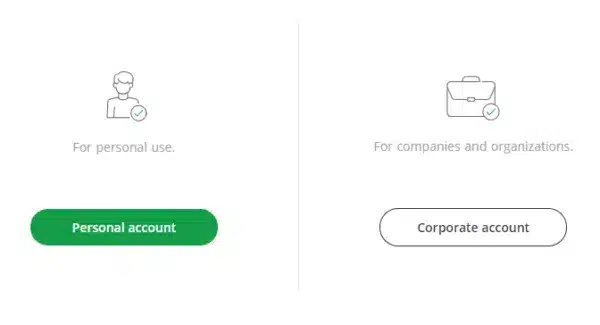 Now fill in a registration form, filling in some of your personal information, such as your Email, First Name and Last Name. Don't forget to check the small box to take into account the rules and conditions of use of the platform. Finally, click on the "Continue" button to go to the next step.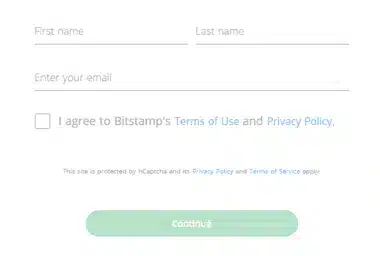 Within seconds, you will receive a confirmation email, where you should click on the "Complete your registration" tab. To complete your registration on Bitstamp, simply set your password for future logins to your account.

Identity verification (KYC)
You must now proceed to the identity verification step to complete your registration. First, fill in some additional residential information, such as your country of residence, personal address and zip code.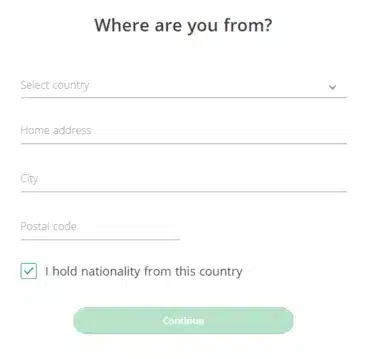 Thereafter, enter your phone number and confirm it by entering the confirmation code you received.

Now choose the type of identity document you want to use for your KYC. You can choose between Passport, Driving License, Identity Card or Residence Permit.
If you decide to switch to your phone you can :
Scan the displayed QR code
Receive a link by SMS
Copy the link by yourself
However, if you continue on your computer, you must import a file containing your identity document into the site. Please note that scans or photocopies are not allowed.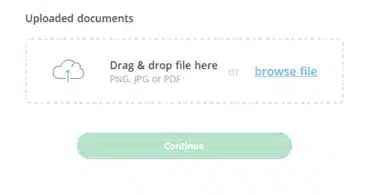 You then need to connect your webcam to your computer or use the one on your phone and follow the instructions on Bitstamp. It only takes 2 to 3 minutes. If your personal data has been validated, you will be automatically redirected to the next step.
Once on the page, answer a few questions about your current profession, the source of your funds or the amount of money you expect to deposit on Bitstamp during the year.
To complete this KYC procedure, you must provide to them a proof of address, showing your name and address, as well as the provenance and date of your proof. Accepted documents are:
A bank statement
A bill (water, electricity, internet…)
A document issued by the public authorities (taxes…)

Securing your Bitstamp account
Your Bitstamp registration is almost complete. However, there is still one last step you need to take: securing your account. To do this, click on the "Secure my account" button. Then, if you haven't already done so, download an application to generate security codes (QR codes). To date, one of the best-known applications is called "Google Authenticator", which can be downloaded from Google Play and the App Store.
Finally, simply scan the QR code displayed on Bitstamp, then fill in the 6 digits indicated on your application.
Congratulations, your registration is now complete. All you have to do now is wait for the platform to verify your information. This usually takes 5 to 15 minutes.

How to deposit money on Bitstamp?
On Bitstamp, the only way to deposit FIAT money is by bank transfer. However, you can buy crypto directly with your credit card (method presented below in the article).
First, go to the "Dashboard" page, then click on the "Make a deposit" tab.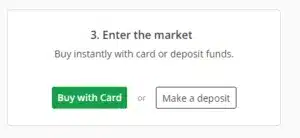 Next, choose the digital currency as well as the amount you wish to deposit on Bitstamp. Once you have done this, click on "Continue". Please note that the minimum deposit amount is $50.

All the information you need to make your transfer is displayed on the following page. Simply go to your bank account, make a transfer, and then fill in the beneficiary information (Bitstamp). As on almost all cryptocurrency exchanges, bank transfers are not exposed to fees.
Important: Don't forget to indicate your reference number, to avoid any delay, cancellation or even loss of your money.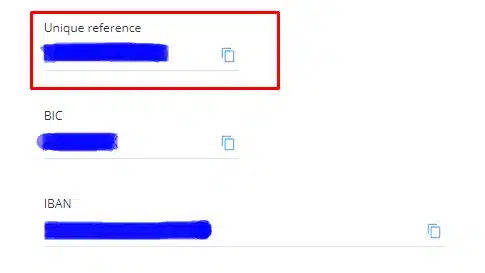 How to deposit (transfer) cryptocurrencies from another exchange?
If you hold crypto currencies (Bitcoin, Ethereum…) on other exchanges and wish to transfer it to Bitstamp, follow these steps carefully.
To do so, click on the "Deposit" tab on the top right of the page. Then click on the "Cryptocurrency" tab on the left side of the interface.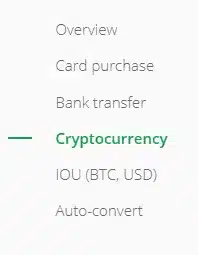 Now select the cryptocurrency you want to deposit, from the 32 assets available there. For the example, we choose Bitcoin (BTC). Finally, enter the transfer address associated with your asset on the platform in question (Binance, FTX…), without forgetting to indicate the correct network (in this case "BTC" for Bitcoin), to avoid any cancelled, delayed or even lost transactions.
How to buy (trade) cryptocurrencies on Bitstamp?
Simple interface:
First, click on the "Markets" tab, then select the cryptocurrency (Bitcoin, Ethereum…) you wish to acquire by clicking on "Trade".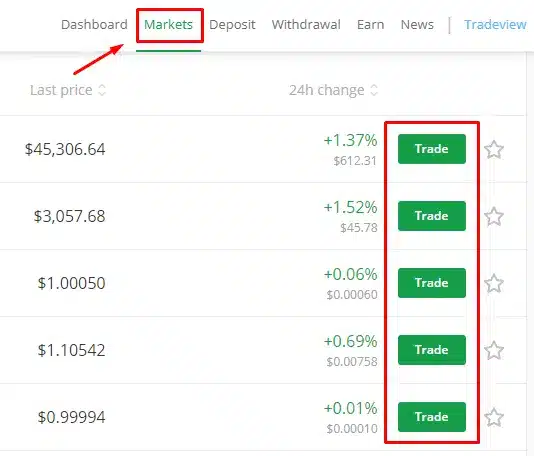 On the next page, enter the amount of your cryptocurrency you wish to purchase, then select the type of buy order:
Instant order : An order that is executed immediately below the current market price
Market order : Buying at the best possible market price (not to be confused with instant order)
Limit order : Limit orders are triggered when the price you entered is reached by the price of your digital assets
Stop order : Once the price exceeds the predefined entry/exit point, the stop order becomes an instant order and is executed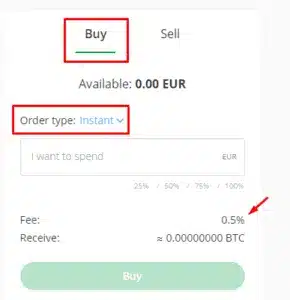 After paying attention to the trading fees (0.5%), click on the "Buy" tab to validate your purchase.
Detailed interface (Tradingview):
For experienced traders and investors, a more complete and detailed interface has been implemented on Bitstamp. Indeed, the interface is very similar to the one available on the "Trading View" website and offers different tools and indicators, such as RSI, MACD or moving averages.
To get there, simply click on the "TradeView" tab at the top right of the page.

You are now on the interface in question. As you can see, there is a lot of additional information and data at your disposal, such as the Order Book, the Depth Chart and not to mention the graph in the middle of the page. If you would like to switch pairs and/or crypto (Bitcoin, Ethereum), simply click on your current trading pair at the top left of your screen.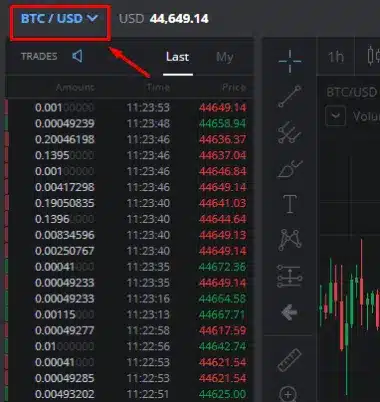 To place a market order, the principle is almost the same as on the simple interface. You just have to select the type of buy order, fill in the amount of your position, and then click on the "Buy" button. Once again, a 0.5% fee is applied.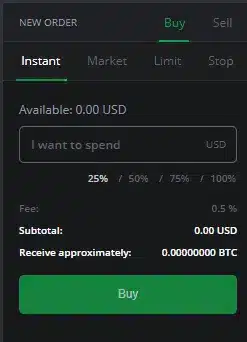 Purchase by credit card
As you know, you can directly buy cryptos using your credit card. To do so, click on the "buy with card" tab located in your dashboard or by clicking on "Deposit" and then "Card Purchase".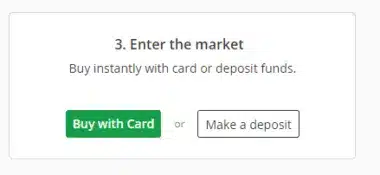 After that, select the cryptocurrency you want to buy, your buying currency (EUR, USD…), and then indicate your deposit amount.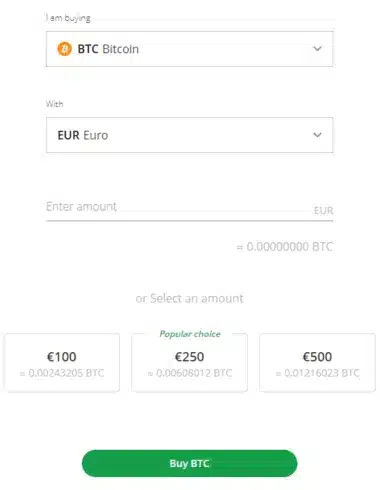 As mentioned in the "Fees and Commission" section, Bitstamp charges a 5% service fee plus a 0.5% trading fee for each purchase made via credit card. If we take the example of a 100 dollars deposit, you will receive 94.5 dollars in your account.

Conclusion : Our opinion on Bitstamp
Bitstamp has been in the market for almost 10 years and is without a doubt a very good trading platform that has maintained its position over the years. However, Bitstamp offers significantly less attractive trading fees than some trading platforms, such as Binance, FTX or Kucoin. Moreover, the number of cryptocurrencies available is quite limited considering the rise and arrival of new projects in this market.
Finally, although Bitstamp is a secure and user-friendly exchange, other trading platforms are currently much more interesting for investors and traders.