What is Bitpanda?
Founded by Eric Demunt and Paul Klanschek in 2014, Bitpanda is an online stockbroker specialized in digital asset exchanges. At this point in time, Bitpanda allows its users to trade on more than five different markets, among others cryptocurrencies, stock options, crypto indicators, ETF and precious metals.
The Austrian start-up is recognized as the most important online broker in Europe, not only thanks to its appealing features but also due to its inflexible security system. Indeed, since its inception, the broker has not suffered any security incident (hacking…) which is remarkable in the world of trading and cryptocurrencies.
We will now go through an exhaustive list of features available on Bitpanda, as well as a complete tutorial to guide you through the sign-up process.
Bitpanda: key elements
Website : Bitpanda.com
Fees and commissions : Relatively high
Storage fees : Very low
Daily exchange volume : ~250 million
Available assets : 140
Users : 2,500,000+

Fees and commissions on Bitpanda
One of Bitpanda's negative aspects is its trading fees. The markup for the sale or purchase of Bitcoin (BTC) is set at 1.49% (per transaction) and can go up to 5% for other cryptocurrencies. This charge is directly included in prices displayed on the platform.
Needless to say, the use of Bitpanda is not advised for periodic trading operations. It however offers an exchange platform dedicated to experimented traders, Bitpanda Pro, with much more profitable trading fees. More on this later in the article.
Follow this link to learn more about Bitpanda's transaction costs:
https://www.bitpanda.com/en/limits
Storage fees
As indicated above, Bitpanda gives its user the possibility to trade more than 4 precious metals (Gold, Silver, Palladium, and Platinum). These metals are stored and insured by partners of Bitpanda's, located in Switzerland. Contrary to the high trading fees discussed earlier, storage fees are well below average.
Gold : 0,0125% a week, or 0,625% a year
Silver : 0,0250% a week, or 1,25% a year
Palladium : 0,0250% a week, or 1,25% a year
Platinum : 0,0250% a week, or 1,25% a year

Our assessment of Bitpanda
Pros:
Very secure (+ regulated)
140 digital assets available
User-friendly
Numerous deposit options
Cons:
High transaction fees (alternative: Bitpanda Pro)
No demo account

Best – Bitpanda Ecosystem Token
Launched in November 2020, BEST is the native token of the Bitpanda platform. It is used for several primordial tasks, maintaining the ecosystem's functions. Moreover, the BEST token allows its owners to benefit from a wide array of perks and rewards.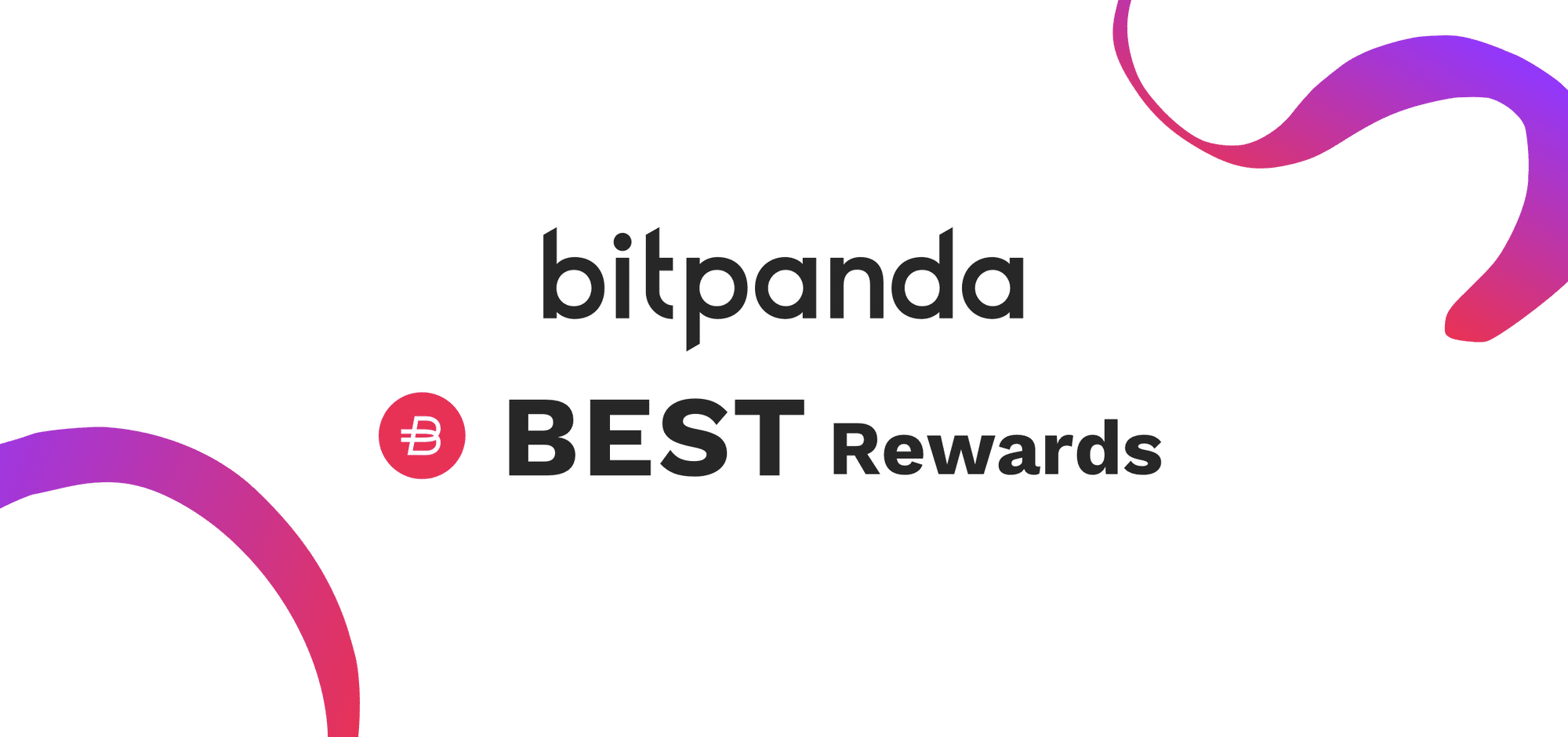 A total of three "Best VIP" levels are available on the platform: level 1 is accessible above a 5,000 BEST thresholds, level 2 above 50,000 BEST, and level 3 can only be reached by owners of at least 500,000 BEST.

Here's an overview of the perks offered to BEST owners:
Lower fees: Up to 20% off of certain fees such as negotiation fees, deposit fees and many more.

Cashback: Discount of up to 2% for Bitpanda Card owners.

BEST bonus: Any user in possession of BEST in their Bitpanda wallet and making at least one trade a month receives a 0.5% BEST bonus. Additionally, depending on users' trading volume and VIP level, annual yields of 12% can be obtained.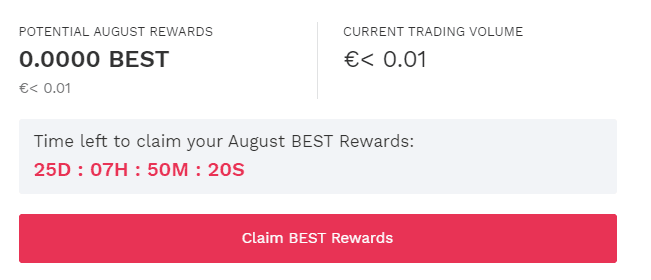 Affiliation: Earn up to 20% (instead of 10%) of proceeds from users who used your referral link.

Bitpanda Launchpad: Users who have at least 5,000 BEST in their wallet gain priority access to "Bitpanda Launchpad"; this means they can invest before other users in new projects that are planned for release via IEO's (Initial Exchange Offering) on Bitpanda.
Click here to learn more about rewards offered to BEST owners.

Token stats
At the time we write these lines (01/16/2022), BEST is valued at $0.99 and has a capitalization of $280 million. As is the case for most cryptocurrencies on the market, BEST suffered from the corrections operated by Bitcoin (BTC) in early 2021.
Token burning
Since its launch, the Bitpanda platform destroyed 25% of tokens (BEST) for each transaction made.
In the world of cryptocurrencies, token burning is used to lower the number of tokens circulating, thereby increasing their scarcity. As you may have inferred, this method considerably increases the value of a token, and in most cases, increases its stock price.

Project Pantos
The Bitpanda team has been working for some time on a new blockchain project called Pantos. Pantos is a scientific research project described as the first multi-chain token system, made to solve one of the biggest issues faced by other blockchains: interoperability. In other words, the goal is for Pantos to improve communication between the different actors of a blockchain (developers, research scientists, users…) and establish "innovative norms" for faster transactions, as well as completely transparent and decentralized.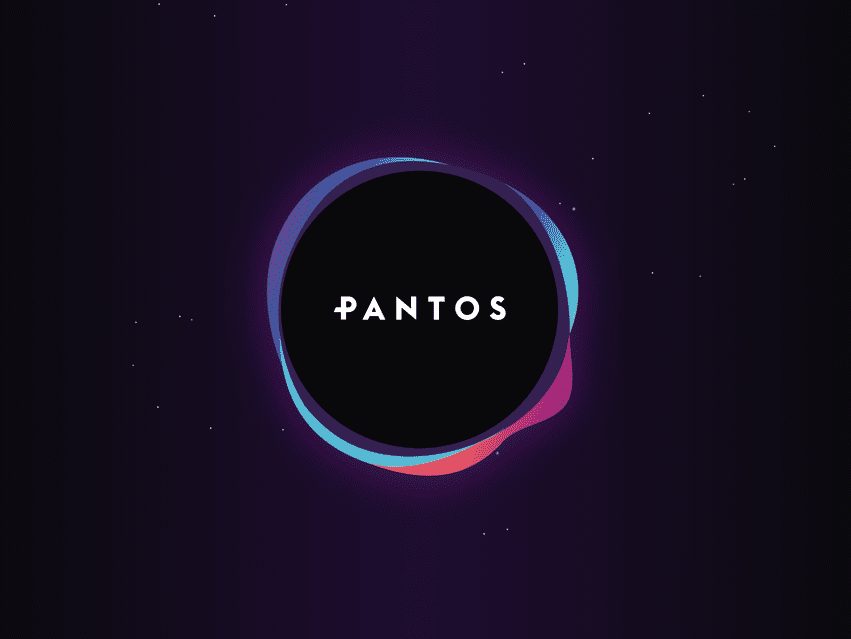 As a multi-chain project, Pantos is designed to integrate interesting functionalities and advantages:
Allow for real-time arbitration between different exchange platforms
Improve and facilitate cooperation between exisitng blockchains
Offer the possibility for anyone to migrate to a new blockchain without any hurdle or time loss (very fast process)
Introduce a blockchain dominance indicator which will give real-time information about PAN use and distribution between platforms
Moreover, Pantos will be developed with the help of many research scientists from the University of Vienna as well as other prestigious schools in the country. Though the project is still in its development phase, PAN (the native token of the project) has already been made available for sale and purchase on the Bitpanda Pro exchange platform.
At the moment, PAN can be exchanged at a price of $0.1396 and has a capitalization of about $64 million.

Bitpanda Savings
With the "Savings" feature, Bitpanda users can create an entirely automated savings plan. This method uses a principle of the "DCA" strategy (Dollar Cost Averaging), which allows traders to invest a predefined amount at regular intervals. For instance, you could choose to allocate $10 to Ethereum (ETH) every Saturday at 2 pm for 4 months. By doing so, you can smooth your investment and usually get a very reasonable average price.
How to create a savings plan
To start with, simply click on your profile at the top-right of the screen on "Trade", then on "Savings plan" and "Add new plan".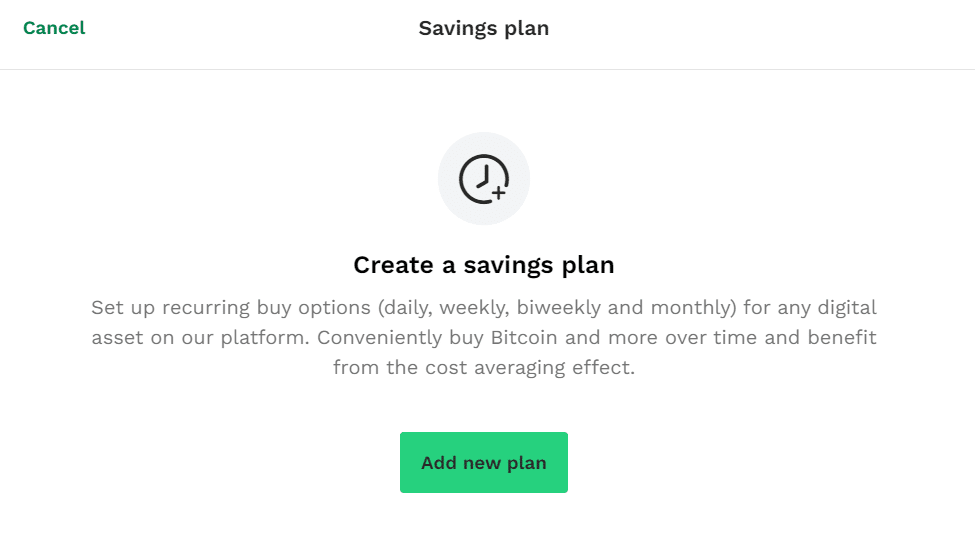 Next, select the digital asset (cryptocurrency, stocks, ETF…) for which you wish to create a plan. On the next page, choose the payment method and the amount you'd like to invest. Lastly, choose the frequency (time period, time of day…) at which you want to spend your money, and click on "Go to summary".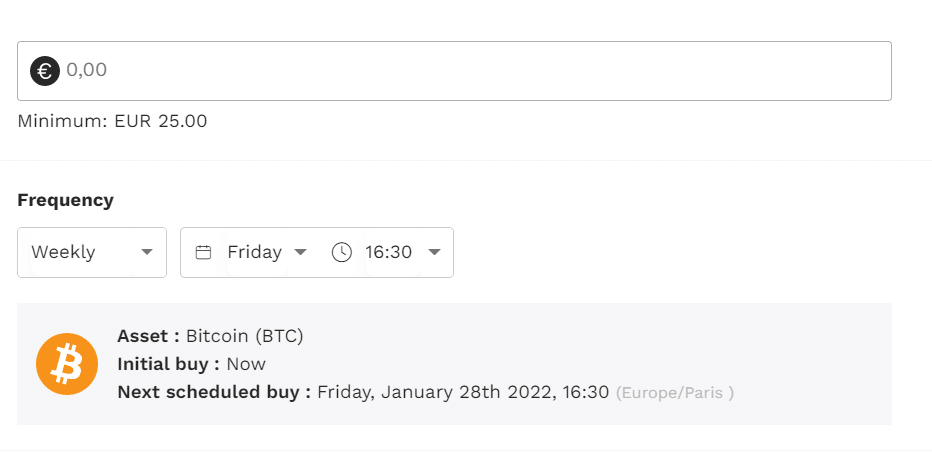 Note for owners of the BEST token: you can save up to 20% on "trading fees" by ticking a small box.

Bitpanda Card
Launched in 2020, Bitpanda Card is a debit card that gives its users the ability to make payments/purchases using cryptocurrencies or any other asset available on Bitpanda. This card is now accepted in 200 different countries and by more than 54 million businesses (online and physical) using "VISA" services. Indeed, Bitpanda Card is associated with the leader on the market, VISA, thereby ensuring highly reliable and secure transactions.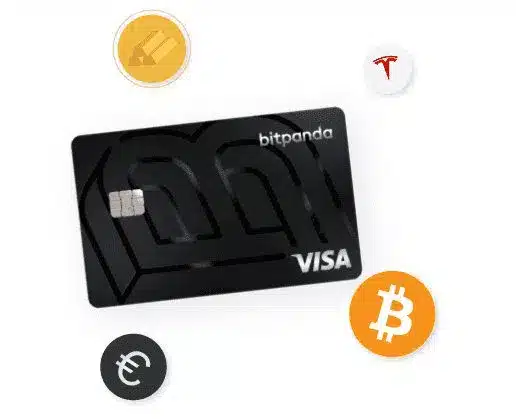 Additionally, BEST VIP users (see more information earlier in this article) can benefit from a number of perks of varying importance depending on their level:
Earn between 0.5% and 2% cashback for each purchase;
Reduced exchange fees;
Free ATM withdrawals each month (unlimited for level 3 BEST VIP users).
Basic fees and conditions


Important: Some local banks can apply additional fees for ATM withdrawals. These fees will add up to the withdrawal amount.

Bitpanda Pro
Launched in 2020, Bitpanda Pro is a cryptocurrency exchange platform dedicated to experimented traders and investors all around the world. Bitpanda Pro was launched through a fundraiser (IEO) that reached around €43 million ($49 million), making it one of Europe's most successful IEO's.
The website shares some similarities with the "Coinbase Pro" platform and allows anyone to negotiate assets, with a much more detailed trading interface.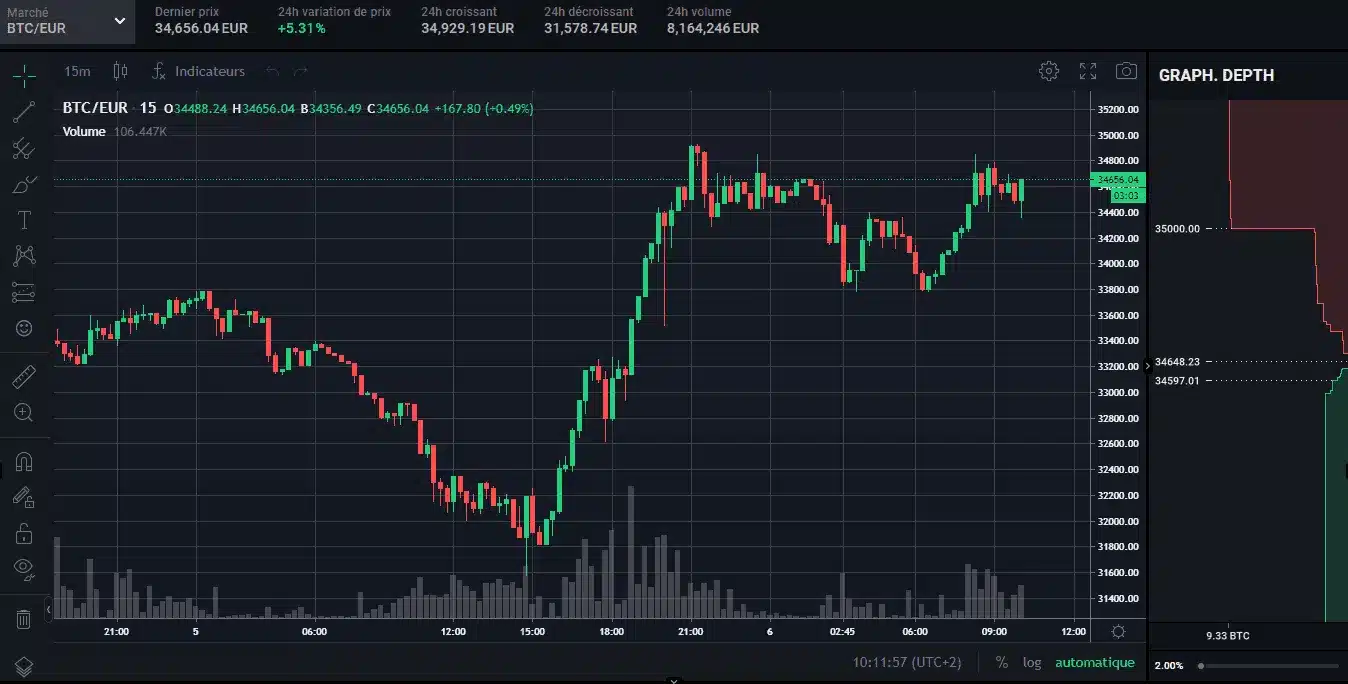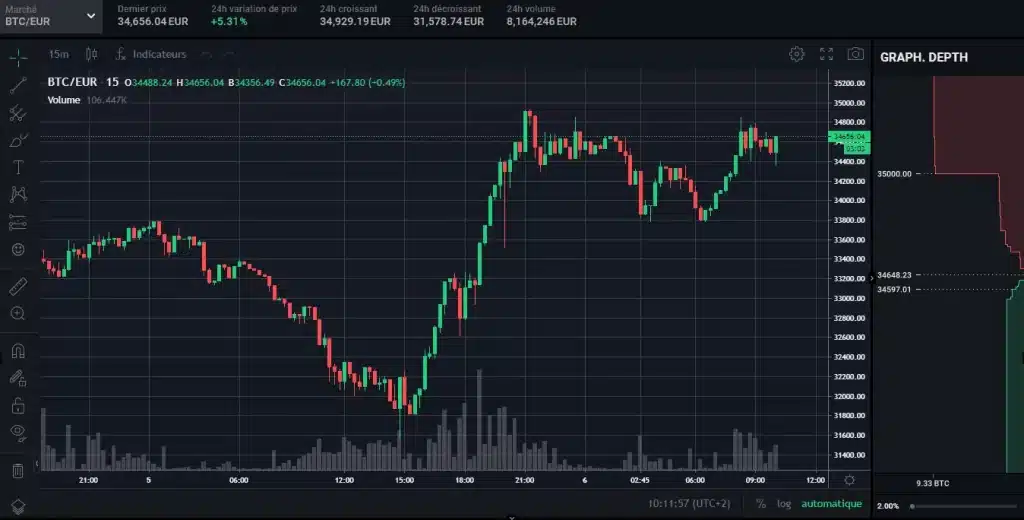 This trading interface is directly linked to the Trading View website and offers the use of numerous indicators (RSI, MACD…) and other advanced trading tools. Moreover, a user can also connect a Trading Bot by using an API available in the website's parameters.

Trading fees
In addition to providing various trading tools, Bitpanda Pro offers much more attractive transition fees than its native platform. Basic trading fees on Bitpanda Pro are 0.1% for orders of the maker type and 0.15% for those of the taker type. Furthermore, owners of BEST tokens get a 25% discount on their trading fees.
As is the case on almost every exchange platform, fees decrease depending on the amount being invested.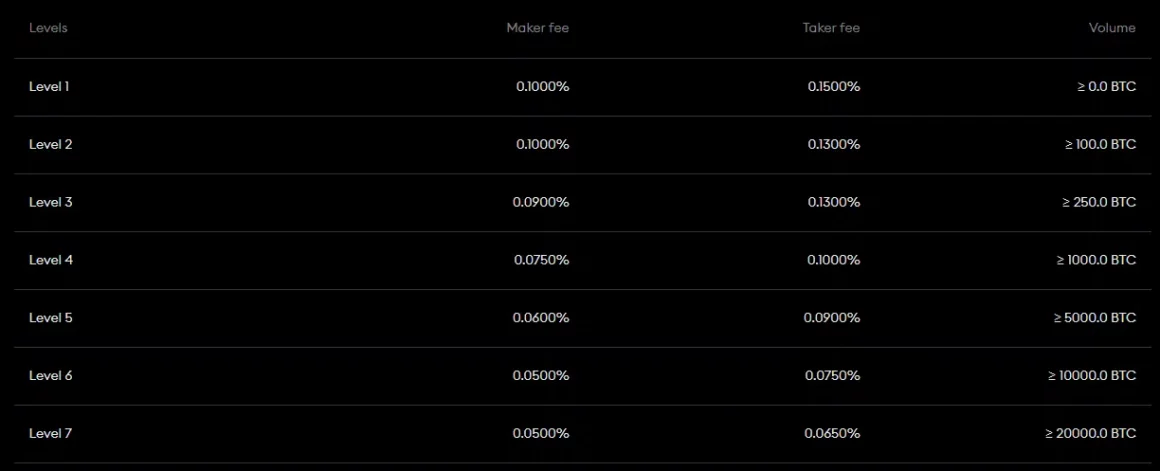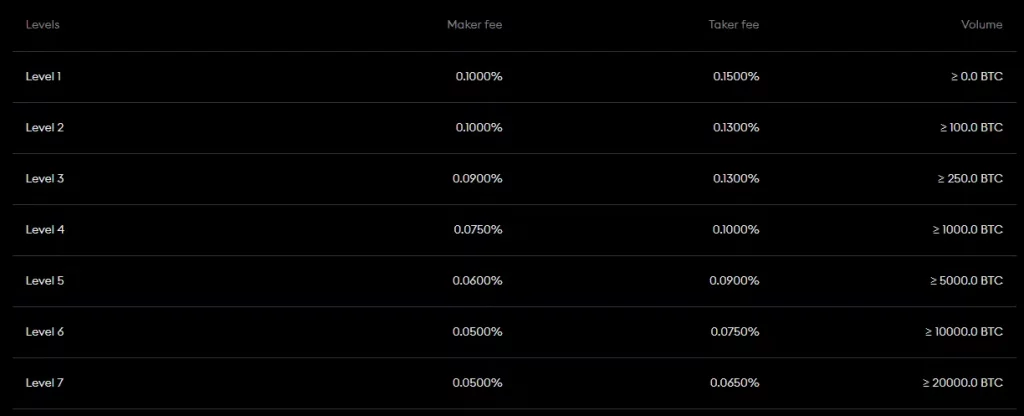 Nevertheless, exchange platforms like Binance and FTX offer significantly lower fees to their users.
The Bitpanda Team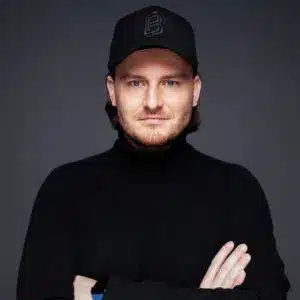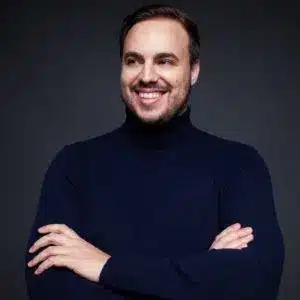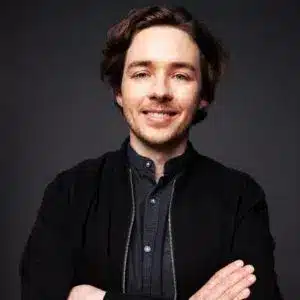 How to sign up for Bitpanda?
First of all, click on this link to sign up for Bitpanda:
Once on the Bitpanda website, you can register by typing in your first and last name, email address, password, and phone number. You may then click on the "Create account" button to go to the next step. Note: if you want to open a "business" account, click on the tab at the bottom of the page.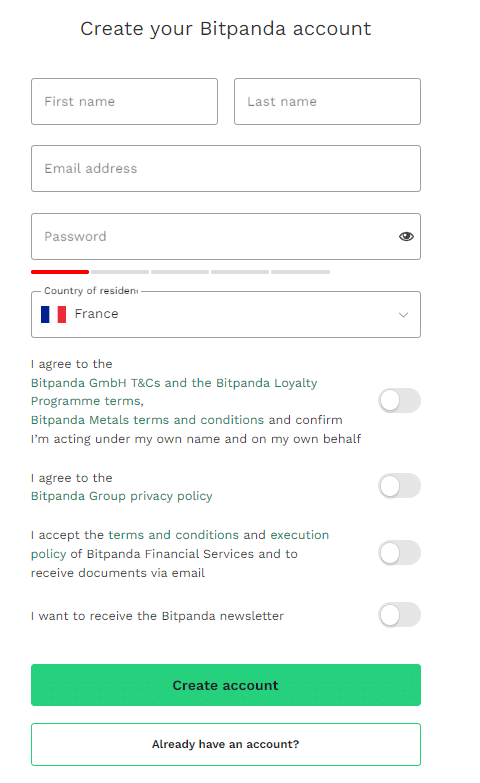 If you sign up using the mobile application, a 4-digit code will be required in order to secure your account.
Next, you will need to answer a few questions about your trading experience, your current professional situation, or your approximate yearly income.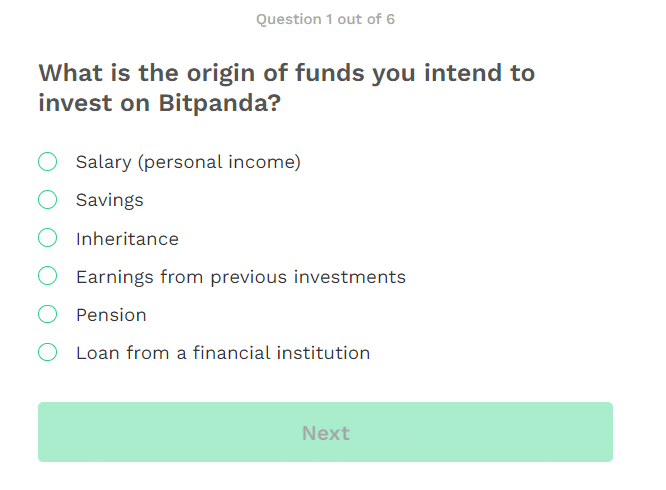 Identity verification
You will now need to verify your identity in order to access all the functionalities available on Bitpanda. To do this, you will first have to enter some additional personal information such as your date of birth, nationality, and current residence address. You will then be able to complete a KYC procedure and take a picture of your passport / identity card, and lastly a selfie.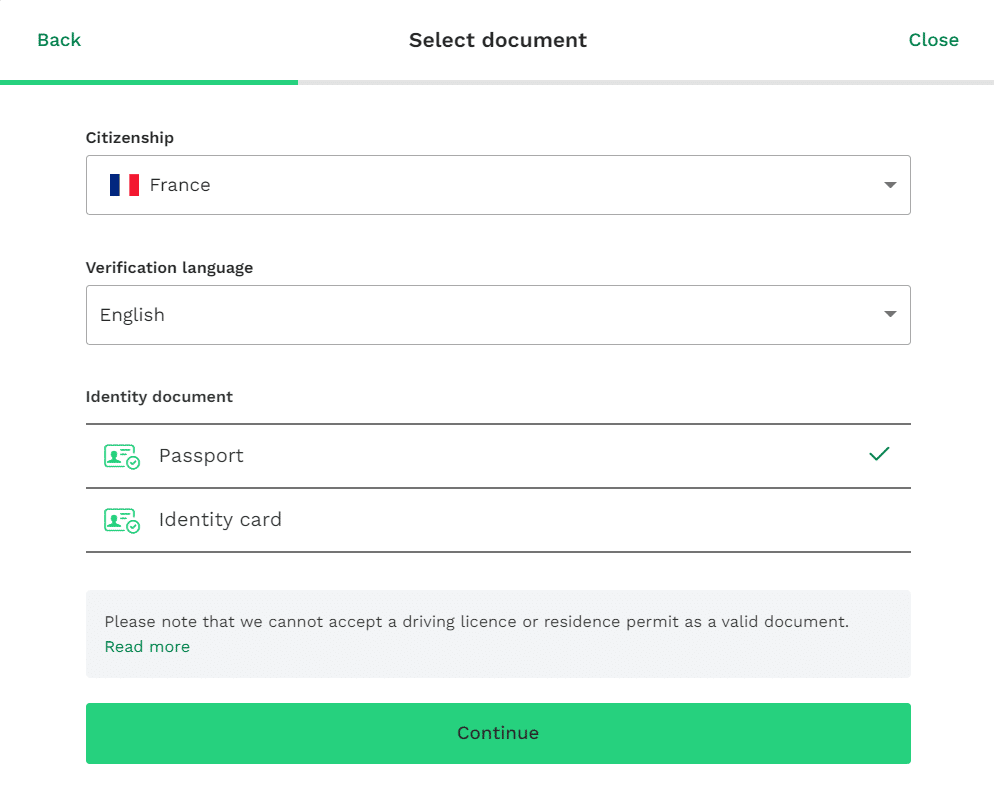 Congratulations, you now have total access to Bitpanda's available features.
Secure your account (2FA)
For anyone signing up through the online platform instead of the mobile application, it is strongly recommended to activate two-factor authentication (2FA). To do this, simply click on your profile at the top-right of the screen, then on "Security", and click the box saying "Set up" in order to put 2FA in place.

How to deposit money on Bitpanda?
Debit card
We will first explain how to deposit money on your Bitpanda account using your debit card. To start with, click on "Deposit" at the top of the page.

Next, select the asset you wish to make the deposit with. For instance, we will choose the digital currency "EUR".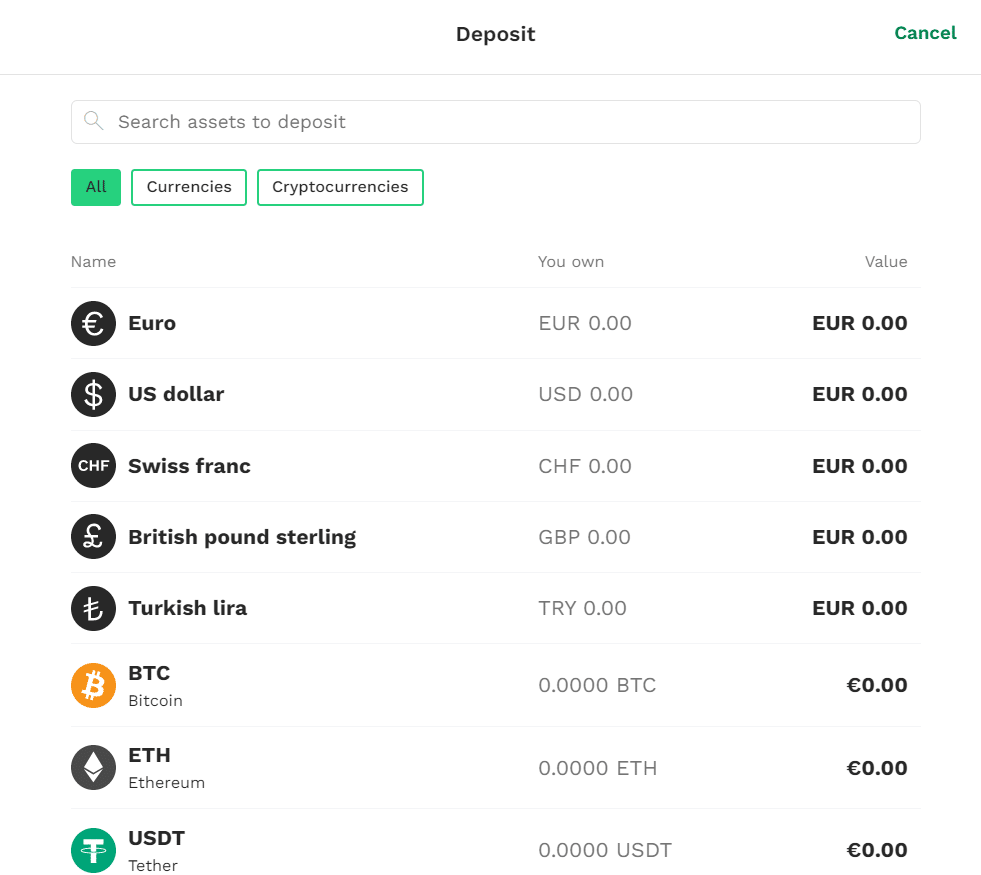 After this, choose the payment method you wish to use. For a debit card transaction, we advise you choose the most established options, i.e. VISA or Master Card. Don't forget that by using this payment method, you incur transfer fees of 1.8%.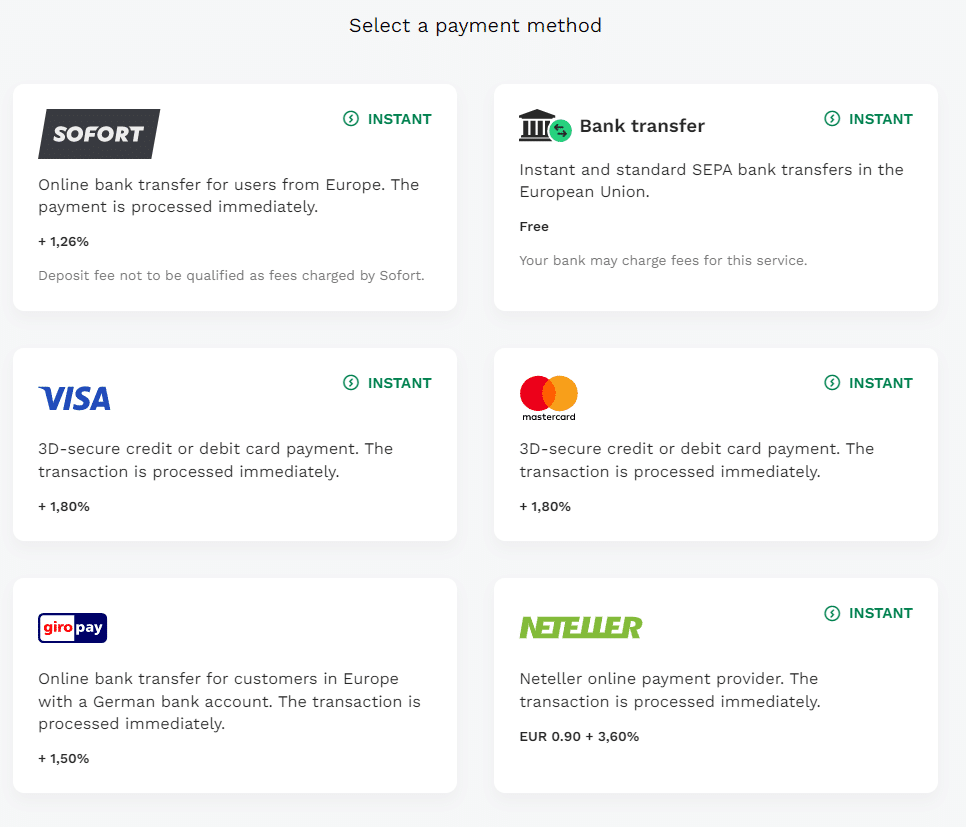 The next step is to set a deposit amount, and then click on the "Go to summary" button. Note: the minimum deposit amount is €25 and the maximum is €2,500. On the next page, simply tick the boxes and click "Confirm".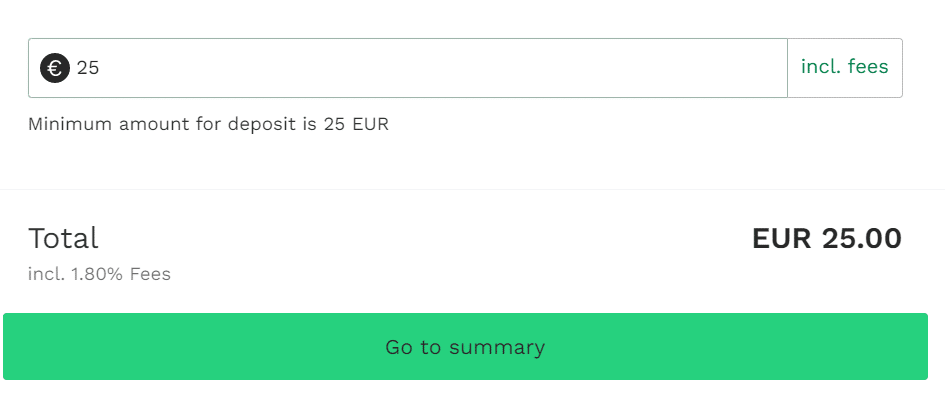 Following this action, a four-digit confirmation code will be sent to your phone. Lastly, fill in the form by indicating your card number as well as other personal information.

Bank transfer
To make a first bank transfer to Bitpanda, follow the same first steps of the process: click on "deposit" and select the currency of your choosing. After this, choose the service provider you wish to use for your transfer. The most popular for Euro transactions is "SEPA". Contrary to debit card deposits, bank transfers do not come with any transaction fees. However, the transfer can take 2 to 3 working days depending on the type of transfer, whereas debit card deposits are almost instantaneous.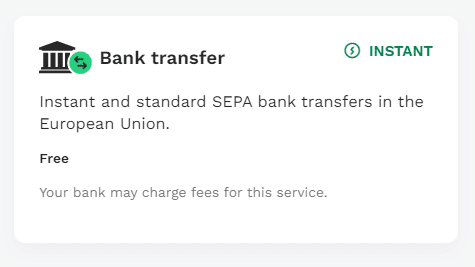 Once again, indicate the amount you wish to deposit, then click on "Go to summary". You will then need to access your bank account and type in the information of your new beneficiary (Bitpanda), which is available on the website/application.
Important: Don't forget to input your transaction ID as the reference number in the transfer form. Without this, the transaction might be delayed or even rejected.

How to trade cryptocurrencies on Bitpanda?
You now have your first Euros on your Bitpanda account, and it is time to show you how to invest them on the market. To start with, click on the "Prices" tab at the top of your screen.

Once on the page in question, you can choose between 5 markets: cryptocurrencies, indicators, stocks, ETF's or precious metals. For instance, we will be purchasing Bitcoin, which can be found in the "Cryptocurrencies" part.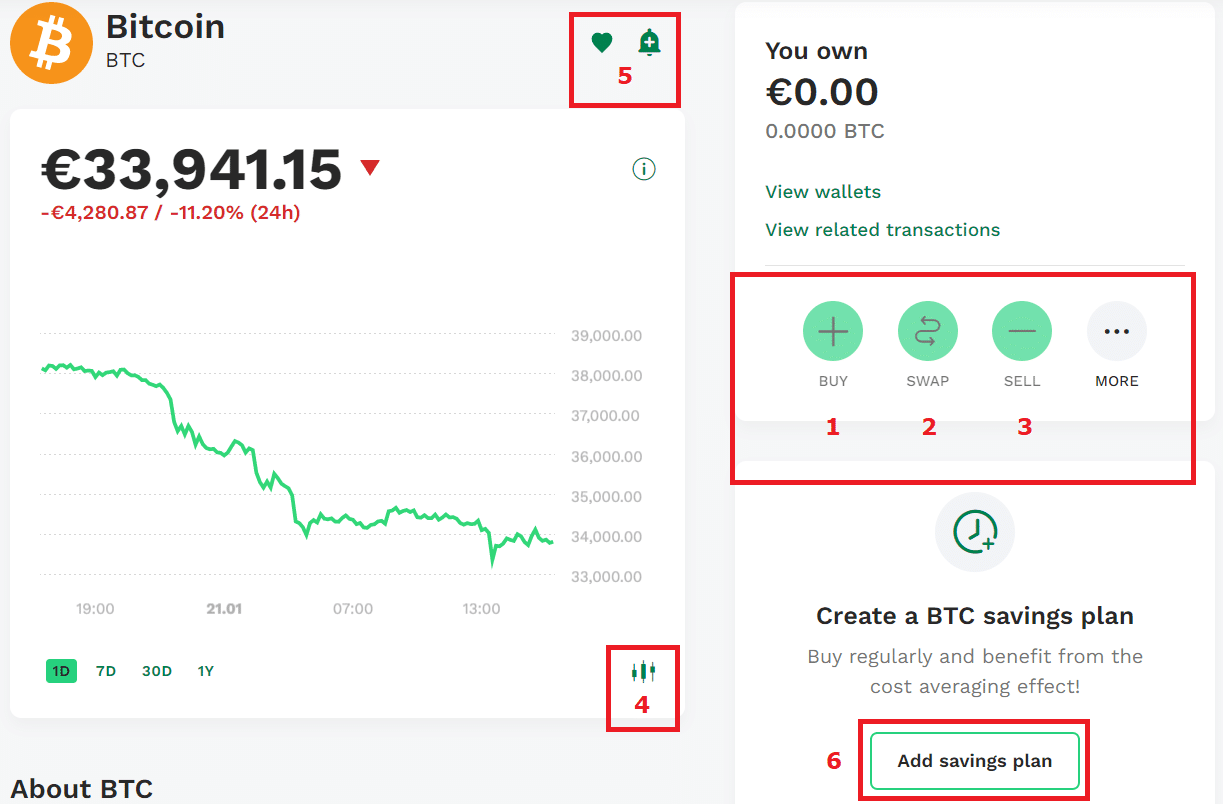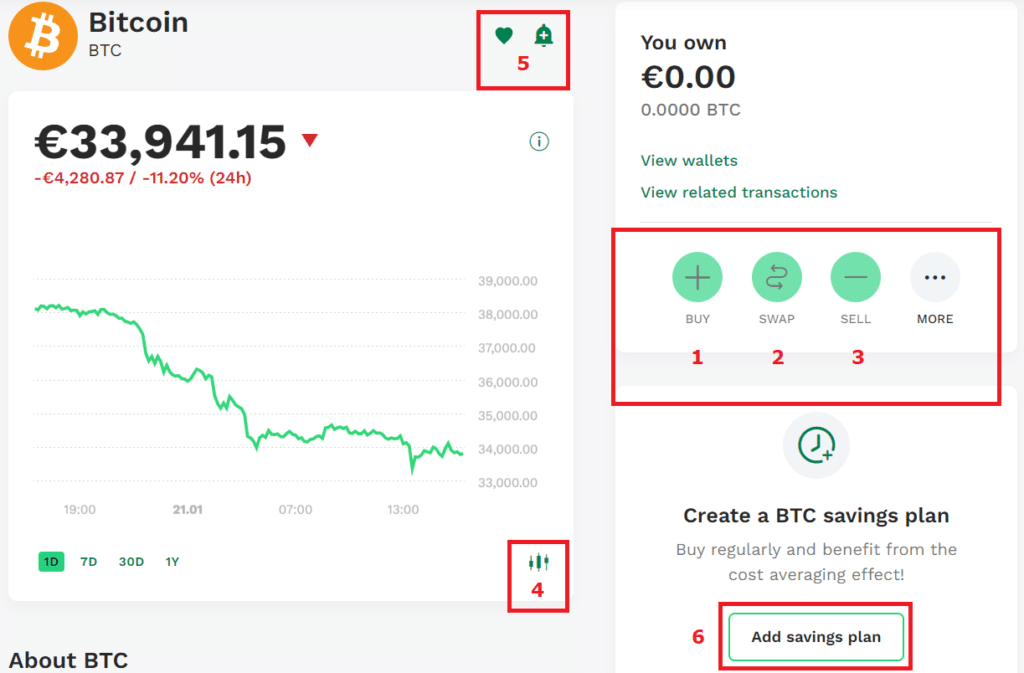 Click on the "

Buy

" tab to allocate a certain amount to Bitcoin. The minimum investment amount is 1 euro.

"Swap" is a very popular functionality on exchange platforms and allows to instantly exchange one financial asset (cryptocurrency, stocks…) with another.
Click on "Sell" to withdraw part (or all) of your initial investment.
Click on the trading candles to switch to a much more detailed interface, thanks to which you can use certain indicators.
Click on the heart icon to add a cryptocurrency to your list of favorites and / or on the bell to add an alert. Trading alerts can notify you if an asset's value goes above or below certain price levels.
As indicated earlier in this article, a "Savings Plan" allows you to smooth your investment over a predefined period of time.

Conclusion: our final opinion of Bitpanda
Bitpanda is without a doubt one of the best trading platforms out there for beginners who wish to step into the world of cryptocurrencies without complications. Indeed, the sign-up process only takes a few minutes to complete and the website's interface is adapted to all types of traders and investors. Moreover, Bitpanda offers many innovative features, such as its savings plan, "BEST bonuses" and many more.
Although Bitpanda is a very good broker to get into the trading world, it remains less advantageous than other exchange platforms like Binance or FTX.
What is Bitpanda?

Bitpanda is an online broker that offers its users the possibility to safely trade their digital assets. The broker currently has around 140 financial assets available on 5 different markets: Cryptocurrencies, Stocks, ETF, Indicators and precious metals.

Can I buy Bitcoin on Bitpanda?

Yes, you can buy Bitcoin very easily and safely. Bitcoin is not the only cryptocurrency available on Bitpanda, you can find more than 70 cryptocurrencies such as Ethereum (ETH), Binance Coin (BNB), Solana (SOL) and many more.

Is Bitpanda reliable and secure?

Yes, Bitpanda is a very reliable broker and so far did not suffer any major security issue since its inception.

Can I exchange cryptocurrencies on Bitpanda?

Yes, thanks to its "Swapping" feature, you can exchange your cryptocurrencies (Bitcoin, Ethereum, Solana…) with a very fast and safe process.