What is AscendEX (formerly Bitmax)?
Launched in August 2018 under the initial name BitMax in Singapore, AscendEX is a cryptocurrency exchange platform that ranks 25th on CoinMarketCap, with a daily trading volume of around $800 million. Although the platform is not exactly in the spotlight, it is still very reliable and secure. Currently, AscendEX accounts for nearly 200 cryptocurrencies, most of which have a small capitalization.
Some key facts about AscendEX (formerly Bitmax)
Website: ascendex.com
Trading volume (24 h): $791,182,434
Available crypto currencies: 180
Fees and commissions: medium (avg: 0.1%)
KYC: not required for daily withdrawals below 2 BTC
AscendEX (ex Bitmax) platform fees
Ascendex offers relatively low fees to its users compared to some platforms such as Coinbase or eToro.
Currently, the average fee charged in Spot trading by AscendEX is 0.1013%. For standard users (VIP 0), the fees associated with Large Market Cap Assets are 0.1%. However, those charged on Altcoins are 0.2%.

For futures, the fees charged are 0.02% for makers and 0.06% for takers. Please note that if you use an affiliate link, you automatically receive a 10% discount on your transaction fees.
For more details regarding AscendEX fees, please visit the official website by clicking here.
How to register on AscendEX (ex Bitmax)?
First of all, please click here to access AscendEX while taking advantage of the discount on your transaction fees.
Step 1: Once on the site, fill in the necessary information, such as your email, your country of residency, and your password.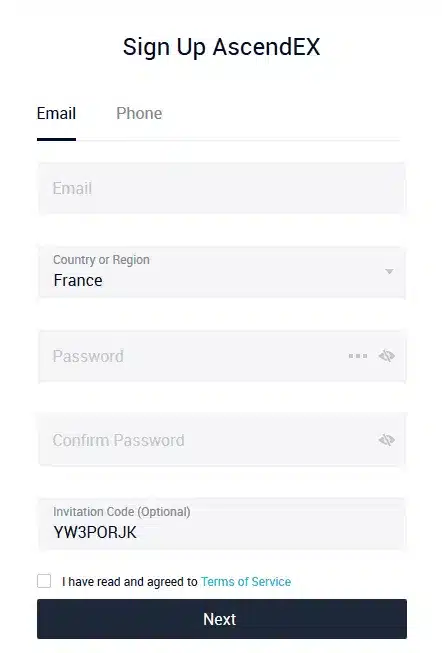 Once this is done, you will receive a verification code via the email you entered, so please enter it in the form.
Step 2: Next, you need to verify your phone number. To do this, please enter it on the site, and then provide the verification code that you will receive via SMS. You will also get a six-digit code on your email, which you will also have to fill in on AscendEX. Finally, click on the "Verify Now" tab.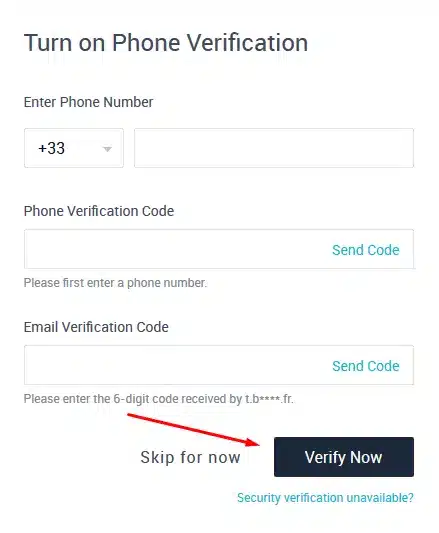 You are now registered on AscendEX, we will now move on to the security part, which is of course essential.
How to secure your AscendEX (ex Bitmax) account?
First, place your mouse cursor over the little guy at the top right of your screen, then click on the "Account Security" tab.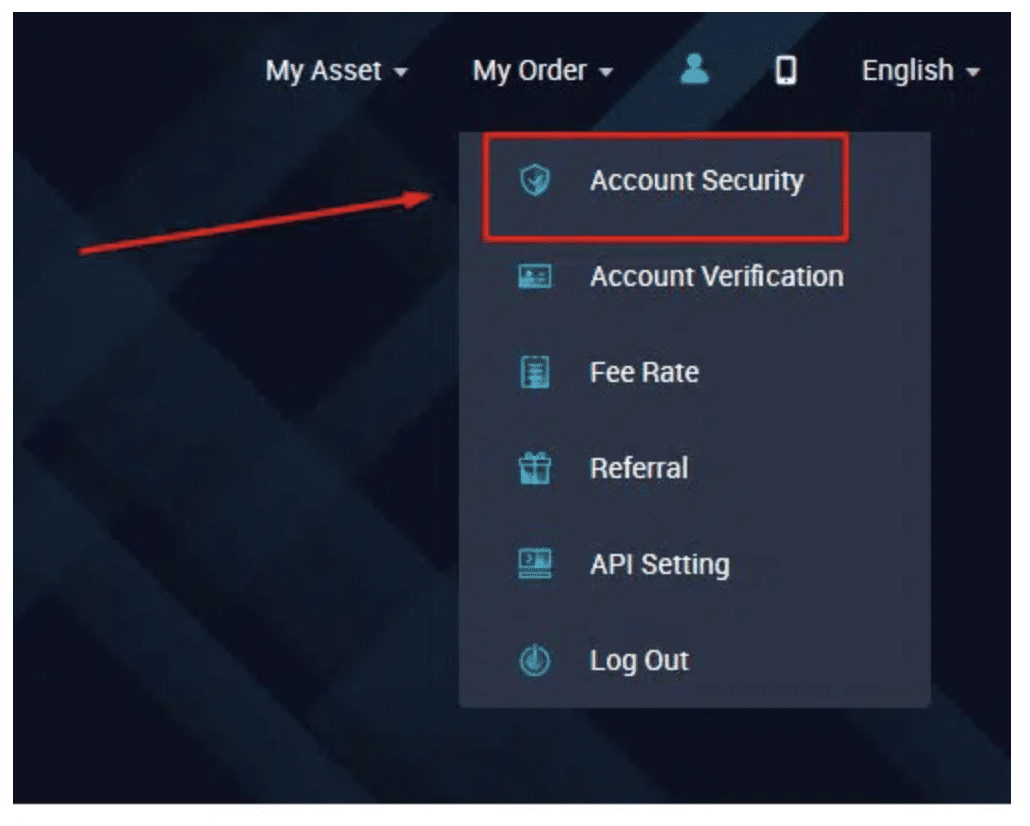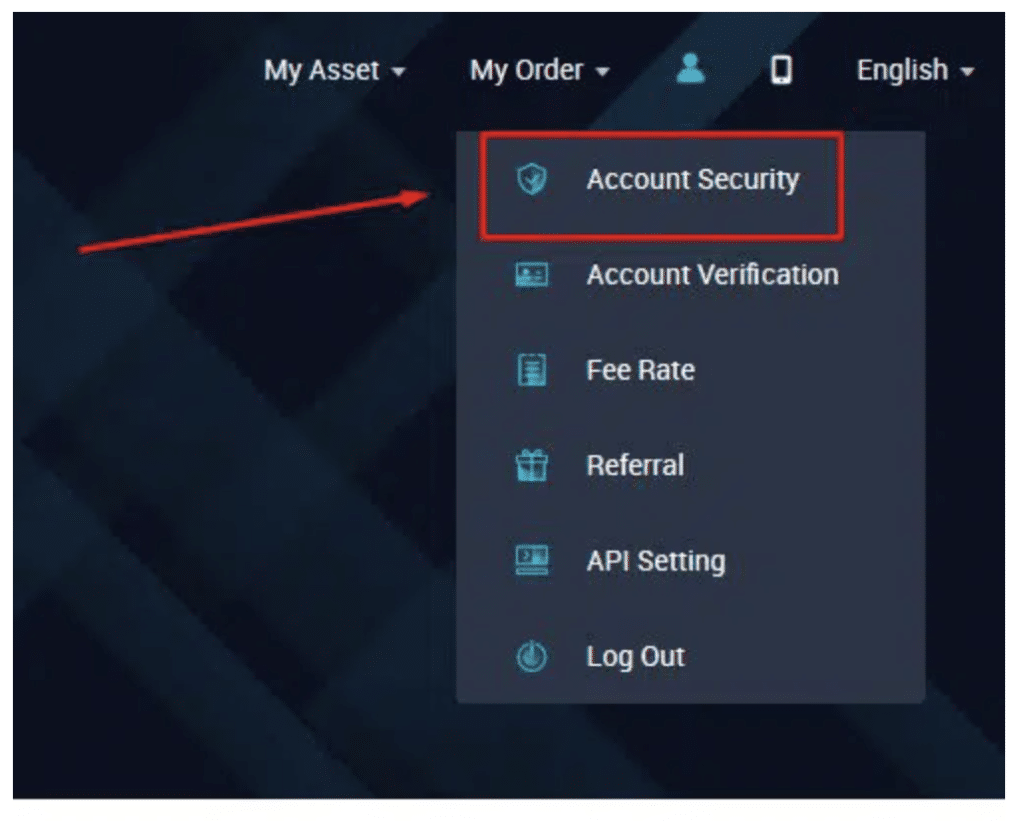 Once you have reached the interface in question, you will see several security settings to be set up. We will show you how to activate the "Google 2FA" and the "Anti-phishing Code". In order to make your AscendEX account as secure as possible, please follow the steps below:
Google 2FA
Step 1: To get started, please click on "Google 2FA".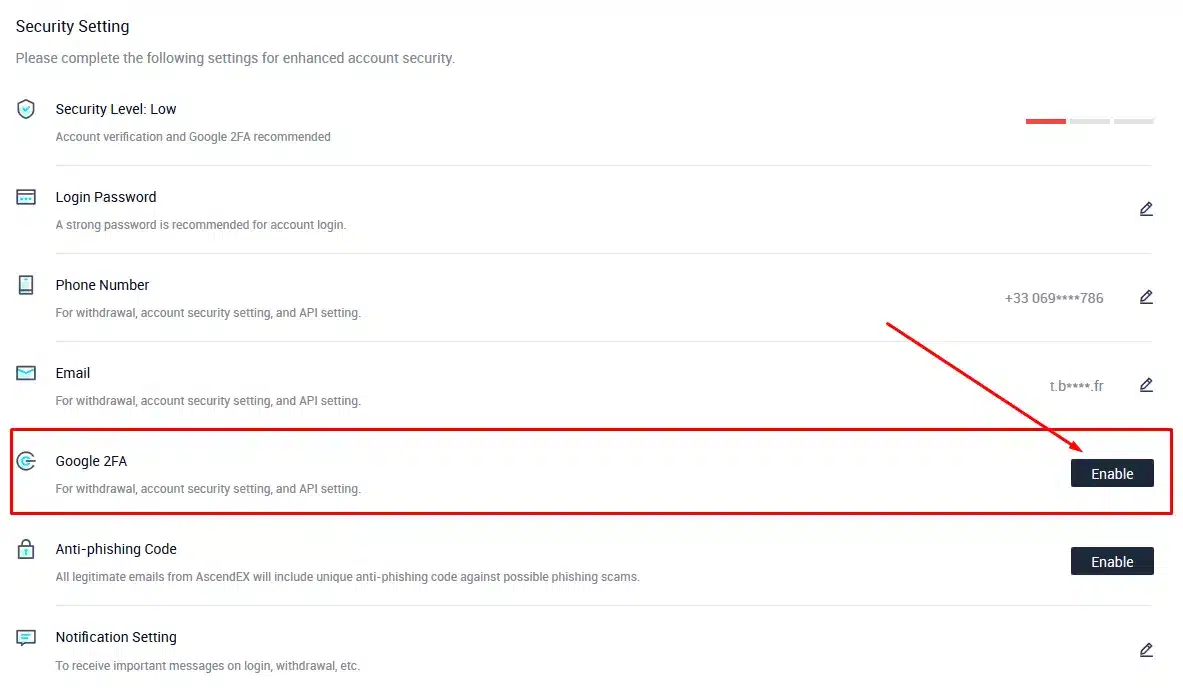 Step 2: If you haven't done so already, then you need to download the "Google Authenticator" app, available on the App Store as well as Google Play. After that, go back to AscendEX and click on the "Generate 2FA Secret Key" tab to generate a verification code.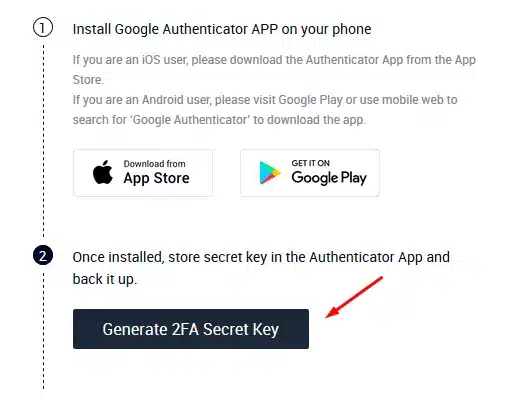 Step 3: Fill in the verification codes that you will receive after clicking on "Send code".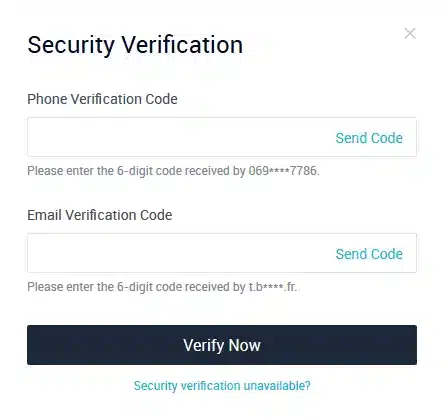 Step 4: Open the "Google Authenticator" app on your phone, then enter the secret key (or scan the QR Code), which is on AscendEX.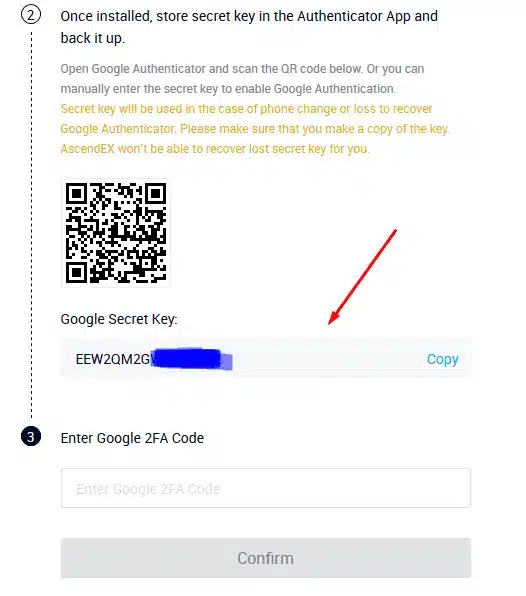 Step 5: Retrieve the code from your Google Authenticator application and enter it into the AscendEX platform. Finally, click on "Confirm".

Congratulations, you have activated the 2FA, please note that you will have to wait 24 hours before you can withdraw money.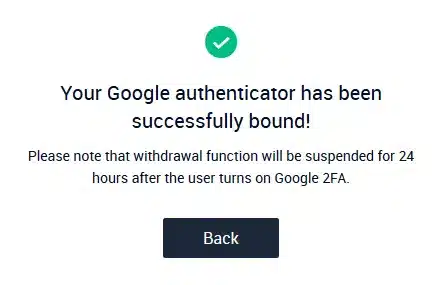 Anti-phishing code
Step 1: First, you need to click on the "Anti-phishing Code" tab.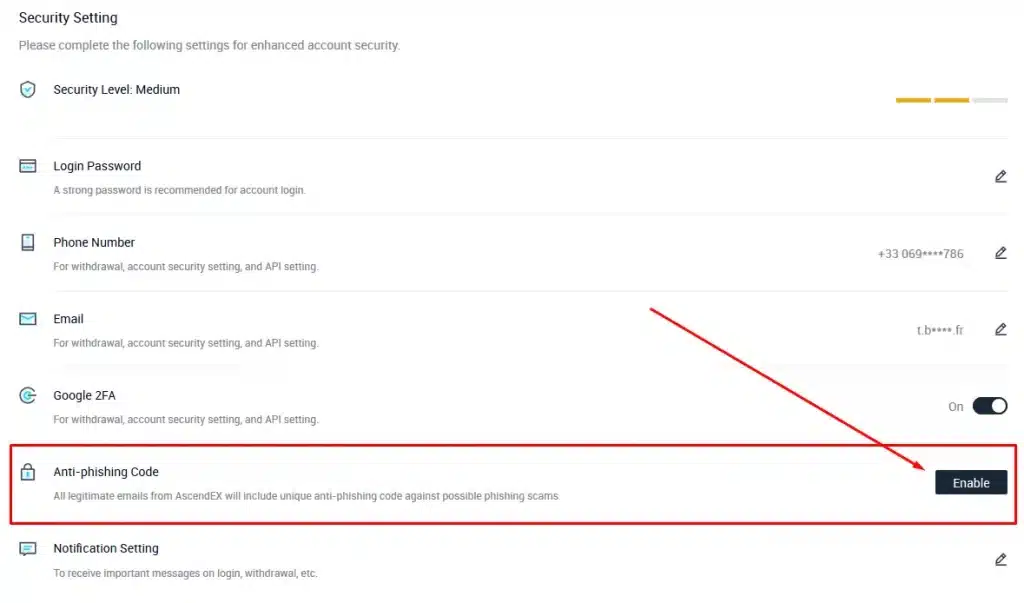 Step 2: Please enter an anti-phishing code, between 4-20 characters, and click "Confirm". You must not share this code in order to guarantee the security of your account.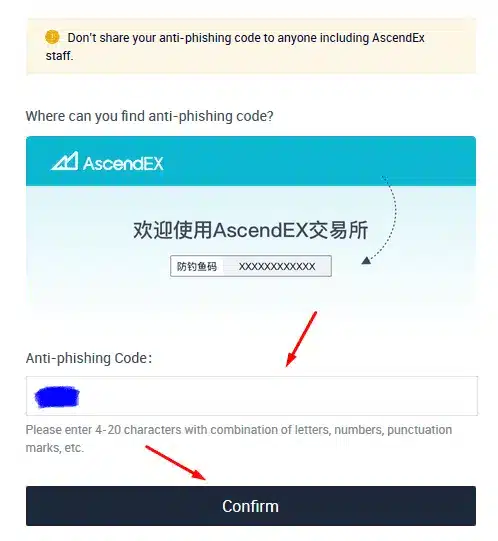 Well done, you have activated your anti-phishing code, you can change it at any time by clicking on the same tab located in your security settings.
If you wish, you can also activate the "Notification Setting" function, in order to receive a notification on your phone or email for each action performed on your AscendEX account.
To sign up for Ascendex, please click here:
How to buy crypto currencies on AscendEX (ex Bitmax)?
To buy crypto currencies on AscendEX, you can either buy them directly by credit card or by transferring them from another exchange. As you may have understood, you cannot deposit FIAT money on the platform.
Note that if you choose to acquire crypto currencies with your credit card, you will be subjected to fees of up to 5%.
Bank card
Step 1: First, please go to the "Fiat Payment" tab, then click on "Bank Card Payment".


Step 2: Choose the crypto currency of your choice, among the 16 that are available, without forgetting to select the currency of the country in which you are located. We will take Ethereum as an example.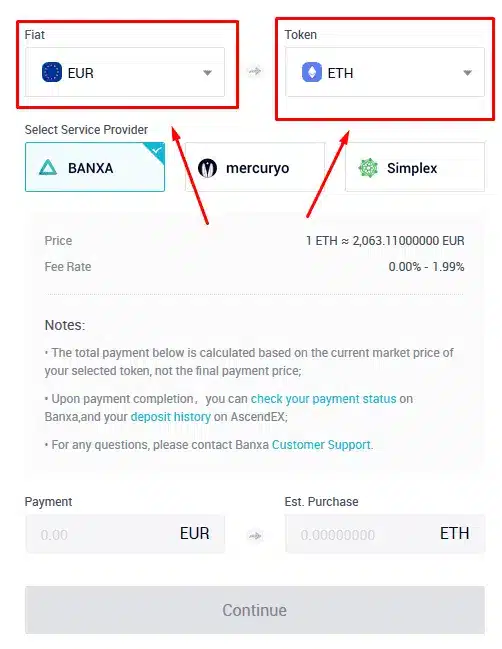 Step 3: After that, please choose a payment service. You can choose between Banxa, Mercuryo, or Simplex. We advise you to use Banxa, as it is currently the service that charges the least fees on AscendEX (~2%), unlike Mercuryu or Simplex which charges between 3.5% and 5% for each transaction.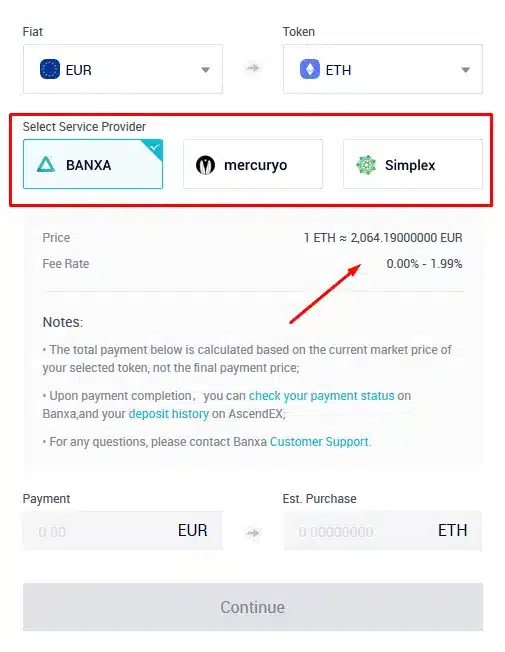 Step 4: Enter the amount (ETH for our part) you wish to deposit on the AscendEX platform, then click "Continue" to proceed to the next step.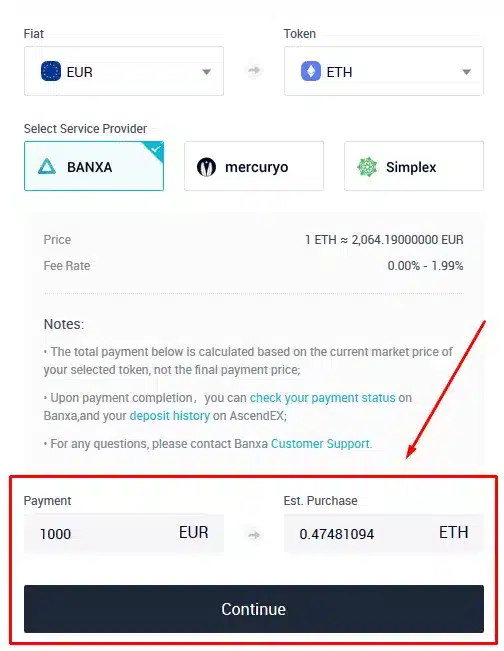 Step 5: Select the type of payment you wish to use, then click on "Create Order".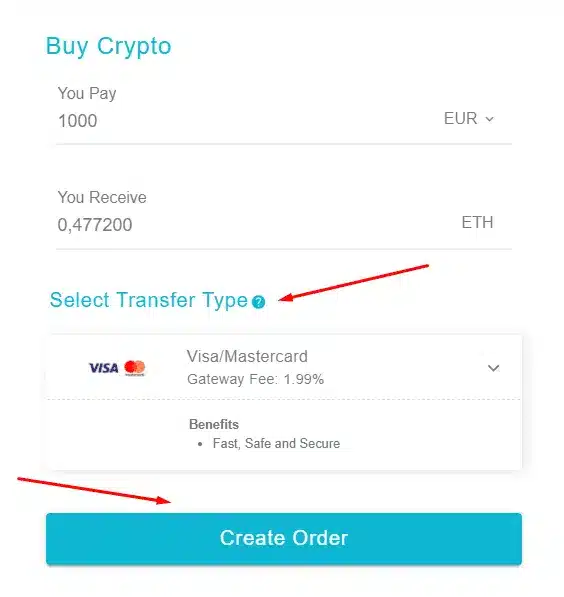 Step 6: Fill in your email and phone number, accept the terms and conditions and click "Confirm".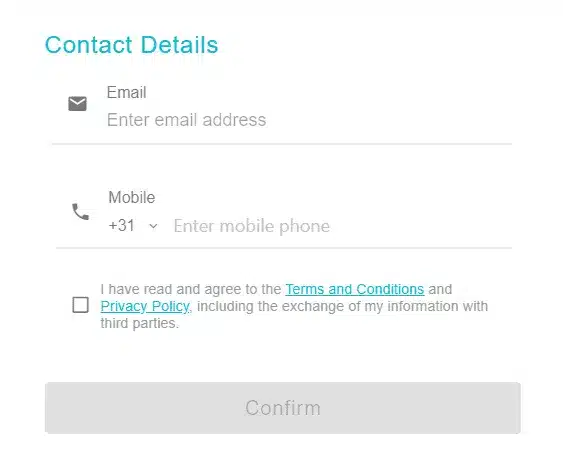 Step 7: Fill in the small form with your first name / last name, your date of birth, and the country you live in.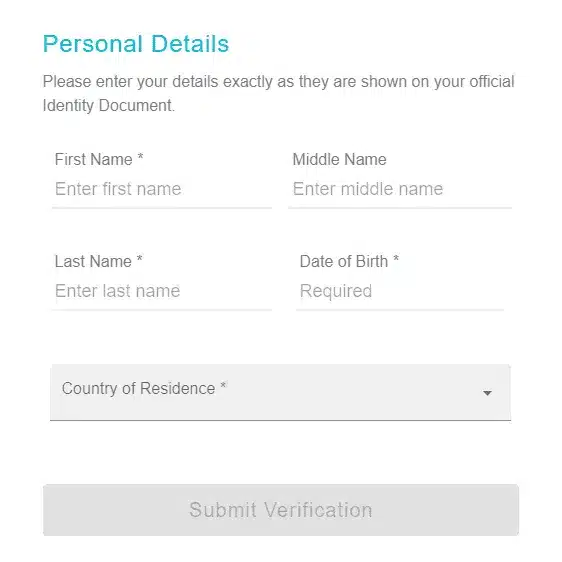 Step 8: You must fill out the second part of this form with your address, city, region, and postal code. Click the "Submit Verification" button again to proceed to the next step.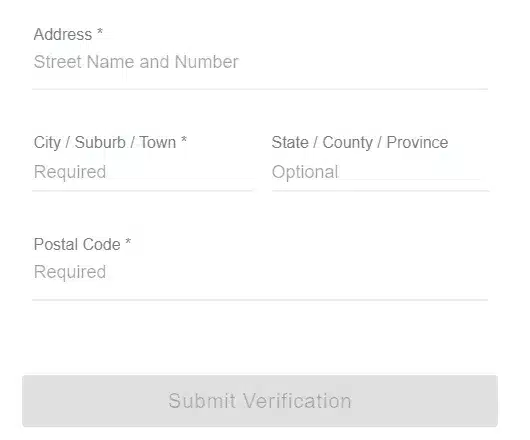 Step 9: Once again, you need to select the country you reside in, then the type of your identity document (passport, ID …). To finish, please import a file containing your personal information on AscendEX, then click on "Continue".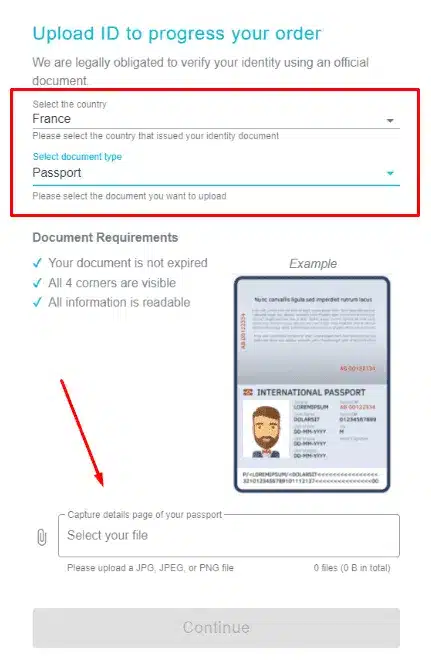 If the documents you have provided are correct, all you need to do is enter your banking information to finalize the transaction.
Transfer of cryptocurrencies
The second method, which is the one we advise you to use, is to transfer crypt currencies from another exchange to AscendEX. To do this, please follow these steps:
Step 1: Click on the "Total Asset" tab located at the top left of the interface.
Step 2: Click on "Deposit" to deposit tokens into your "Cash Account".


Step 3: Select the crypto currency you wish to acquire, we will take USDT as an example.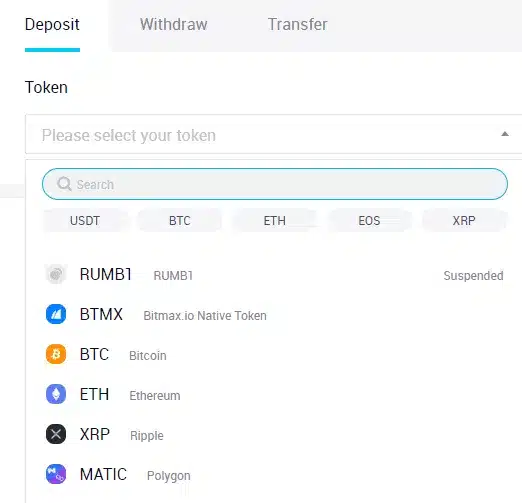 Step 4: After selecting a cryptocurrency from the list, please choose the deposit address you want to use (TRC20 in our case). Then copy this address to the exchange where you want to transfer your cryptocurrencies.
Be careful not to use the wrong network or address or you will lose your funds. When in doubt, follow this video to understand and avoid making mistakes.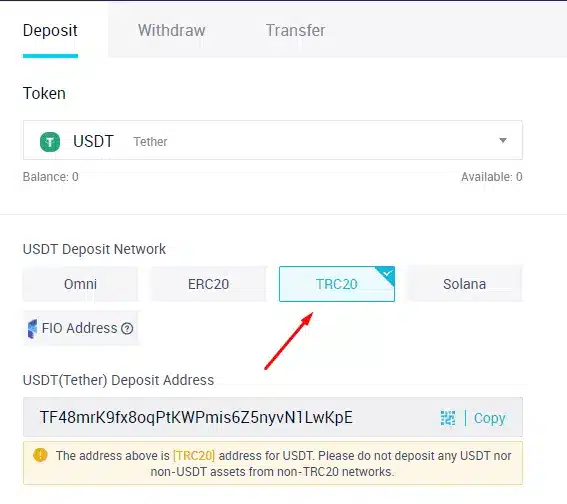 Well done, you can now safely trade your cryptocurrencies on AscendEX.
To sign up for Ascendex, please click here:
How to withdraw cryptocurrencies on AscendEX (ex Bitmax)?
We will now show you in detail how you can withdraw your cryptocurrencies from AscendEX. To do so, please follow these steps:
Step 1: In the same way as depositing your cryptocurrencies, go to "Total Asset", but this time click on "Withdraw".


Step 2: Select the cryptocurrency you want to withdraw from your Ascendex account, we will use Bitcoin as an example.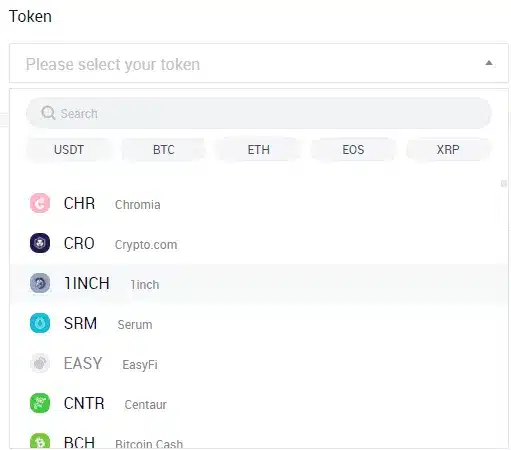 Step 3: Enter the deposit address and the amount you wish to transfer, and do not forget to select the transfer network. Finally, click on "Confirm" to finalize your transaction.
Well done, the tokens you transferred will take a few seconds or even minutes to be transferred to your account.
Staking and DeFi Yield Farming on AscendEX (ex Bitmax)
AscendEX offers its users the possibility to Stake and Farm their tokens in all simplicity, in order to obtain more or less interesting returns.
Staking
Currently, 49 cryptocurrencies can be staked on the platform. To do this, simply click on the "Staking" tab.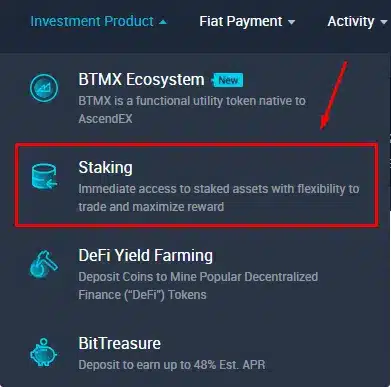 After that, choose a cryptocurrency to stake, preferably a project you believe in, and then click on it. We'll take the Polkadot project DOT as an example, with an estimated APR of 9.34%.


Finally, enter the amount you wish to allocate to generate returns on the AscendEX platform.
DeFi Yield Farming
DeFi Yield Farming also allows you to generate interest on the platform by placing tokens in a "liquidity pool". Currently, only the Curve – USDT liquidity pool is available, with an estimated APR of 15.3%.
To take advantage of this interest, you must first click on the "DeFi Yield Farming" tab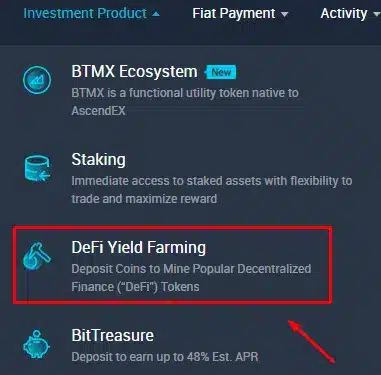 After that, please select a liquidity pool and click on "View Now". As with Staking, you must then indicate the amount of money you wish to allocate to this pool in order to generate returns.


Our opinion on the AscendEX platform (ex Bitmax)
Positive points of the platform:
Reliable and secure
Correct transaction fees
Attractive credit card fees
Nearly 200 cryptocurrencies available
Staking and Yield Farming available
Leverage available (futures account)
Negative points of the platform:
Not very intuitive for beginners
Conclusion
AscendEX is a very good trading platform, which offers a wide range of choices to its users. Although the platform may not be intuitive for newcomers, it offers many great features, including such things as Staking and Yield Farming. Finally, you have the opportunity to find small-cap, high-potential cryptocurrencies that can't be found anywhere else. We also appreciate the choice of credit card payment solutions with attractive fees (~2%)!
To sign up for AscendEX, please click here :
Score: 4.6/5 with over 232 votes