Introduction to the Gala Games platform
Launched in 2020, Gala Games is a platform specialized in gaming that gathers a number of "blockchain" video games that, for most of them, use the Play to Earn gaming mechanism. These games are completely free and available to all, allowing anyone to try new virtual experiences.
Gala states that it wants to change the video game industry by offering players the possibility to have real control over virtual items they own, all thanks to the Blockchain technology. Indeed, all the items in the Gala Games store are non-fungible tokens (NFT) verified on the Ethereum blockchain and thus cannot be deleted.
In other words, whenever you possess an item in your inventory (wallet), either by buying it or by winning it in a game, no one will have the authority to use it but you.
GALA Token – Gala Games native cryptocurrency
GALA is the utility native token of the Gala Games platform and fuels its entire ecosystem. Based on the Ethereum blockchain, this cryptocurrency coin is used for a great number of tasks and major functionalities within the protocol, such as :
Reward the node operators who secure the network (detailed below)
The purchase of virtual items (NFT) in the store
(future) Play to Earn rewards
Launched in September 2020, the GALA cryptocurrency token currently trades for a market price of about $0.1 usd and has a market cap of about $700 million usd. You can buy this coin on numerous cypto trading platforms, such as Binance, KuCoin or Gate.io.
Gala nodes : Secure the network and earn rewards
Gala Games is entirely managed by users (node operators) who run protocol nodes, simply by using their computers. This "nodes" system is very common within the blockchain and cryptocurrencies world. It indeed allows the network to ensure its good functioning. Gala Games users can, if they want to, contribute to this security by obtaining a "Gala Node".
However, you should know that a "node license" can currently be purchased for the price of 226,909 GALA, which is equivalent to about $22,000 usd. On the 50,000 available licenses in total, tens of thousands have already been acquired by users. Therefore, purchasing a node license can be considered as an investment because of the high usd price it sells for.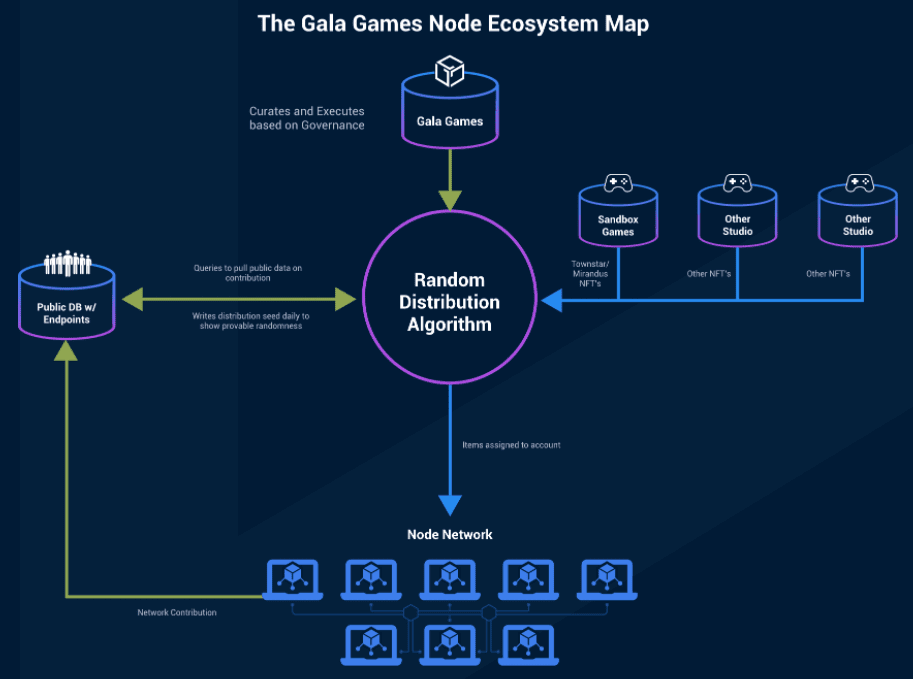 As a node operator, you will earn daily NFTs and GALA token rewards in addition to other advantages such as access to the project governance system.
Gala Games Marketplace
Gala Games also has its own Marketplace that allows its users to buy and sell virtual items (NFT). Each game displayed on Gala Games (released or not) has its own category of items in the gaming store. The NFTs that are available there can be used within their game, in order to improve the experience and performance of players.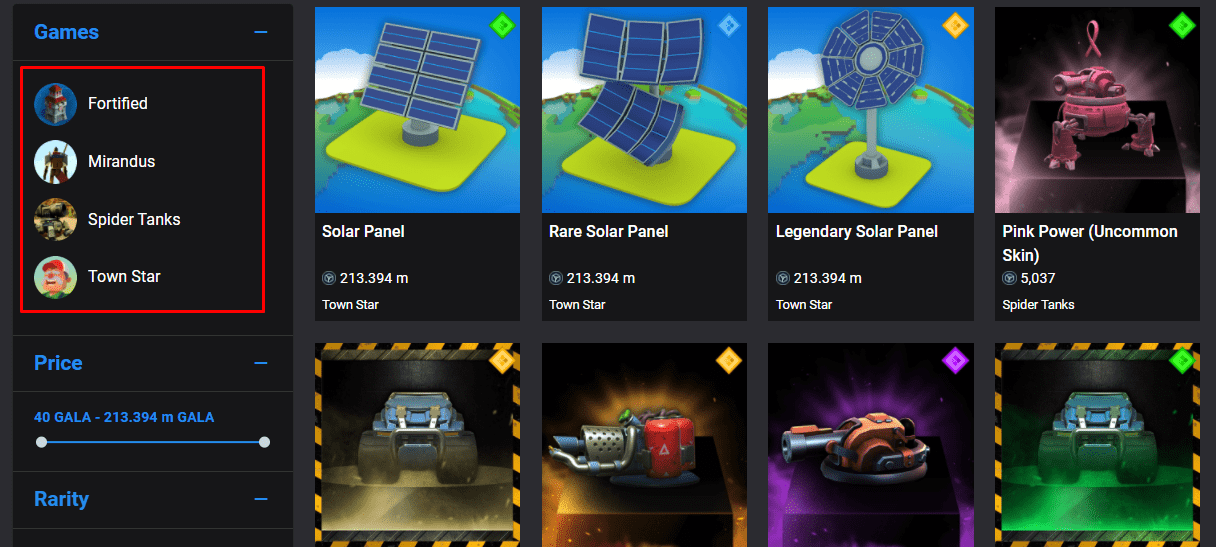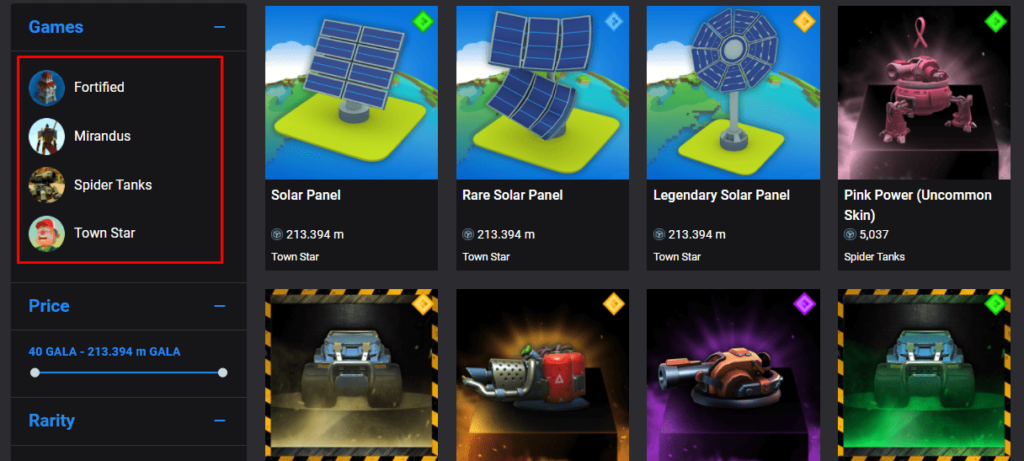 If we take the example of the "Flamethrower" item associated to the game "Spider Tanks", it can be used as a war weapon that you can directly implement on your tank, in order to best face your opponents on the field. But other types of NFTs also exist, such as characters with unique abilities (Mirandus) or simple decorative accessories.
A rarity system is also available for each of these games, ranking items from "common" to "legendary" for the rarest of them. Obviously, price in store will differ depending on rarity.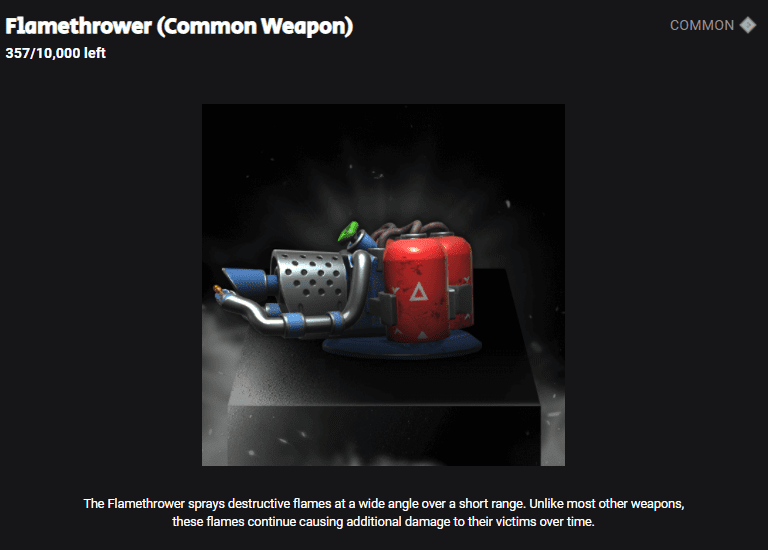 To purchase one or multiple of these items, it is required that you hold GALA tokens in your Gala Games wallet. You can find this cryptocurrency token on the Binance trading platform, one of the current market leaders in crypto trading.
Once purchased, your items (NFT) appear on your Gala Games inventory (wallet), where you will then be able to integrate them into the games.
Analysis of Spider Tank and Mirandus games
Currently, 5 games are displayed on the Gala Games platform with all different styles and themes. You can find strategic games, RPGs, simulation games, and many more.
In this article, we have decided to introduce you to two of these games, that we find particularly promising :
Spider Tanks (BETA)
Spider Tanks is a "PVP Brawler" multiplayer developed by Gamedia, where you take control of a small war tank with one objective in mind, destroy all of your opponents.
Tanks are all made of 2 parts (the weapon and the Tank Body) which have the particularity to be replaceable at any moment by other parts (NFT) that you can find in the game store.
Indeed, you have the possibility to combine the items of your choice in order to create the most suitable tank according to your strategy (attack, defense…). Each of these items has its own rarity and thus different abilities and functions. For example, you can buy a flamethrower as a weapon and a "tortoise" (metallic turtle) for your "tank body" (the "body" part of your tank). There are many possible combinations, and it is up to you to build the best tank for your gaming style. Furthermore, because of the Play to Earn mechanism, purchasing body parts can be considered as an investment as it will generate you increased returns.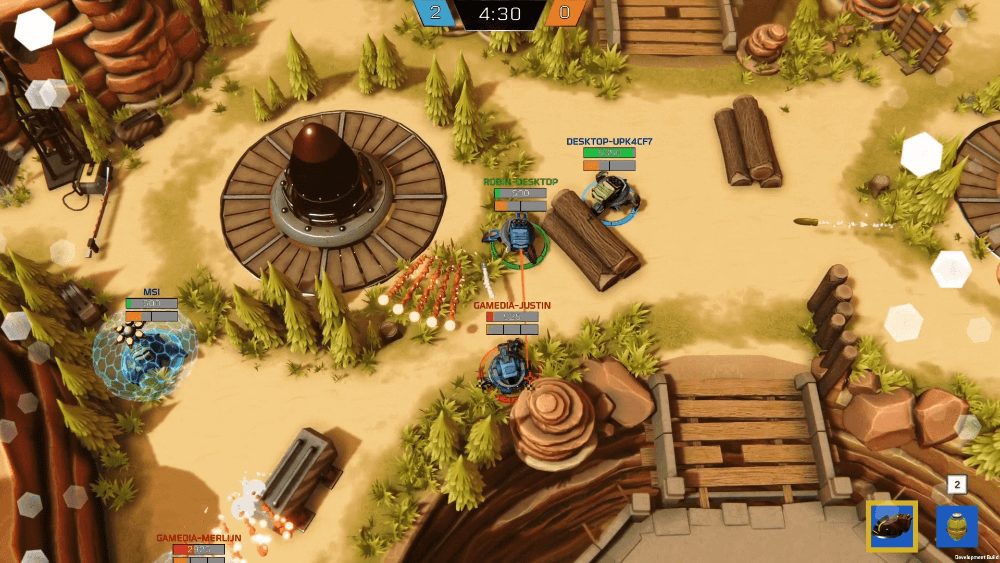 Once modified and/or upgraded, dive back into the Spider Tanks gaming universe to test your tank's effectiveness on the battlefield.
So far, three game modes have been announced :
Team deathmatch : destroy as many tanks as possible with your team to win the game, all in a limited time period
Capture the Chicken : a little different from other game modes, "Capture the Chicken" consists in saving as many chickens as possible in a dedicated map. The team with the highest score wins the game
Capture the flag : the principle is very simple, whenever a member of your team (or you) gets the flag back, the score of your team starts increasing. The team that reaches the required number of points by holding the flag as long as possible wins the game
Finally, Spider Tanks will use the "Play To Earn" mechanism, allowing you to earn rewards by playing the game. More details about this subject will be available in the coming months.
Spider Tanks is currently in "beta" and can be directly downloaded on the Gala Games platform. If you want to learn more about this game and its news, please click on this link.
Mirandus (in development)
Mirandus is an "RPG" set in a fantasy world full of hostile creatures and ruled by the so-called 5 player-monarchs. Like most RPGs, you will have to complete numerous quests, fight more or less powerful monsters, but above all, lead your own adventure in a world with (almost) no limits.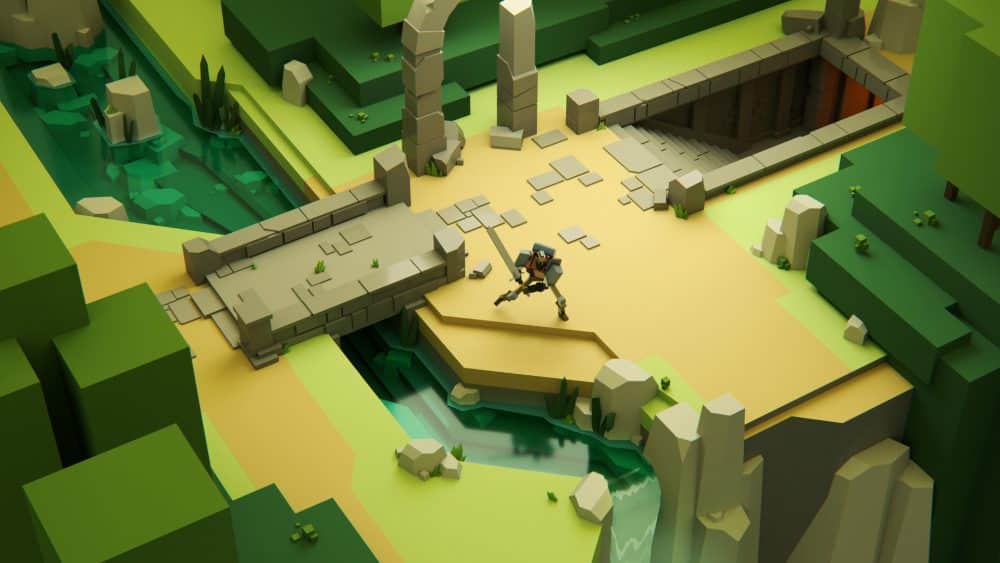 You will also be able to define your own property titles and then claim certain virtual lands within this open world. These lands can then be used to build various commercial areas or any other foundations, ranging from small farms to gigantic cities. The major part of existing structures (houses, citadels, castles…) can be bought on Gala Games marketplace.
If you want to learn more about the Mirandus game and its news, please click on this link.
Conclusion – Our opinion on the Gala Games platform
According to our overall analysis, we can state that Gala Games is a very ambitious platform that has every chance of making a name for itself in the video game industry and cryptocurrencies in general with already a 700 million usd market cap. Indeed, the fact that it gives players total control over the items they hold thanks to the blockchain is a significant advantage.
Although most of these games are still in development, some of them are already available in beta, all for free. They use the Play to Earn mechanism, which will allow you to earn all kinds of rewards by completing various missions predefined by the game.
Finally, Gala Games is a project to closely monitor for crypto investors, but also for every video game enthusiast. We recommend you to stay updated on this project and look out for news.
Follow Gala Games :