In trading and investment, and even more in the cryptocurrency market (Bitcoin, Ethereum…), it is hard to decide when to buy and sell. We often hear that you should buy and trade cryptocurrencies (Bitcoin, Ethereum…) when everyone is panicking and should sell when there is too much euphoria on the market. But it is always easier said than done…
Multiple strategies exist concerning the crypto market. However, we will introduce you to one of the best strategies for investors. The SHAD crypto trading strategy (Sell Half At Double) allows investors / traders to remediate this psychological problem. This crypto strategy can be implemented by both beginners and seasoned traders who want a simple trading strategy, or just some guidance on how they should conduct an investment. Please remember that when investing, one should always have a planned strategy and that this article does not act as a guide on how to trade digital assets.
SHAD : a cryptocurrency trading strategy based on the coin price and simple to implement
The SHAD investment and trading strategy means selling half of your investment when it has doubled. This allows you, investors / traders, to take back your initial investment and secure it. This strategy has no particular technical characteristics and is very simple to implement for crypto traders. No need to be a seasoned trader to implement this, but SHAD does not stop there. In the cryptocurrency market, it is not unusual to see cryptocurrencies go 10x/20x/100x in a few months (Solana's SOL token was for example at $1 at the end of December 2020 while it is currently valued at + $170).
The SHAD crypto trading strategy recommends traders to recover their stake when doubling their digital asset investment but also to take profits by selling again half of your position at 4x, then at 8x, 16x, etc. This allows you to pay yourself at each stage and have great returns on your trades. At the first 2x, the initial investment is recovered, and at the following stages, each sale will be profitable. By trading this way, each trade has a target price with a specific financial objective. With this investment and trading method, there is no need to torture yourself and overthink about when to sell your cryptocurrencies, you only need to apply the concept.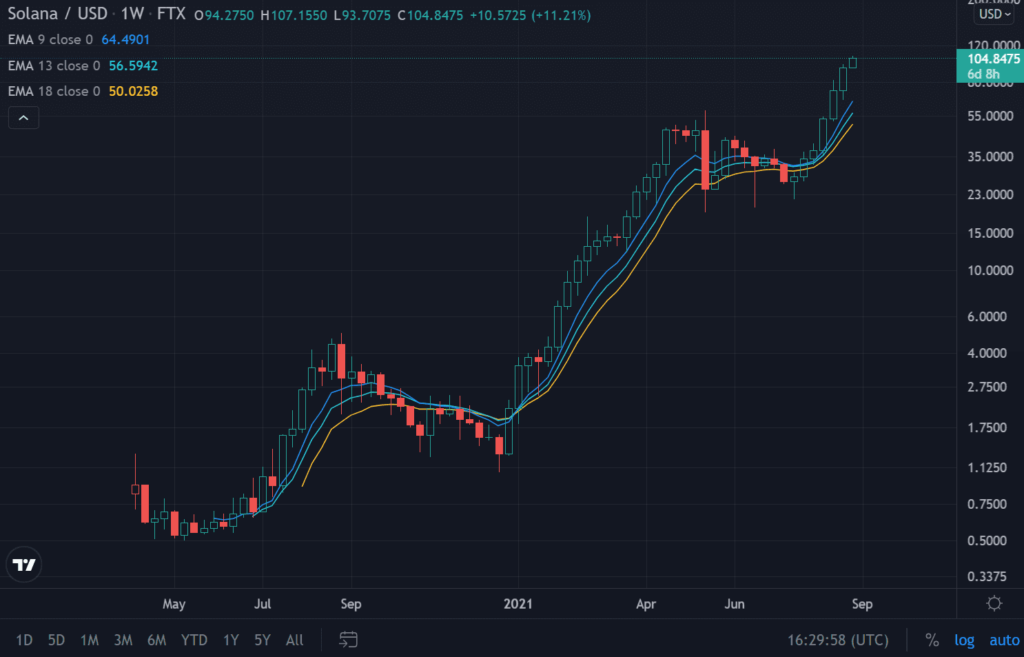 Example on the Solana crypto, SOL
If you invest $100 on SOL at $1, you have 100 cryptocurrency coins. Once the SOL coin price is at $2, you sell half of your portfolio, you recover your initial investment, and you have 50 coins left. Then at a price of $4, you again sell half of the remaining coins in your portfolio and so on. Here is a table that will help you understand: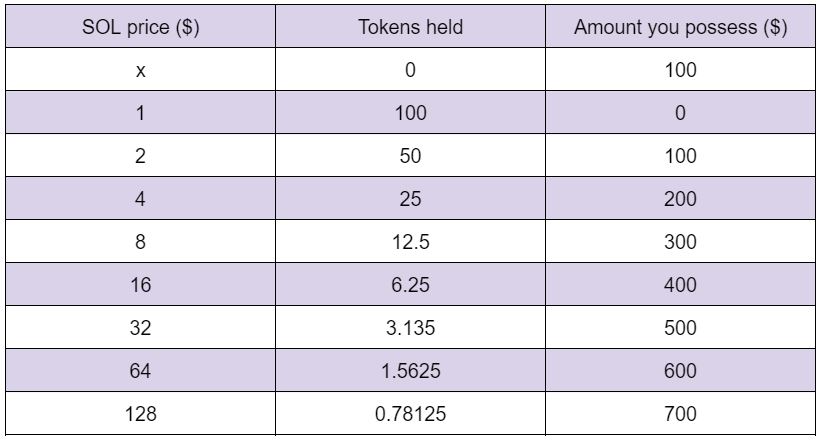 This trading / investment strategy has the advantage of being planned. Traders set in advance selling prices on exchanges and have nothing to do once orders are placed on the market UNLESS the exchanges have disabled orders following a bug or an update. It can be a good idea to reconnect and recheck from time to time just to be sure that exchanges are working fine.
On which assets should this cryptocurrency trading method be applied?
This crypto trading method is usually applied on promising alt coins and not directly on the top crypto currencies such as Bitcoin or Ethereum. The taken profits could be :
Reinjected into the two market leaders to accumulate a maximum of Bitcoin (BTC) and Ethereum (ETH)
Hold in stable coins to secure profits and have available money in your portfolio
Repositioned and traded into another interesting altcoin at that moment in the market
The last choice allows traders to build a trading portfolio with numerous alt coins and thus will multiply chances of being positioned on the altcoin that will make a huge performance during the bull market (upward market trend) with massive returns. Please be aware, especially beginners, that investing in such assets has a certain level of risk and that this article should not be read as an exact guide when investing in a crypto asset.
When should the SHAD strategy be implemented in the cryptocurrency market, and what are the risks?
As with every smart investment and trading in general, for the method to be successful, you need to buy and sell at the most opportune time, thus having the best timing in the market.
Alt coins with low market capitalization can see their prices surge exponentially during a bull market trend, but can also plummet by -95% in a few weeks. That is why it is preferable to only put a small percentage of your capital on each altcoin and take into account that this investment could be lost if it does not achieve a 2x before its market value plunges. Be aware that this strategy implies a certain level of risk when performed on very shady alt coins. However, it can offer great returns (profit) for investors if successful, due to its great risk / return ratio.
Investors and traders should always assess the risks and returns achievable before engaging in a trade. This notion can be very difficult to assimilate for beginners that just started trading cryptocurrencies.
Furthermore, this trading strategy is less efficient with bigger cryptocurrencies such as Bitcoin or Ethereum as their capitalization is already high and investors are less likely to double their portfolio size in the short-term with this kind of asset. In other words, although it can be a safer investment, from a trader's point of view, there is less money to make.
Please be aware of the risk you are willing to take when entering a trade. Invest smartly!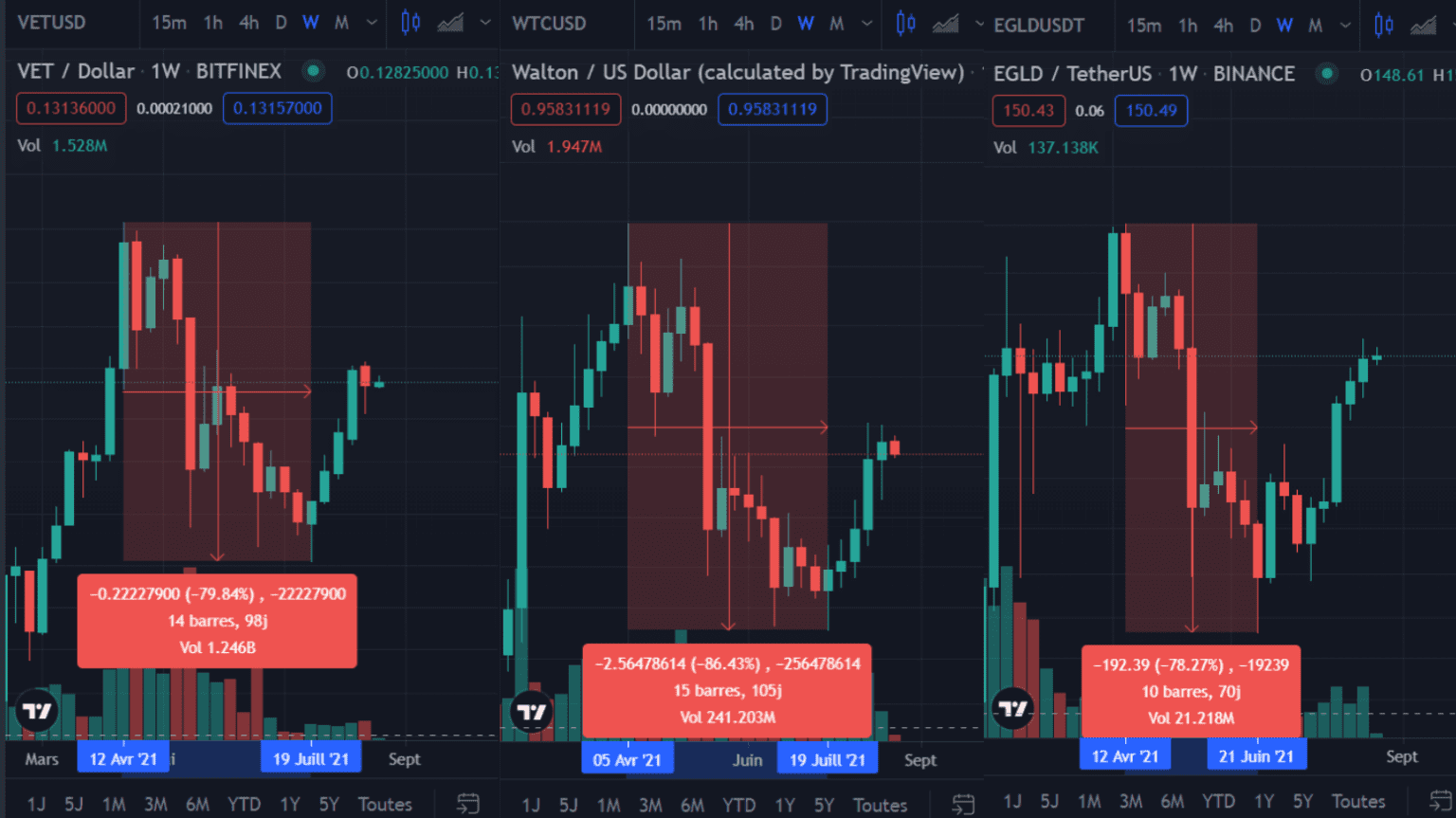 It is easy to sell cryptocurrencies with this method, but when should you buy? For that, you will need to refer to technical analysis and will have to apply a good cryptocurrency buying strategy :
Spot a good location (in the reload zone, between 61.8% and 78.6% retracement from the previous ATH)
Have a structure that indicates a return of an upward momentum / trend (a W that is confirmed in a weekly time scale for example)
Have if possible increasing divergences on indicators such as the MACD, the RSI, or the OBV.
In conclusion, SHAD is one of many other crypto trading strategies. However, because of its easiness of implementation, it is seen as one of the best strategies for novice traders. Furthermore, we encourage you to learn more about other strategies that can fit your financial goals and trade objectives.
If technical analysis interests you and you want to learn more about it, do not hesitate to follow our weekly analysis.